We use affiliate links. If you buy something through the links on this page, we may earn a commission at no cost to you. Learn more.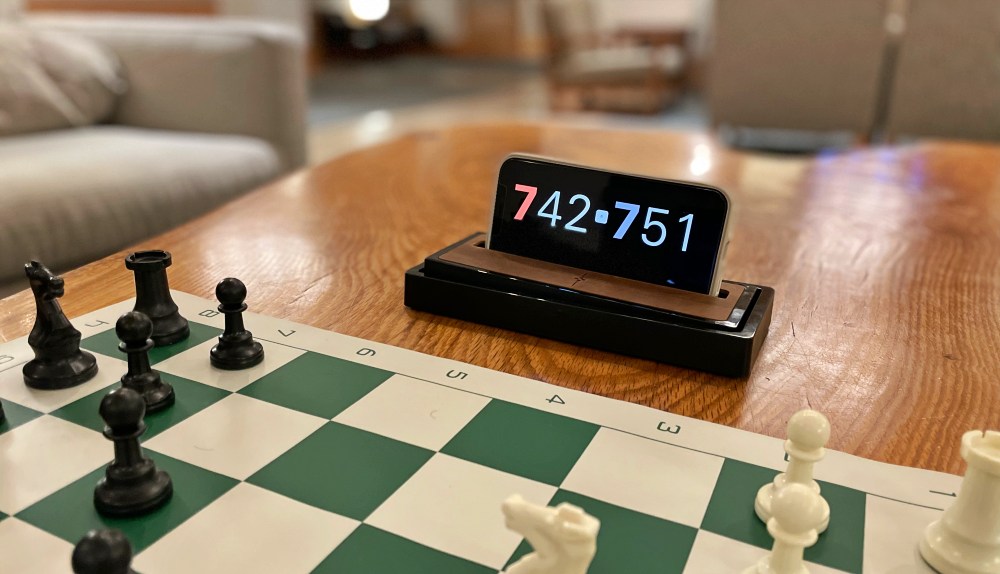 CROWDFUNDING REVIEW – Maybe you watched the Queen's Gambit, maybe you've always been into it, or maybe your kid dragged you into it like me. Chess is an awesome game that seems to increasingly sink it's teeth into you the more you play. If you haven't used a clock when playing, I think you'll be in for a treat. It adds a tactile, satisfying element of finality to your moves, and if desired some serious anxiety by limiting the time you have to make a move complete with penalties or bonuses for time. Tempest's new Chess Clock just hit Kickstarter and it rocks.
What is it?
The Tempest Chess Clock is a weighted base designed to use a smartphone as the clock/display and a precision tilt/rocker mechanism to let the phone/app know a play has been confirmed.
What's in the box?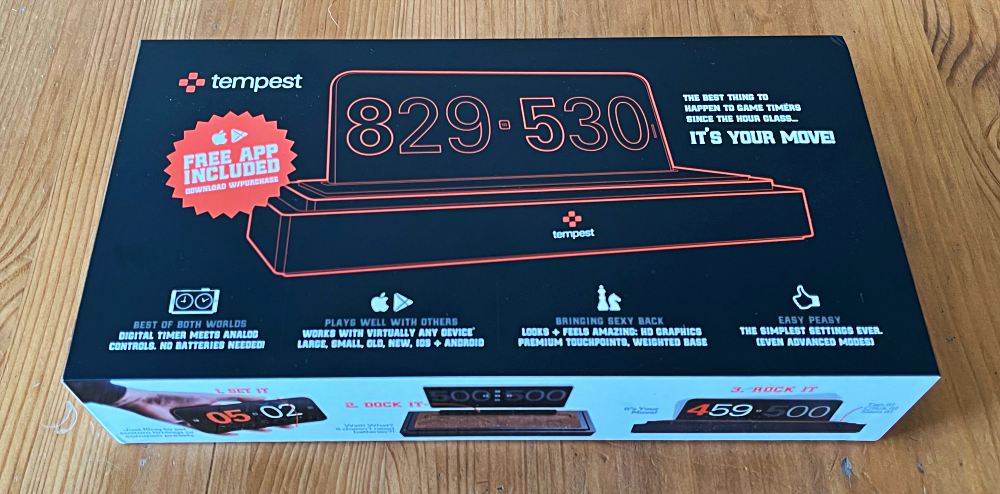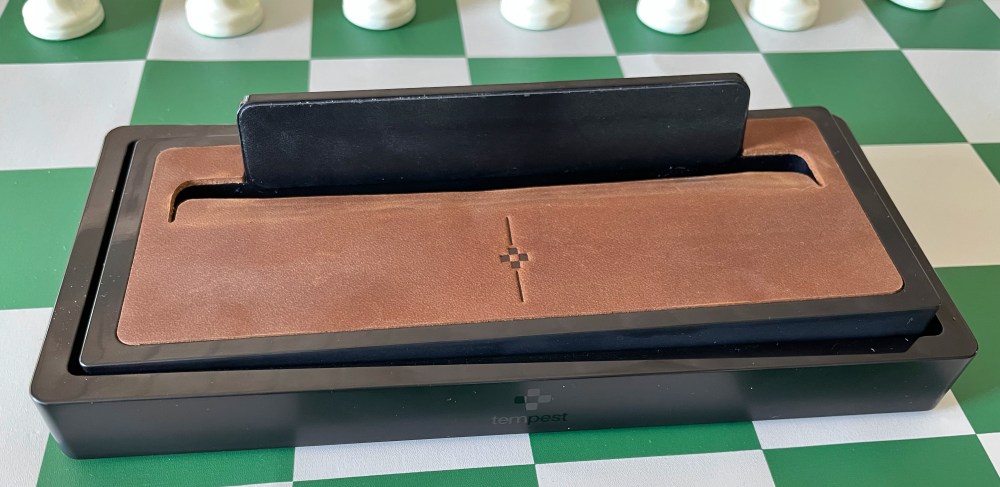 Tempest Chess Clock
Requirement: A smartphone
Hardware specs
Dimensions: 8.25 x 3.5 x 2″ | 1lb, 5oz
Quadruple Weighted Base
Leather pad for player interaction and securing phone
No Batteries Required
Advanced Rocking Technology
Anti-Slip Silicone Padding
Smartphone App included with purchase
Digital and Analog Clock Options
Multiple Timer Preset Options
Fully Customizable Timers
Fischer-Random Chess960
Design and features
The Tempest Chess Clock immediately shows that you take your chess seriously (or plan to).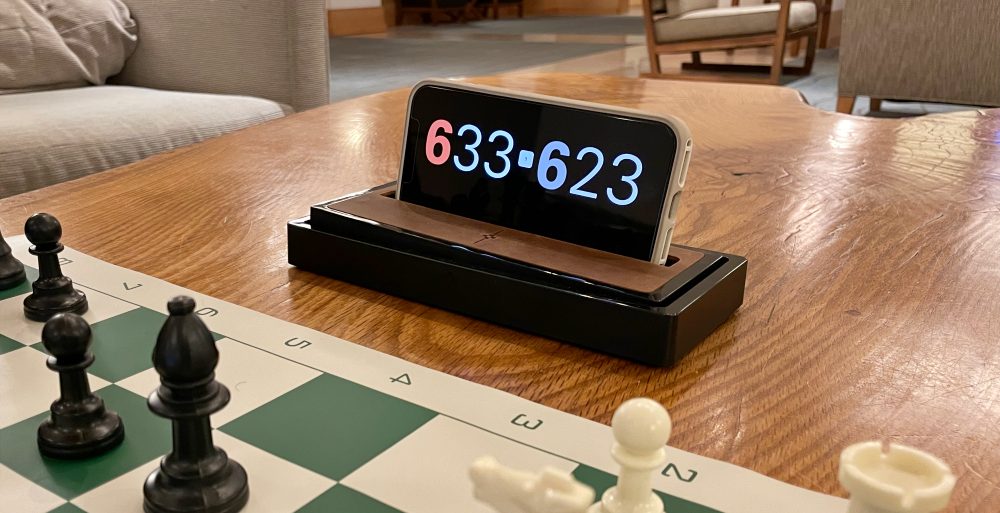 The rugged base and rocker insert have subtle textures on the sidewalls and polished top surfaces. The smartphone backrest is polished and has a black leather pad to protect your phone. The main touch surface is an inset leather pad which adds class and will show evidence of your battles over time.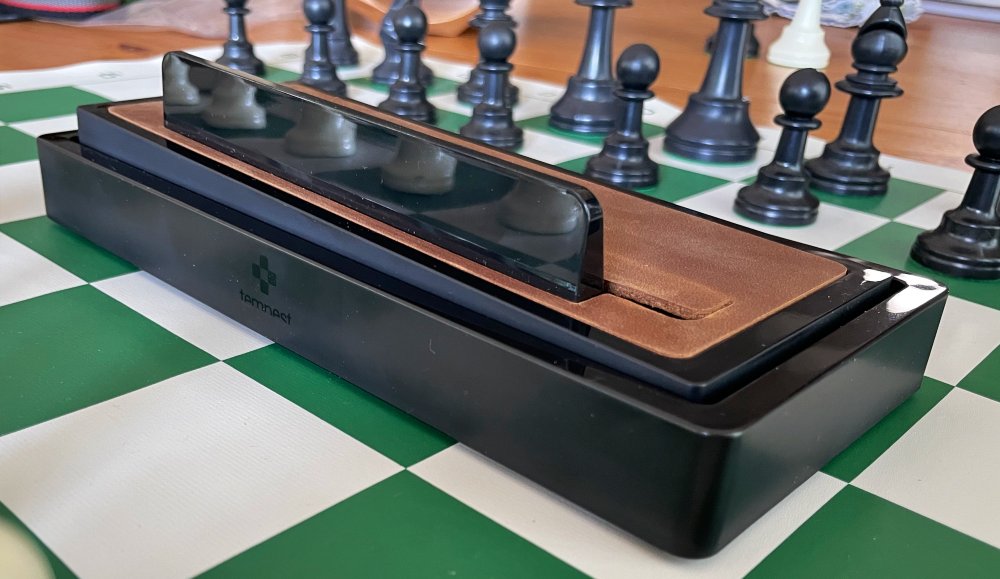 The bottom is almost entirely covered with a silicone padding that combined with the added ballast keeps the dock in place. In the center is the URL where you can download the app, and a code to unlock it. Sorry, but you'll have to get your own dock to get a code ;).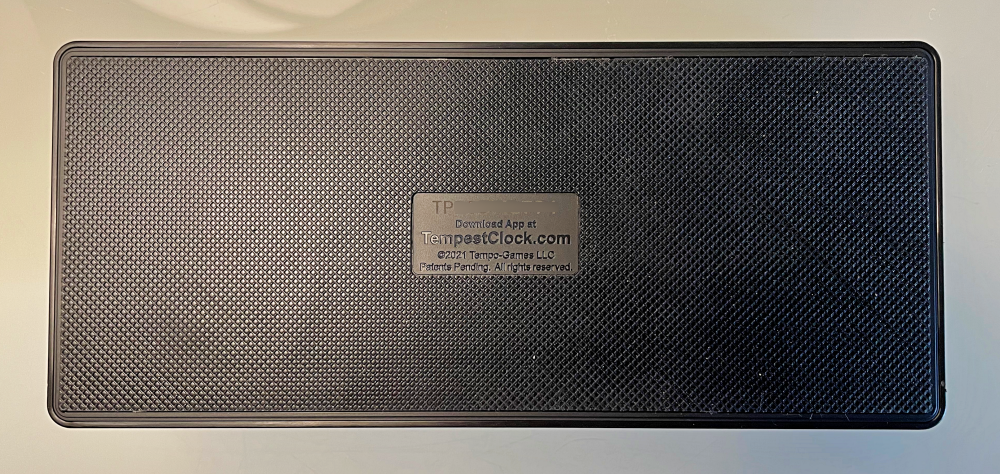 A smartphone slides into the slot, leans against the back rest, and is held in place by gravity and pressure from the leather extension which you can see below covering about half of the slot.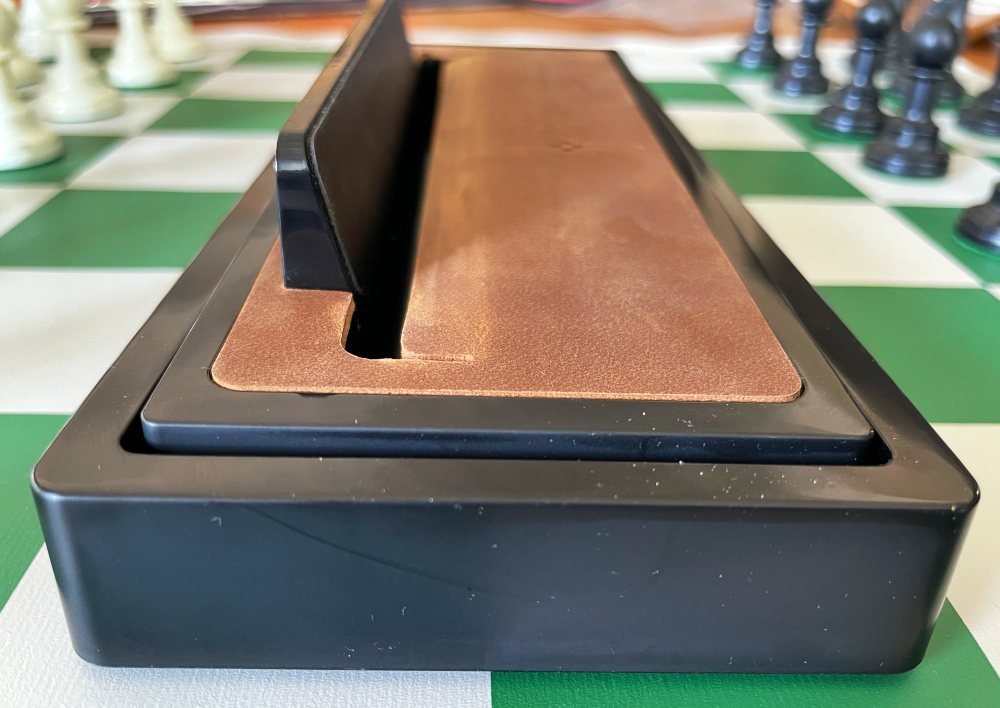 The rocking function is the star of the show here. Satisfying "thunks" accompany each push and you can slam it as hard as your table will allow if so desired. Here's all of the assembly that makes this work.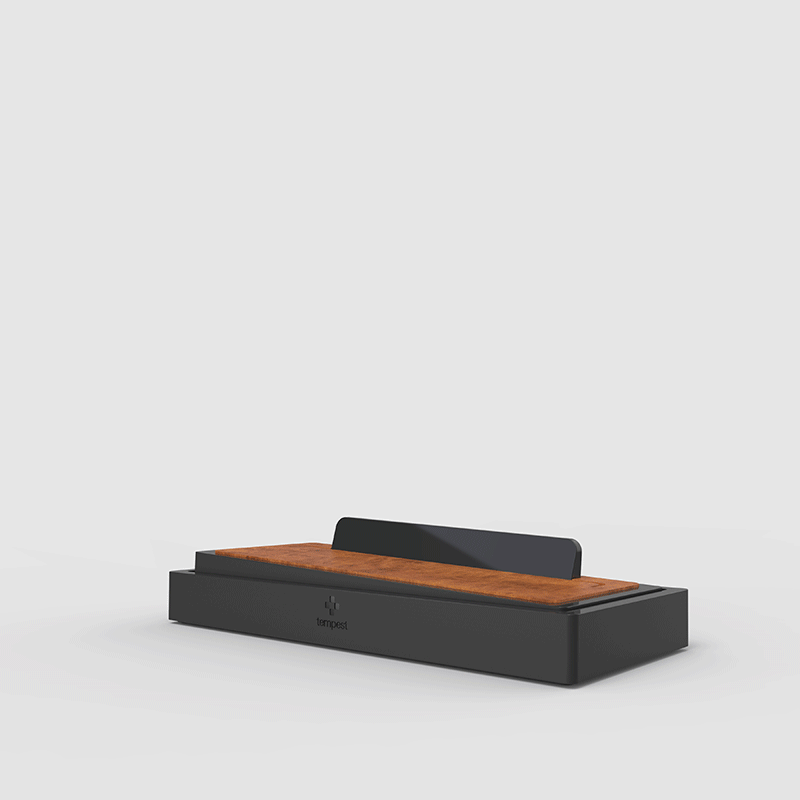 The App supports classic analog dials as well as a more modern digital approach with presets and options galore for how you want the timing to work for your game. The images are offset towards the top because that bottom edge of your phone nestles down into the base.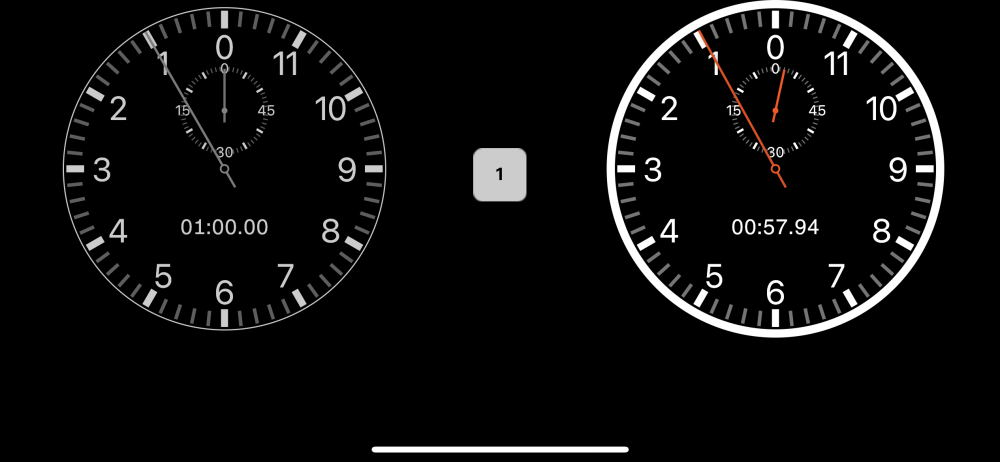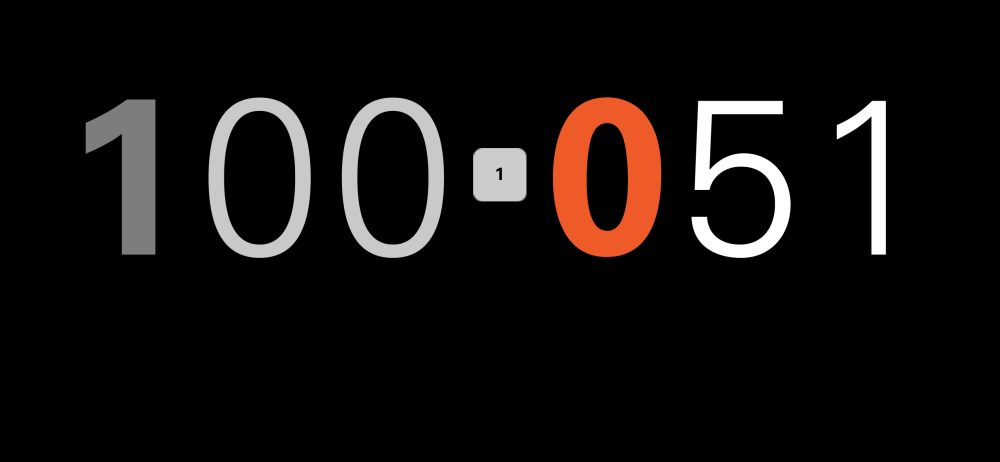 Setup
All that's required to get started is to download the smartphone app. Once launched you'll need to enter the alphanumeric code from the bottom of your dock to gain access. My son and I were able to activate the app on each of our phones with the same code so it at least looks like Tempest accounted for some amount of sharing.
As you go to place your phone into the base, you'll see that the leather has an extended flap that covers part of the phone slot. This extension pushes down into the slot and pushes your phone against the back stop. Depending on the thickness of your phone and whether or not you run a case, the fit can be perfect to very snug. Overly thick cases may need to be removed if you're having trouble getting it in there.
Tip: To remove your phone from the dock, lean it away from the back rest before pulling up. This keeps your phone's case from fighting the cut edge of the leather.
Here's Tempest's on screen guide to all of the UI elements, and I'll show some more screen shots in a moment.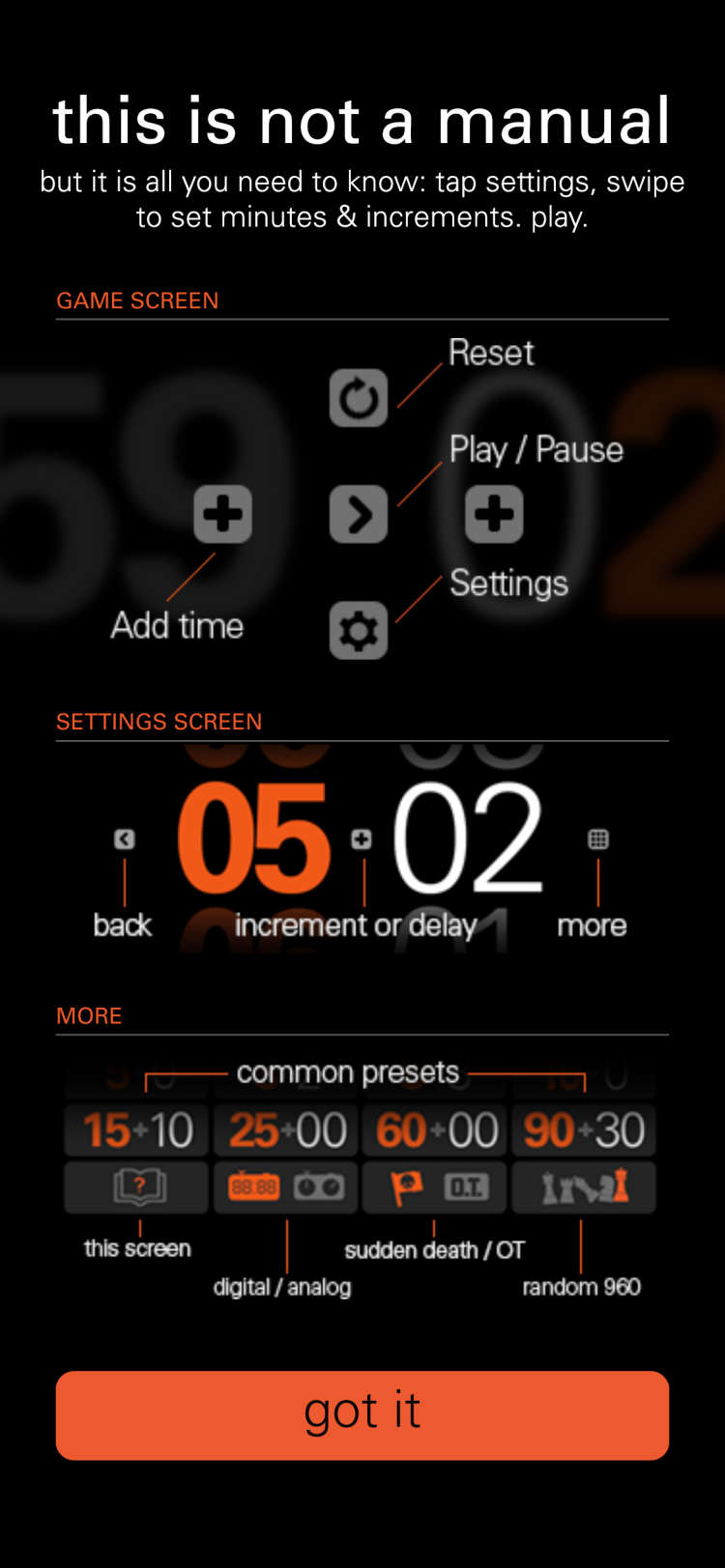 Performance
There are two things I'll put on your "need-to-know" radar out of the gate.
Case compatibility could be an issue if you have an overly protective case. My son and I both run Nomad's rugged leather MagSafe case which measures about 10.85mm. It fits in the Tempest Clock really well after the first few inserts and as long as we roll it forward before lifting. it comes out easily. I'd say any cases beyond 11mm aren't going to work and you'll need to remove them first, and honestly an unencumbered iPhone looks really good in this base. It'll fit the iPhone 12 Pro Max perfectly without a case. Anything larger than that in the Android family or future iPhones (if larger) won't fit.

Phone notifications. If you get push alerts for every app notification, it's going to get annoying fast. For a really zen game, put your phone in airplane mode, or setup a Shortcut to do that for you whenever you launch Tempest.
As for gameplay, it's great! Even if you're a novice player, the addition of a clock just feels legit. It's super easy in the App to set whatever time parameters you want. It can be a fun way to make sure you finish a game in a set amount of time, or egg you on to learn to play faster. Here's the mechanics at work showing my son ending his turn.
Here's a few screenshots of some of the adjustments you can make in the app…
This is the ready-to-start a game screen. Hit the Play (>) button to start a game. The reload button at top resets the clock, the + buttons add 15 seconds per press on the corresponding side and the bottom settings button lets you get into the weeds.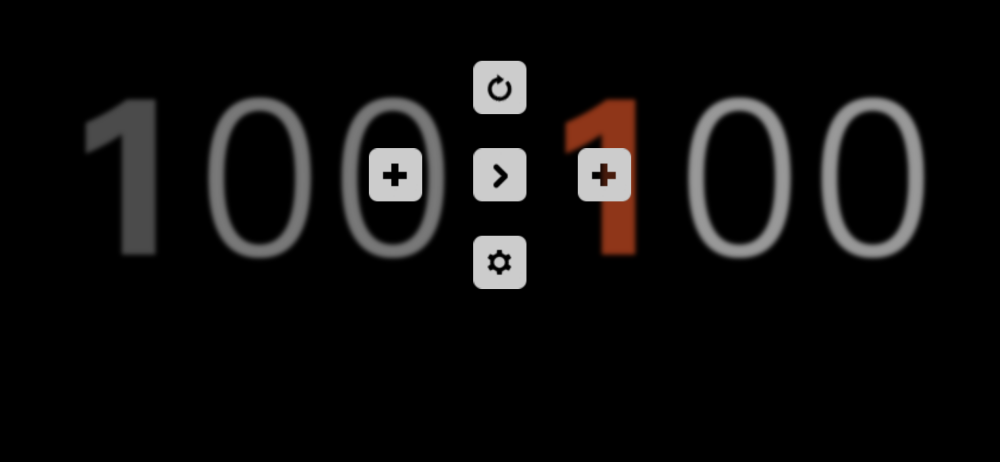 After hitting settings, you can roll up or down to add minutes on the left (up to 2 hours) and seconds on the right used for increment or delay which is the center button toggling between + and •••. The left < button takes you back to the game screen and the right button goes deeper into settings.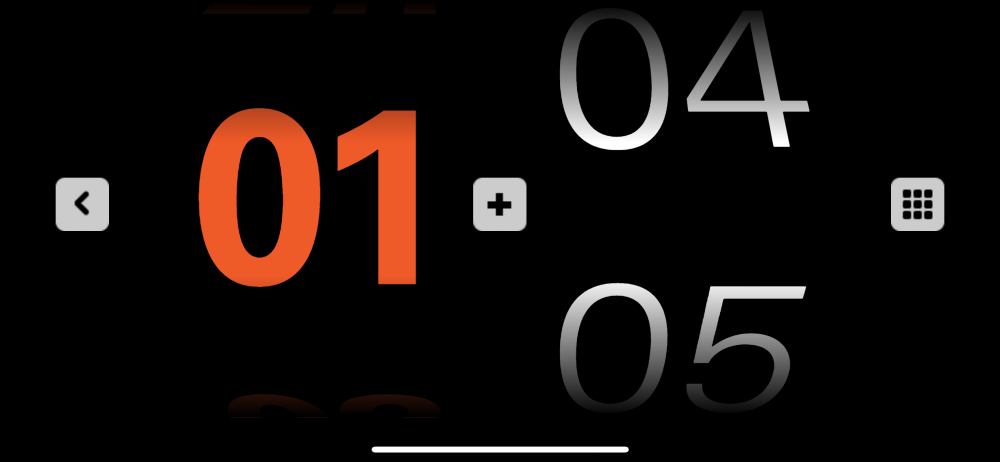 Here, the top three rows have the timing schemes you're most likely to pick. The bottom row has buttons for the "Not-a-manual", Digital or Analog views, and sudden death or overtime mode. That last button is for random 960 mode (also known as Fischer Random Chess) which randomizes the starting location of your non-pawn pieces adding some variety and a challenge.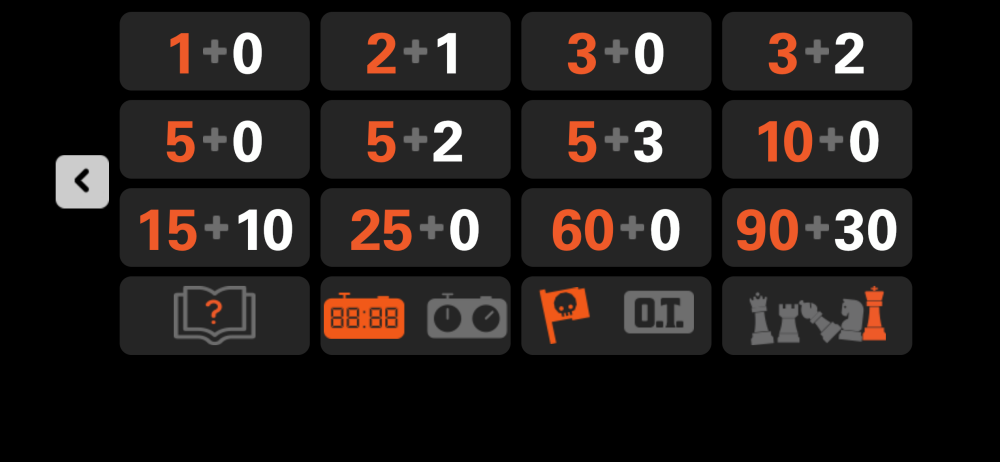 You'll definitely have fun using the clock, and as I mentioned before, rocking the clock is really satisfying. It's built super solidly to handle speed chess where you can end up getting pretty enthusiastic with your clock slams. You'll rattling your chess pieces out of place long before you manage to damage the clock during play.
Lastly, while all the timing mechanics are definitely set up for chess, you may find some other board games that need use timed turns where you can get even more mileage out of Tempest.
What I like
Sturdy weighted base with secure phone retention
Nice tactile "thunk" when rocking the base to end your turn
Leather pad feels good and looks classy
Customizable App lets you choose how to play and works for non-chess games as well
What I'd change
Would like to see a microfiber bag polishing out fingerprints and storing the dock away from chess pieces.
Would like to see a simple non-chess, single timer for replicating the hour glass timers from so many board games.
Final thoughts
Chess is a timeless game that spans generations and will always have appeal. And while it may be ironic to add a timer to a "timeless" game… the Tempest Chess Clock is a solid, fresh take on the chess clocks of old and adds exciting parameters of time management and even gameplay variants. The review sample I received is production quality and they've already passed their funding goal on Kickstarter so you can feel good about this one! Make sure you check out their Chess pieces and play mats as well.
Price: $79.00 | $36 during the crowdfunding campaign (55% off)
Where to buy: Kickstarter
Source: The sample of this product was provided by ComingSoon