We use affiliate links. If you buy something through the links on this page, we may earn a commission at no cost to you. Learn more.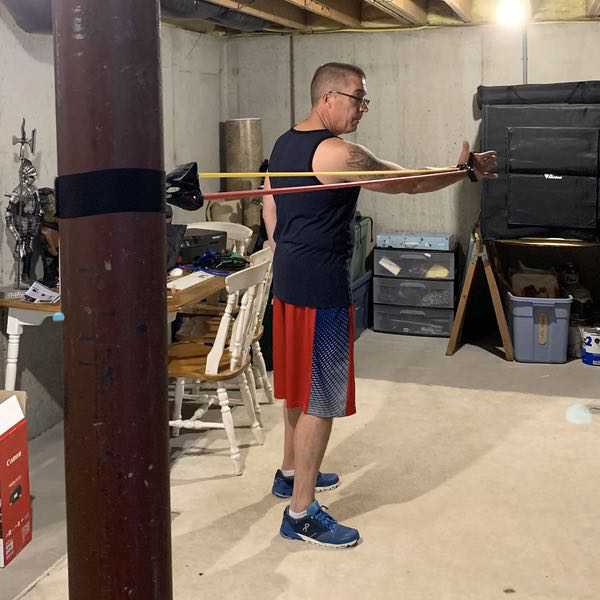 REVIEW – Being stuck in quarantine doesn't mean that you can't work out! The SKL Resistance Bands Exercise Set provides a full compliment of gear in addition to the bands that enable you to get a full workout in your home or apartment. They also provide a variety of resistance levels that will meet your needs regardless of your level of fitness experience. Let's get moving. To the review!
What is it?
It's an 18-piece exercise kit that includes just about everything you need for total-body fitness. It also very portable with a carry bag to hold all of the things.
What's in the box?
This 18 piece set comes with all the things. You'll get:
Five 48″ resistance bands (10 lb to 50 lb resistance)
Five 12″ resistance loops (10 lb to 40 lb resistance)
One door anchor
Two ankle straps
Two handles
Two core sliders
1 carry bag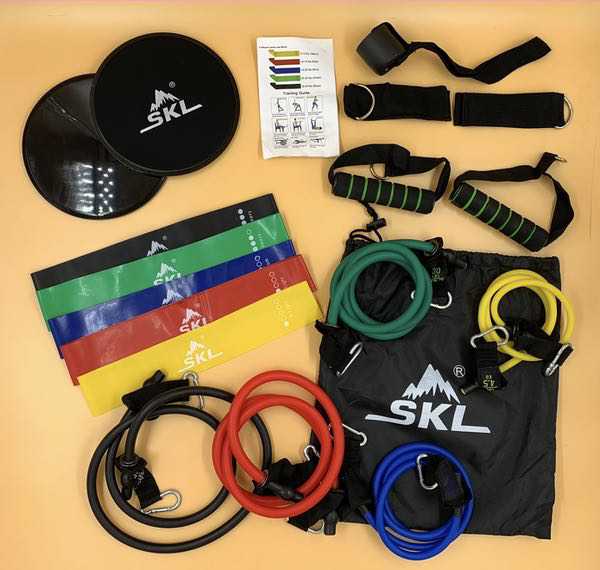 Design and features
The SKL Resistance Bands Exercise Set comes with just about everything you need for your home workouts. We've got lots to cover, starting with the door anchor.
Using The Door Anchor
The SKL Resistance Bands Exercise Set is designed for use in your home or apartment. To maximize utility, the kit includes a door anchor. It's a simple foam stopper that's attached to a loop of vinyl.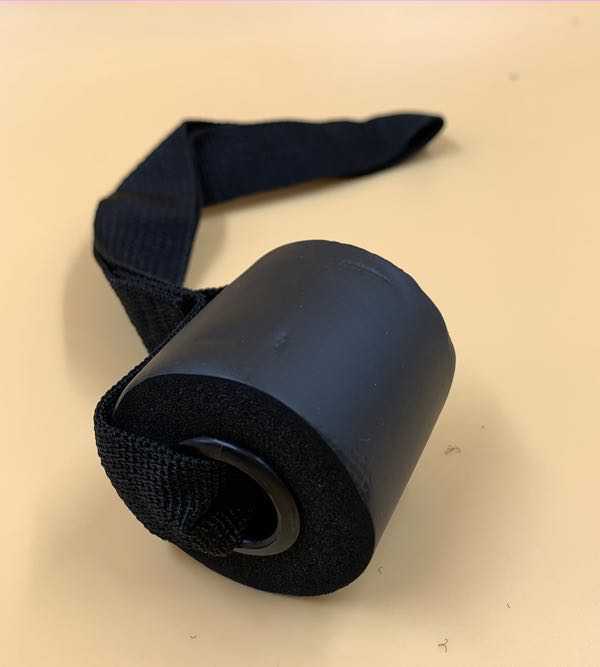 You'll do your work on the side of the door that closes in your direction. Hang the anchor over the door with the stopper on the back side…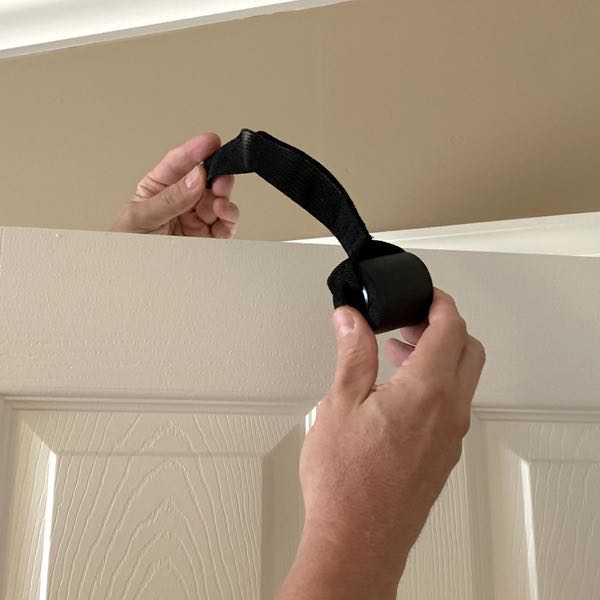 Close the door and give a tug on the loop. You're ready to connect your resistance bands and do your thing.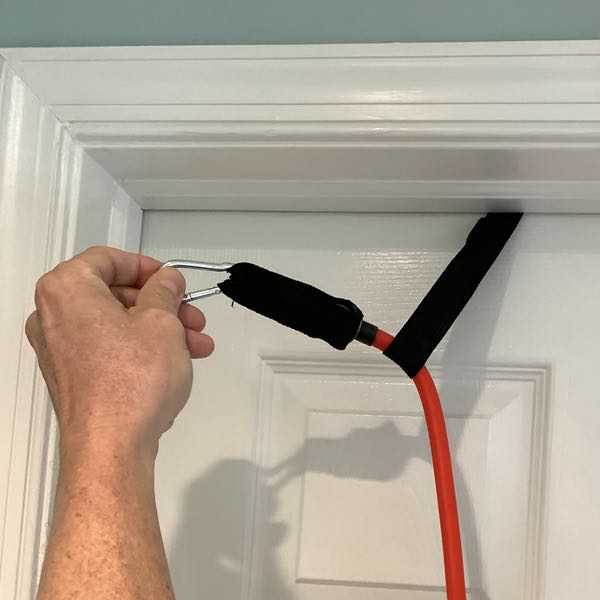 This comes in handy if you're trying to work out in tight spaces. I'm doing triceps push downs in my upstairs hallway in this pic.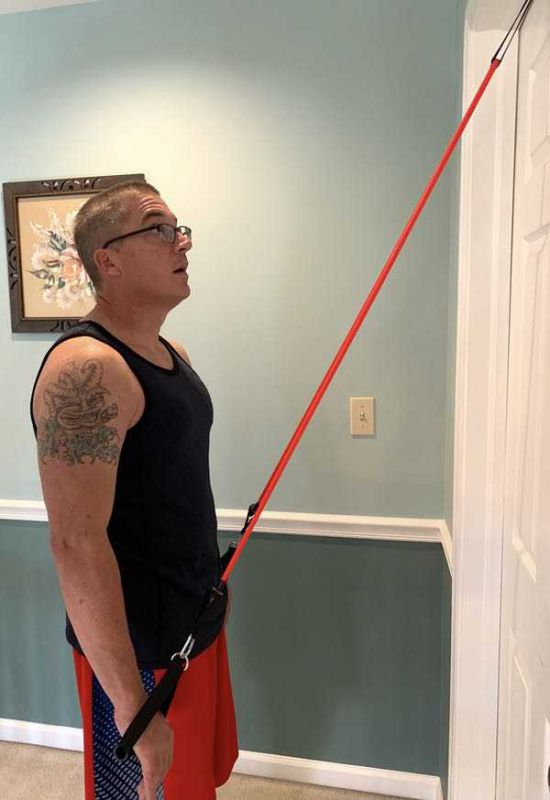 I can also do a variety of rows from this position.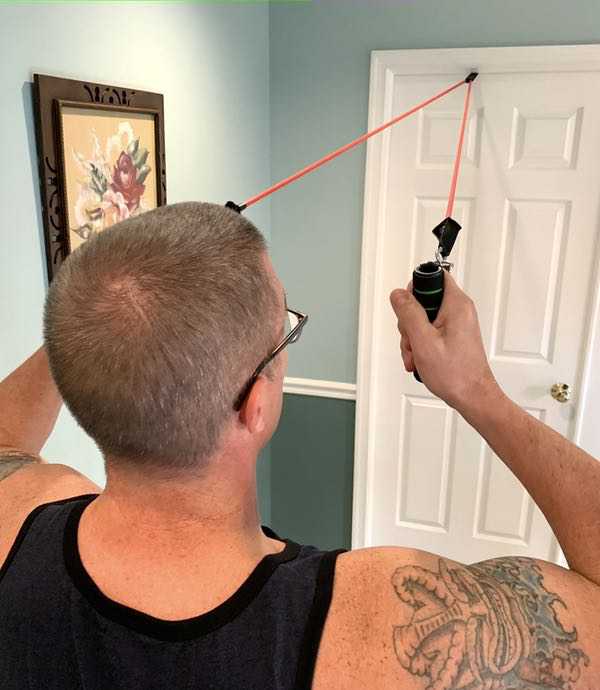 The anchor is solid, provided that you set it up on the side of the door that opens away from you. If you were looking to get a lower angle, you could easily slip the wedge into the side of the door between the hinges.
Using the Resistance Bands
Your kit comes with 5 resistance bands, color coded for different resistance levels. The bands are made from a combination of latex and silicone to make them highly resistant to snapping.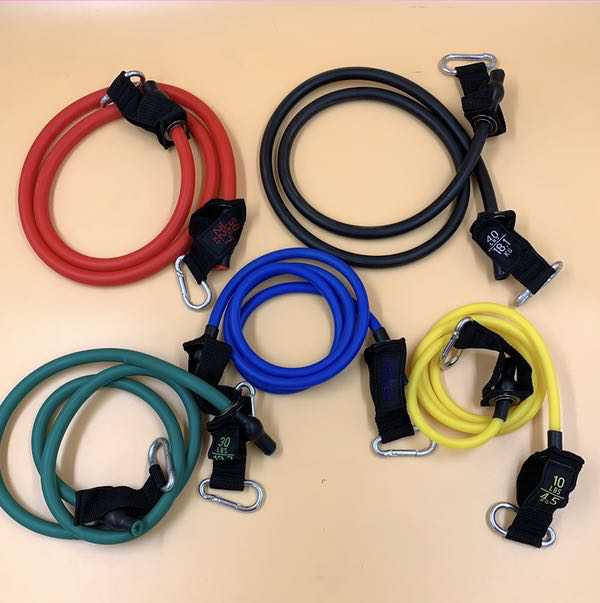 The resistance measurement is embroidered on the anchor of each band. At first I was a little hesitant that the anchor systems and carabiners included in the set wouldn't hold up, but I haven't seen any problems during regular use.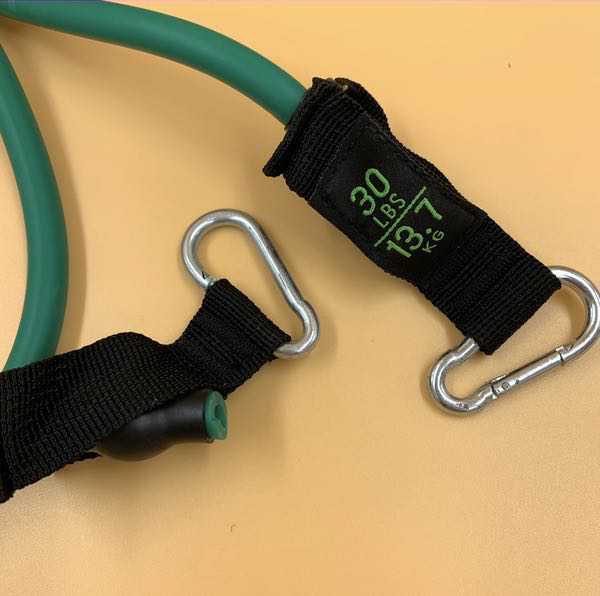 The foam grips are comfortable to handle. Like the bands, the hardware isn't as beefy as I've seen in higher end sets, but they're holding up nicely.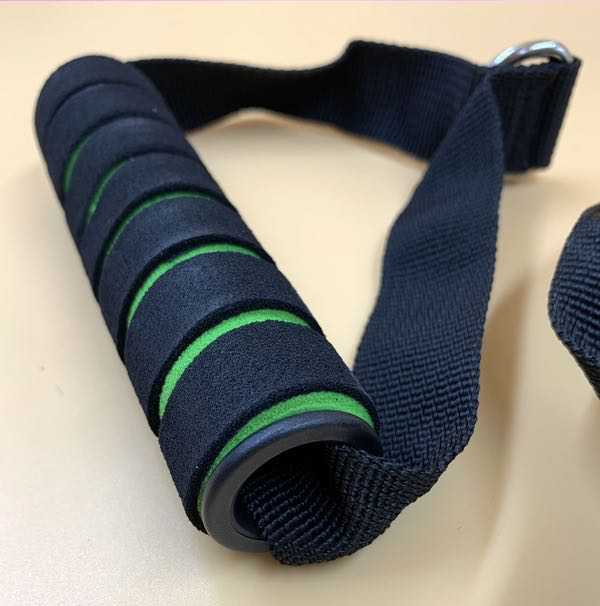 You'll also get a pair of ankle straps for doing legwork. These straps use a thick strip of velcro to keep them locked once you put them in place. I don't use them for leg work, though.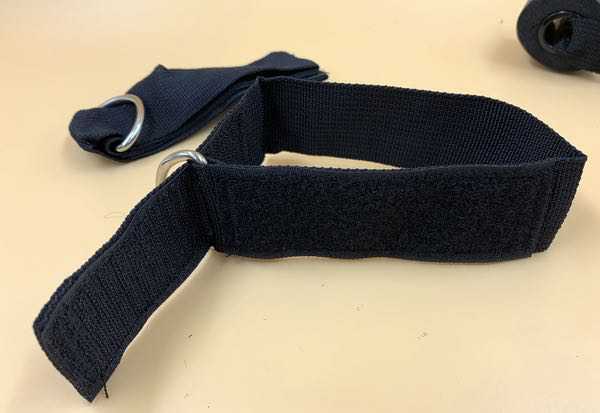 I happen to have some support posts in my basement that I use for my bands, and I was pleasantly surprised to find that the leg band will fit around them.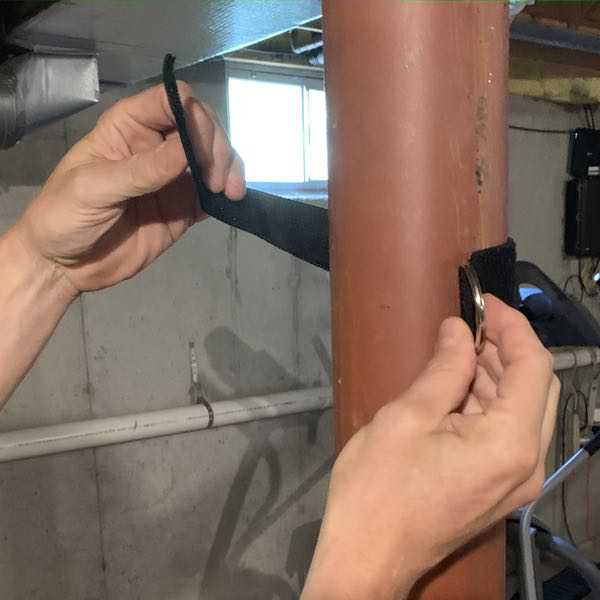 Clip the resistance bands to the ring on the straps, and you're good to go.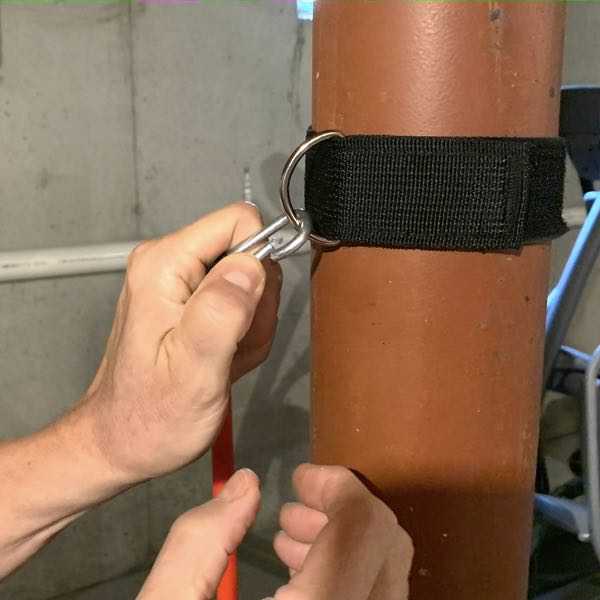 You can also stack the bands for more resistance. Here I'm connecting the 50 pound and 10 pound band to the handle.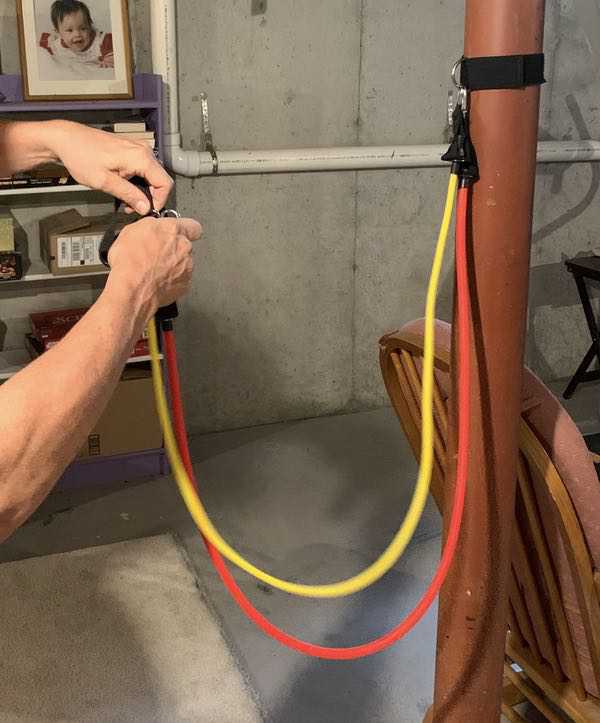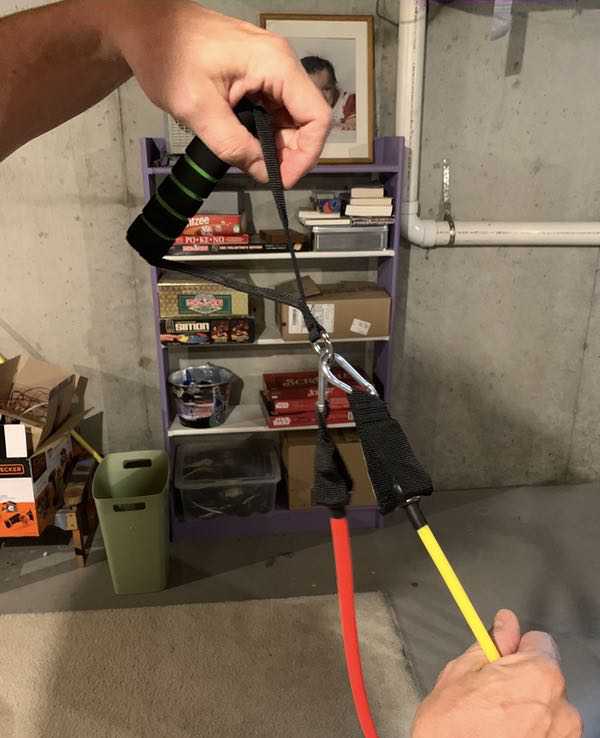 And we're off and running! I'll use this setup for things like rows and torso twists. I also move the band up and down on the pole to work at different angles.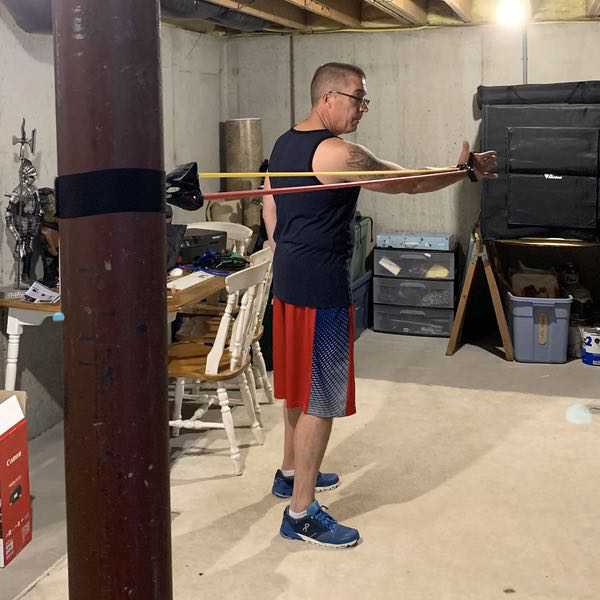 You can also use the bands without an anchor. Here I'm standing on the bands so that I can do bicep curls.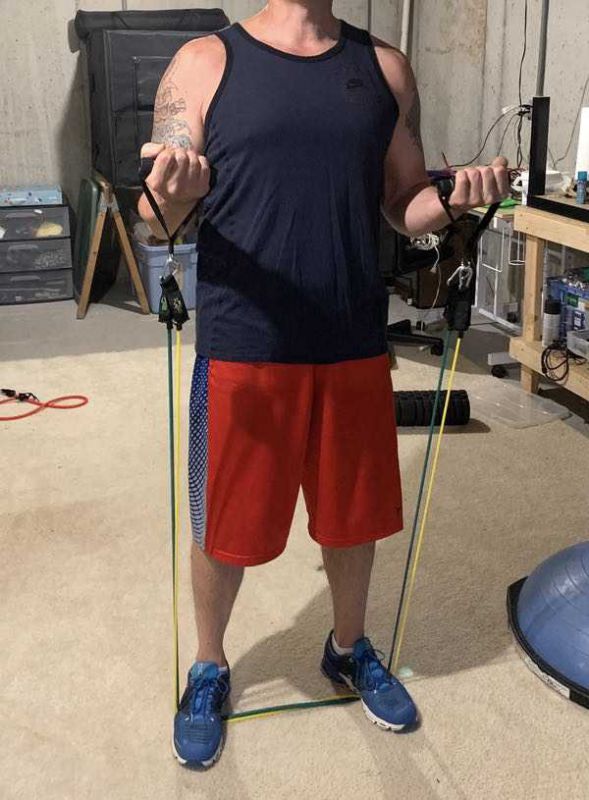 And here I'm doing lat raises. The kit comes with an instruction sheet that includes examples of how to do leg, upper body, and core work with various combinations of the bands, handles and ankle straps. You can also find tons of references on the Internet to mix things up.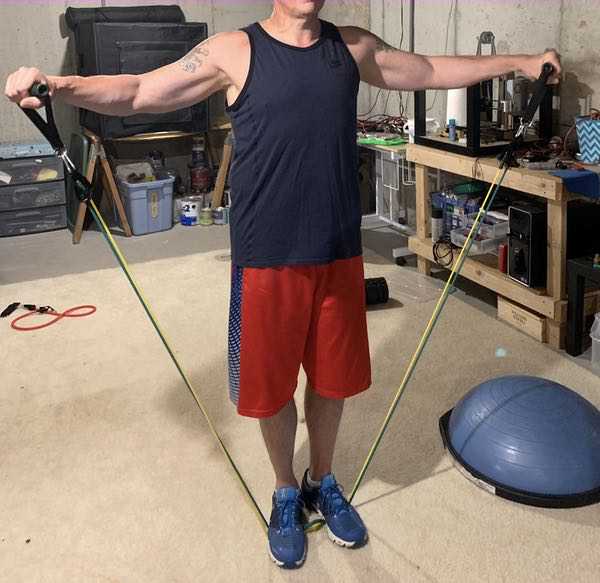 Using the Resistance Loops
In addition to the resistance bands, you'll get a full set of resistance loops. These are also color coded and run in 5 different resistance levels from 5-10 lbs to 30-40 lbs. Unfortunately the color coding doesn't match the color coding on the resistance bands (red here is light, while the red resistance band is the heaviest). But that's a minor quibble.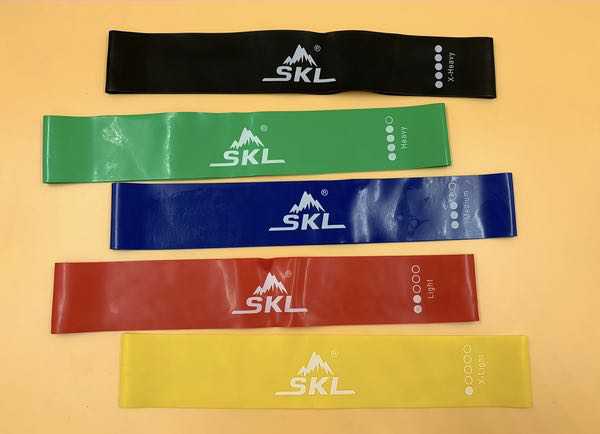 I like using resistance loops for leg & core work, like the side leg raises shown here.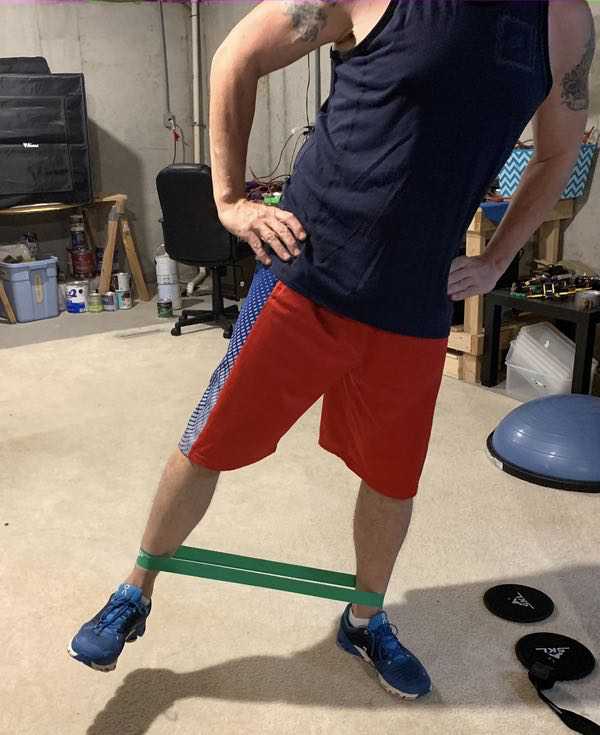 Resistance loops also come in handy for all sorts of upper body work. The Internet is your friend for finding options.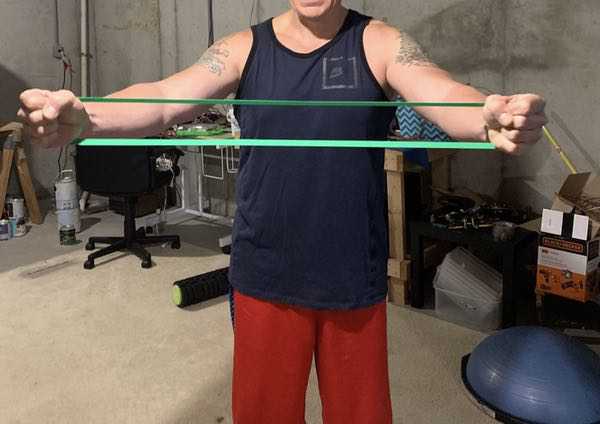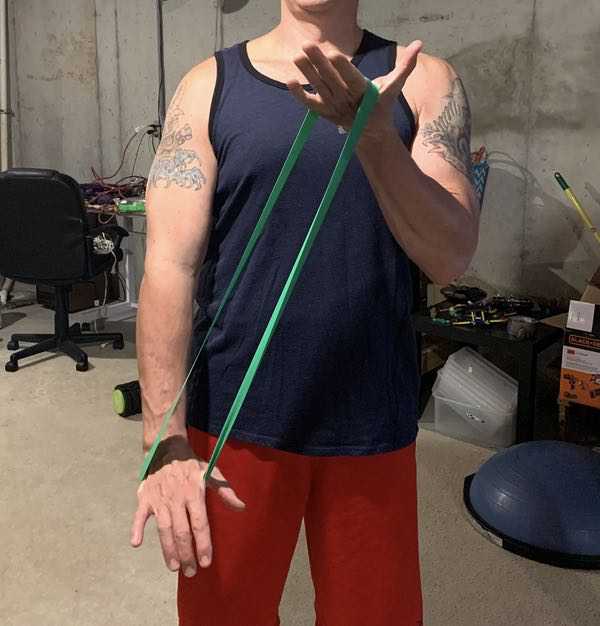 If you've ever had to do rehab for injuries, you're probably familiar with using resistance loops. They're great for focused exercises on specific areas. I use them quite a bit for strengthening my knees. No matter how you plan on putting them to work, these loops are solid. No issues with ripping or snapping so far.
Using The Core Sliders
For those not familiar with them, core sliders are very popular for building core strength (as the name implies). The top surface is a rough fabric, while the bottom is a slick plastic.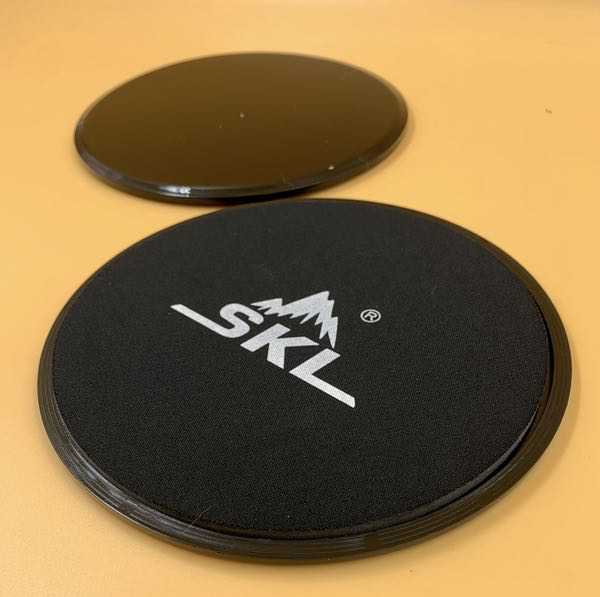 You'll get up in a plank position with your toes on the disks (slick side down). Then you'll move. Here I'm doing mountain climbers as an example.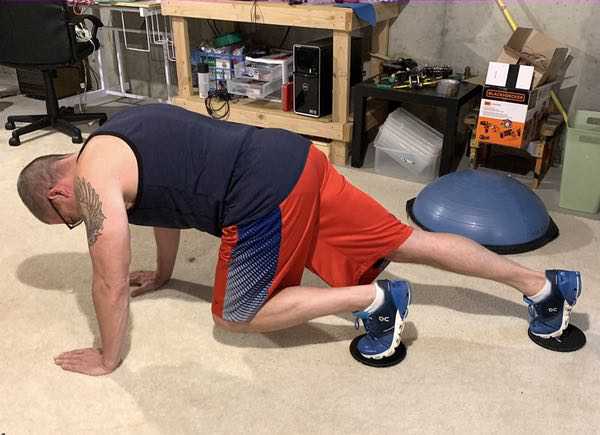 Again, you'll find all sorts of exercises for your core using these sliders on the Internet. Pikes, mountain climbers, tucks, twists… it's all for strengthening your core and improving  stability. I'll admit that these are my personal nemesis, but I'm working on it.
Performance
As you can probably tell from the photos, I don't consider myself an athlete. But I am a fitness enthusiast and I work out every day. I can be rough on the equipment, and I appreciate quality gear.
The SKL Resistance Bands Exercise Set is not built to the same quality and level of detail as some of the higher end fitness-focused brands. You can tell out of the box that it's not in the same league as TRX, for example, or the T2 Iso-Trainer I reviewed earlier this year. But I have to be honest: I've been pleasantly surprised with how well this kit is performing with regular use.
If you're new to fitness you're getting a package that allows you to work every part of the body. Legs, arms, core, back, chest… you'll find some combination of the gear included with your kit to hit 'em all. The lower-level resistance pieces are great for getting started, allowing plenty of room to grow as you develop strength and coordination. It's a great starter kit.
Portability and flexibility are big value-adds here, especially if you live where you are tight for space like a dorm room or an apartment. You can do just about everything here in a small footprint. If you have a doorframe, you can go even further… but it's not necessary to do your thing.
If you're a more experienced with regular exercise or used to using heavier gear, I think you'll still find value here. It's simply a great value that brings a lot of different tools to your arsenal, especially for core work.
I don't have any concerns about durability now that I've used this kit for a month. All the components are holding up very well despite almost daily use.
What I like
A complete solution in one package.
Portable and flexible to meet a variety of fitness needs.
Great for those that are new to exercise.
Nice addition to your gear for those who workout regularly.
Great price.
What needs to be improved
Hardware doesn't feel as beefy as professional-quality stuff, but is holding up well to my testing so far.
Final thoughts
The bottom line is that the SKL Resistance Bands Exercise Set is a full-body workout solution for a bargain price. You won't get the same build quality you'll see in enthusiast brands, but it seems to be holding up just fine for me. It's portable, flexible, and accessible to people with a wide range of fitness levels. This would be a great starter kit if you're new to fitness, and experienced exercisers can find some extra tools to add to their collection.
Price: $29.97 on Amazon Prime
Where to buy: Amazon
Source: The sample of this product was provided by SKL.