We use affiliate links. If you buy something through the links on this page, we may earn a commission at no cost to you. Learn more.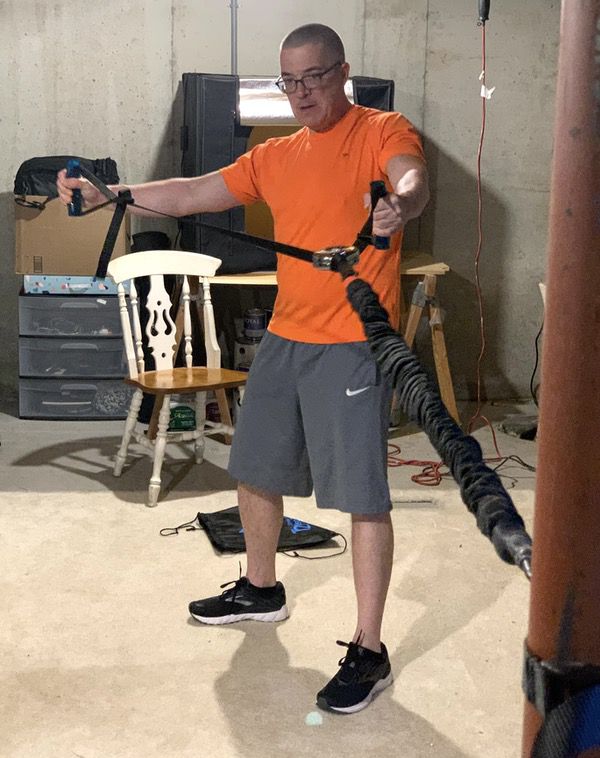 CROWDFUNDING REVIEW – So you want to get fit, eh? The T2 Iso-Trainer is a product that sets some high expectations as a single total body fitness solution. It's based on isokinetic training principles where you provide the resistance, but it also combines elements of resistance bands and suspension trainers for a complete workout in a very portable solution. What the heck does that all mean? Let's do down to my basement and find out! Please pardon the mess…
What is it?
It's a portable fitness device that combines aspects of bands and suspension trainers for a total body workout solution.
What's in the box?
The T2 Iso-Trainer includes the isokinetic resistance system, a bungee cable, and an anchor strap with a hinge-door anchor. A training app will also be available at launch. The package includes a drawstring travel bag to take it on the road.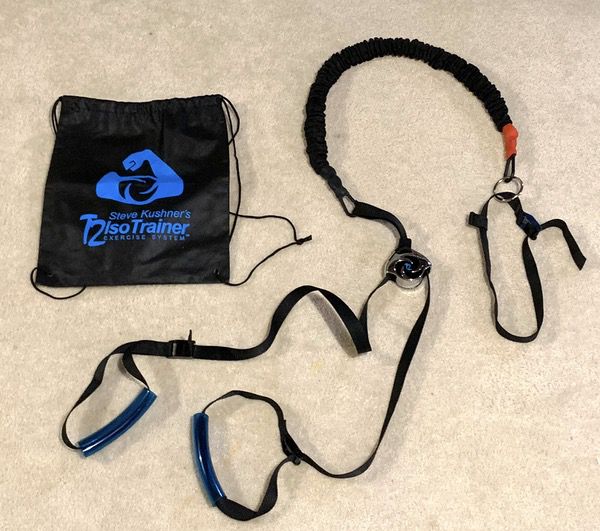 Hardware specs
Nylon cables and sleeves
Die0cast chrome plated zinc "force lock" resistance housing
Flexible handles
3800 pound tensile strength
Metal cam buckles with an 800 pound capacity
Design and features
The T2 Iso-Trainer was a little confusing to me when I started playing with it because it combines elements of numerous training tools. The learning curve is short, however, once you understand how the components work together.
All of your work begins with the isokinetic resistance system. A pair of flexible handles are attached to an adjustable nylon strap that runs through the "force lock" resistance housing. Pull or push on one side, and you'll apply the resistance from the other. The straps are fully adjustable to accommodate long or short movements, as we'll see in a moment.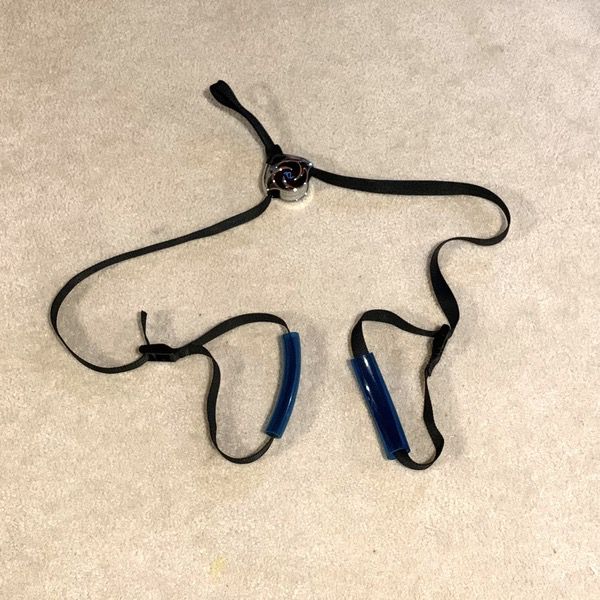 A bungee cable is provided that connects the isokinetic rig to the anchor point. This enables "iso-elastic" training, which adds a dimension to your workouts similar to a resistance band.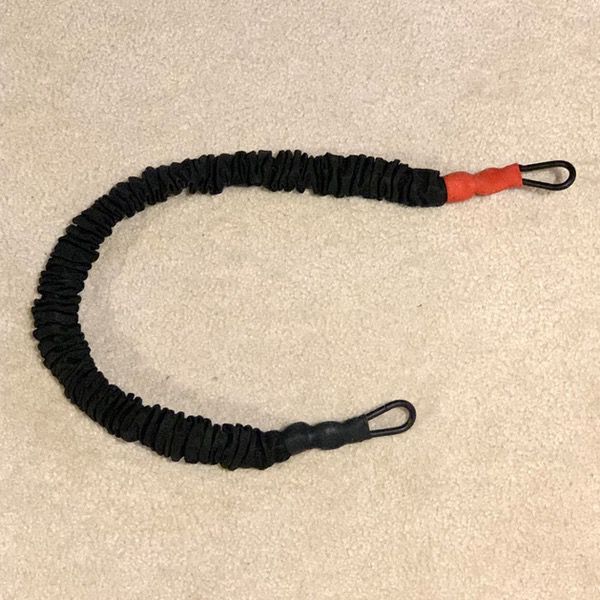 Finally, you have the anchor strap. Feed the loop of nylon through the cam buckle to attach the anchor to any stable surface. Both the isokinetic rig and bungee clip to a ring on the anchor strap for whatever workout you are doing.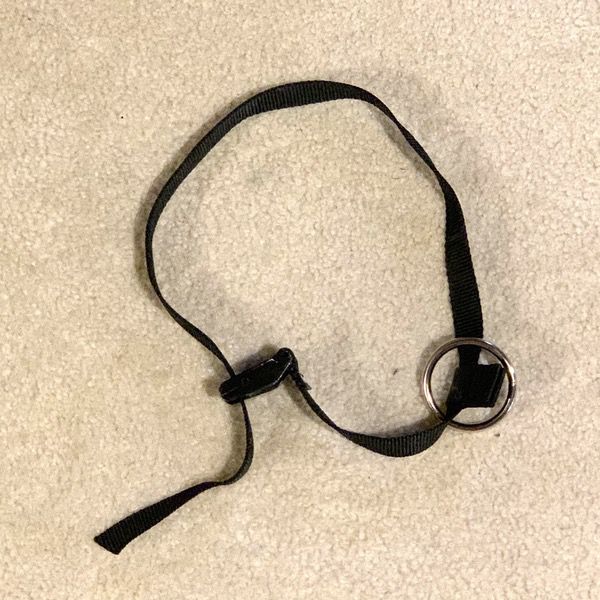 There's also a hinge door anchor on the strap so that you can connect it to a closed door (like in a hotel room).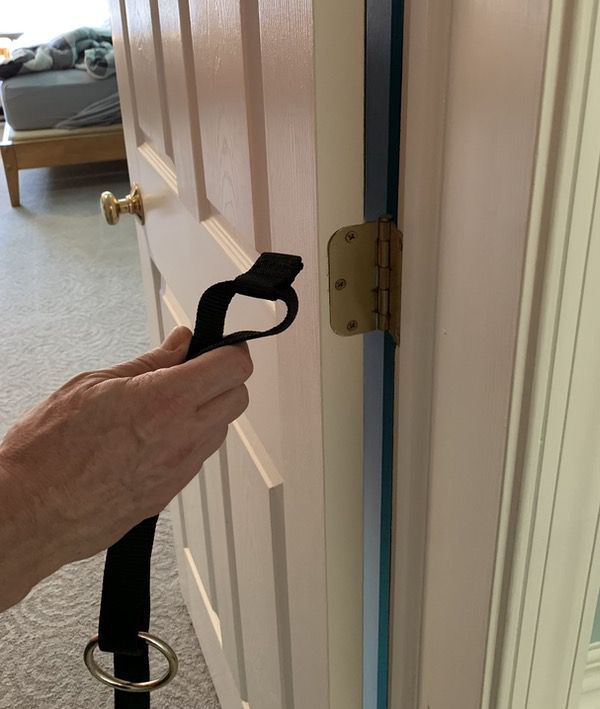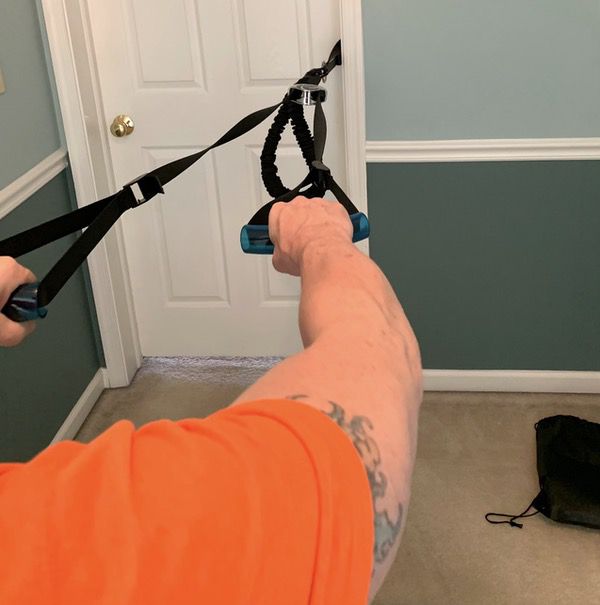 This is a solid piece of gym quality equipment, engineered for heavy use over a long period of time. I took the T2 in to the gym to have my trainer check it out, and he was really impressed with the build quality. If you're looking for a long-lasting piece of gear that will hold up to both light- and heavy-intensity workouts, I think you'll find that this will do the job nicely.
Performance
I was pleasantly surprised by the versatility of the T2 Iso-Trainer. Depending how you set up the equipment, you can execute dozens of different exercises to focus on different body parts as well as full-body moves that work combinations (like core and arms).
Isokinetic exercise is based on the principle that you provide your own resistance. Here's a pic of me doing curls with the rig set up for standalone use. I've got the bungee looped around to form a base that I can stand on, and I've shortened up the strap length on the isokinetic rig. As I curl with my left arm, I'm applying resistance with my right.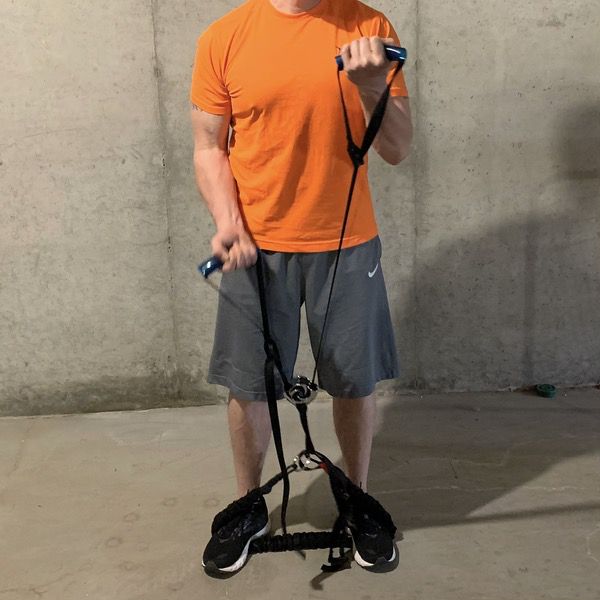 It takes a little getting used to, but I was surprised at how much effort you can drive out of the system. The resistance housing is designed to ensure consistent force resistance throughout the range of motion. If you want to go for power, you simply provide more resistance. If you're going for speed at lighter intensity, you can adjust your work on-the-fly to accommodate. Either way, I was able to get the intensity where I wanted with a little practice.
The adjustable strap length and quick-action cam allows you to rapidly change exercises during your sets. Here I lengthened then straps to do standing flys, using the same isokinetic resistance. There's a set of visuals on the T2 kickstarter site that show you all kinds of exercises you can do from the standalone position including rows, shoulder exercises, squats, and even lunges.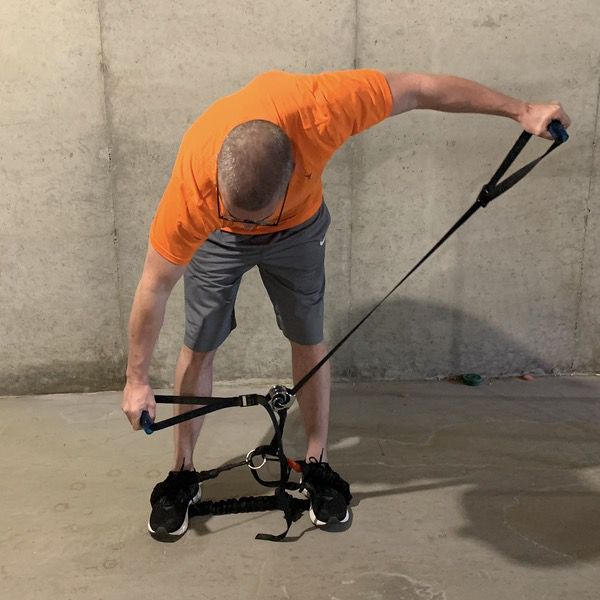 Take the anchor loop and attach it to a stable anchor point, and you open up a new range of options. Here I've attached this rig to one of the support posts in my basement and I am doing alternating rows from a position high on the pole.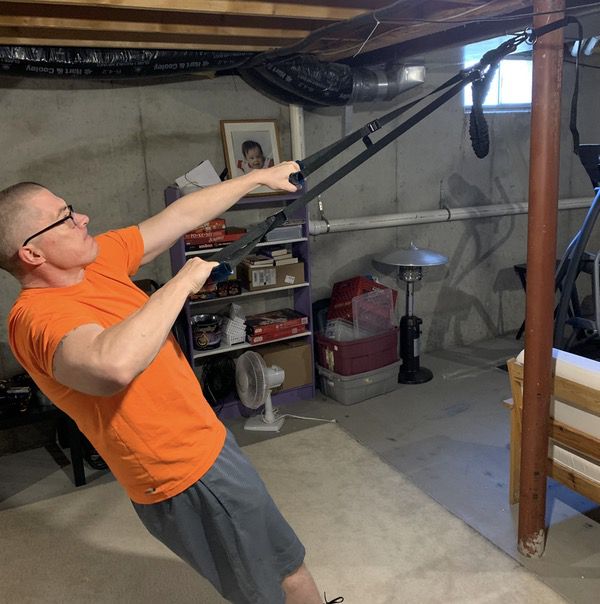 Connect the anchor and clip in the bungee, and you now add the dynamics of a band and a resistance trainer. Note that this does require room (about 10 feet) to allow for the bungee elasticity to get the most resistance. Here's a row from the high position on the pole.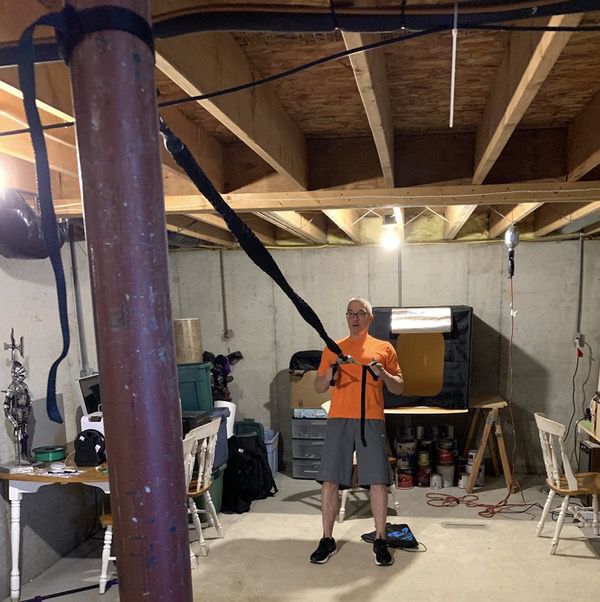 I switched to a mid-height position and the bungee to do reverse flys for the next exercise. Again the cam buckles and snap hooks on the components allow for quick adjustments during your workout between sets with minimal down time.
From this position, I also switched over to torso twists.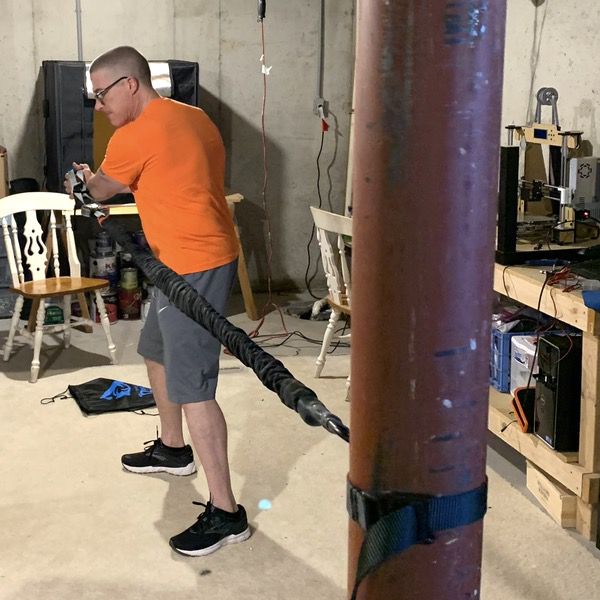 You're also not limited to pull-style workouts. Here I turned around and am doing MMA-style punch presses, again using my own resistance as I switch between arms.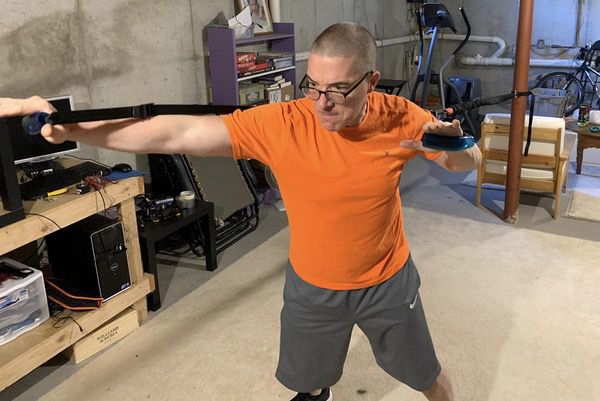 Next I dropped the anchor down low for standing curls. Note that you could lose the bungee for any of these for a higher level of resistance like a TRX or similar resistance trainer.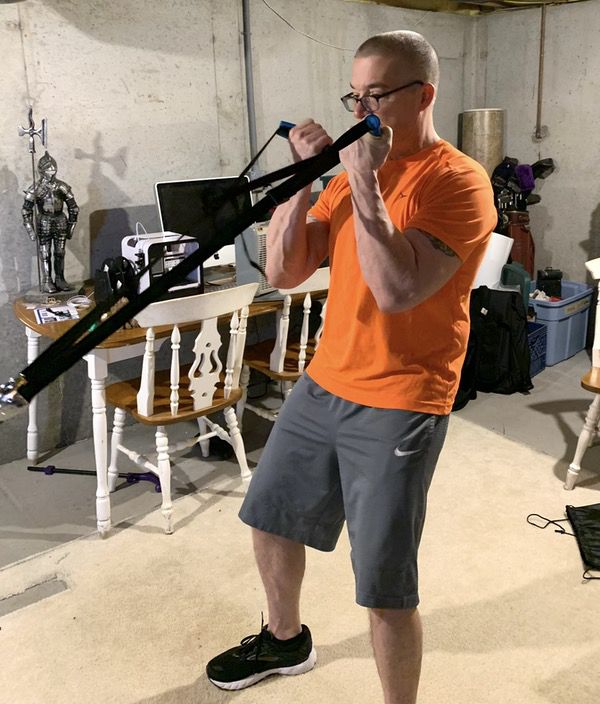 You can also use the rig to do what T2 calls "Iso-Elastic" training. Here I have the rig set to the mid-point height on the pole. My left arm serves as an anchor point, while I do reverse flys with my right. Here I am not applying any resistance with that left arm other thank holding it in place. The motion of my right arm provides the resistance.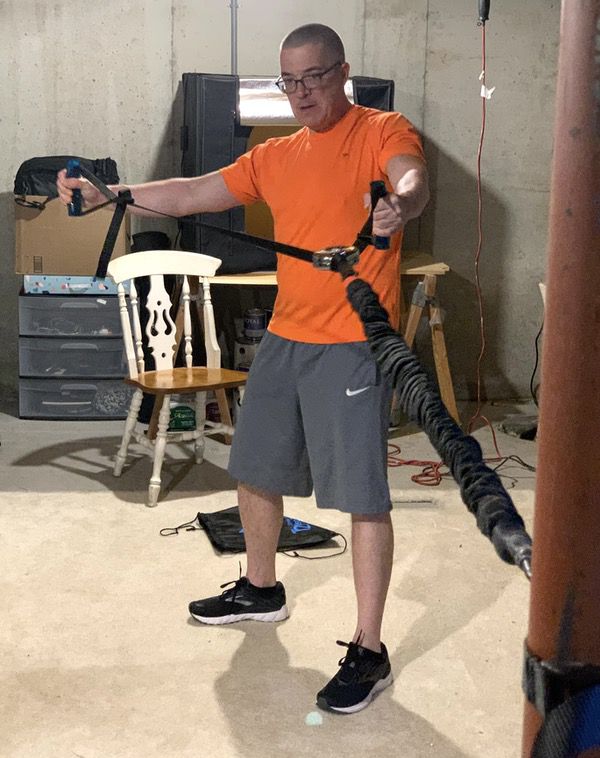 I'm only showing a few examples here, but you can follow the link to the Kickstarter to see a whole range of workouts including animated GIFs and videos for reference. I did find some of the different exercise combinations to be awkward to start (especially the ab and leg workouts), but I've gotten used to them with a little practice. There is an app coming for the T2 Iso-Trainer that I think will be very helpful in organizing programs and shortening the learning curve.
I'm impressed with the level of work I can get out of the system. I'm new to isokinetic style workouts so I wasn't sure what to expect. Want to drive for power? Focus on intensity? Emphasize speed with lower resistance? You can do all of that and adjust on the fly depending on what you want to accomplish. And you'll quickly reach your thresholds if you want to push yourself. I found myself gassed with a 15-20 minute routine when I drove it hard, hitting a range of 10-12 exercises for a total body workout.
I will note that you will need some space to execute a full range of moves. A number of the possible exercises (like lunges) require full extension of the bungee to get the tension you need. This means you'll want 10′-12″ of space from your anchor point as you can see in some of my pictures. But the different configuration options and a little creativity can get you a good workout in even tiny spaces.
What I like
Delivers the goods when it comes to productive workouts
Professional quality build for long-lasting use
Ability to adjust exercises and intensity to meet personal fitness goals
Very versatile and portable, promotes creativity in designing workouts
What needs to be improved
Some exercises do require more space, but you can adjust for tighter areas
Would like to see the app, and see how it helps with the learning curve and developing programs
Final thoughts
I think that the T2 Iso-Trainer delivers for the most part as advertised. I'm using it on a regular basis now as part of my exercise routines, and I'm impressed with the quality and range of workouts that I am getting. My personal trainer was also impressed, especially with the creative latitude that the system provides for customizing programs and enabling different speed/intensity levels.
If you're thinking about buying in to the Kickstarter program you have until March 19th to do so (July 2020 is the targeted shipping date). It looks like the goal has been reached, and a starting pledge of $149 gets you your Iso-Trainer at a 25% savings off the expected retail price and basic access to the app when it becomes available. Given the quality experience from my testing, this price looks like a good value to me.
If you go to higher level pledges you'll also get "premium" access to the app which includes full access to all the routines and exercises as well as regularly updated programs. I can't speak to what that will entail as I did not get the app to test, but it looks like the finished app will charge about 5 bucks a month for premium access (you get a discount with your pledge). This seems reasonable to me, but I can't really comment without seeing the content. If we get more details on the basic vs. premium app, I'll include it with my updates!
Update 8/24/20
Quarantine has ended my gym membership and I'm not going back. The T2 Is-Trainer is a big part of that. I'm finding that the T2 allows me to accomplish just about everything that I want, with a heckuva lot less aches and pains that may come from pushing myself to hard with the weights.
Last I heard from these guys they were rolling out an improved model from the prototype I played with, and it looks like they've made some subtle but significant improvements. They've also launched an app that I will be checking out. I'll let you know as I find out more.
Price: Kickstarter bids start at $149.00
Where to buy: Check out the Kickstarter project to get in on this item
Source: The sample of this product was provided by T2 Fitness.