We use affiliate links. If you buy something through the links on this page, we may earn a commission at no cost to you. Learn more.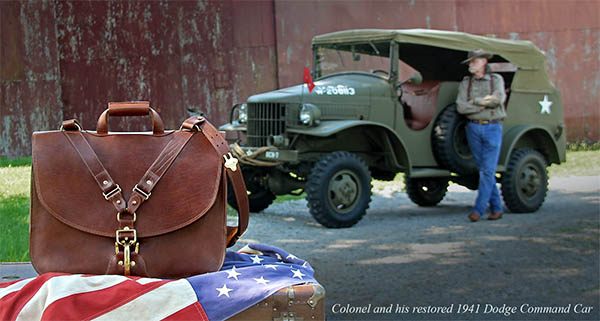 REVIEW – I carry my Col. Littleton No. 1943 Navigator bag with me nearly every day I go into the office and it has traveled with me around the US and the world. It is ideal for carrying my EDC gear and a laptop or tablet…plus it has a look that is truly all its own. Even after nearly a decade of use, this old world satchel still gets the job done without blinking an eye. That said, it is pretty lean & mean, and on those days I need to bring in my lunch and workout clothes I have to carry a different bag in addition to the Navigator or simply a larger bag that can hold all my [email protected] Well to provide for those needing more hauling capacity, Colonel Littleton has recently released the No. 41 Commander briefcase that should hopefully get the task done nicely.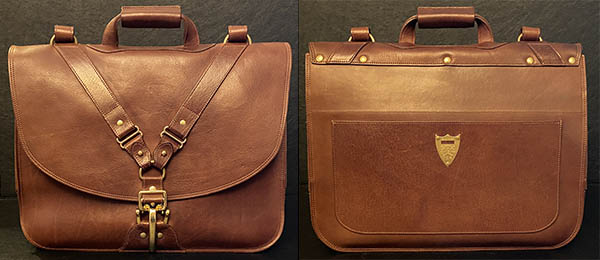 What is it?
The No. 41 Commander briefcase is one of the latest creations from Colonel Littleton's workshop. This spacious bag is handmade from full-grain, polished, and dry-milled American steer hide leather and was inspired by the Colonel's fully restored 1941 Dodge Commander Car (pictured above). The Commander briefcase is nicely sized and designed to carry a worthy amount of gear.
What's in the box?
Colonel Littleton No. 41 Commander Briefcase
Protective cotton canvas dust bag
Inspection & warranty cards
Moon Pie Cookie
Hardware specs and features
Overall exterior dimensions are 16 ⅞"W x 13"H x 5"D at the bottom
Interior dimensions are 16.5"W x 12"H x 5"D at the bottom
Unique Y-Strap front with a cinch buckle closure
Leather handle and removable shoulder strap
Adjustable shoulder strap with comfort pad: 34.5" – 42.5"
Large 13 ⅞"W x 6 ⅞"H back pocket decorated with a serial-numbered pommel shield
Two inside dividers and pockets for business cards, pens, phone, etc.
May be personalized with three block initials on a brass plate under the flap
Product packaging includes a protective cotton canvas dust bag with Colonel Cameo logo.
Warranted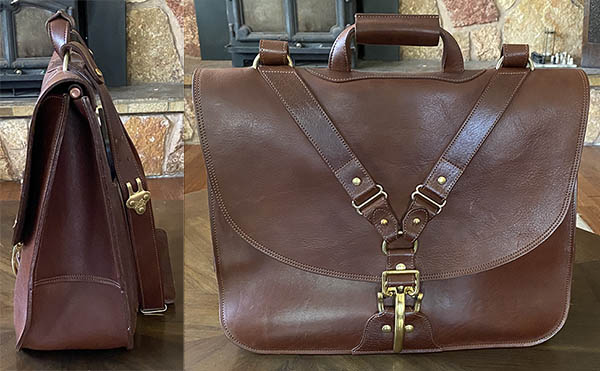 Design and features
The No. 41 Commander briefcase lives up to Colonel Littleton's reputation for incredible old world craftsmanship and leather work. The Commander is a large bag, designed to carry a lot of stuff as you move through your world…to include all your EDC gear, laptop and/or tablet, workout clothes, leftovers for lunch, etc.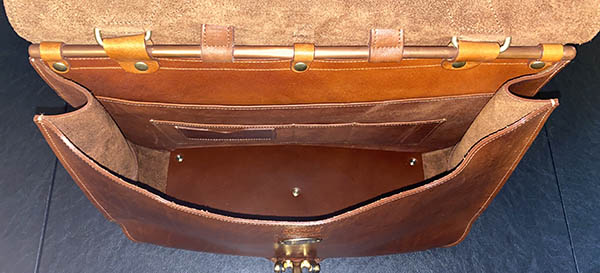 As I said, the Commander is spacious and here you can see there two main interior sections. The main section is quite large (16.5"W x 12"H x 5"D) and where I carry my Tupperware and workout gear. The back slipper pocket is where I carry my laptop or iPad.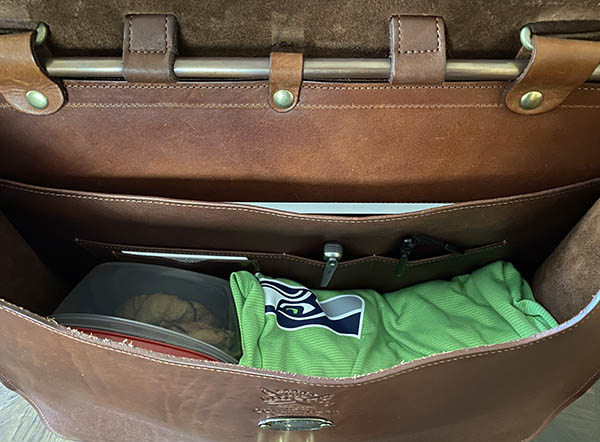 The piece of leather separating the two sections has a multitude of small slipper pockets for business cards, pens, pocketknife, phone, etc. for easy access and keeping things organized and not rattling around the bottom of the bag.

The top of the briefcase is very well done. The leather work, stitching, and extra reenforcing is gorgeous. The front flap is stitched and riveted to the back/main body of the bag. Like the rest of the Colonel's creations, most of the bag's hardware is solid brass…

…with the exception being the "distinctive" copper rod spanning the underside of the top flap to add strength and help evenly distribute the weight of the bag when fully loaded. You can also see where the handle and hard connection points for the shoulder strap are attached to the copper bar for added strength.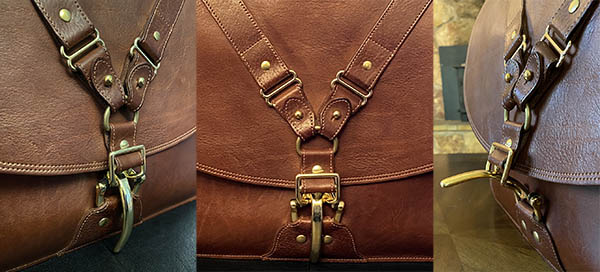 The front closure system is also very nicely done from not only an engineering standpoint but ascetic one as well. The unique Y-Strap design on the front on the bag helps reinforce the beak & hook, cinch buckle closure system that keeps the main flap securely closed.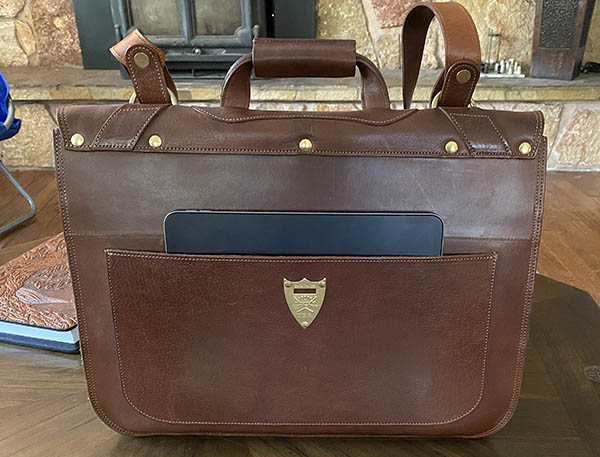 The back of the briefcase has a relatively large (13 ⅞"W x 6 ⅞"H) slipper pocket, big enough to carry paperwork, tablet, small laptop, etc.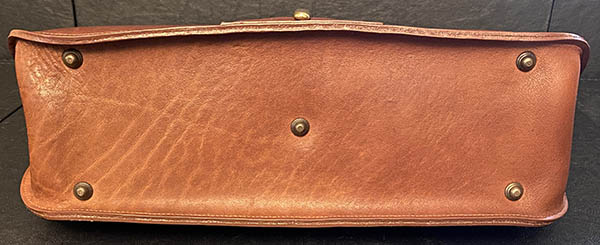 The base of the No. 41 Commander is double lined with thick leather, riveted together with brass feet to keep the bag off the ground, and is part of the engineering to keep the briefcase freestanding and upright.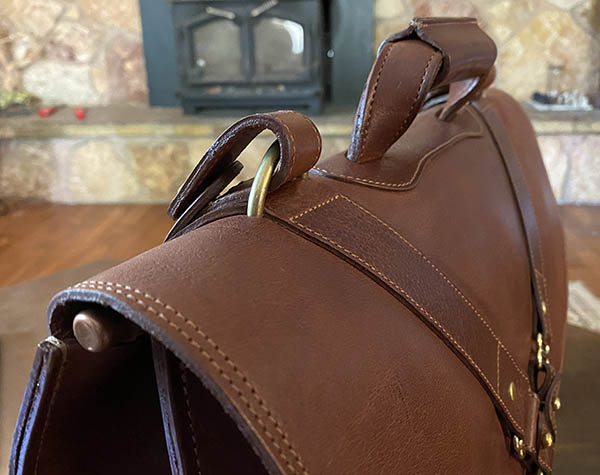 Quality & Craftsmanship
I love the fit, finish, and workmanship that goes into all of Colonel Littleton's products. The No. 41 Commander briefcase is no exception, its old-world design and craftsmanship are truly second to none. Like my Navigator bag, I'm sure the Commander is only going to improve as it breaks in and ages.

Along with the high quality materials and construction, all of the various bags that come out of the Colonel Littleton workshop are distinctive and in many ways unique in design. The No. 41 Commander is no different, in addition to the Y-Strap design and beak & hook, cinch buckle closure system on the front of the bag, there are many other nice touches throughout the bag. Each bag has its serial number embossed on the brass logged pommel shield riveted into the back slider pocket.  The brass plate under the front flap can be personalized with three block initials to truly make this bag your own…
I see a real resurgence in the country today for products made in America. Our focus is to design and create products that speak to the time-honored traditions that have made this country great such as handmade craftsmanship, authentic rich leathers and quality workmanship. There's a nostalgic feel about the products we make . . . most of them could have been made 100 years ago and many are made using turn-of-the-20th-century methodology and machinery. Our products are true Americana; forged as our forefathers intended by people who care and take pride in making a beautiful product.
I add this quote from the No. 41 Commander webpage cause it rings so true to me. As I pondered the cost and bang for the buck of this briefcase, it brought me back to my Navigator bag. In the many years I have carried that bag with me, I have gone through countless tech devices at a cost I (and my wife) don't even want to think about…and it has outlasted them all. My point is, the No. 41 Commander briefcase is expensive though arguably so are a lot of things these days but few will last and be by your side the many years and/or decades this bag will be.
Carry & comfort
Empty this bag weighs in at approximately 4.5 pounds and when fully load (of course dependent on what I'm carrying) is nearly 9-10 pounds.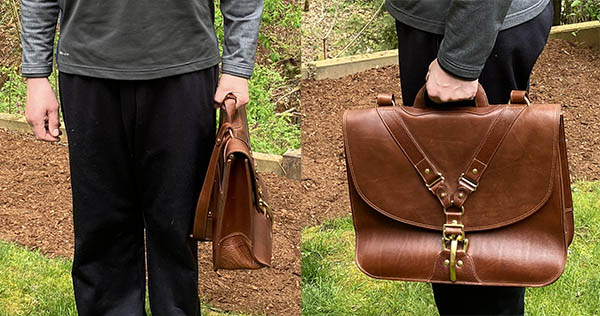 Even though the No. 41 briefcase can get pretty heavy when fully loaded, I found the Commander very comfortable to carry around. The handle is soft, well-sized, and easy to grip.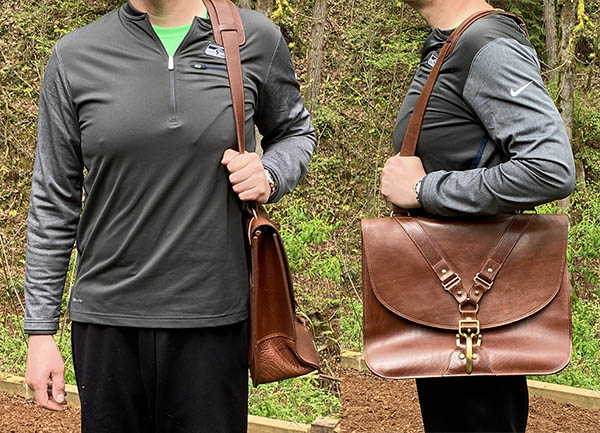 The Commander rides comfortably over the shoulder, not much of a burden at all. The removable shoulder strap has a sliding "comfort pad" and is adjustable in length from 34.5" – 42.5".
What I like
Old-World craftsmanship and design
Large capacity and well organized
Thick full-grain, polished and dry-milled American steer hide leather
Solid brass hardware
Very well engineered reinforced
Comfortable carry
Removable strap
Great warranty
What needs to be improved
Here is a great video of the Colonel walking us through the design and features of the No. 41 Commander briefcase.
Final thoughts
I received the No.41 Commander briefcase just before the stay-at-home guidance/order came online here in Washington State, so this bag has not really seen the light of day. I haven't been able to put it through my usual routine but that takes nothing away from its incredible old world craftsmanship and overall quality. The Commander's larger capacity does an excellent job combining my EDC gear from my 1943 Navigator bag and my food and clothes from old Air Force helmet bag into a very stylish, incredibly well-made satchel. Though I am sure like most of you, I'm looking forward to getting back to normal life and for me, taking this bag on its maiden voyage.
Price: $910
Where to buy: The No. 41 Commander Briefcase is directly from Colonel Littleton.
Source: The sample of this product was provided by Colonel Littleton.