We use affiliate links. If you buy something through the links on this page, we may earn a commission at no cost to you. Learn more.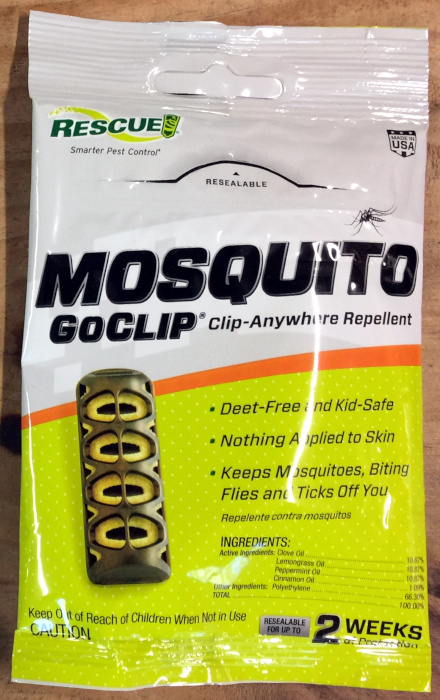 REVIEW – When enjoying the outdoors it is almost inevitable that you will have to deal with the biting and stinging pests with whom we share the outdoors. There are many options that may be tried to combat these flying and crawling menaces, but they all have their disadvantages. The Mosquito GoCLIP and Yellowjacket Repellent GoCLIP from Rescue promise to minimize these disadvantages while still performing their basic purposes.
What is it?
The Mosquito GoCLIP and Yellowjacket Repellent GoCLiP are DEET-free and kid/pet-safe clip-on repellent emitters that use passive diffusion of various plant oils to deter stinging / biting insects from getting too friendly. The active ingredients are incorporated into a solid bar which is held in a plastic clip-on case. These are multi-use devices which provide up to 48 hours of active protection and may be sealed back in their foil bags and reused, up to the 48 hours total, for 2 weeks.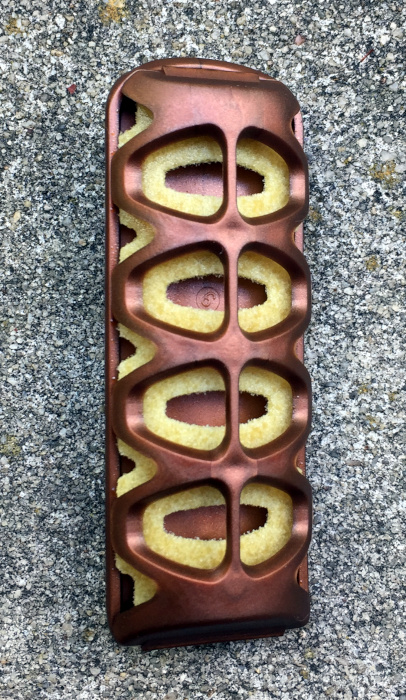 What's in the box?
I was sent one of the Mosquito GoCLIP and one YellowJacket Repellent GoCLIP units. The contents of each packet are identical with the exception of the type of repellent.
Each GoCLIP pack consists of a reusable foil pouch with descriptions of how and when to use each GoCLIP and a list of ingredients.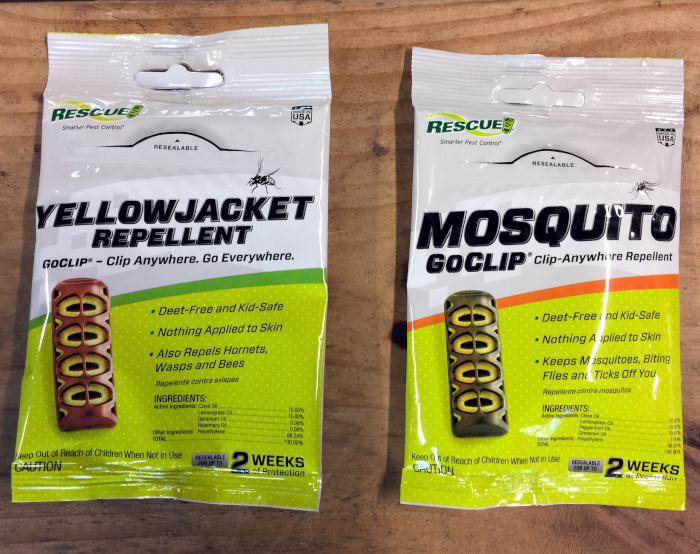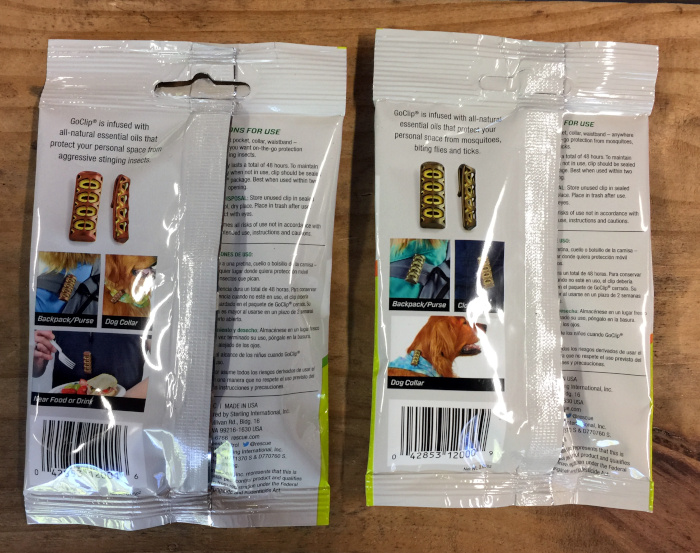 Inside each reusable pouch is a smaller mylar-type sealed packet. Inside this packet was a sealed plastic bag containing the actual GoCLIP. The two inner packets are disposable. The main foil package is heavier and is intended for reuse / storage of the GoCLIP between wearings. The reusable package is closed with a zip-lock style seal.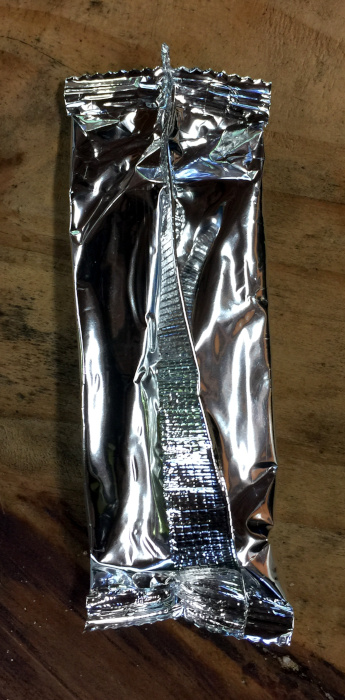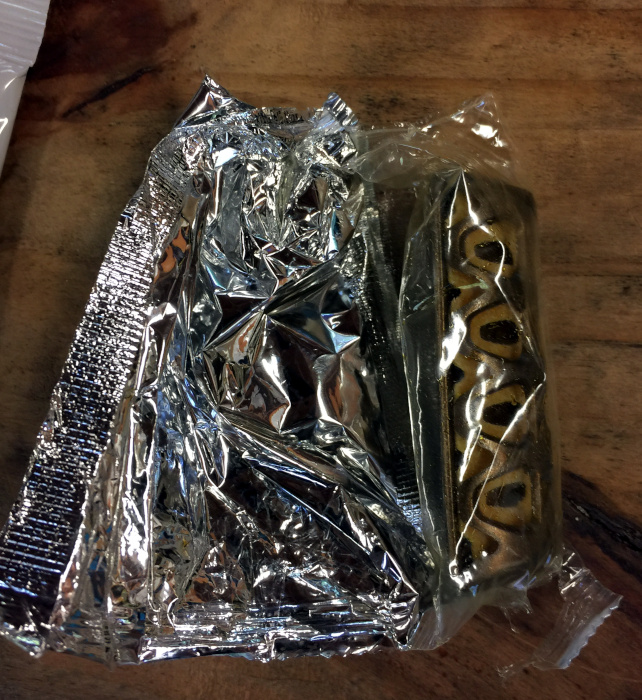 Specs
Each GoCLIP measures 74 x 26 x 19 mm (l x w x h) and weights 6 grams.
The GoCLIPs each have a clip on the back that allows the GoCLIP to be clipped to a pocket, belt, beltloop, or ring, such as on a pet's collar.
The only immediately discernible physical difference between a mosquito-repellent GoCLIP and one designed to ward off stinging insects is the color of the holder. The mosquito-repellent modules are green, while the stinging insect modules are bronze colored.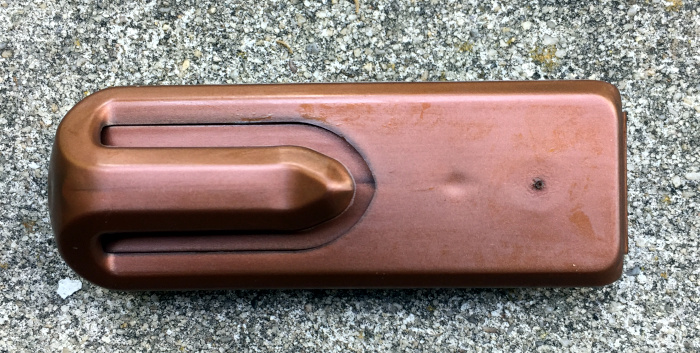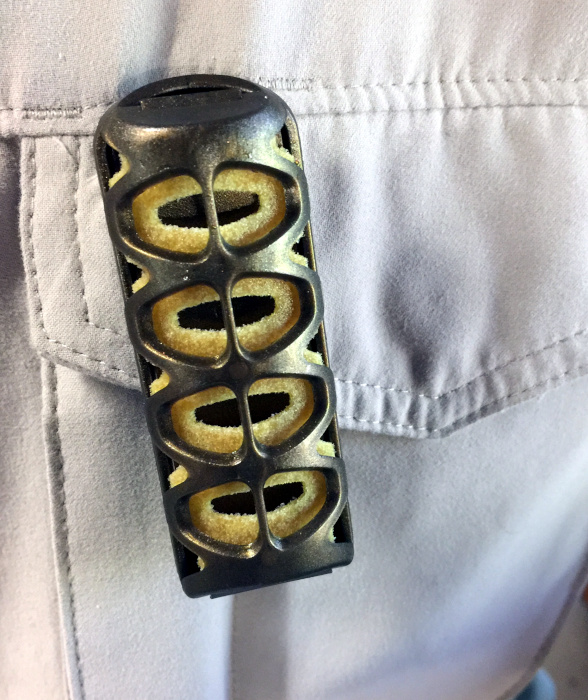 Design and features
The GoCLIP consists of a plastic housing and the plant-oil infused polymer insert. It is an efficient design. The GoCLIP system could lend itself to a reusable housing in either a more durable plastic or light-weight metal with a replaceable insert.
The Mosquito GoCLIP is designed to repel mosquitoes, biting flies, and ticks. The YellowJacket GoCLIP is intended to ward off yellow jackets, hornets, wasps, and bees.  The active ingredients in both include clove oil and lemongrass oil. The mosquito formula add peppermint oil and cinnamon oil, while the yellow jacket formula substitutes geranium oil and rosemary oil. When in use, the predominant smell is of cloves. It is definitely noticeable, but not overwhelming.
Setup
Setup consists of opening the layers of packaging and clipping a GoCLIP to your clothing or your pet.
Performance
I put the Mosquito GoCLIP to one of the most daunting tests I could think of: camping in North Central Florida in the late spring after a few weeks of intermittent rain at a camp with two terminal lakes and a number of streams.
Several of the people with whom I go camping are extremely sensitive to DEET due to exposure to various and unknown chemical during their military service, so I was quite happy to review the GoCLIP in an attempt to keep from becoming anemic due to the mosquitoes in my area.
I wore the GoCLIP from sunrise until well after dark on the Saturday of my test. During this time, I alternated the GoCLIP from my shirt pocket (above photo) to my belt. During the time I was wearing the GoCLIP, I saw many mosquitoes flying around others at the site and scoring hits on many of the other campers. The mosquitoes would approach me and the veer away when they came within 6 or 7 inches of me. I was quite impressed. I was not successfully attacked by a mosquito while wearing the Mosquito GoCLIP. I will also attest to its apparent ability to ward off ticks. The camp in question is notorious for ticks, but I found no tick on me after Saturday while several of the other campers removed multiple seed ticks during this same time. As a control, I did not wear the Mosquito GoCLIP on either Friday night or Sunday morning / early afternoon. During these times, I was bitten by mosquitoes more than 6 times (most of these on Sunday).
The Mosquito GoCLIP scores over my ThermaCell repellent because I didn't have to rely on still air and remaining within 10 feet of a fixed point, like I have to do with the ThermaCell. As a further test, I was at this same camp two weeks later and attempted to use my ThermaCell to ward off mosquitoes and was sorely disappointed by the effectiveness of the ThermaCell compared to the Mosquito GoCLIP.
I tested the YellowJacket Repellent GoCLIP while working around my house cleaning out some brush and mowing. I had previously been stung while working around the house and saw several flying stinging insects during my cleaning, but none of them approached close enough to me for me to even attempt to swat them away (which may have led to a few stings).
I did not have the opportunity to test the GoCLIPS on a pet, but I only assume that as long as the pet kept the GoCLIP on its collar the results would be similar. The only problem that I can foresee using a GoCLIP on a dog or cat would be getting them used to the smell of the GoCLIP. I have had scent hounds that loved to go roll or rub against my herbs and scented geraniums (including citronella plants) and others that became very agitated with anything with a strong smell (other than a dead animal that they decided to roll in) was put on them.
What I like
DEET-free
Reusable for up to 2 weeks (stored) or 48 hours (continuous use)
No residue on skin, fur, or clothes
What needs to be improved
Longer life
Smaller units that can be more easily clipped to shoes / boots sold as a pair
Make a more robust reusable housing and sell inserts with the active ingredients
Final thoughts
I'm quite impressed with the performance of the Mosquito GoCLIP and will be purchasing many more for use during the upcoming camping season. The convenience and efficacy more than make up for the price of the GoCLIP. I'm in the process of cleaning up many of the areas around my property that are the favorite nesting spots for the stinging insects targeted by the YellowJacket Repellent GoCLIP, so I'm not sure if I'll be purchasing additional units, even though it seems to work well.
If you're planning to be outside this summer, do yourself a favor and at least try the Rescue Mosquito GoCLIP and YellowJacket Repellent GoCLIP.
Price: $ 8.18 via Amazon Marketplace
Where to buy: Online (including Wal-Mart and Amazon.com) and various local retailers (including some local Do It Best hardware stores, True Value Hardware stores and Rural King). To find your local retailer go to "Find a Retailer" on the Rescue website.
Source: The sample of this product was provided by Rescue / Sterling International, Inc.