We use affiliate links. If you buy something through the links on this page, we may earn a commission at no cost to you. Learn more.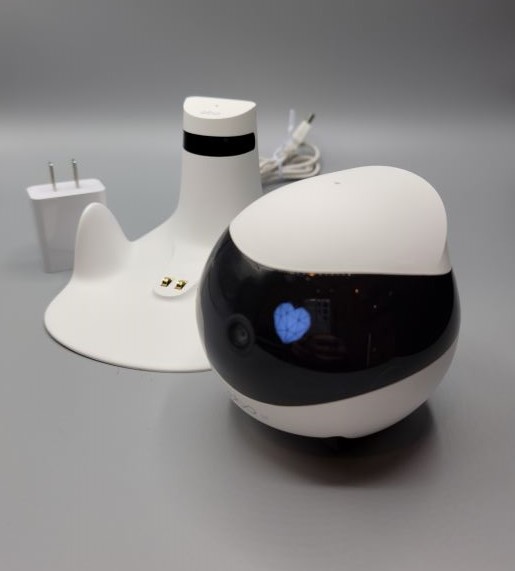 REVIEW – If you have read much of my stuff on this website, you know that I'm pretty disappointed in "the future." I mean, the closest thing I can get to Rosie the maid in "The Jetsons" is a robot vacuum, and dental work still involves drills like it's 1921 instead of 2021. Recently, though, I was sent the Enabot Ebo SE.   It is my little robot buddy, and that gives me hope!  Ebo is a rolling robot that is part security guard, part remote-controlled camera, and part adorable toy.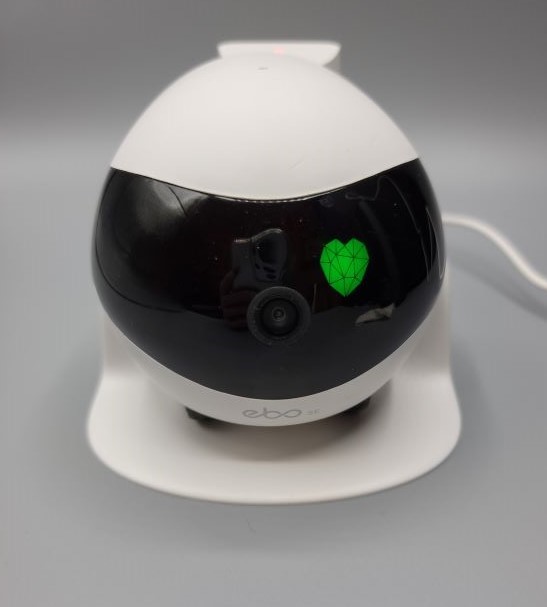 What is it?
The Enabot Ebo SE is a softball-sized rolling robot that features a microphone, speakers and a camera.  You can put it in security mode to listen and record suspicious things or control it so that you can interact remotely with your pets or your people.
What's in the box?
Ebo, its charging base, and some instruction cards.
Setup
Setup with the Enabot Ebo SE involved downloading an app and following instructions. To connect to Ebo, a QR code appears on your phone screen and you hold it in front of the Ebo and it reads it. As the main household member, I was able to share Ebo's information with other members of my household and they could control Ebo, although they lacked some functionality that I had, like the ability to schedule security monitoring.  Keep in mind that I was testing the Ebo in beta mode, so some of the things I noticed (like that) might not be present in the final version.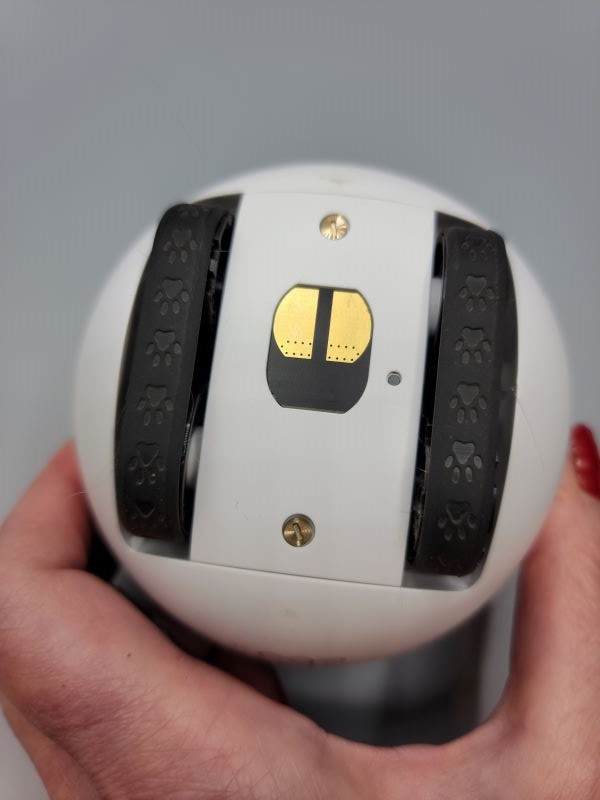 Features
At first glance, you might think the Enabot Ebo SE is a kid's remote-controlled toy.  Ebo has a little eye that blinks on and off like it's breathing, it makes the most adorable happy noises as it moves around the house and that gives it a cute personality.  It is fun for kids and kids can play with Ebo, but Ebo has a bunch of interesting features that also make it a functional help in the home.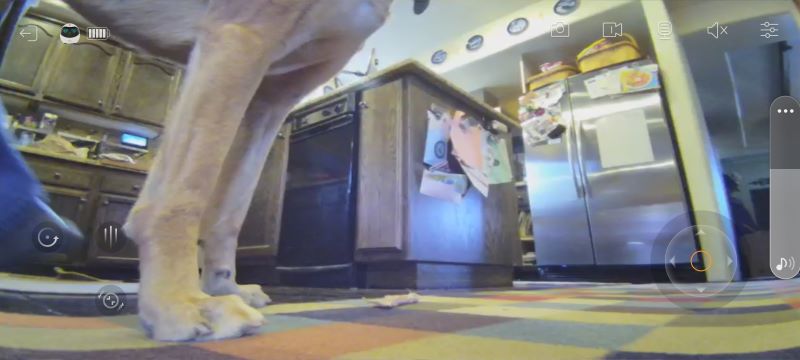 First of all, it has a camera, speaker and microphone.  That's because this model grew out of the Enabot Ebo Catpal, which is a similar robot that was created so that you can interact with your cat while you're at work or away from your home.  This robot is designed so that you can interact with anyone through the live stream feature that lets you drive the robot around your house, filming with the 1080/30fps camera or taking pictures.  You can press a button on the app and talk to people and have a conversation if you like.  It would be really neat to have if you were out of town on a trip and you just wanted to "drop in" and see what everyone else is doing at home and maybe say hello.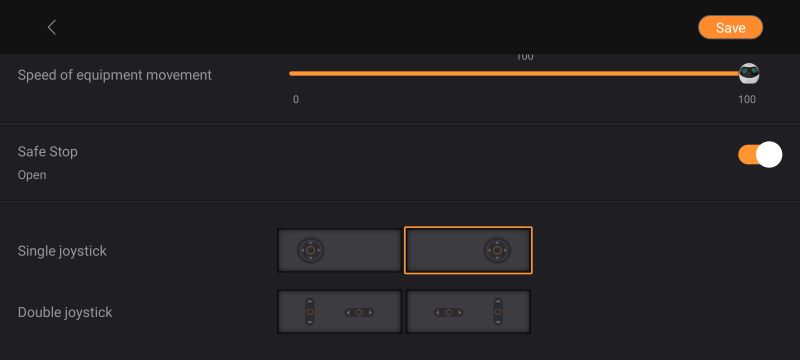 In practice, this functionality of the Enabot Ebo SE was a bit hit and miss.  Yes, you could do those things, but there is a significant lag in what you are seeing through Ebo and that lag is even worse if you aren't sharing the same network.  However, I was able to cruise around my house.  Ebo seems to work better on hardwood or short pile carpets than a combination, though.  I had to drive around one rug in my house because Ebo would get stuck on his back and could never make it up onto the surface.  Also, Ebo is pretty zippy, so it does take some practice to get used to navigate, especially with the lag.  The app allows for steering using one joystick or a two button system so you can use whichever one is more comfortable for you.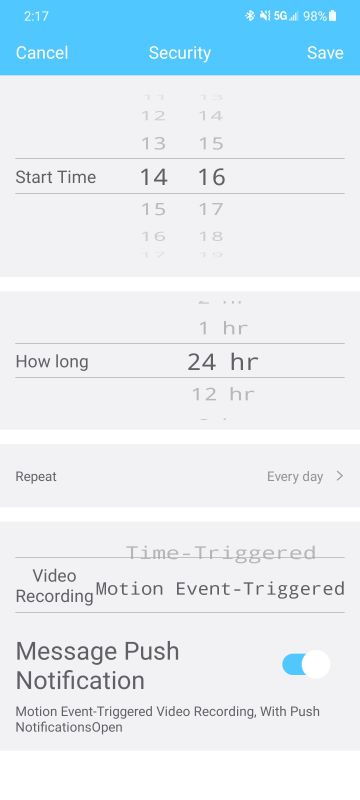 The Enabot Ebo SE also has a couple of security settings.  It has a fixed-location mode and a rolling "cruise" mode where it will roll around the house looking for movement and auto recording noises and motion.  There is a swappable SD card that can be used to store images and video.  Both modes can be scheduled for multiple times a day and multiple days of the week so that it is active when you need it to be.  Perhaps its best feature is the fact that no one would ever guess that it is a security device.  It's as stealthy as a nanny cam in a stuffed animal, but it can move all around the house!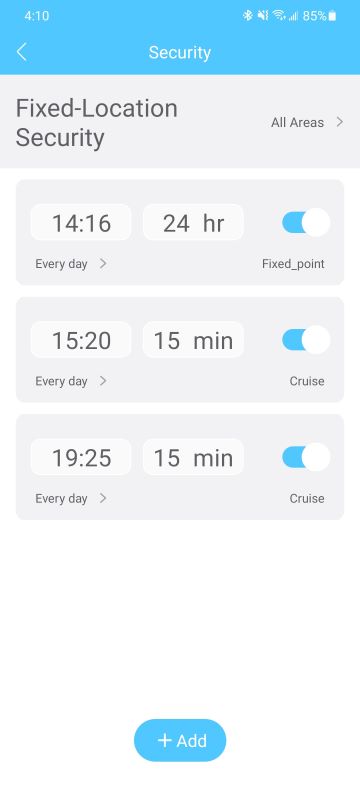 Again, the Enabot Ebo SE had some issues in practice.  I was able to schedule patrols and it did record things, but often it was the only thing in the room as far as I could tell … the camera was recording an empty room.  That's not to say that there wasn't something happening because my dogs wander around all day and by the time it started recording it is totally possible that the dogs had left.  Also, if I wanted to look at the recordings, I had to download them before I could watch them.  That's quite time consuming and a bit of a pain because you have to stay on the Ebo app while they download.  It would be better if you could see a little snippet of what it recorded so you could judge if waiting around for the download would be worth it.  I also experienced several times when the recordings wouldn't load or the app crashed.  I wasn't surprised since I am testing the device in the earliest stages, but I really hope they can improve the stability of the app.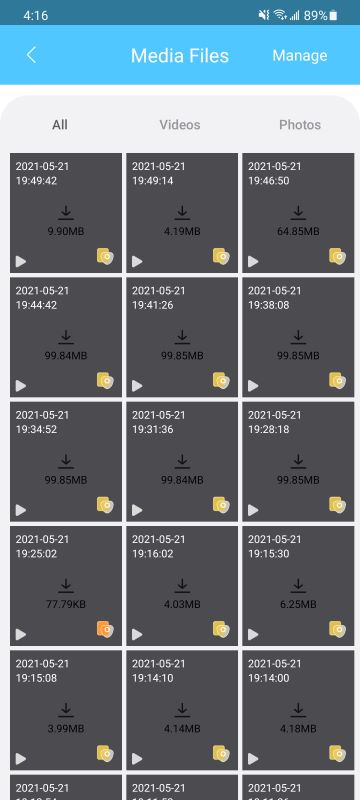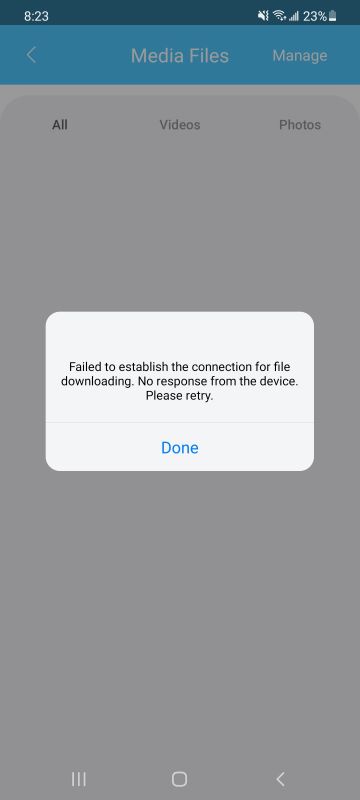 Hand-in hand with the security recording are the push notification features.  The little robot is supposed to be able to notify you when it detects motion.  I never got any notifications despite notifications being selected, so I suspect they are still working on that.  When that works it would be neat to have when you're on vacation and your house is supposed to be empty.  A notification could be your first alert to trouble at home.
Ebo had a fairly good track record with finding its base, although a couple of times it gave up trying and sounded sad and defeated.  If I picked it up and put it in the same room as its base it went back home and cheered up.
Other features of the robot include the ability to avoid obstacles and "product wellness self-diagnosis."  My Ebo seems pretty healthy, but I did send it through the product wellness checkup to see what that was like.  It wakes up your Ebo and it spends a short period cruising around testing out its functions and noises.  I can also attest to its ability to avoid obstacles.  I was a pretty lame driver of the Enabot Ebo SE and I know I would have slammed it into walls and the legs of furniture if it wasn't actively avoiding them.
The upgraded version of the Ebo SE is called the Ebo Air and it features a few more exciting features that mine did not, such as auto video recording and editing when it detects humans and pets (essentially making you little movies of the fun stuff happening at home) and fall prevention, which would be important if your Ebo lived upstairs.   It also has the ability to track, follow and interact with humans and pets.  Both versions are crowdfunding on Kickstarter right now.
What I liked
Adorable-ness (I cannot over-emphasize how cute the noises are)
Stealth factor (who would guess this is a security device?)
What I'd change
Better software performance overall
Less lag when live streaming
Enable previews of recordings

Final thoughts
The Enabot Ebo SE is a fun little robot that has a lot of potential.   Currently, it's a bit hit and miss, but it isn't a finished product yet.  I look forward to seeing what this little robot can do in the next year as they roll out updates!
Price: Pledges start at about $80 (HK$613)
Where to buy:  Funding on Kickstarter
Source: The sample of this product was provided by Enabot