We use affiliate links. If you buy something through the links on this page, we may earn a commission at no cost to you. Learn more.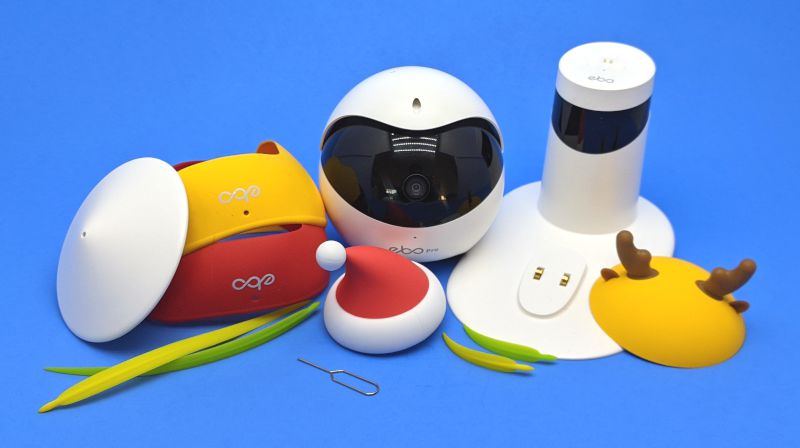 REVIEW – Trying to keep your cats entertained while working from home can be tricky. Ebo, the catpal robot by Enabot aims to keep your felines occupied while you answer emails. With multiple costumes, a laser, an autonomous mode, and an optional fitness tracker collar, your cats will be endlessly entertained on their own. This review focuses on the Ebo Pro robot without the optional fitness tracker.
What is it?
Ebo is an interactive pet companion robot that can interact with your cat via remote control or through artificial intelligence. It also is a great way to spam your friends with adorable cat photos as seen below. 😛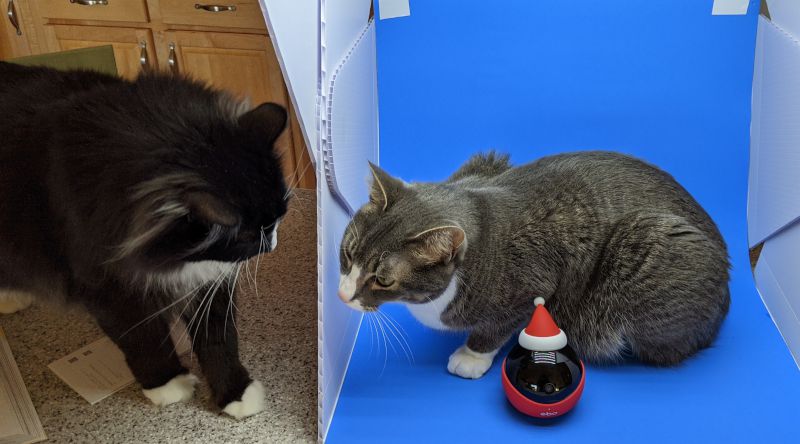 What's in the box?
Ebo Pro
Charging dock
Power adapter
Reset tool
Four silicone feathers (Two large & two small)
Reindeer outfit
Santa outfit
Soldier hat
Bamboo hat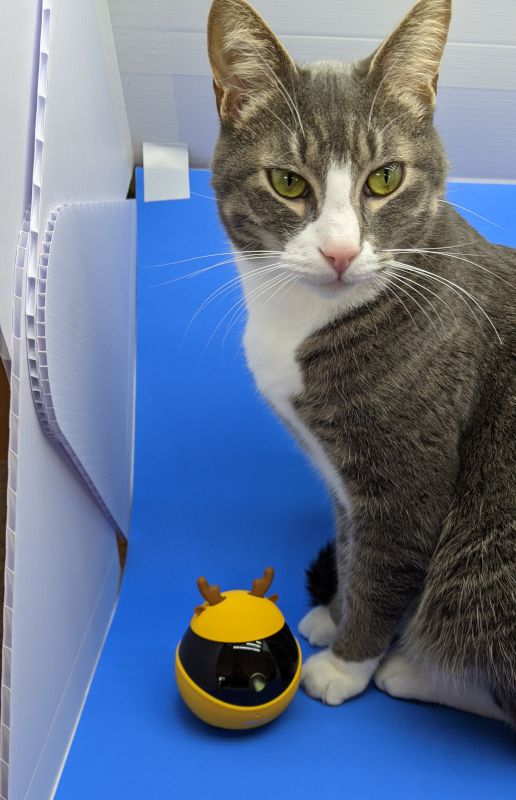 Hardware Specs
Size: 76mm*76mm*70mm
Weight : 223g
Battery life: 7.6V @ 1100mAh 120 minutes
Wireless: Wi-Fi 2.4G max 20m away from router 802.11.b/g/n
Processor: ARM926 @ 800MHZ+CORTEX M4 @ 168MHZ
Velocity: Max 1.6m/s
Camera: Photo – 

1920*1080,

 Video – 1080p @ 30fps
Storage: Standard – 16GB, Pro – 32GB
Transmission Video: 480p @ 30fps
Sensors: Gesture – 6-axis IMU, TOF – 50mm-1500m, Infrared Sensor – x 6, Starlight CMOS image sensor – SONY IMX323
Brushless Motors
Input Voltage: 10.6V – 12.6V
Input Current: 600mA max
Charging Stand:  Input – 12V @ 1A max,
Output – 12V @ 600mA max (Ebo), 5V @ 20mA max (Collar sold separately)
Design and Features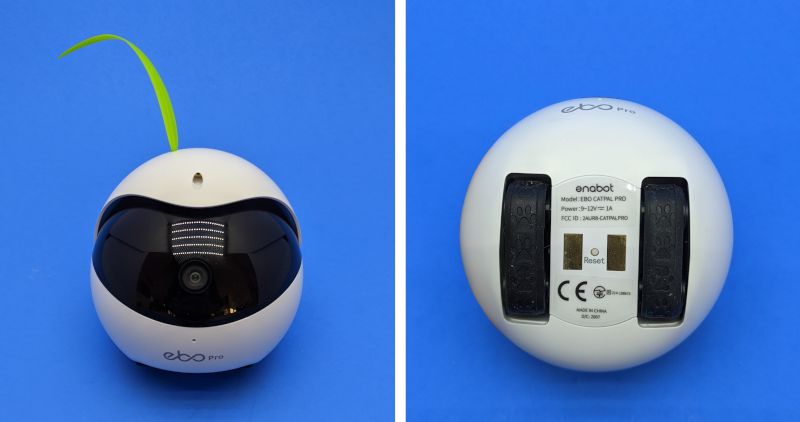 Ebo is about the size of a baseball. The LED "eyes" of Ebo are well protected behind the large black plastic front and the "nose" is the camera. The underside of Ebo has two charging contacts and a reset button. The two silicone tracks are well protected from dirt and hair. I have yet to have an issue with anything getting stuck in them. They are also quite adorably covered in tiny paw prints.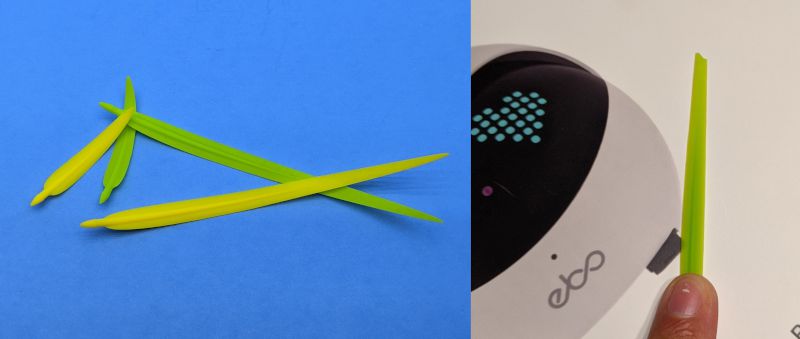 The interchangeable hats and outfits add a bit of pop and variety to the simple robot. It is important to note that only a couple of hats have laser built-in so if that is a key feature for you, you may not be able to use some of the more fun decorative hats. There is also a hole in some of the hats to insert the included silicone feathers. I found the silicone feathers were cute but they were too easy for my cat to remove. Within 30 seconds of leaving my cats unsupervised, one of them pulled the feather out and ate the top off it. Since it is made of silicone it didn't harm him but for those who know their cats are chewers, the feathers may not be a good idea. 
Never miss one of our posts again. Sent MON, WED, and FRI with the latest gadget reviews and news!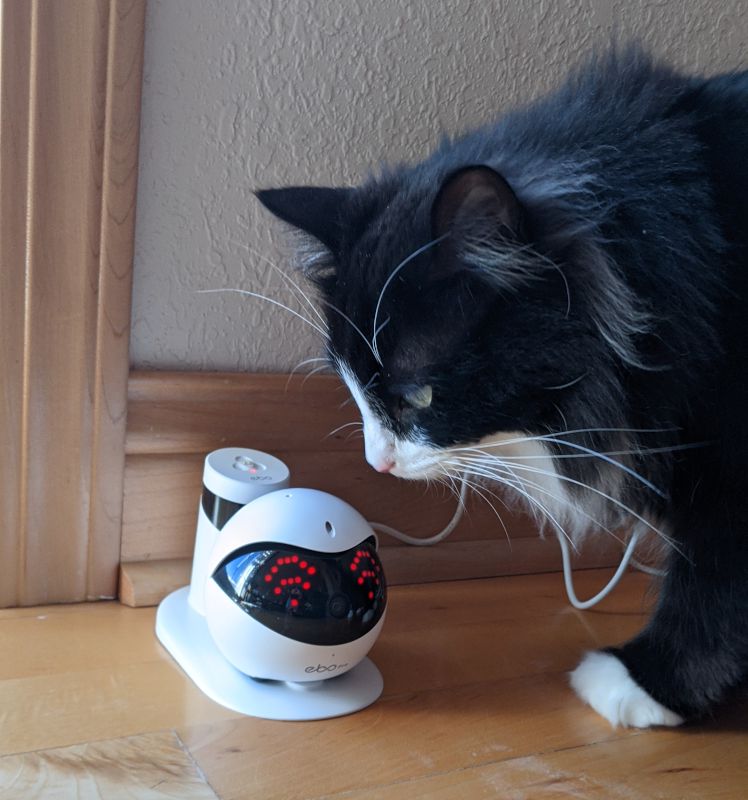 The charging dock is nice and compact. The tower in the back is for charging the optional fitness tracker collar. Ebo is self-docking which is super convenient, all you have to do is plug in the charging station and set him down on the ground. He will roll around and locate the base and back into it once it finds it. One thing I really like is Ebo is very expressive. He has different eye emotions for different events. The red Wi-Fi eyes above indicate he isn't connected to the Wi-Fi. When he's charging his eyes turn into a bar which shows the battery percentage. As he roams around, his eyes form arrows in the direction he is traveling. It is quite cute to watch him emote through his eyes. Ebo also is quite talkative, he says his name in different manners to convey different meanings. When he's removed from the charging dock he sounds excited, lost Wi-Fi slow, and sad. Ebo's volume is adjusted in the app settings along with turning his eyes on and off.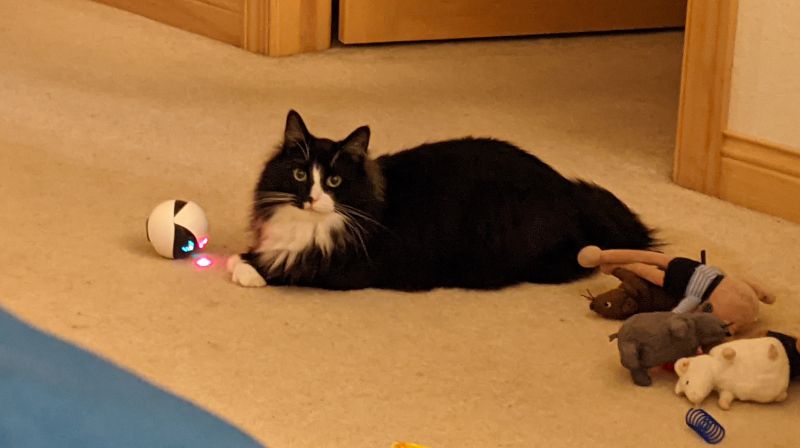 There are a couple of ways to interact with Ebo. You can use the live stream camera and the app to control him with a joist stick or use the app to schedule the autonomous mode so Ebo plays with your cats on his own. I enjoyed using the app to control him the best. It was a lot of fun to chase the cats around with Ebo and use the laser hat to taunt them. One thing to note is Ebo works best on hard surfaces. While he does work on carpeting, he often accidentally rolls over and gets stuck either on his back or his front. As you can see above my cat is quite happy with his "kill" and has no intention of helping me out and rolling Ebo over onto his tracks. You can adjust how fast he moves in the app which does help but doesn't mitigate the issue altogether. Considering it's a small self-propelled robot I have yet to burn out the battery while playing with my cats. It did die on its own once when it got stuck on its back while I was using it from work and I gave up on trying to right it. However, it only took a couple of hours to recharge once I got home and put it back on its charger physically.
App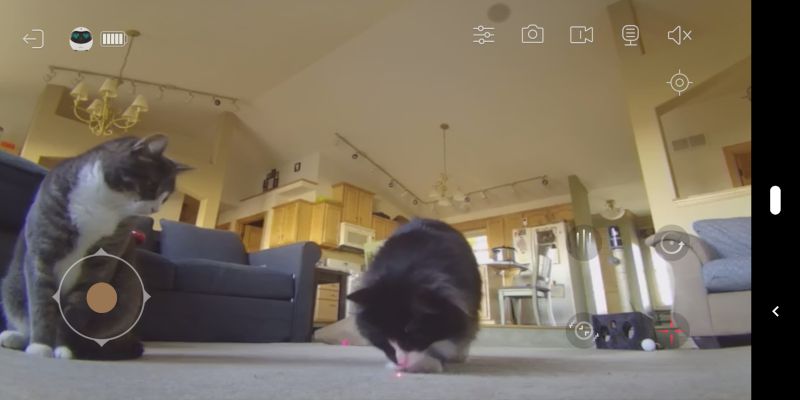 Through the app, you can see the battery life of Ebo in the upper left corner. The joist stick to move him around is on the lower left. Fun little interactive movements are in the lower right hand corner. You can make him do a zoomie, spin in a circle, shake and turn on and off the laser. The upper right hand corner allows you to start and stop video recording, talk to your cats through the built-in microphone, mute the live stream, take still photos, adjust the speed of Ebo and enable tracking mode.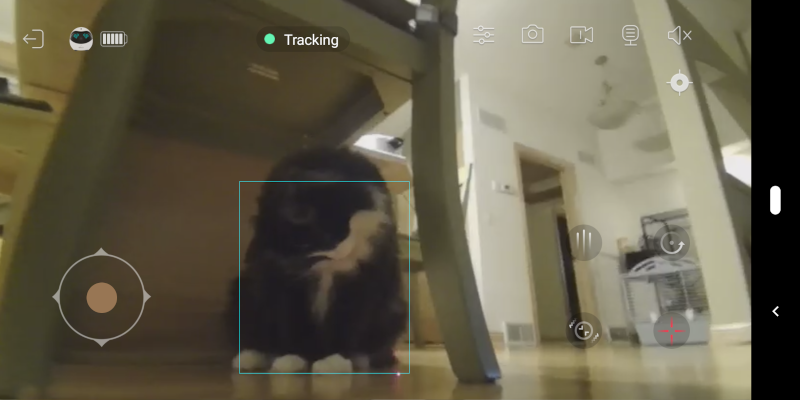 Tracking mode is only available on the Pro version of Ebo. It uses facial recognition to locate and track your cats and follow them around the house. A green box appears around the cat it's currently tracking. It was able to separate a single cat out of multiple cats and only follow a certain one.
One thing I really struggled with was the huge delay when I tried to use Ebo to play with my cats from work. I would try to move him and the camera view wouldn't change. After about five to ten seconds it would update to another still image. This makes it impossible to drive him around using the camera remotely. I opted to use the autonomous mode but I still couldn't view the live stream while it was active. I had to use a separate camera to confirm that the autonomous mode worked while I away.
My cats seem to really enjoy playing with Ebo, however, they're only interested in him for about 10 to 20 minutes, maybe 30 minutes at a time. In the end, it's not super entertaining, it is just a laser running around or a little robot to chase since I was unable to use the feathers. I think they lost interest because there was no physical reward to chase the laser. I think if there was a better attachment than the silicone feathers my cats would be more interested in it as there would be something to actually catch.
What I like
Autonomous and controllable
Self docking
Super cute and interactive for everyone, cats and humans
What I'd change
Better remote connection
Additional attachments rather than silicone feathers
Final thoughts
Ebo is a great way to interact with your cats, it combines the convenience of modern technology and natural instincts. While using it to monitor your cats while you're away to make sure they are mentally and physically stimulated, Ebo is a great toy for crazy cat lovers anywhere.
Price: $250
Where to buy: Enabot and Amazon
Source: The sample for this review was provided by Enabot