We use affiliate links. If you buy something through the links on this page, we may earn a commission at no cost to you. Learn more.
REVIEW – If you thought the fidget spinner craze was over and done with, you would be wrong. There's a whole world of fidget toys out there and Aroundsquare is a company offering a variety of them. Let's check them out.
What is it?
Fidget toys are usually small items that you can hold in your hand to twirl, spin, flick, and click. What's the point? Does there have to be one? Seriously though, fidget toys can be stress relievers, focus enhancers, and even dexterity improvers. But above all, fidget toys are fun.
Fidget toys from Aroundsquare include begleri, knucklebones, deadeye contact coins, monkey knuckles, cardistry cards, and more. Aroundsquare sent me a Begleri, knucklebones, and deadeyes.
Deadeye Contact Coins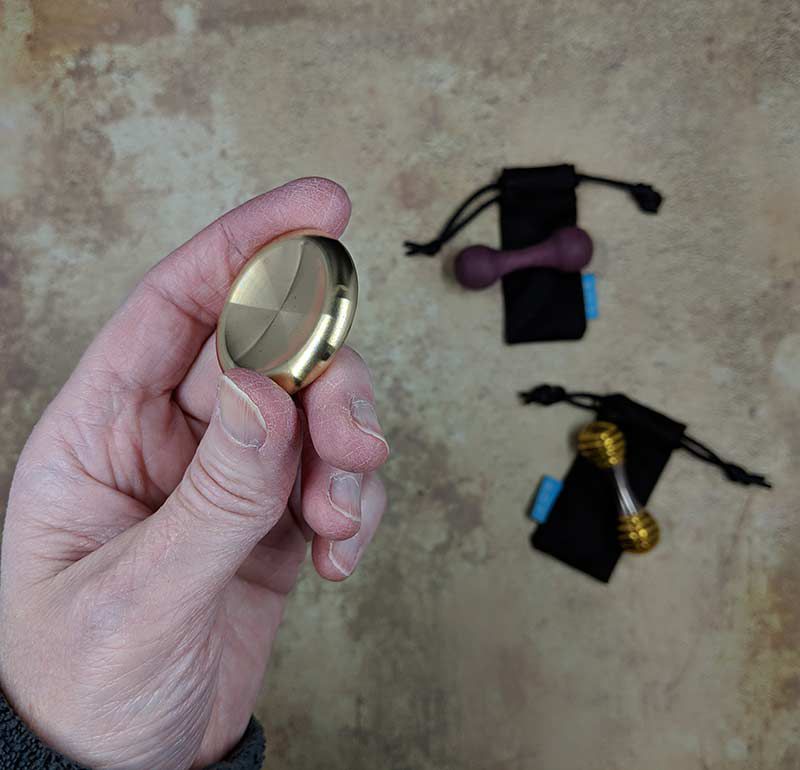 Deadeyes are specially designed disks that are made of Delrin or a variety of metals that include stainless steel, copper, brass, and titanium. They come in two sizes and different finish styles and are concave on both sides which creates a ridge around the edge that lends itself to really cool manipulation.
Check out the video below for just a small taste of what you can accomplish with Deadeyes if you put the time into learning how to work with them.
I love the feel of the Deadeyes coins between my fingers. They are heavy and smooth. Of the three toys sent to me, I think this is the one that I can learn to "juggle" first. I can almost do the coin spinning on the fingertip trick shown in the video above, but I'm nowhere near as smooth as the performer. Of course, that's what practice is for right?
Price: $9.00 – $55.00 depending on material and finish
Knucklebones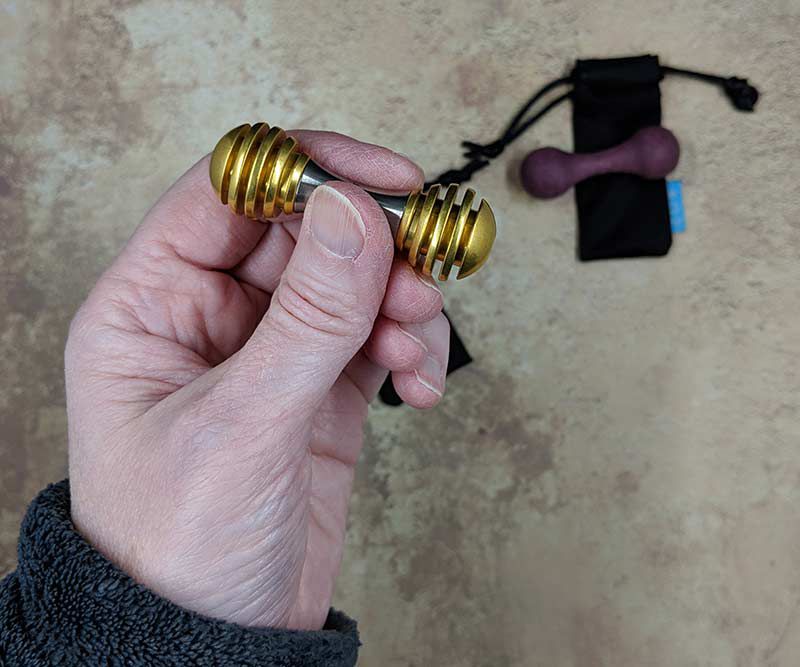 Knucklebones are dumbbell shaped toys that you can roll and weave between your fingers. Like Deadeyes, Aroundsquare's Knucklebones are available in a lot of different materials that include wood, titanium, steel, Delrin, brass, aluminum, and acrylic. They even make a modular version like the one shown above that has removal/replaceable ends and center sections.
I like playing with the Knucklebones because it's something you can do without really paying attention to what you're doing. You don't have to look at your hand as you're twirling it between your fingers. It's a soothing kind of feeling playing with them.
I will say that although I love the look of the metal one shown in my hand in the picture above, it's heavy and if you drop it, it makes a LOUD sound on a hardwood floor. So I prefer actually playing with the wooden one they sent me which is much lighter weight.
Price: $20 – $300 depending on the material and finish
Begleri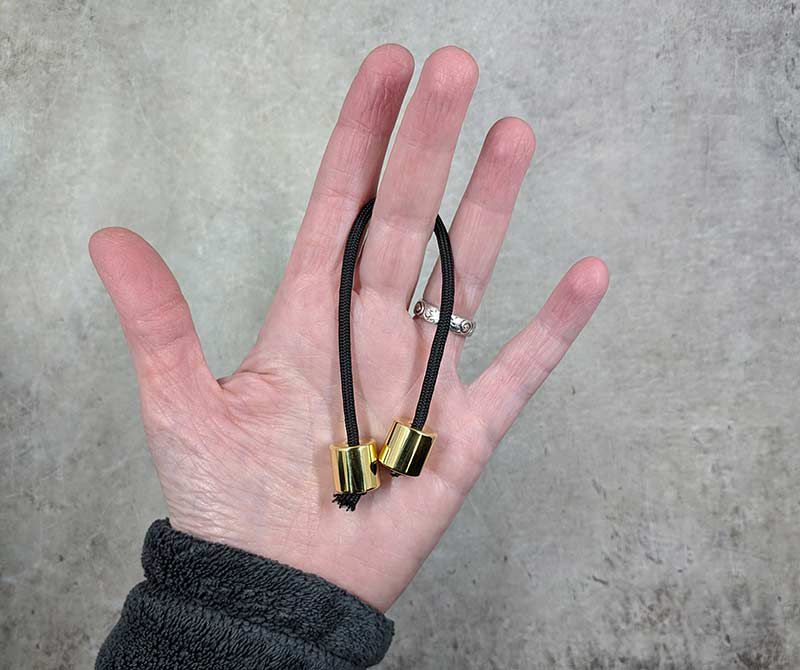 This is the one toy you've probably already seen before. It's a Begleri and is basically two beads attached with a cord. This is a Greek skill toy that you can twirl, sling, and fling between your fingers almost like a tiny yoyo. And like the other toys, Aroundsquare offers a crazy cool variety of beads to choose from that are made of the same materials as their other toys including Delrin, steel, titanium, steel, acrylic, and more.
Of all the toys they sent, I would say that this one has been the hardest for me to get the hang of to do any trick so far. I really want to get decent at it though because just watching Aroundsquare's video tutorials is mesmerizing.
Price: $10 – up
What I like
Stress reliever
Fun and addictive
Good for your brain and your fingers
What needs to be improved
Final thoughts
Fidget toys are fun, but these toys from Aroundsquare are a cut above fidget spinners because they are actual skill toys. You can't just pick them up and expect to be awesome with them from day one. It takes a lot of practice and that's what makes them fun and frustrating and fun and maddening and fun. They will help with finger dexterity and will even exercise your brain in order to learn new moves.
If you've been looking for a new hobby or skill, the toys from Aroundsquare are awesome both in the way they are made, look and feel, and what you can do with them.
Price: Varies, see above
Where to buy: Aroundsquare and Amazon
Source: The sample for this review was provided by Aroundsquare.