We use affiliate links. If you buy something through the links on this page, we may earn a commission at no cost to you. Learn more.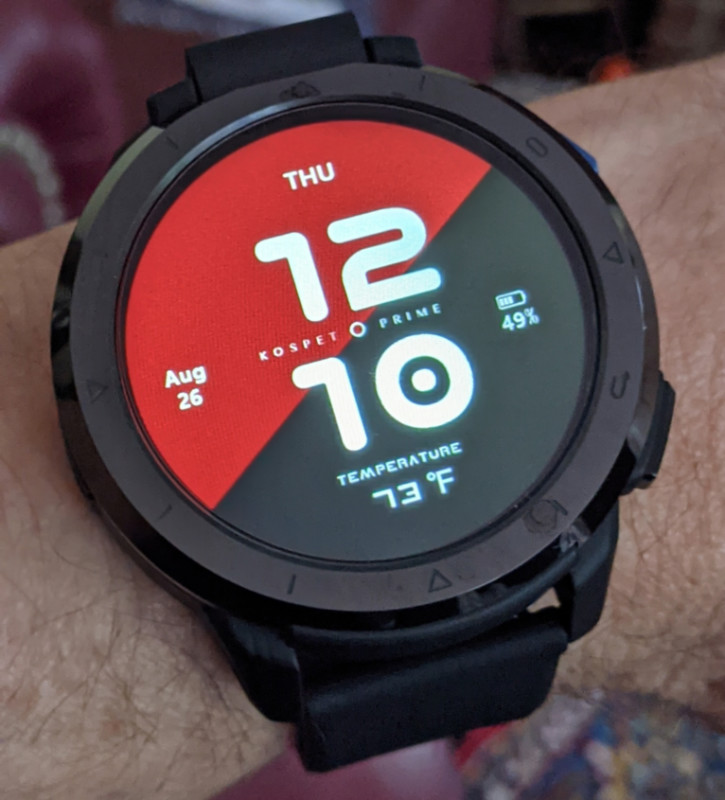 REVIEW:  The KOSPET Optimus 2 – A smartwatch, a camera, and a cellular phone, all on your wrist! And you won't forget it's there. This timepiece measures 2 inches side to side, 2.25 inches vertically and is .75 inch thick! Go measure.You don't have a bigger watch.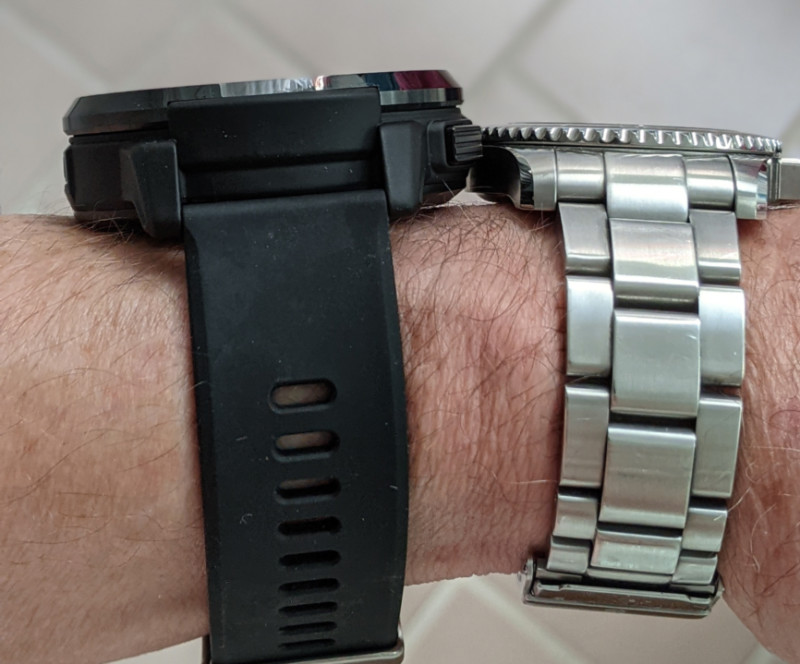 Are the Optimus 2 features and functions ready for wide use (pun)? Given the size, price and functionality of the most popular smart and fitness watches in use worldwide, is there enough about the Optimus 2 to sway buyers that direction?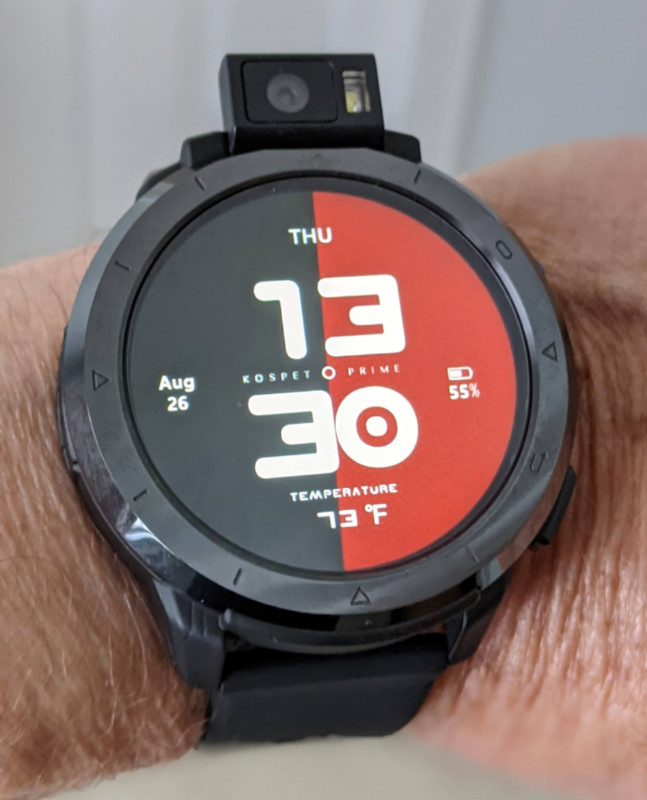 What is it
The KOSPET Optimus 2 is a smartwatch with a built-in camera and a dual SIM cellphone.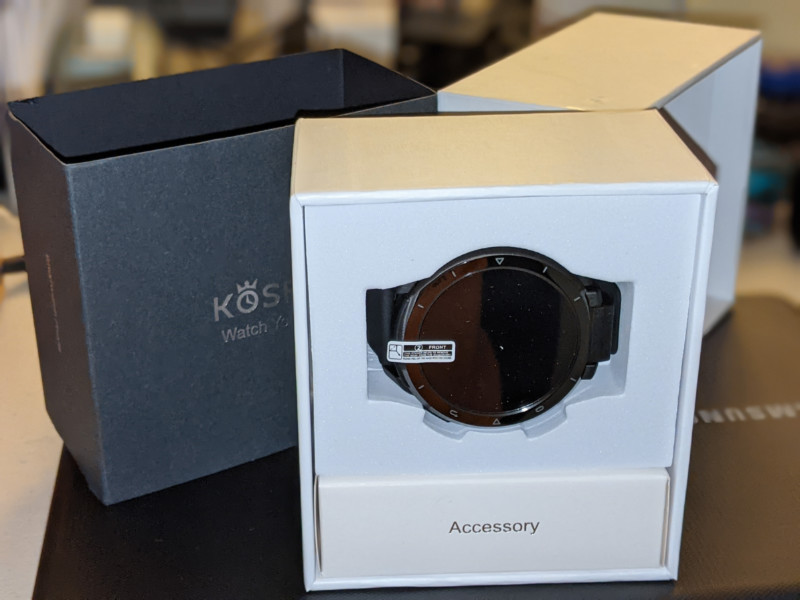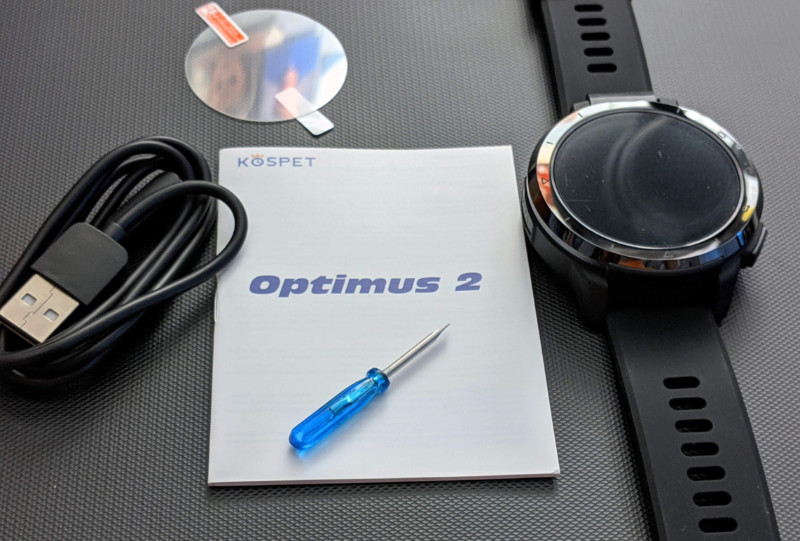 What's in the box
The Optimus 2 watch

Instruction booklet & warranty

USB to proprietary magnetic connection charging cable

SIM tool 

Hardware specs
(Edited from the Amazon description – I'll break some of these down later.)
13MP camera with IMX214 graphic sensor. Supports auto-focusing and 3.9 times lossless zoom, which can make 1080P 30fps video.

2260mAh lithium polymer battery

Dual-chip, P22+PAR2822: With 8 built-in A53 cores and IMG8320 GPU, currently the strongest chip used in smart watches, 4GB+64GB ultra high configuration memory. Runs any 3D large-scale online games and video.

31 sports modes: Outdoor Run, Outdoor walk, Indoor run, Outdoor bike, basketball, Football、Ping pong, badminton, Jump rope, Trail running, Open and close jump, indoor bicycle, Mixed aerobic, Social dance, Baseball, Snowboarding, Rugby, Alpine skiing, Skating, Squash, Golf, Volleyball, Boxing, Wrestling [watches are not allowed during wrestling], Gymnastics, Track and field, Tennis, Dance, Martial arts [no watches usually], Rowing machine, Stepper [Only 9 exercises appear on the watch.]

Material:Plastic 

Size: Approx. 26×5.3×1.7×2.2cm / 10.2×2, 1×0.7×0.9inches

Strap: Black silicone

Charger: USB to proprietary magnetic connection to contact on back of watch.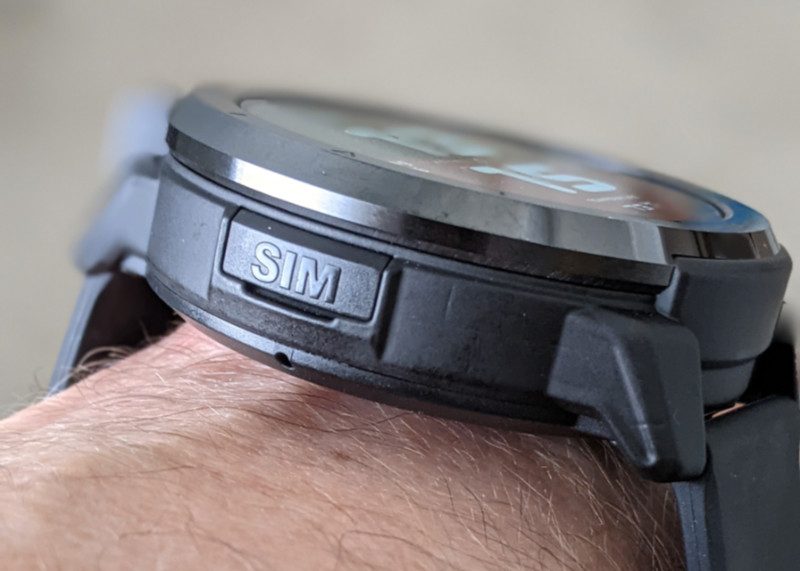 Design and features
Operating system: Android10.7

CPU: MT6762+PAR2822

RAM: 4GB

ROM: 64GB

Camera: 13MP Rotatable Camera with flash SONY-IMX214 AF

Health monitoring:

Heart rate, blood oxygen, sleep

Face ID support
Installation and Setup
Proceed through the print manual, step by step, with magnification at hand. You'll probably get the watch up and running, but be prepared for gaps in some directions. E.g. if I look at my phone and the watch Bluetooth settings it appears the two devices don't 'know' each other. Yet they are connected and functioning together according to the GaoFit app and because notifications pass to the watch and the app does 'Find my watch' successfully.
Testing and observations
The KOSPET Optimus 2 is my eighth smart or fitness watch and I support two more for family members.
I'm electing to evaluate the Optimus 2 as a smartwatch and not activate its cellphone feature. My cell provider does not issue additional SIMs for watches on the same plan. I'd have to activate a separate, new cell plan so it would be like carrying two cell phones. 
The Optimus 2 setup was an adventure. 
Various parts of the tiny, printed directions were incomplete. Like having to complete an account with the phone app. It is completely unclear on how to accomplish that step in the app and I'm still using my GaoFit phone app as a 'Guest' for that reason. 
After many emails, second level support finally was able to help me turn on notifications from phone to watch with a simple step that first level support could have shared 2 days previous.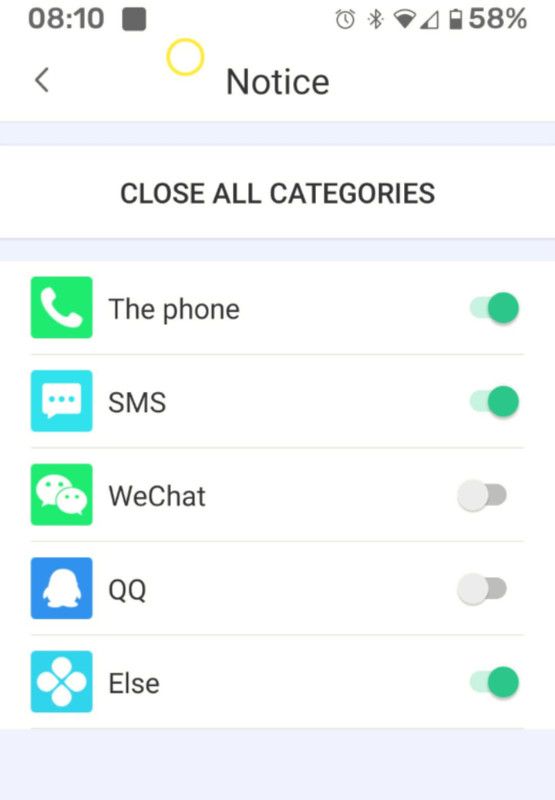 Please note here and now, the term 'Else' in the app really means 'Other' and it is with the turning on of that switch that all notifications your phone receives will pass to your watch as well. I suggested to KOSPET they quickly change 'Else' to 'Other'. 'Else' looks to me like an app name with an icon.
If you turn on 'Else' at 'Notice' in the app it will deliver all notifications, or none if that switch is turned off. There is no way to choose which specific apps on your phone you want to notify on your watch.
There are too many unanswered questions about the watch with no clear way to get them answered other than by emailing support. 
E.g. there is a choice in the phone settings to run the watch in 'Android Mode' or 'Lite Mode'. What's the difference? How do I choose? I had to email to find out.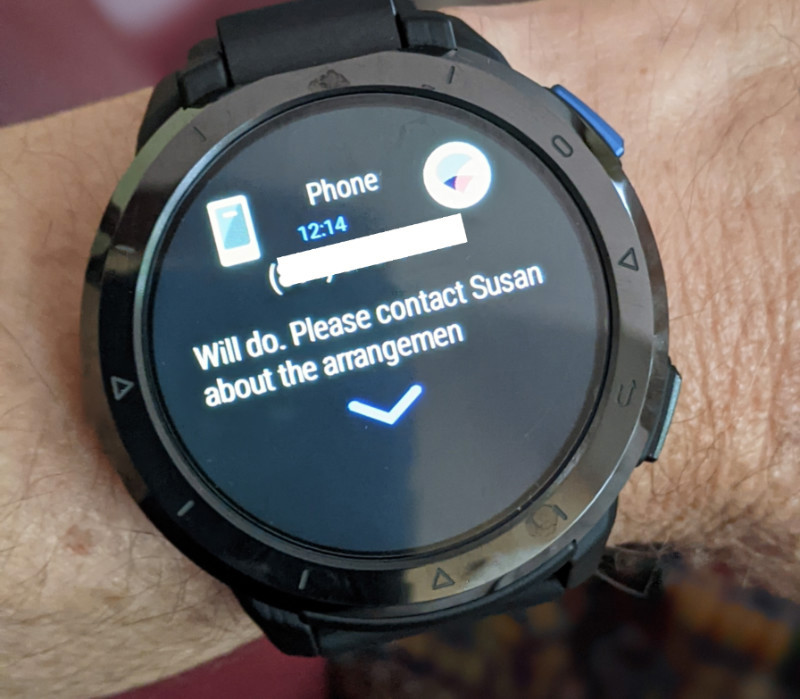 When phone notifications happen, minimal information about the notification is visible on the watch. Replies are not possible from the watch.
With texts, I was able to see the sender and a few words of their message but messages would not expand. With email, I see the sender and subject line but could not expand the email messages.
Notifications on the watch are basically alerts to tell you to check your phone.
The Amazon description says the watch is "waterproof" at the top of the page and "life waterproof" further down. The printed instructions with the watch say "not waterproof". I emailed. It is splash resistant only.
The watch face store, which is an app accessed on the watch, has 45 faces from which to choose. Not the fewest I've seen but that isn't a lot.
The app store, also a watch app, has 5 apps; Calculator, Facebook, Whatsapp, Stopwatch, and Flashlight.  That's pretty slim. 
To be fair the watch runs on Android 10 and comes with Google Play Store. Reviewers with more bravado might have added a couple of Google apps to see how they ran but I didn't want to give up my Google login info.  I know, "But you put the phone app on your phone."
The watch camera viewed images pretty clearly at first but now it appears that the lens is internally fogged. Images appear as if they are in a foggy or smoke-filled room. It views and photographs foggy appearing images. The watch has been subjected to zero moisture.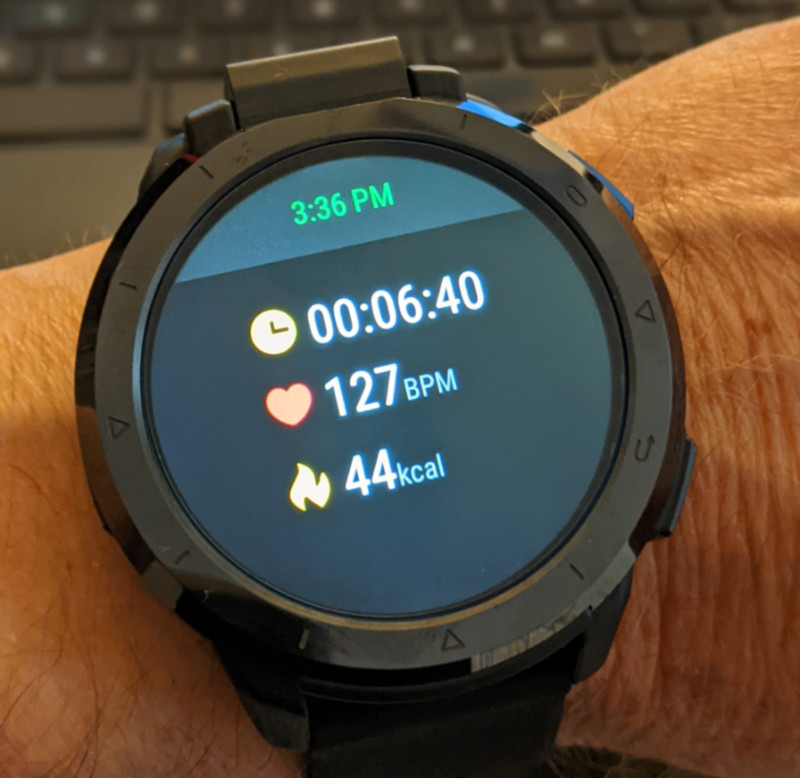 About the exercise tracking…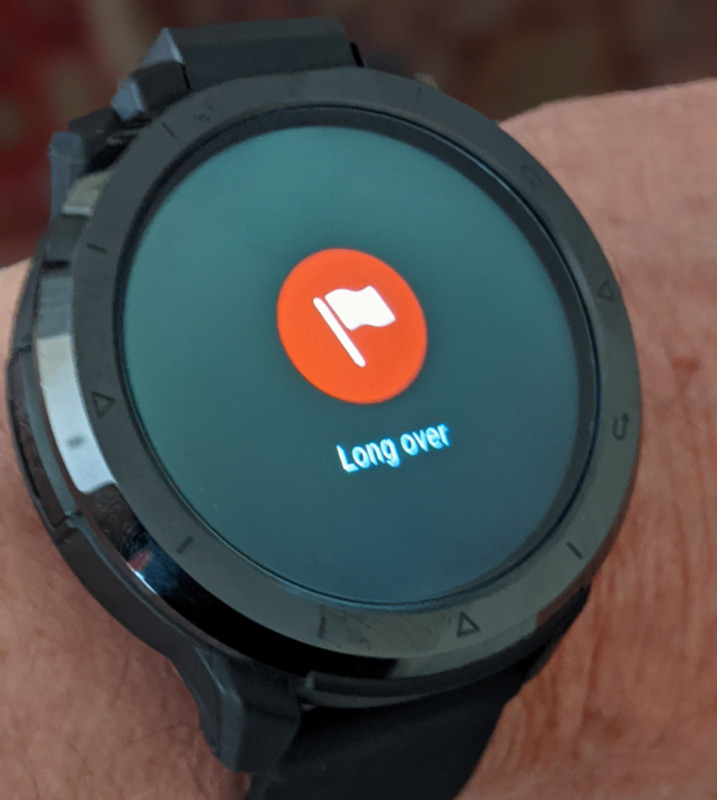 I set the watch for a rope jumping workout and took 5 flights of stairs. I could find no way to stop the exercise tracking. When I swiped left there was a very unclear 'Long over' red flag, whatever that means as if it might be a stop button. Pressing that, pressing all around the workout stats as they continued, swiping in all directions, pressing the hardware buttons, nothing would stop the workout. It's still going.
Exercise tracking is not a function of the watch app.  The GaoFit app is rudimentary and only shows Step, Sleep, Health (heart rate only), SP02 and Weight.
What I like
Hmm…
In spite of being huge, the watch is not uncomfortable.

The watch keeps accurate time.

The alarm woke me up.
What I'd change
KOSPET Support is very early in its experience level. 

The manual needs to have LARGER print. Unless you're 12, you will need a magnifying glass to read it.

Editing and improving the setup instructions is seriously needed.

It is not possible to use the watch to reply to a text notification that comes to your main cellphone, even though the watch displays part of that message. 

It is not possible to initiate a text with the watch unless an activated SIM is in place.

The size is overwhelming, and I like reasonably large dive and digital watches.

A 'screen always on' feature would be useful. The brand names seem to have that choice.

I don't really need a camera in my watch.

Phone call interfacing between watch and phone would be fine with me (a la Samsung), without the watch being a stand-alone cellphone. That's just me.  

Customization of which apps pass notifications to the watch is needed. It's only possible to choose all or none.

The directions for the watch must be made to match the watch.

Claims about the watch at Amazon need to be verified and corrected. (E.g. 17 exercises are shown, only 9 are on the watch, water resistance level, etc.)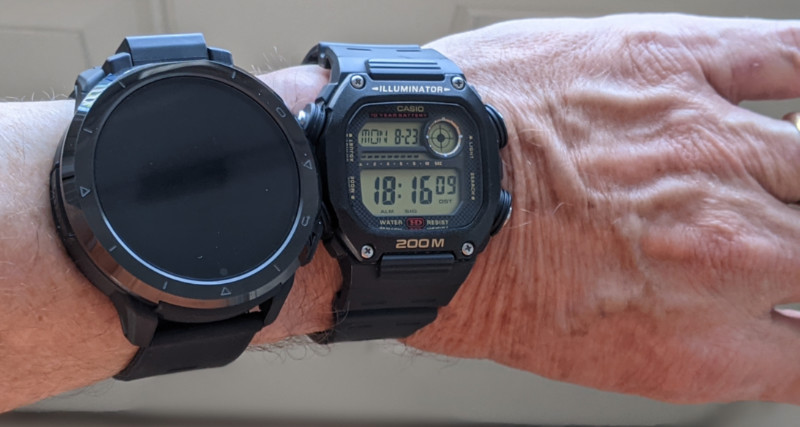 Final thoughts
I hate being in this position but I'm here again. Given the results from this review, I'm unable to recommend the KOSPET Optimus 2. Maybe it'll be a better device in a future version?
Price: $199.99
Where to buy: KOSPET (save 10% with coupon code: AUGKOP2 expires 9/30/21)
Source: The sample for this review was provided by KOSPET.