We use affiliate links. If you buy something through the links on this page, we may earn a commission at no cost to you. Learn more.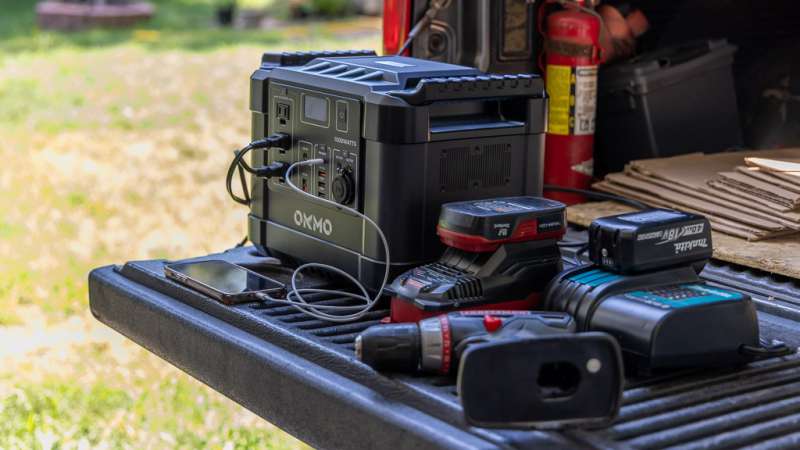 REVIEW – Our power doesn't go out very often here, but when it does, it's very inconvenient because my wife and I both work from home. When the OKMO 1000W Portable Power Station review offer came along, I jumped at the chance to have a little backup power.
What is it?
The OKMO 1000W Portable Power Station is an emergency power supply for home, outdoors, and travel.
What's in the box?
OKMO G1000 Portable Power Station

G1000 power station

AC adapter

Car charger cable

User guide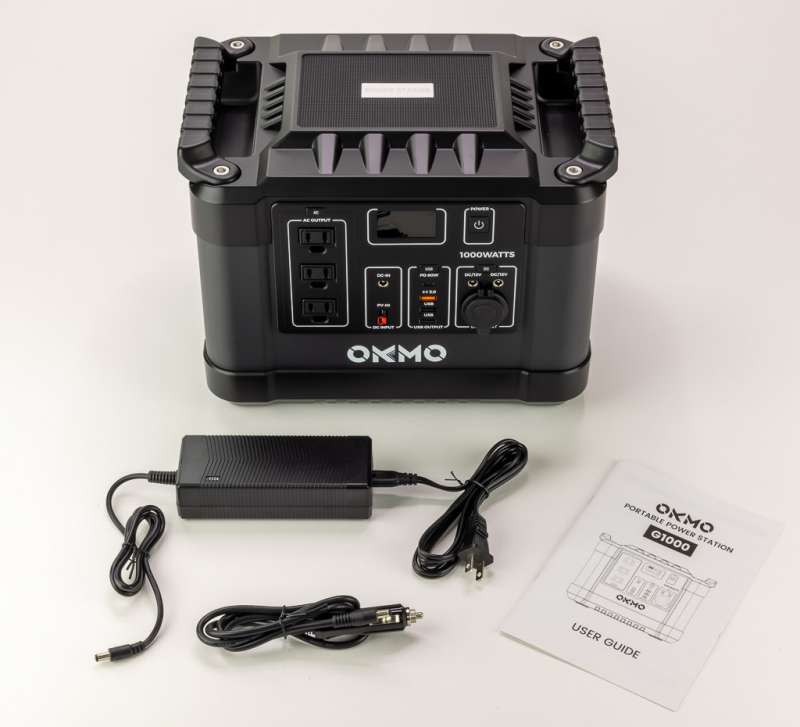 Hardware specs
1110 Wh Capacity (300000mAh lithium-ion battery pack)

1000 Watt output power (surge 2000W)

200 Watt solar rechargeability

Output waveform: Pure sine wave

Three AC sockets

One DC input port

One Solar panel input port

One 60W Type-C PD port

One USB-A 3.0 18W QC port

Two USB-A (5v 2.1A max) ports

Two 12VDC (8A max) ports

One 12VDC (8A max) Car output port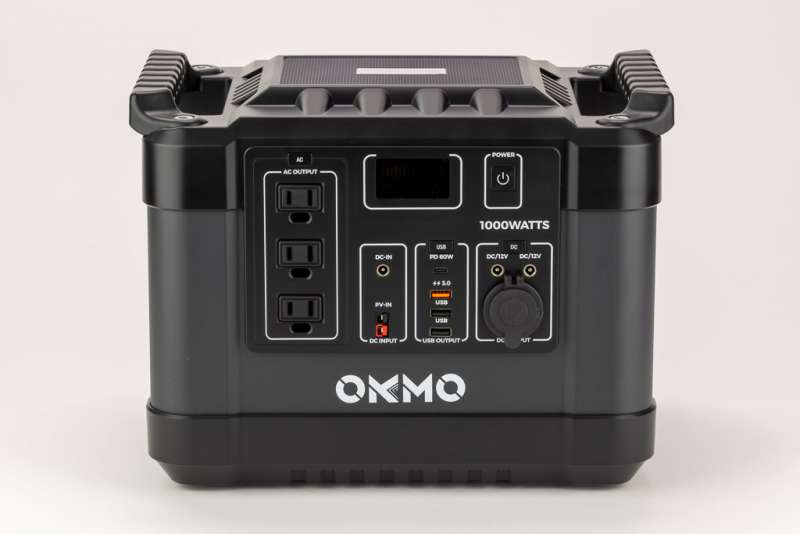 Design and features
I chose to review the OKMO 1000W Portable Power Station for two reasons. First, as backup power for home, and second, for use while traveling, camping, or extended days at the beach. What I found were many more uses that I hadn't anticipated.
The OKMO G1000 is larger than my other power station and provides much more connectivity and capacity. The unit features two large handles on the top, which make moving it easy. The design is lovely and includes easy-to-read labels for the various ports, unlike some tech items with icons that you have to decode or memorize.
The display is easy to read and includes indicators for the various ports when they are in use or turned on. Plugging in a USB device will automatically turn on the ports, which I found a very nice feature.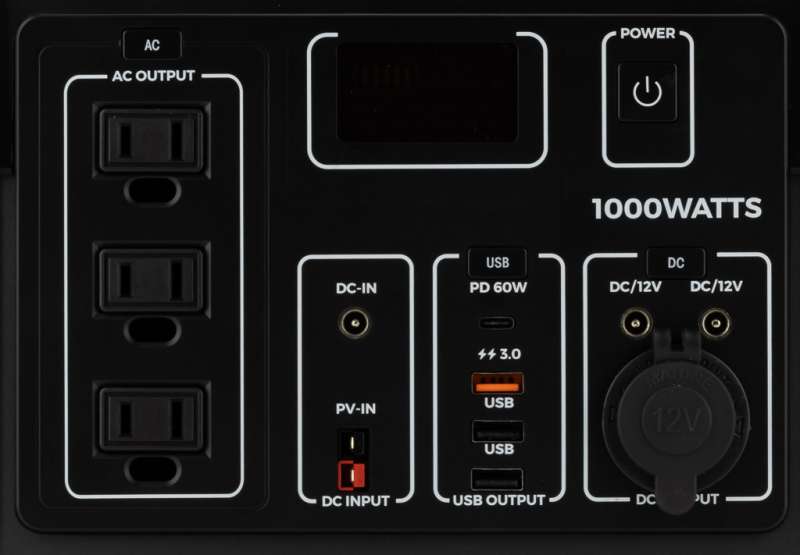 Operating the OKMO G1000 is very simple. There is a central power button and separate buttons for turning on the AC, USB, and DC outputs. That's about all there is to it, turn it and on plug something in. The OKMO G1000 has Pure Sine Wave output, which is the preferred output for powering electronic devices.
There are basically three ways to charge the OKMO G1000. The included AC adapter or 12VDC car charger plug into the DC-IN port, or you can connect a compatible solar panel to either the DC-IN or the PV-IN connectors.
Recharge Time:
AC adapter – 10 hours

DC car adapter – 9 hours

Solar (2 * 100W solar panels) – 6 hours
The display includes a five-segment battery level display. I do wish the display was like the one on my other unit, which included the amount of draw in watts being used and includes estimated time remaining. That's perhaps my only "complaint" if I had to list one.

The DC ports automatically turn off when there is no load for 30 seconds. There is no sleep mode for the AC output; it must be manually turned off when not in use.
My primary testing of the OKMO G1000 was running my Tchibo coffee maker, because if there's no coffee, there's no reason to start the day. It ran flawlessly, so life is good.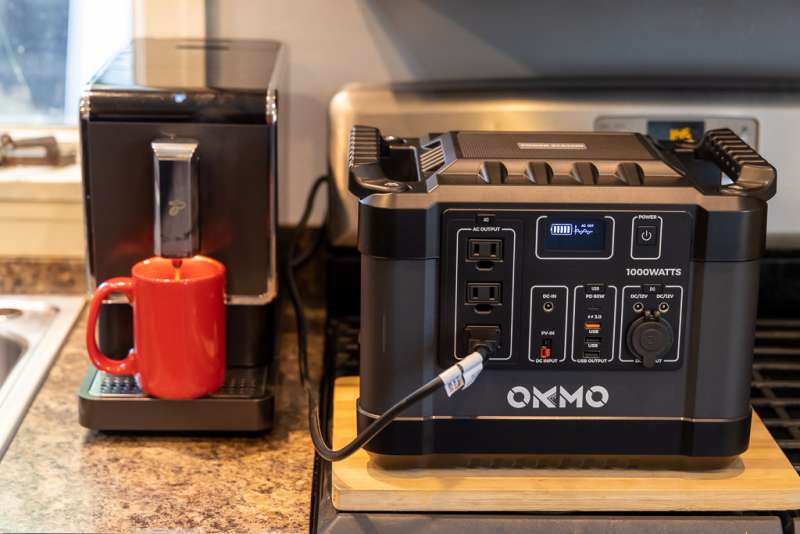 I found more uses for the OKMO G1000 than I initially thought. I was building a playground for my grandchildren, and having the power unit to recharge cordless batteries was much easier than dragging 200 feet of extension cords over to my son's house (see lead image).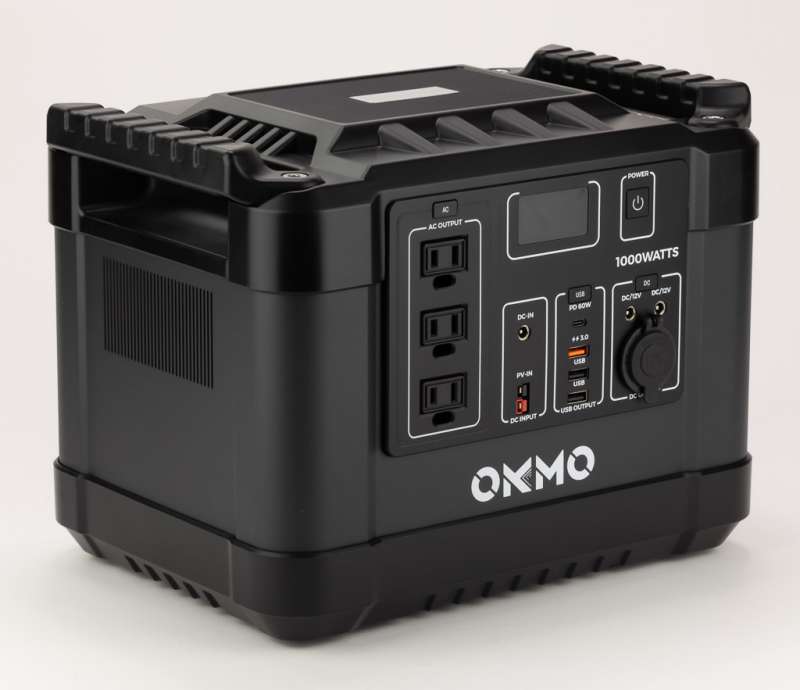 My second unexpected use was supplying power for my video projector – in the backyard. I could have run an extension cord, but since the OKMO G1000 was right next to the extension cords, I just used that. It also eliminated a trip hazard in the dark. Next time the power goes out, it's movie night!
My brother-in-law also lost power for five days after a thunderstorm. I loaned him the OKMO G1000, which kept his mobile devices charged and provided lighting at night. He wishes he would have told me sooner that they did not have power, as he went three days without power before I found out.
The OKMO G1000 also has intelligent protection in the battery management system (BMS):
Over-Discharge protection

Over-Current protection

Overcharge protection

Thermal protection

Short-circuit protection
How long you can run devices will obviously depend on the amount of power those devices use. It probably won't power your refrigerator or run an air conditioner, but it will run about 90% of the appliances in your home.

What I like
USB ports turn on automatically when plugging in a device

Plenty of input and output options

Unconditional 24 Mouths quality assurance
What I'd change
An estimated time remaining display (like similar products have) would be nice
Final thoughts
I found the OKMO G1000 sufficient for my power needs and provided something I wasn't expecting: peace of mind. No worries about running my CPAP, or most of all, making coffee in the morning. If the power goes out, I'll have my coffee and my internet; what else does a person need?
Price: $729.99 (other larger models available also)
Where to buy: OKMO and Amazon
Source: The sample of this product was provided by OKMO.