We use affiliate links. If you buy something through the links on this page, we may earn a commission at no cost to you. Learn more.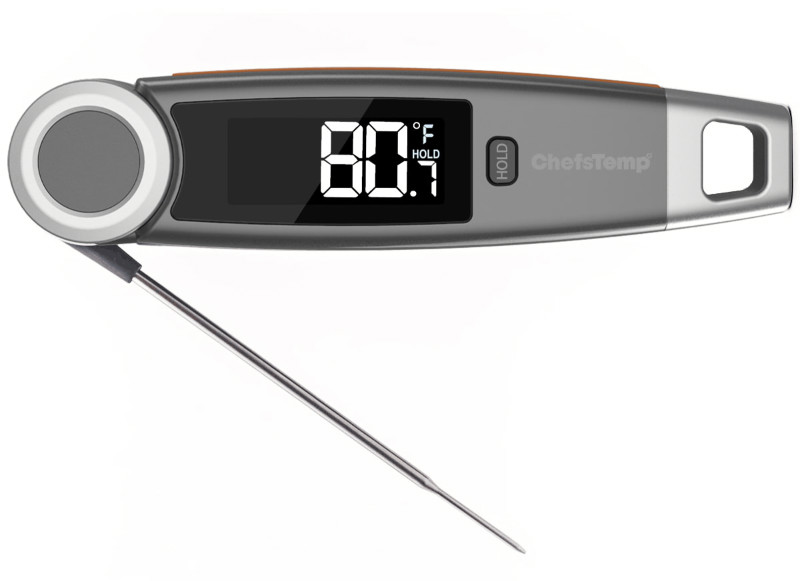 REVIEW:  What does the ChefsTemp Finaltouch X10 do that other instant-read thermometers don't do? There is something, and it's pretty cool. Righties and lefties (hands, and politics) should appreciate the feature. But does it do its main thing well? 
What is it
The ChefsTemp Finaltouch X10 is a battery powered, instant-read, probe type cooking thermometer.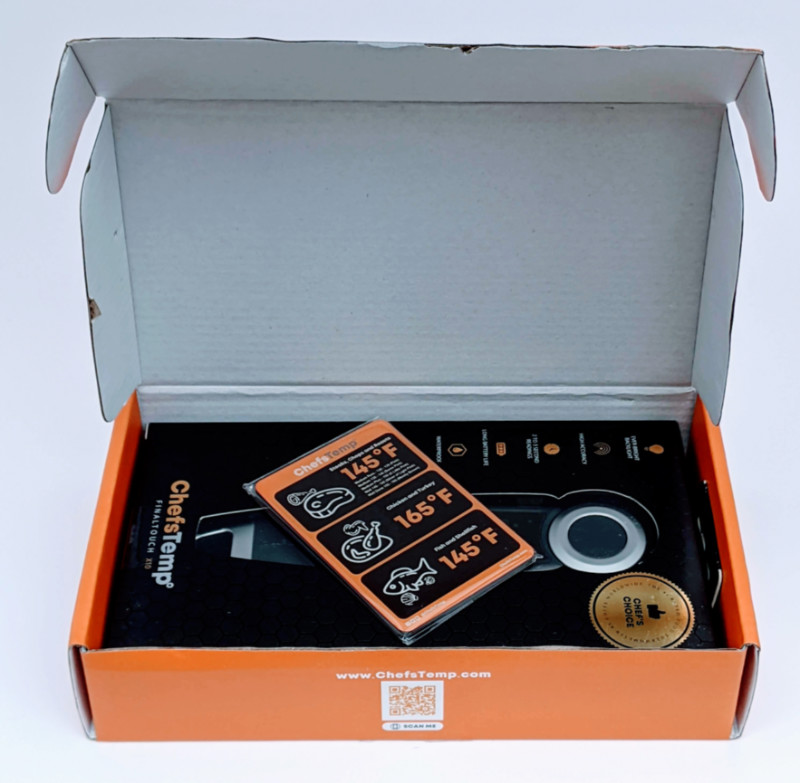 What's in the box
Instruction sheet

Thermometer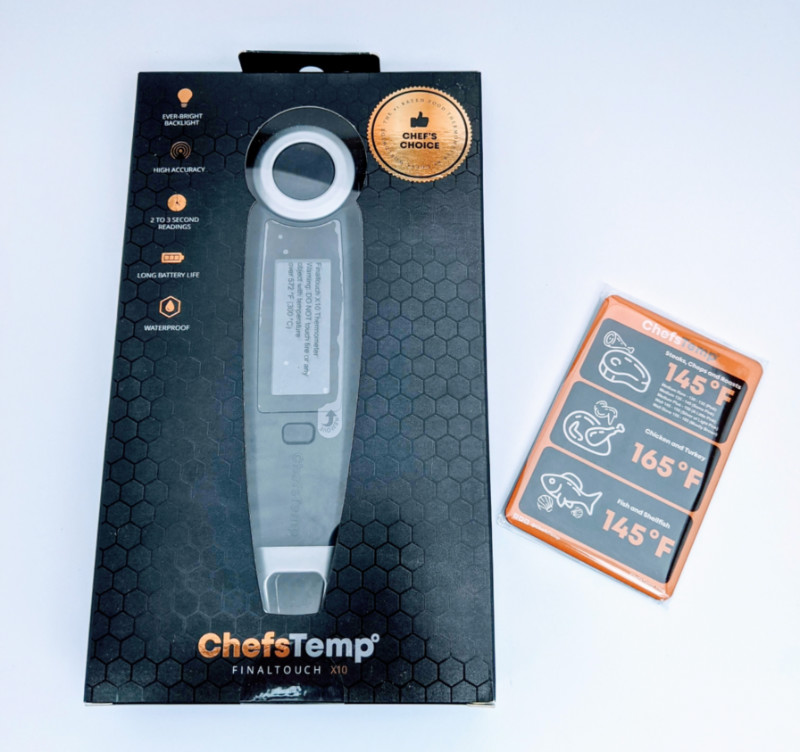 Specs
RANGE: -22 to 572 °F (-30.0 to 300.0°C)

ACCURACY: ±0.7°F (±0.4°C) from -22 to 392°F , (-30.0 to 199.9°C) otherwise ±1.8°F (±1.0°C)

RESOLUTION: Factory set to 0.1 °

RESPONSE TIME: 2-3 seconds (reads to within 1°F of final temperature of an ice bath in 3 seconds)

PROBE: 4.0 L Inches,High Performance Type K Thermocouple

DISPLAY: 47.3H X 19.5W mm | 1.86H X 0.77W inch rotates 180°, Intelligent Backlight

SLEEP MODE: Backlight turns off in 60 seconds

WATER RESISTANCE: IP 66/67

OPERATING RANGE: -4 to 122°F (-20 to 50°C)

BATTERY: AAA batteries

DIMENSIONS: 6.69" H x 1.57" W x 0.9" D (169 mm H x 40 mm W x 24 mm D)

WEIGHT: 4.4 oz with battery (125g)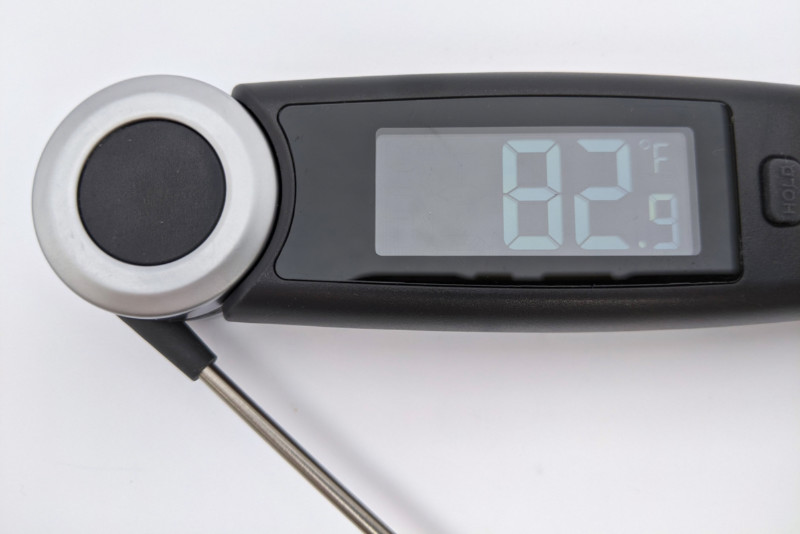 Design and features (From the ChefsTemp website)
Super Fast and Accurate: It uses top-of-the-line thermocouple technology to give pinpoint temperature readings as soon as you put in the probe. ±0.7F accuracy and 1-3 seconds readout times.

Intelligent Backlight: The backlit motion-sensing display sleeps and wakes automatically and is bright enough for the dimmest conditions.

270 Degrees Rotation Probe: perfect for left-handed cooks and for reaching awkward angles.

Auto-rotating Display: Built-in motion sensors can detect if the device is upside down and rotate the display accordingly, a simple solution for awkward angles and left-handers.

Motion-activated Wake-up Mode: Pick up your Finaltouch X10 and it will turn on instantly, set it down to activate the battery-saving sleep mode.

IP67 Waterproof: It has an IP67 waterproof rating, meaning it can withstand up to 1 meter of water.

Magnetic Backing: You can stick the Finaltouch X10 cooking thermometer to any metal surface.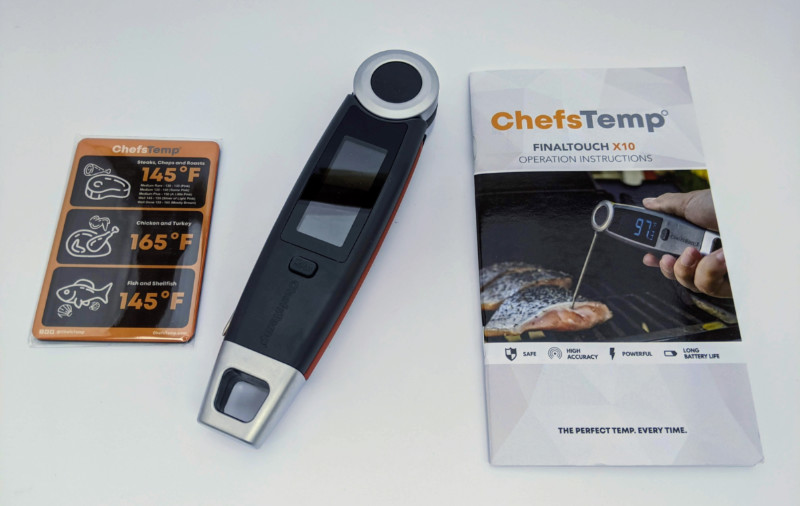 Installation and Setup
The batteries in the X10 came installed. I only had to swing the probe open a few degrees and it showed a temperature on the display.  
Testing and observations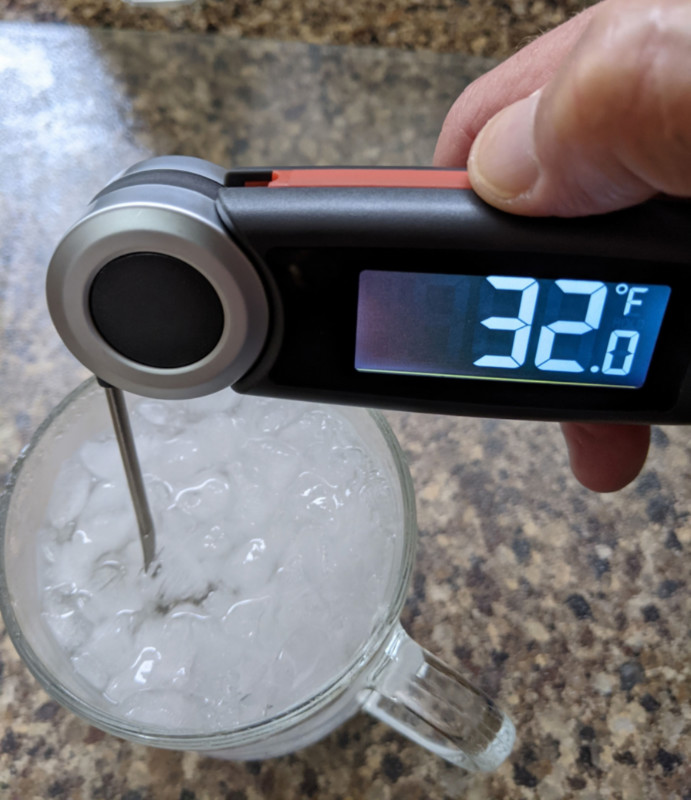 The X10 passed the ice water slush test perfectly. Should you wish to test your own device, there is slight temperature variation in a cup of slush water, or boiling, but if you swirl the probe it will show an appropriate average reading.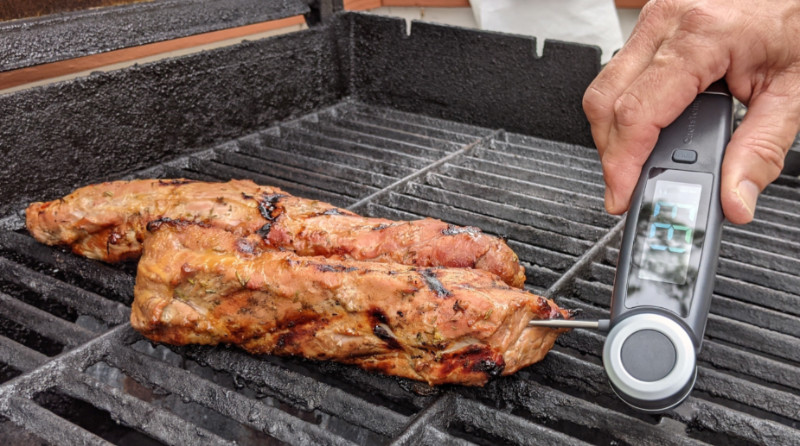 The Finaltouch X10 had a definiteness about its readings that I liked. I reviewed another thermometer that wouldn't settle on temperature readings. It would sway back and forth from 5-15 degrees so I couldn't tell which number was the actual temperature.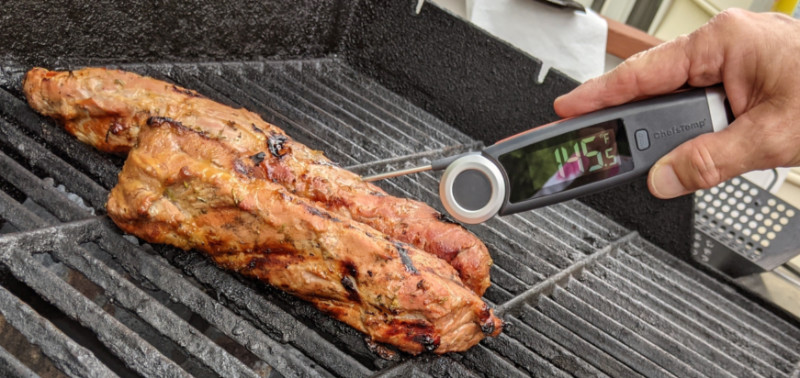 Not that a thermometer should hit a number and stay there, (you have the 'Hold' button on the X10 if you want that) but I get the impression of certainty with the way the X10 does its display. 
I make my coffee with an Aeropress with water at temperatures lower than most coffee makers use. (That makes for less harshness of flavor.) I've used the X10 for dozens of days to know when our hot water pot is approaching 180 degrees. The X10 has been consistently reliable.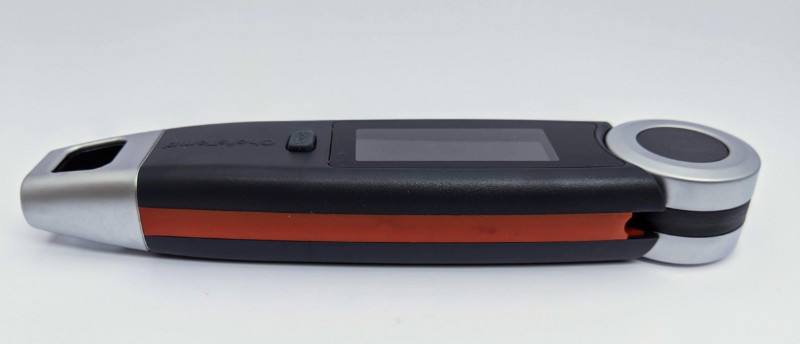 What I like
Uses good ol', easy to find, AAA batteries. 

The battery door is screwed in. That keeps the device feeling solid. I don't expect frequent battery changes.

Very visible backlight readout for all light conditions.

Unique display rotation for easy reading in any thermometer position

What I'd change
Not a thing, and I don't write that too often.

Final thoughts
The ChefsTemp Finaltouch X10 cooking thermometer performed as designed during all my uses of it over 4 weeks. It'll be a keeper in my kitchen. I'll call this one 'strongly recommended'.  
Price: $69.99
Where to buy: ChefsTemp
Source: The sample for this review was provided by ChefsTemp.