We use affiliate links. If you buy something through the links on this page, we may earn a commission at no cost to you. Learn more.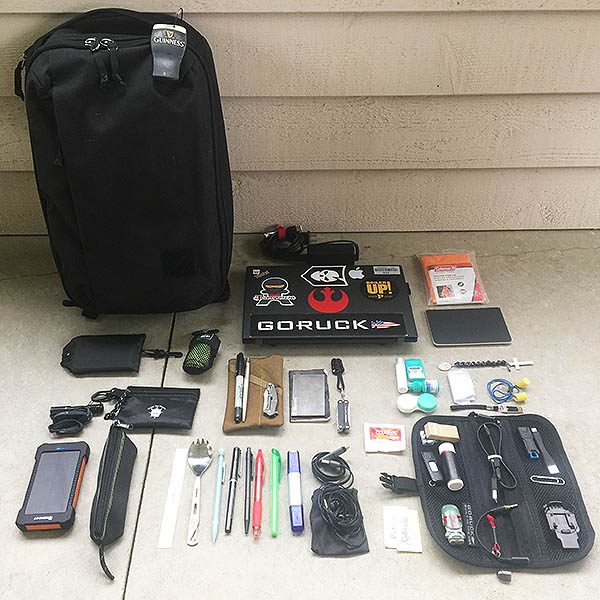 ARTICLE – Fact: We're Gadgeteers, so we carry EDC.   Some carry more, some less, but we all carry Everyday Carry items.  Since I last gave an update on my EDC gear back in March 2017, several of my EDC items have changed, but I was actually a bit surprised to discover that many had stayed the same.  Have a look!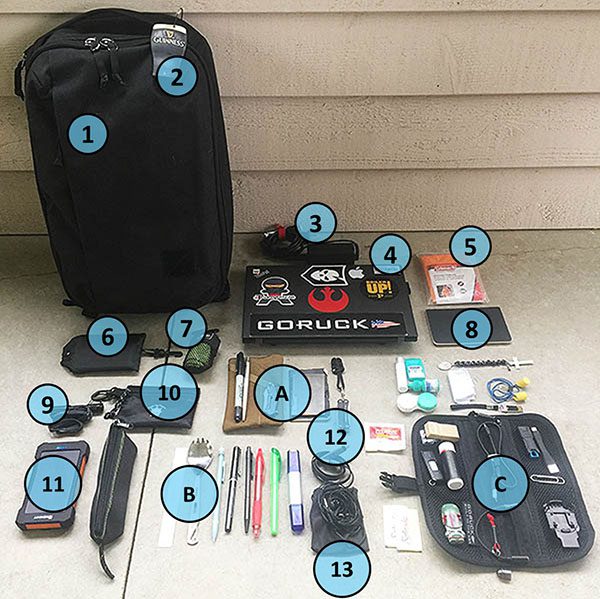 1 – EVERGOODS CPL24 backpack – I've only had this backpack for a few weeks as of this writing, but the more I use it, the more I like it.  Very thoughtfully designed (in terms of organization features, ergonomics and other aspects), understated yet very attractive styling, high-quality materials and built sturdy.
2 – Guinness Pint Luggage Tag – My wonderfully thoughtful in-laws bought me this when they visited Dublin, Ireland and took the Guinness Storehouse tour several years ago.  As a huge fan of Guinness Stout, I love this thing and it's been on every EDC/travel bag I've used for years.
3 – Laptop AC adapter – Goes with item 4 below.
4 – Lenovo Thinkpad X230 laptop (work issued) – The same work laptop I've had for several years now.  It just won't die.  Actually, I really like its small size and ruggedness.
5 – Coleman Hooded Emergency Poncho – In case of unexpected heavy rain.
6 – Collapsible grocery bag in pouch
7 – REI Mini Multitowel – This little dude has come in handy on several occasions.
Never miss one of our posts again. Sent MON, WED, and FRI with the latest gadget reviews and news!
8 – Moleskine Cahier Journal – Black
9 – Lumintop Tool AAA flashlight attached to an old lanyard – Still my favorite EDC flashlight.  Small, durable, water-resistant, and with a clicky on-off button.
10 – Small first-aid kit – My brother gave me this years ago, it has the logo of his old shop where he sold survival gear.  It only has some adhesive bandages, some gauze and some antiseptic ointment, but it's there just in case.
11 – Renogy 10,000 mAh Solar Panel Water Resistant Power Bank – Although I wasn't impressed with the solar charging capabilities of this device, it is ruggedly built, water-resistant and fairly compact, so I still use it.
12 – Lightning + Micro USB cable
13 – Earbuds + microfiber drawstring pouch
A – See below
B – See below
C – See below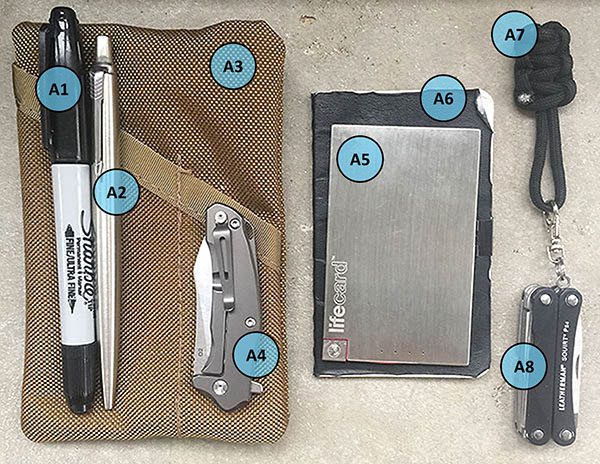 A1 – Twin Tip Sharpie – black – It's like having two Sharpie pens in one: fine point and ultra-fine point.  Comes in handy often.
A2 – Parker Jotter ballpoint pen – black ink – One of the best "cheap" pens on the market: durable, smooth writing and feels good in the hand.
A3 – Yellow Birch Outfitters PocKit EDC Pocket Organizer – coyote tan – I reviewed this not long ago and it is still one of my favorite EDC pocket items.  Although I usually toss it into the outside pocket of my CPL24 backpack, it fit fairly comfortably in my pants pocket, as long as it is not overloaded.
A4 – Bastion Braza Bro EDC folding mini knife – Great little knife, I carry it on me often.  Small, compact, sharp and it has a pocket clip.
A5 – PlusUs LifeCard Powerbank – I reviewed this device quite a while ago and I still carry it for emergencies.
A6 – Moleskine Volant Journal – black
A7 – 550 paracord zipper pull – Salvaged from Bomber Barrell Duffel Bag after it basically fell apart.  Nuff said.
A8 – Leatherman Squirt PS4 keychain multitool – I've been carrying this little dude for years and I think it is actually my single most useful EDC item.  Super small and compact, it has both a small scissors and a small pliers in addition to many other tools—all of which I've used at one time or another.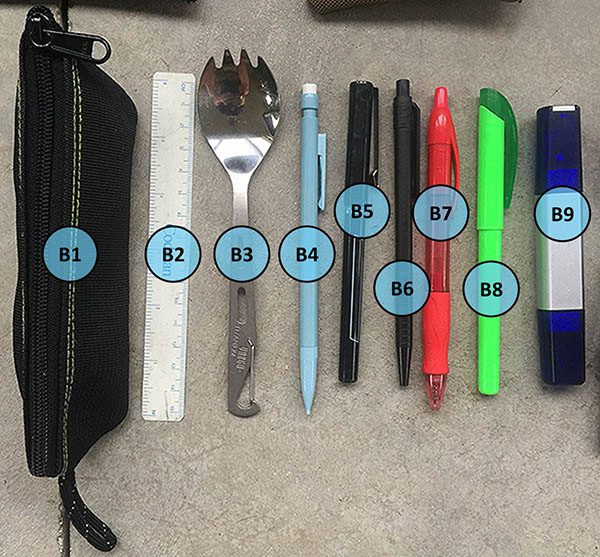 B1 – County Comm Handy Zipper Pouch by Maratac – size small – Maratac makes some great stuff, and this little pouch is durable and compact.
B2 – Plastic ruler I rescued from the garbage bin at work
B3 – Vargo Titanium Eagle Spork – I probably use this once a week when I  forget to pack a spoon or fork in my lunch.  Lightweight and versatile.
B4 – Cheap mechanical pencil I got from a hotel
B5 – Pilot Precise V5 Rolling Ball pen, Extra Fine Tip, Black
B6 – Cheap ballpoint pen I got from a hotel
B7 – Gel Pen, red
B8 – Green highlighter
B9 – Mini modular screwdriver – I picked this up at a recruiting fair; it was "swag" from one of the other company's tables.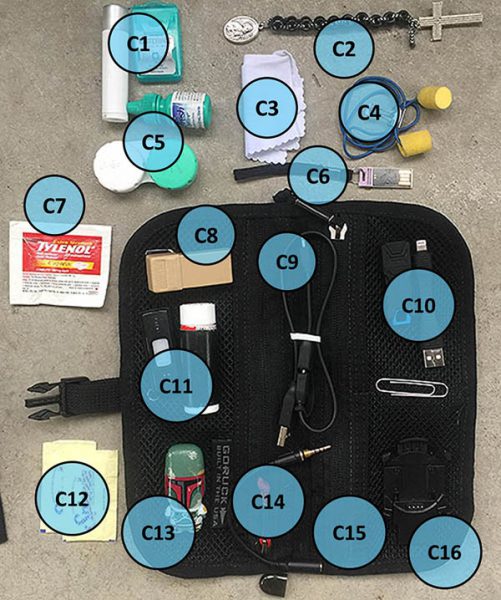 C1 – Lip balm and breath strips
C2 – Single-decade Rosary – As a practicing Catholic, I try to pray the Rosary often; it's an ancient form of prayer that is a meditation or contemplation on key events in the life of Jesus.
C3 – Microfiber cloth – I mainly use this to clean my iPhone's screen
C4 – Foam earplugs – These have come in handy when staying in hotel rooms with noisy neighbors.
C5 – Contact lens case and eye drops
C6 – USB memory card on small lanyard
C7 – Tylenol packet
C8 – Mini stapler
C9 – TYLT SYNCABLE-DUO Charge and Sync Cable – This cable is extra useful because it can switch between both Apple Lightning and micro USB tips.
C10 – GorillaDrive USB Flash Drive and flexible USB to Apple Lightning Adapter – The GorillaDrive is SUPER durable, with high crush- and water-resistance.  The flexible Lightning Adapter is nice for plugging my iPhone into my laptop when I don't want a bunch of cord tangling me up.
C11 – SanDisk USB flash drive and Tylenol travel size tube with a short length of Gorilla Tape wrapped around it – The Gorilla Tape around the tube is a trick I learned on an EDC site and it has come in handy once or twice to have some tape, especially since Gorilla Tape is super strong.
C12 – 2x Splenda sweetener packets – Emergency coffee sweetener.
C13 – Mimobot Boba Fett (RoTJ) USB Flash Drive – Fun, but not super practical, because it isn't very compact.
C14 – Headphone adapter cable for LifeProof case
C15 – GORUCK Mini Wire Dopp (NOTE: The Mini version has not been sold for some time, but the regular, full-sized version is available) – I love this thing because it has the GORUCK uber-durability and it is also a smart way to organize your small items and still be able to see them all when you lay the Wire Dopp open flat.
C16 – Extra charging base for Garmin fenix 3 HR GPS watch – I like my fenix 3 HR, but like all high-end smartwatches, it required charging every few days, so I bring this in case I need to top off my watch's battery at work.