We use affiliate links. If you buy something through the links on this page, we may earn a commission at no cost to you. Learn more.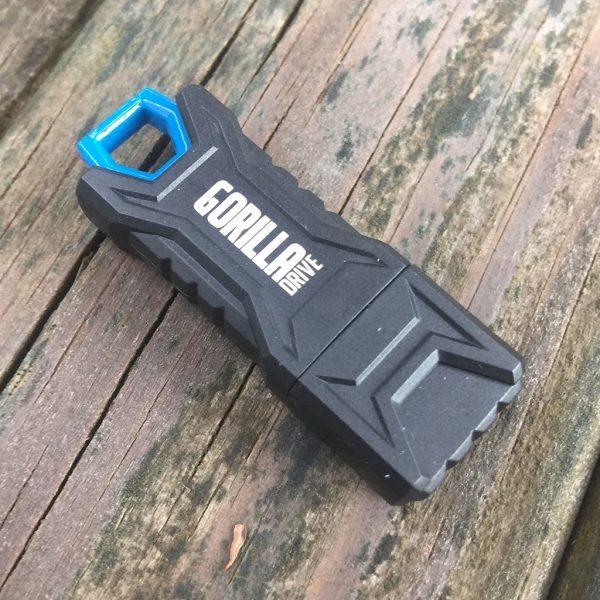 Need a USB flash drive but the everyday ones just aren't tough enough for you? GorillaDrive might be your new data storage best friend. It's crush- and water-resistant and includes a metal lanyard loop. Plus, it looks tough. Gadget on!
Specs
Host Interface: Universal Serial Bus 2.0/1.1 (USB2.0/1.1), UHCI (Universal Host Controller Interface)
Supported Operating Systems: Windows

®

10, 8, 7; Mac OS X

®

; Gaming Consoles (XBOX 360

®

& PS3™)
Pressure / Impact Resistant: Up to 250 PSI
Heat Resistant: Up to 225°F
Water Resistant: Up to 65 Feet
Dimensions: 55.5 mm (H) x 20 mm (W) x 10 mm (D)
Weight: 0.60 oz
Software Installation: None – USB Plug and Play Technology
Uninstall Procedures: None – Simply Unplug USB Flash Drive
Warranty: 2 years
Options
GorillaDrive is available in 8, 16, 32, 64 and 128 Gb storage capacities.  (16Gb reviewed here)
Packaging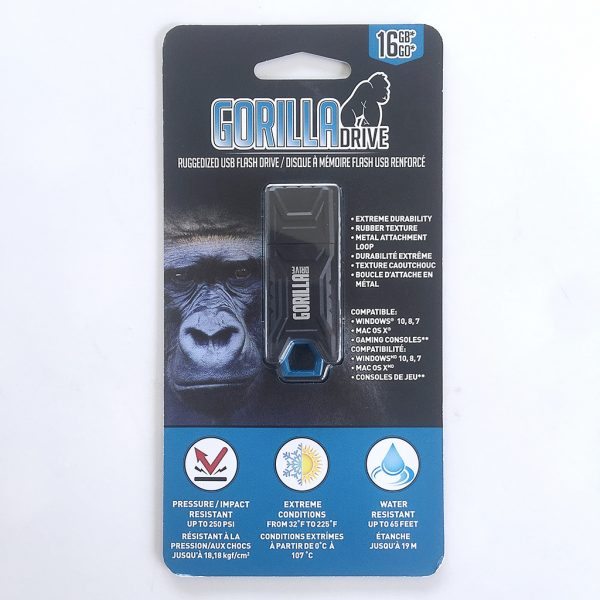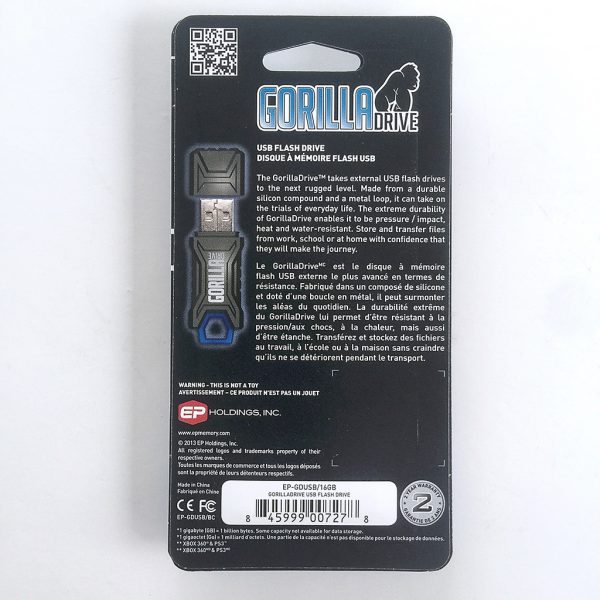 Features, Functions, and Performance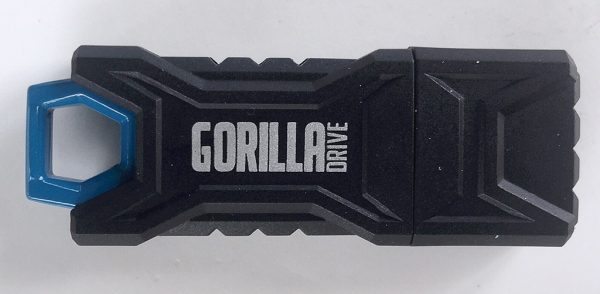 GorillaDrive basically screams "tough" right out of the package.  Between its appearance, with its matte black color scheme, as well as its industrial- or military-styled geometry, it looks like a device that darn near dares you to try and wreck it.  It appears to be worthy of the term "ruggedized.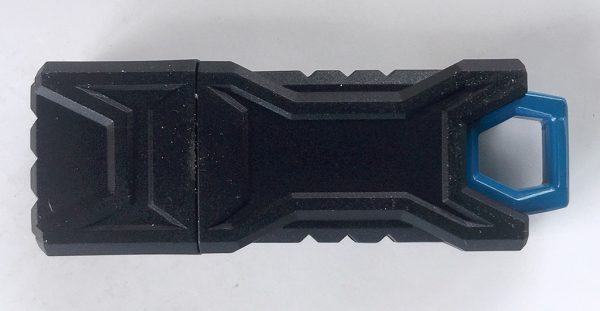 Most of GorillaDrive's exterior, the black portion, is an anti-shock and anti-scratch TPU material.  Because it has a matte, slightly rubbery feel, it aids in gripping GorillaDrive, even when it might be wet or slippery.  The blue portion is a metal attachment loop.  More on this below.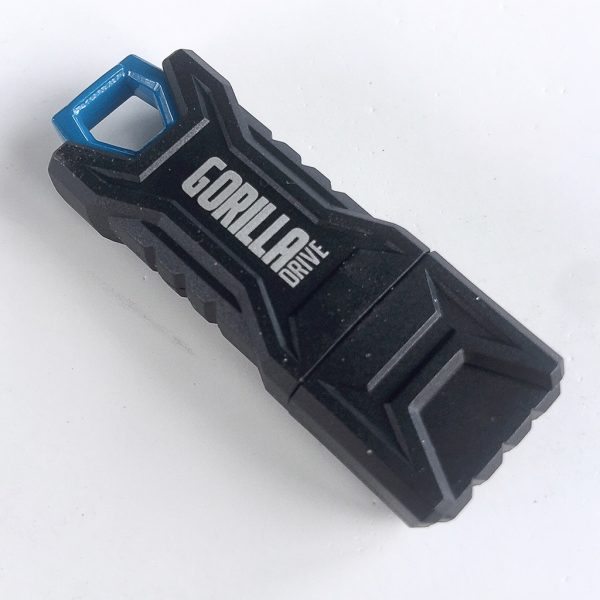 I mentioned the look and feel of GorillaDrive above, and those are both a big part of its appeal to me.  Both its main body and cap have a boxy look, with ribbing and angular facets that aid in gripping the components when wet.  The whole look reminds me of the U.S. Air Force's Lockheed F-117 Nighthawk stealth fighter or some type of night-time special ops gear.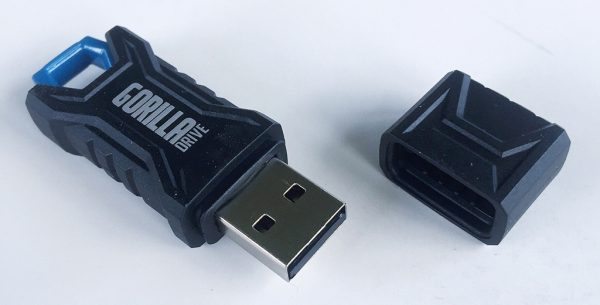 Like most USB flash drives, GorillaDrive has a simple cap that protects the standard USB 2.0/1.1 interface.   

The cap even has some facets and ribs to aid in gripping as well, like the main body.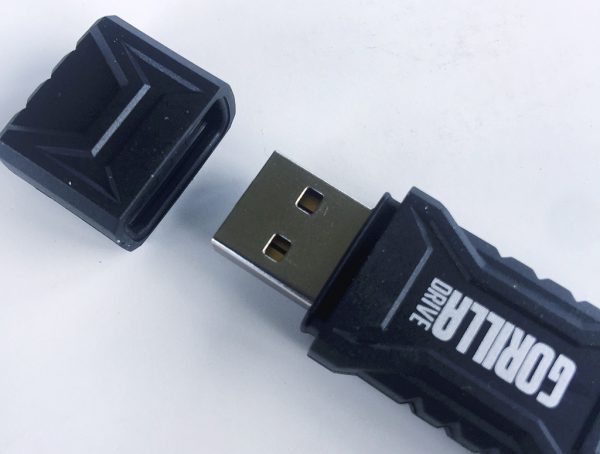 But upon closer inspection, GorillaDrive's cap isn't really so "simple."  GorillaDrive's cap is designed to fit TIGHT. As can be seen in the image above, there is a lip that runs the circumference of the drive, at the base of the metallic USB interface.  There is also a mating groove inside the opening of the cap.  The combination of this lip and groove are what gives GorillaDrive its claimed water resistance to 65 feet(!).  Yes, hypothetically you could go snorkeling with it (not recommended).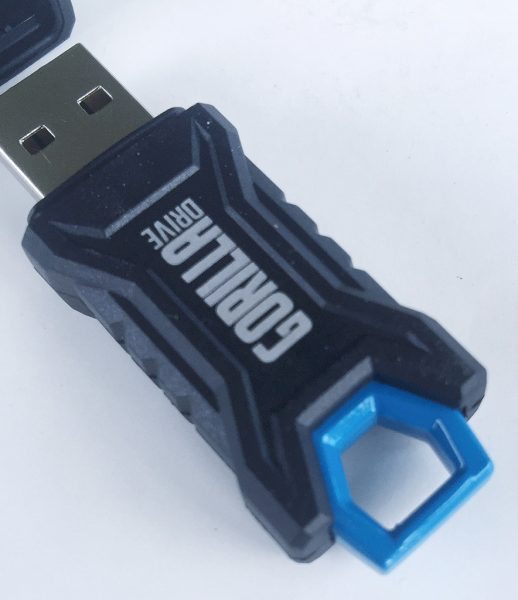 As mentioned above, the blue loop on GorillaDrive is a metal attachment loop with the capability to secure the cap when the drive is in use.  A lanyard is not included with GorillaDrive, but there are many options, so choose what works for you, like a length of 550 paracord or even a ball chain.  Just make sure it's tough.  GorillaDrive does not want to hang from something wimpy.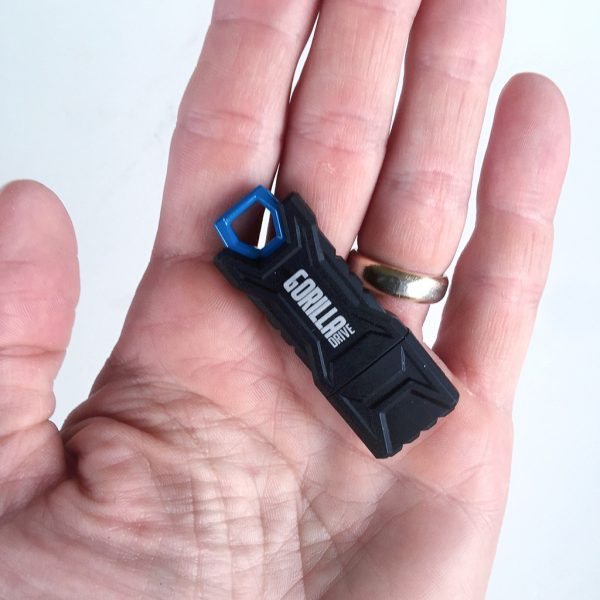 GorillaDrive is roughly the size of most USB flash drives available today, perhaps a bit larger due to its tough construction.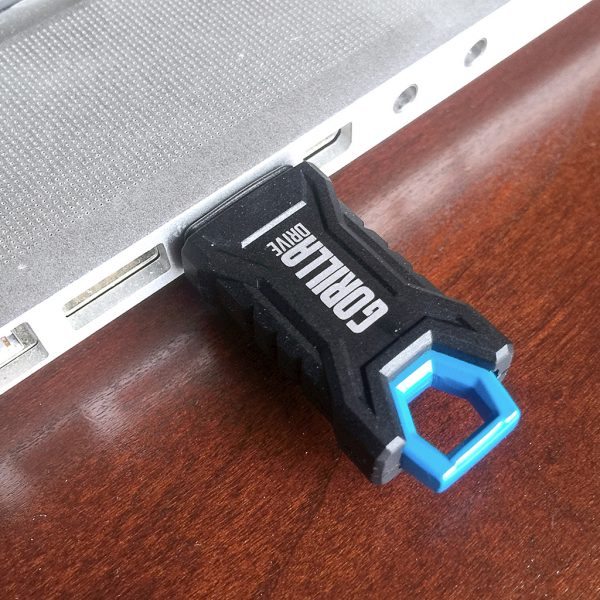 I've been using GorillaDrive in my EDC kit for several months now, and for me, it has performed flawlessly. Although I try to be careful with my tech, it gives me some confidence in knowing that GorillaDrive can probably handle just about any punishment to which I might accidentally subject it, be it a drop on the floor, smashing it with something heavy, spilling coffee on it or even dropping it into a mud puddle.
Conclusion
GorillaDrive is a great product if either a) you are plain careless with your tech, or b) you aren't careless, but you work in hazardous or extreme conditions.  It's slightly rubbery, matte finish, shape and geometry, water-resistant cap, crush-resistant body and metal lanyard loop are all great features that enable the GorillaDrive to be a bit tougher than a typical USB flash drive.
Update 5/1/20
I don't use USB flash drives much these days, but GorillaDrive is the one that I do still keep around. It's the only one that I consider to be tough enough for everyday EDC as well as travel.
Source: This product was purchased with the reviewer's own personal funds.  For more information, please visit http://epmemory.com/ or Amazon to order.