We use affiliate links. If you buy something through the links on this page, we may earn a commission at no cost to you. Learn more.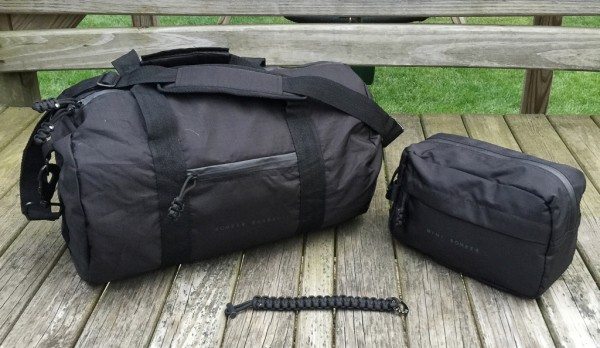 I generally like things simple, functional and cool-looking. I am also a fan of bags for carrying all my gadgets and gear.  I've tried out a lot of bags for various purposes over the years and I'm sure I'll try out many more. Although used messenger-type shoulder bags for many years and have recently switched over to my trusty GoRuck GR1 rucksack (AKA backpack) as my EDC bag for a few years now, I find that there is a place for a good duffel bag amongst my carry repertoire. So I was very interested to try out the Bomber Barrel Duffel Bag, Mini Travel Kit and Firestarter Paracord Bracelet, all from Bomber & Company. How did they fare? Let's find out!  Gadget on!
DON'T MISS: WaterField Designs Outback Duffel review
Background
The Bomber Barrel began life as a crowd funded Kickstarter project, which raised $430,393, significantly over and above its $15,000 goal.  For this reason, it has been dubbed "Kickstarter's Most Successful Bag… EVER."
Specs
Per the Bomber & Co. site and their Kickstarter campaign site, below are the specs for each of the three items reviewed here:
Bomber Barrel Duffle Bag
Adjustable premium quality, padded quick release shoulder strap
Wraparound rivet reinforced carry handles with padded Velcro grip
(1) Inner pocket for small essentials
(1) Outer pocket for small essentials
Ultra Grade N4004-AC22 Nylon 6 Ripstop material
Ultra lightweight (390 grams)
Military-grade clips
Waterproof zippers
Emergency Paracord zipper pulls
Weather resistant
Dimensions: 16 inches X 10 inches X 10 inches
Mini Travel Kit
Ultra Grade N4004-AC22 Nylon 6 Ripstop material
Ultra lightweight (.17 lbs)
Weather resistant
Carries essentials
Paracord Bracelet | Survival Bracelet
Emergency paracord (3 meters)
550 Pound strength
Type III Military Spec – 7 Strand
Firestarter flint, steel
Adjustable 16cm-22cm (One size fits most)
Options
All Bomber Barrel items are available in any color you like, as long as it's black.  😉
Features, Functions and Performance
The Bomber Barrel Duffel Bag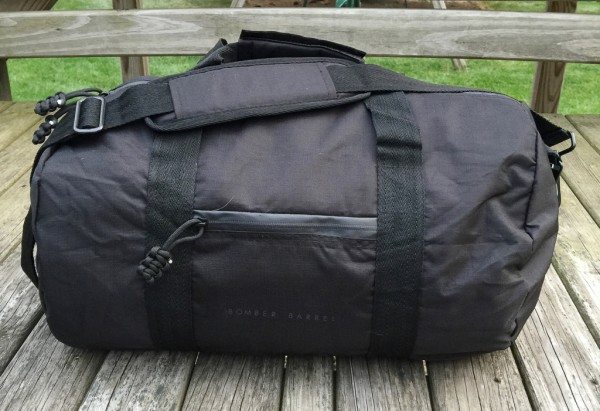 My very first impression of the Bomber Barrel Duffel was that it is extremely lightweight.  The N4004-AC22 Nylon 6 Ripstop nylon material from which it is made is quite thin and this translates to lower weight.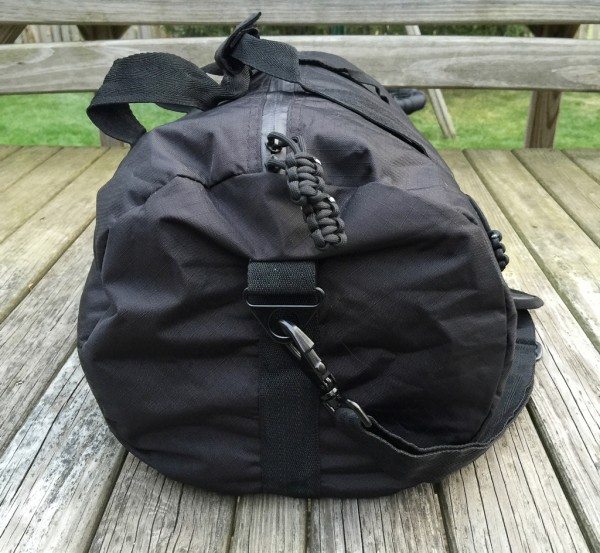 The Duffel's construction is solid throughout, including metal attachment accessories and 550 Paracord zipper pulls, all described in detail below.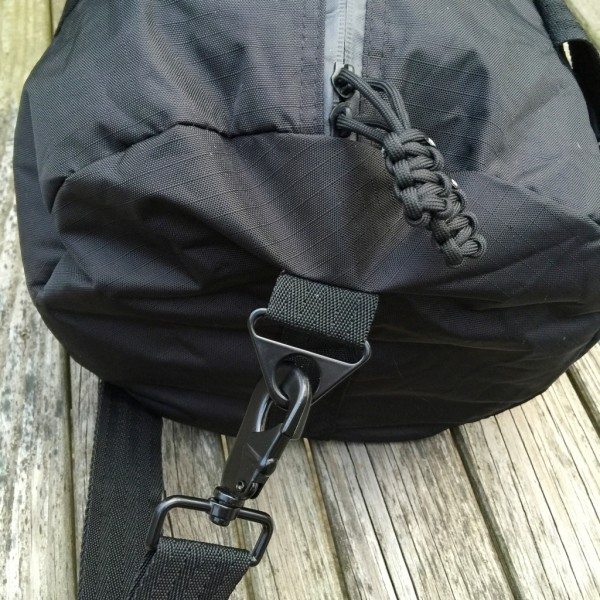 The Duffel Bag's shoulder strap is attached to the ends of the bag via two metal, triangular-shaped loops.  These are heavy-duty and seem like they would take a lot of abuse.  Additionally, the spring-loaded snap hooks on shoulder strap itself are also very heavy duty.  This combination of heavy-duty hardware actually seemed to be a bit out of place with the construction of the rest of the Duffel Bag, which is very lightweight.  Still, after a bad experience with low-grade shoulder strap attachment features in college, I appreciate when this hardware is going to last.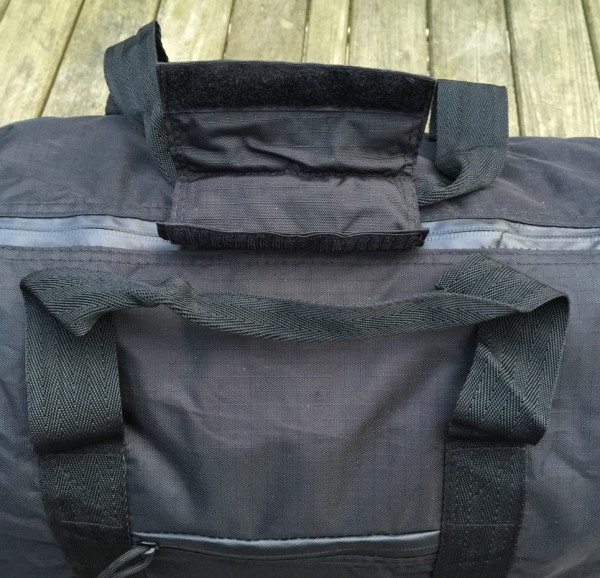 The Duffel Bag's carry handles are made from webbing that is stitched directly to the outside of the bag, providing added strength.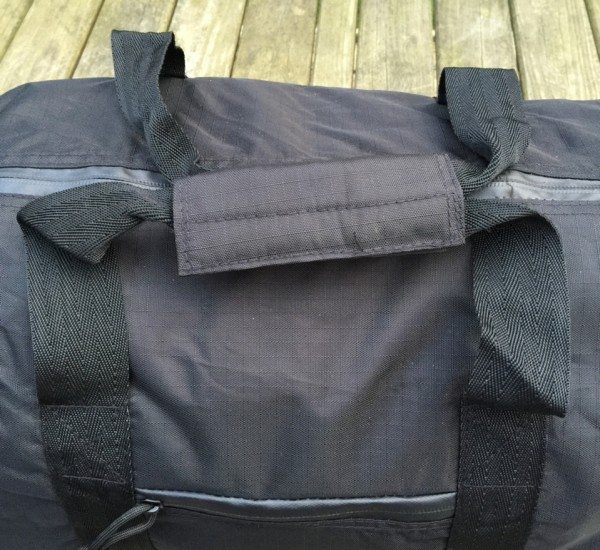 The carry handles also include a padded Velcro grip that can be wrapped around both handles.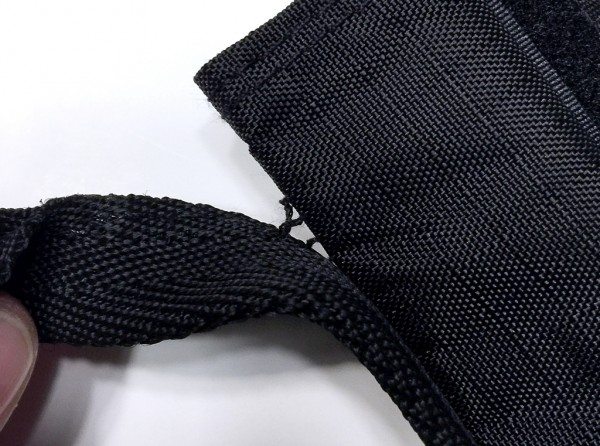 Unfortunately, after only about a month of use, the stitching that attaches the padded Velcro grip to the carry handle webbing began fail.  I was surprised at this after such a short duration of use, and not super-duty use I might add: I was using it to carry my gym clothes from my desk at work to our on-site fitness center and back several days per week.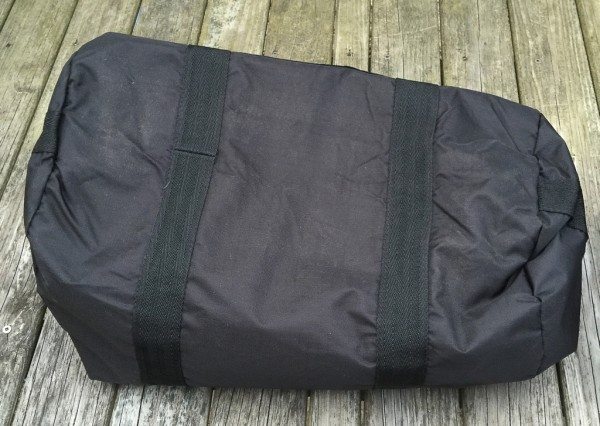 The webbing that makes up the carry handles of the Duffel bag wraps completely around the bag, as seen in the image above.  This gives the handles and the bag itself an additional measure of strength.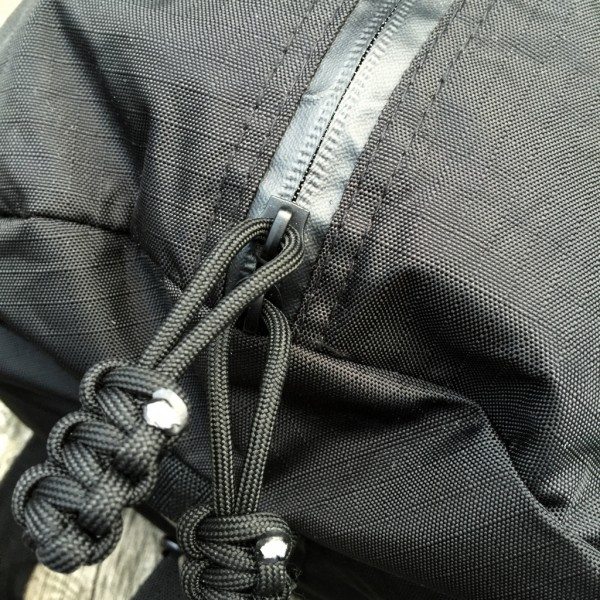 The photo above illustrates several features.  First, one of the unique features of the Bomber Barrel Duffel (and the Mini Bomber Travel Kit, below) is the zipper pulls.  They are made from paracord, which is rated to 550 lb tensile strength.  The pulls are woven into a cobra weave pattern which allows a fair amount of paracord to be stored in a small space, which can be unwoven in an emergency.  Second, the grid-like pattern of the ripstop nylon material can also be seen.  Finally, the water-resistant zipper is visible.  This zipper includes a thin extra layer over the top that helps keep dirt or debris from jamming the zipper's teeth, or helps prevent debris or liquids from passing through the zipper's teeth and soiling the duffel's contents.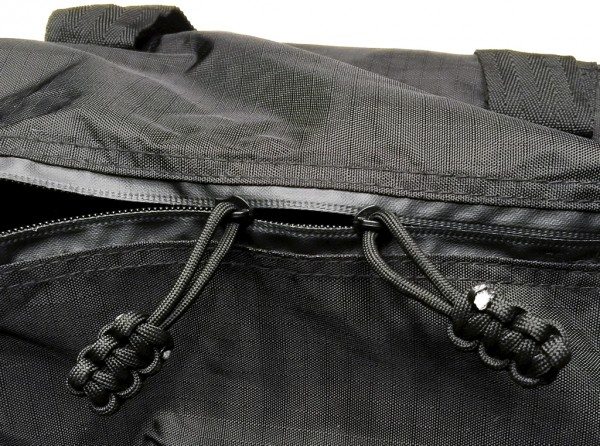 Unfortunately, in only a few weeks of use, this main zipper failed.  As seen in the image above, the zipper pull on the left side somehow got misaligned and I was unable to fix it.  Now only the zipper on the right actually works to close the duffel.
The interior of the Duffel Bag is lined with a thin material, which was a nice extra touch.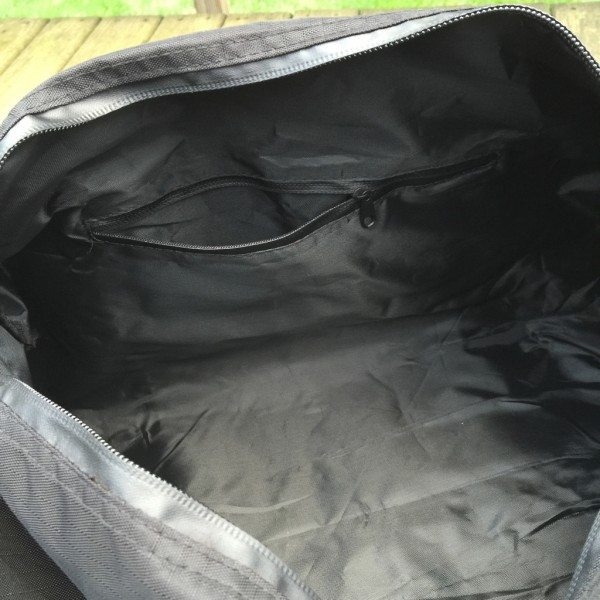 Additionally, there is a small zipper pocket on the inside of the Duffel that can be used to store small items.  Warning: The zipper and zipper pull on this pocket seems a bit flimsy; it hasn't broken yet, but one wrong tug and it feels like it might.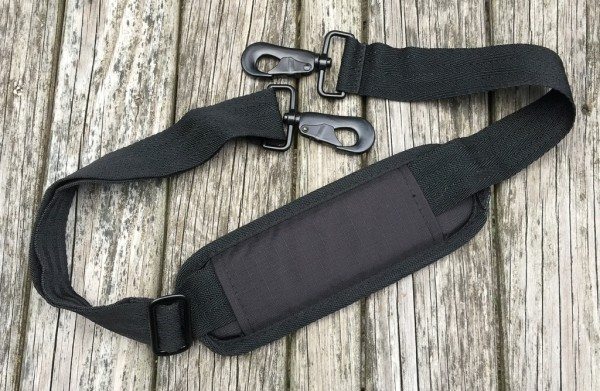 Above is the Duffel Bag's shoulder strap.  As mentioned above, the two spring-loaded snap hooks are very heavy duty.  The webbing seems very solid and the length of the strap is adjustable.  However, the padding in the shoulder strap pad seems a bit thin, so it may not help much when carrying the duffel for extended periods with a heavy load, but for more normal-duty use, it seems fine.  Also, the pad tended to slide around quite a bit while I was using it, and it never quite stayed where I wanted it, so I had to constantly re-adjust it.
The "Mini Bomber" Mini Travel Kit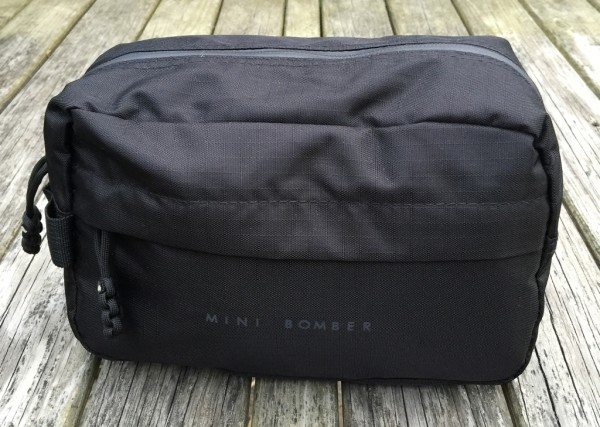 My first impression of the "Mini Bomber" Mini Travel Kit was that it was constructed in much the same way as its larger sibling, the Bomber Barrel Duffel Bag, with the same lightweight ripstop nylon material as well as the 550 paracord zipper pulls.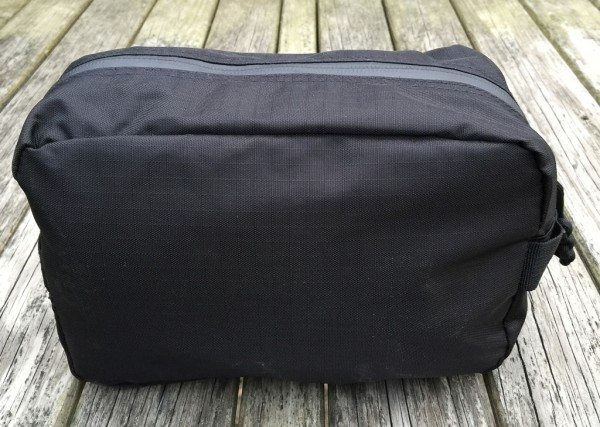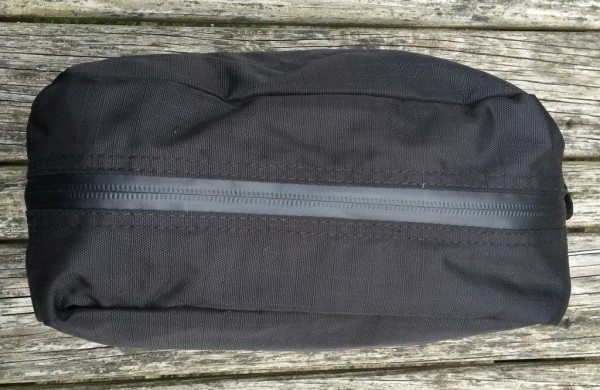 The image above shows the Mini Bomber's water-resistant zipper, the same as its larger sibling.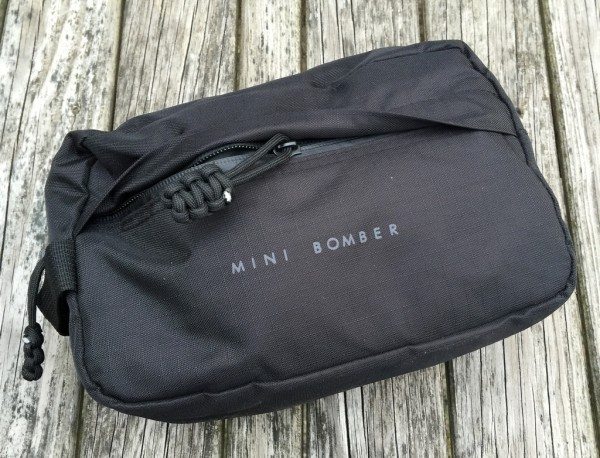 The Mini Bomber has a pocket on the outside to help organize smaller items.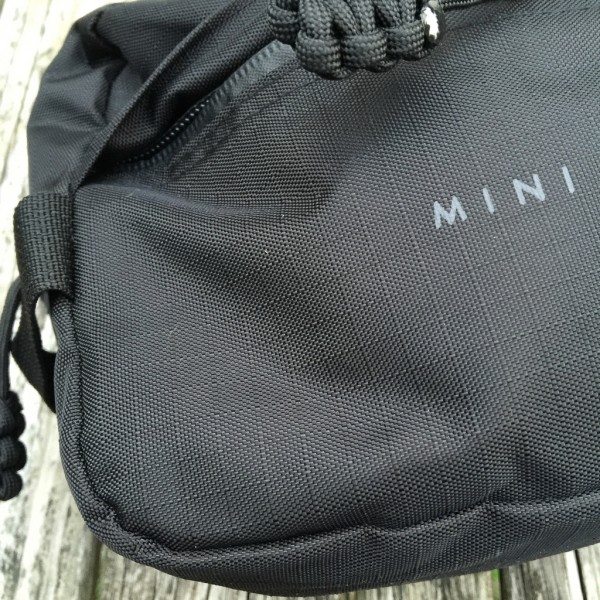 Above, a closeup of the ripstop nylon material's grid-like pattern.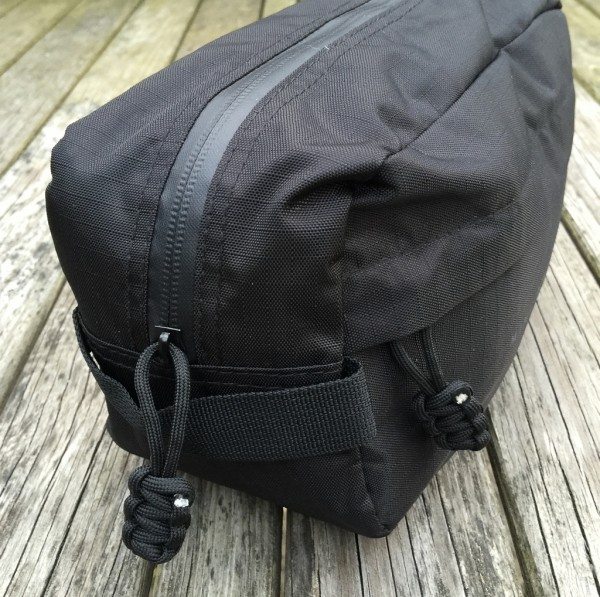 The Mini Bomber has a small strip of webbing on one end, which provides a nice grab handle, or a location from which to hang it.  Also, as mentioned above, the Mini Bomber includes 550 paracord zipper pulls like the Duffel.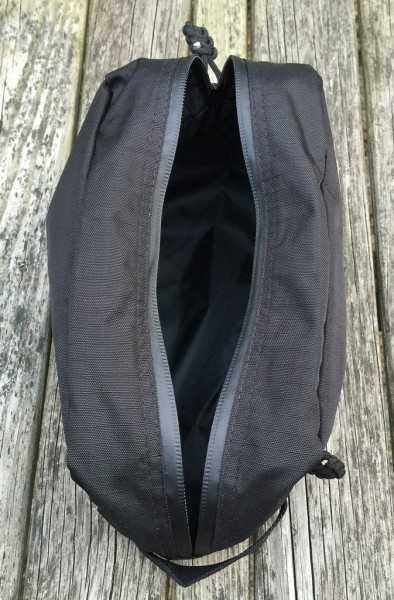 The Mini Bomber is essentially a toiletries bag, but could really be used to carry just about anything that will fit into it, such as cables,  adapters, snacks, keys or the like.
The Paracord Survival Bracelet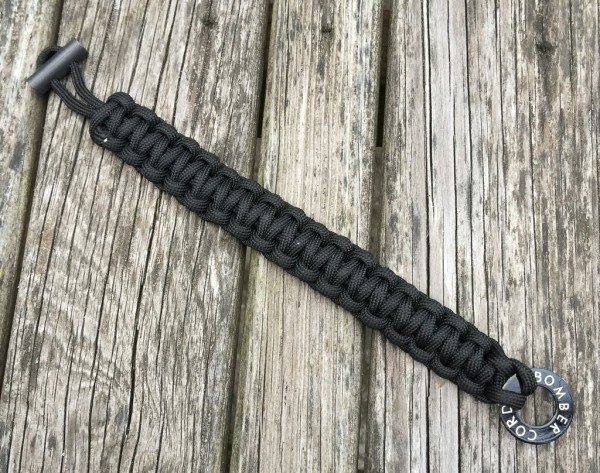 Survival bracelets made from woven 550 paracord have been around for quite a few years now.  The idea is that a long length of paracord can be stored in a small space, ready at hand should an emergency arise.  The Bomber and Company version of the survival bracelet utilized the quite ubiquitous cobra weave pattern, like the zipper pulls on the Duffel and Mini Bomber above, but it also includes additional emergency features, detailed below.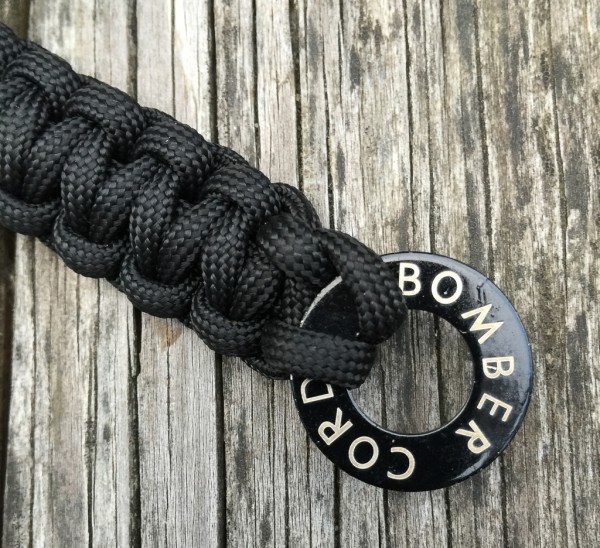 The additional emergency feature of the Bomber Cord bracelet is a firestarting set, comprised of a metal washer (with the Bomber Cord logo printed on it), as shown above…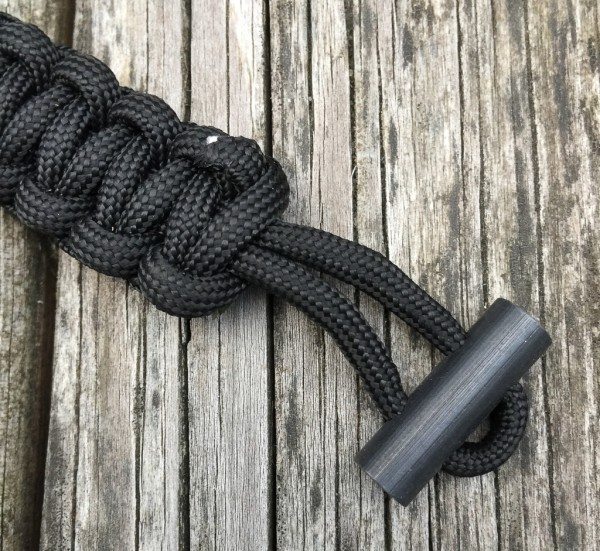 …and a piece of flint woven into the bracelet's opposite end, as shown above.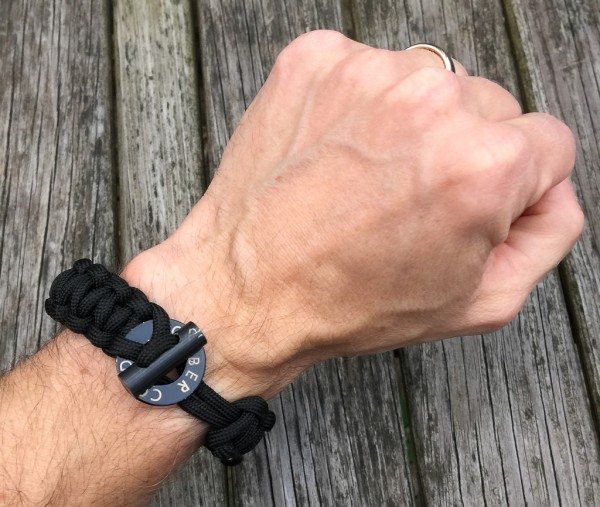 The Bomber and Company folks have cleverly used the firestarting washer-and-flint combo as the bracelet's closure clasp.  Just slide the flint through the hole in the washer to unclasp the bracelet.  Then scrape the metal washer against the flint at an angle (it take a bit of practice) and you have a way to make sparks, which can help start a fire, which is an essential in survival situations.  I had no issues with the bracelet; it fit me just fine, was easy to clasp and unclasp and I was able to produce sparks from the flint and washer fairly easily.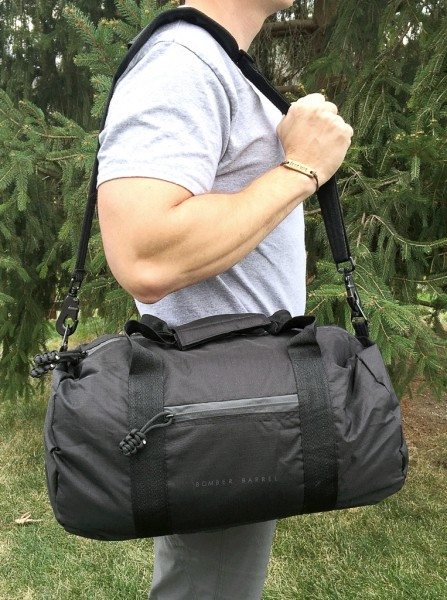 I like the size of the Bomber Barrel Duffel.  It's sort of a mid-sized bag, not so small that doesn't hold enough, but not so large that it's clumsy to haul around.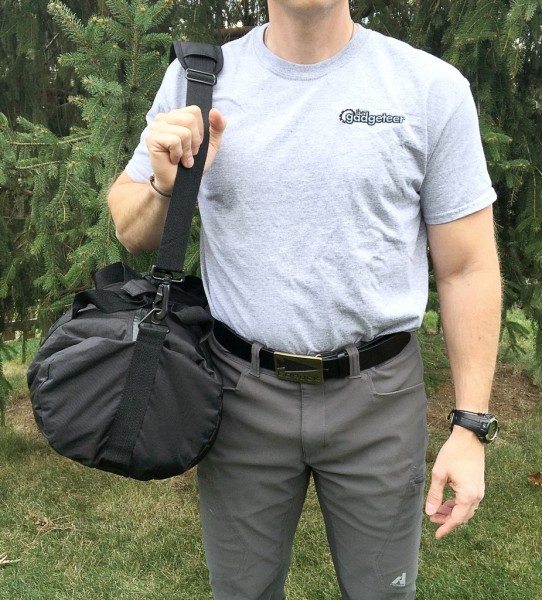 As mentioned above, I've been using the Bomber Barrel Duffel to haul my workout gear to our company fitness center several times per week.  It serves this purpose well—it hold just the right amount of gym gear for me and because it is so lightweight, it is much more enjoyable to carry than my previous gym bag, which was a huge and heavy tank of a thing.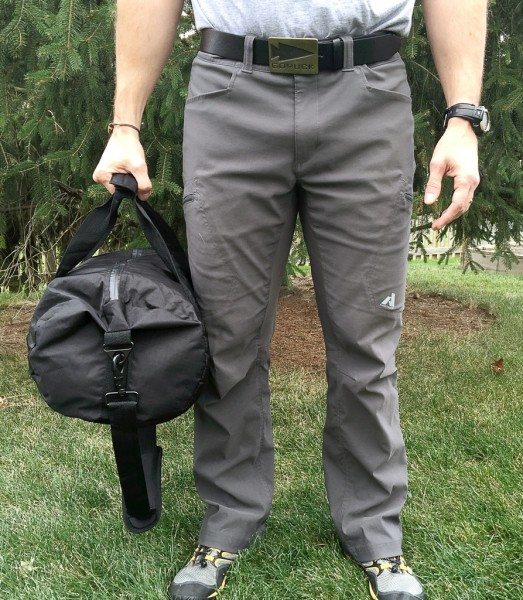 I also found its smaller exterior and interior pockets to be very useful for organizing some of my smaller items which would otherwise float around in the bottom of the Duffel.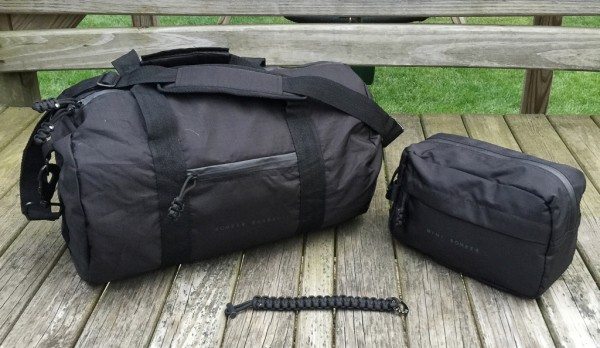 Conclusion
The Bomber Barrel Duffel Bag, Mini Travel Kit and Firestarter Paracord Bracelet from Bomber & Company are all well-designed, aesthetically-pleasing, functional items.  The bags are lightweight and have several nice organizational features, the Duffel's hardware will stand up to heavy-duty use, and 550 paracord zipper pulls are used throughout.  However, the failures noted above—the main zipper as well as the stitching of the Velcro padded grip to the handle webbing—seemed to occur after only a very limited duration of use, which was disappointing.  It's possible that, although these products seem to be well-designed with respect to functionality, Bomber and Company may have used some lower-quality materials in their construction.
06/28/16
I've been very disappointed with the Bomber Barrel Duffel Bag. Only about three weeks after I started using it as my daily gym bag, the both of the main zipper pulls got off track and now I can't close the bag at all (and I never once overloaded it). Other parts of the bag had already started to fall apart as noted in the review. Sadly, it felt cheap when it arrived and it has proven to be cheap in the construction.
Source: The product sample for this review was provided by Bomber & Company. For more information, please visit their site.

Product Information
Price:
Duffel Bag + Mini Travel Kit $200; Paracord Survival Bracelet $17
Manufacturer:
Bomber & Company
Requirements:
Pros:

Lightweight
Waterproof zippers
Paracord zipper pulls

Cons:

Main zipper failed
Velcro padded grip came unstitched from its handle webbing