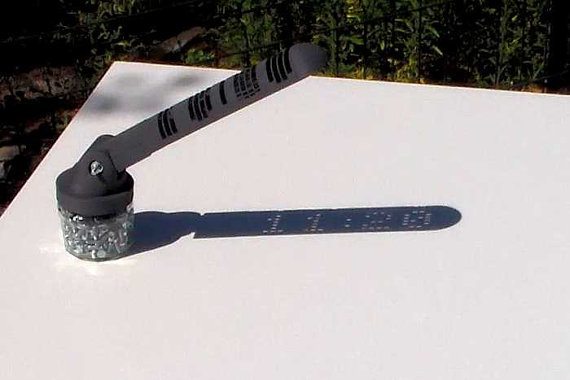 The words digital and sundial don't usually go together, but a French maker has changed that with a cool 3D printed sundial that "displays" the time like a digital watch. The way sundials traditionally work is that they cast a shadow from the sun across a dial with numbers. You have to read the number next to the shadow to tell the time. It is sort of like an analog watch with minute and hour hands. The Digital Sundial also uses the sun to cast a shadow, but instead of having to see which number the shadow is touching to know the time, the shadow actually displays the time in a digital format – with the hour and minutes. All without any batteries or electronics. Impressive? You betcha! How does it work? The magic is in the gnomon, the long piece that the sun shines on to produce the shadow. The gnomon has holes in it that allow the sun's rays to shine through creating pixels. As the sun moves across the sky, the light shines at an angle through different holes causing different numbers to display below. The only caveat is that the Digital Sundial can only display the time from 10:00 – 16:00 (10am – 4pm) in 20 minute intervals. Each sundial takes up to 35 hours to print on a 3D printer because it requires a lot of precision.  For more info visit mojoptix.com. If you want to print your own Digital Sundial you can find the free plans here or buy a DIY kit with all the parts from Etsy for $80.23.
Support The Gadgeteer
:
We may earn a small affiliate commission from purchases made from buying through links on our site. As an Amazon Associate I earn from qualifying purchases. Learn more.