We use affiliate links. If you buy something through the links on this page, we may earn a commission at no cost to you. Learn more.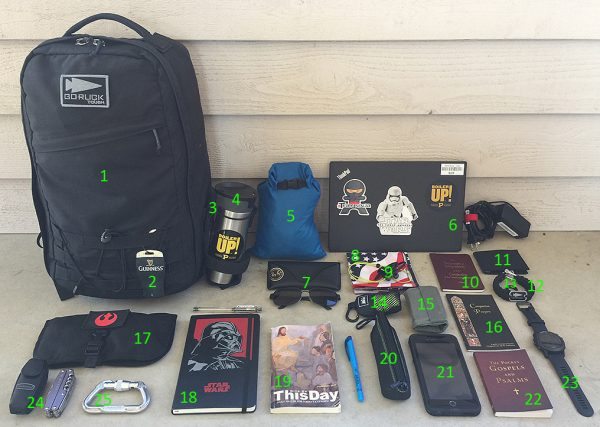 When Julie asked us to create EDC update posts, I initially thought I'd just include the handful of items that I carry on my person at all times.  But then I thought, "Nah.  Not my style.  My style is to go overboard."  Thus behold, all of my current EDC items.  Incidentally, the EDC items I carry with my person at all times are of course included—see the very bottom photo.  Enjoy! 
GORUCK GR1 (26L) Rucksack – This is one.  The One Ruck to Rule Them All.  This is the ruck (military term for 'backpack') that made me not only convert from messenger bags, but also to swear off all other backpacks.  GORUCK is a company founded by Jason McCarthy, a former Green Beret, and his childhood friend Jack Barley, a talented designer, and the GR1 was their first product.  When I stumbled upon the GORUCK web site several years ago, I was immediately attracted to their rugged yet simple gear style—GORUCK calls it "Baghdad meets NYC."  The built-in-USA GR1 can swallow up 26 liters of whatever I can throw into it and is easy to pack and unpack with its lay-flat, fully zip-open design.  Its wide, thickly padded straps make it feel amazingly comfortable while wearing it, even when the load is heavy, and I've carried heavy in it.  On business trips I've carried up to 30lbs in this thing through airports and around cities, and while training for GORUCK Challenges (see below) I've carried up to 65lbs in it.  Although I can certainly feel the weight, it is not painful on my shoulders and back.  In addition to some versatile interior organizational features, as a nod to its military pedigree the GR1 includes MOLLE-style webbing inside and out to attach various accessories.  To the side of the GR1, I've added an ITS Tactical Skeletonized Water Bottle Holder (see item #3 below) as well as a Condor Tech Sheath to one of the shoulder straps to hold small items that I want to access quickly. Additionally, the GR1 includes a 2-inch by 3-inch Velcro field on the front to allow the user to attach Velcro-backed morale patches to customize your GR1 and make it yours.  Here, I've attached the patch that I earned by completing my first GORUCK Tough Challenge, a 10-12 hour, 15-20 mile team-based endurance event led by an active-duty Green Beret that helps forge a group of individuals into a team using Special Forces training principles (yes, I wore this ruck during this event, and many others that followed).  I could go on and on about this ruck, and this company, but suffice it to say that the GR1 has been my favorite ruck/pack/bag for several years running.
Guinness Pint Luggage tag – Guinness Draught Stout is my all-time favorite beverage (well, favorite evening beverage—coffee rules the daytime hours).  This luggage tag was a gift from my generous in-laws who purchased it on a trip to Dublin, Ireland, where they visited St. James's Gate, toured the Guinness Storehouse and stopped in the 2-story gift shop.  Yes, 2-story gift shop.  I was fortunate to be able to make a pilgrimage there a few years later. Sláinte!
ITS Tactical Skeletonized Bottle Holder – A minimalist, adjustable and nearly indestructible beverage container holder.  Well designed, well built and it attaches to just about anything with MOLLE webbing, including my GORUCK GR1 (#1 above).
Contigo AUTOSEAL West Loop 16oz travel mug – With a durable stainless steel body, THERMALOCK Vacuum Insulation that keeps my coffee piping hot for hours and AUTOSEAL push-button technology that is both leak and spill proof, it's saved me from massive spills several times.
Stuff sack – I use this to transport my workout clothes: shorts, T-shirt, socks, briefs.  The stuff sack rolls down closed and seals in my sweaty, smelly post-workout clothes, keeping them from contaminating everything else in my ruck.  Each evening when I get home, I just empty the stuff sack into the laundry, then re-fill it with clean workout clothes for the next day and throw it back into my GR1.  Easy peasy.
Lenovo Thinkpad X260 notebook PC w/ power supply – Work-issued laptop.  It's actually considered an ultra-portable but is kind of a tank.  She ain't pretty, which is why I've added the decals, but she's durable, and the slim profile and small footprint are great for work travel.
Ray Ban prescription sunglasses with case – Even in Indiana, we occasionally get sunshine.  Gotta have shades.
American Flag-styled handkerchief – Because 'Merica.
iClever BoostRun BTH07 Sweatproof Bluetooth Sport Headphones – Nice little sport headphones.   I'm currently reviewing these, so stay tuned for a full review.
Pocket-sized Declaration of Independence & Constitution of the United States -These two documents are so foundational to our nation that I think every American ought to a least have a copy of them handy, but even better, to learn their content and what they mean to our rights as citizens.
SlimFold Soft Shell wallet – I've been using this wallet non-stop since I reviewed it.  Very thin, small footprint, water doesn't phase it and it keeps things minimal.  Honorable mention goes to my Bellroy Elements Pocket wallet, which is a close second favorite, and which I bust out when I know I'm going to be doing something very active around water or mud.
Survival Straps GORUCK Tough paracord bracelet – I have several 550 paracord bracelets that I rotate through, some of which I've made myself, others I purchased.  This is my favorite at the moment, mainly because it sports the GORUCK Tough logo, which I've earned the right to wear, and is, well, black.  And black is cool.
Silicone wedding band – I'm a fairly active guy and my workouts often consists of gripping objects like barbells, dumbells, kettlebells, pull-up bars, sandbags, rocks, logs and other objects that generally tear up my hands—and my wedding band.  I bought this inexpensive silicone wedding band on eBay to try it out, and I really like the look and feel of it.  I may upgrade to a Groove Ring at some point because Groove appears to have built some unique and useful features into their rings.
REI Mini MultiTowel – This little tiny towel has saved me on more than a few occasions, everything from mopping up spills to a quick towel-off after getting caught in a downpour.  It stuffs into its own small mesh carrying case with an attached carabiner for storage which I clip to the MOLLE webbing inside my GR1.
Triple Seven Gear CORE Nano Wallet – This is actually a combo wallet and EDC organizer.  Works well for carrying a few small items and also functions fairly well as an actual wallet, though I don't use it that way often (see #11 above)
Companion Prayers booklet – A publication of Companions of St. Anthony, this booklet is packed with 40 prayers for many occasions and circumstances.  I use this little booklet quite often.
GORUCK Mini Wire Dopp – (NOTE: This link points to the GORUCK Wire Dopp, which is the larger version of its smaller cousin, the Mini Wire Dopp.  The Mini is currently out of stock.)  Like all GORUCK items, their Mini Wire Dopp is well-designed, built tough (in USA) and looks cool.  It has several mesh zipper pockets inside for organization, a quick-release buckle closure and like most GORUCK gear (including the GR1 ruck above), a Velcro field to affix your favorite morale patch, like my Rebel Alliance symbol patch (if you haven't yet seen Rogue One: A Star Wars Story, I strongly encourage you to do so).
Moleskine Barnes & Noble Exclusive Limited Edition Star Wars Darth Vader Large Notebook – Pretty much says it all.  If you haven't guessed by now, I am YUGE Star Wars fan and I use this notebook for journaling.  I am currently using a Pilot G-Tec-C4 in 0.4mm tip pen but I occasionally switch to others (see contents of item #20 below).
Give Us This Day & highlighter – This is a Catholic monthly publication book that contains daily prayers, Mass readings, stories of the saints' lives and other great spiritual helps.  I use it multiple times per day to guide my prayers, devotions, and reflections.  I also use a highlighter to identify things I want to revisit later.
County Comm Handy Zipper Pouch by Maratac (small size) – Nylon webbing material, YKK zipper and paracord attachment loop.  Simple, slim, well-constructed and handy.  I use the loop to attach it to the MOLLE inside my GR1.
iPhone 6 Plus with Lifeproof Fre Case – My iPhone 6 Plus is one of the items I always have with me (see below).  I've tried a lot of different cases, but I like that the Lifeproof Fre case provides quite a bit of protection, including against moisture, and considering how much I sweat during workouts and exercise outside, this case does the job well for me.  It isn't perfect, but I like it.
The Pocket Gospels and Psalms book – Published by Our Sunday Visitor, it includes the Gospels of Saints Matthew, Mark, Luke and John, plus the Psalms.  Of course it isn't the entire Bible, but these are some of the best parts.  🙂
Garmin fenix 3 HR multipsport training watch – I'd been a G-Shock devotee (fanatic?) for about 20 years, but when my last G-Shock defied efforts to bring it back to life, I started looking into the GPS watches.  The Garmin fenix 3 HR came highly recommended by someone I respect, so I waited a year for the price to come down and this was my birthday present from my family last year.  Great watch.  Probably more watch than I need, but every day I'm glad I bought it.  I might attempt to review it, but I'm not sure I could do it justice because it has so many modes and features.
Leatherman Juice XE6 multi-tool & Leather Sheath – My in-laws gave me this a few years ago as a Christmas gift and it's one of my favorite gadgets.  It has a lot of tools packed into a small space and is very well constructed.  The Leather Sheath fits it perfectly and I clip it to the MOLLE inside my GR1.
Omega Pacific Standard Locking D Carabiner in Bright color – I typically attach this to the top handle of my GR1.  In my cubicle at work, I have a piece of webbing rigged up where I use this carabiner to hang my GR1.  Omega Pacific makes some of the best climbing carabiners on the market.  I bought this one to use in my first GORUCK Tough Challenge a few years ago.  It's been through a lot of abuse and it looks the same as when I bought it.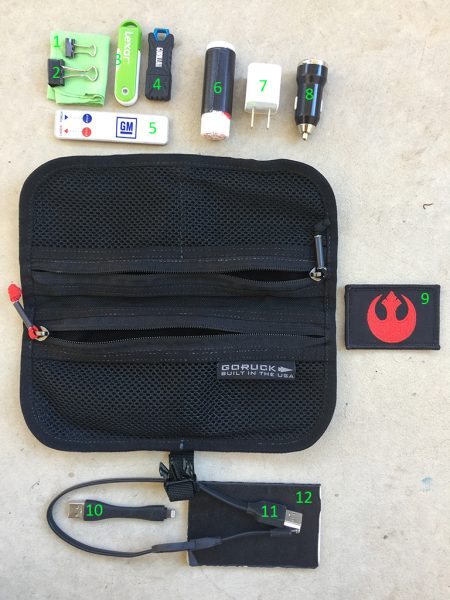 Inside the GORUCK Mini Wire Dopp:
Micro-fiber cloth – Never know when you might need one of these, what with all the device screens and all.
Paper clips – 2 sizes: small and micro.  Occasionally needed and very handy.
Lexar JumpDrive TwistTurn USB Flash Drive – Uh, to store files.
GorillaDrive USB Flash Drive – Also to store files as with #3, but in a nearly indestructible package.
Combo laser-pointer/LED flashlight – Given to me several years ago by a friend who works at GM.  I don't have occasion to use this much anymore, but it's very slim and takes up little space, so I keep it in my kit.
Container of Tyleno/Advil with strip of Gorilla Tape – Sometimes life is a headache.  Sometimes I just get a headache.  The strip of Gorilla Tape is for emergencies.
Apple 5W USB Power Adapter – Because my iPhone (and other gadgets) need juice.
Cheap-o car DC power adapter – For travel emergencies.  I don't need this much anymore, because most vehicles includes some type of charging method for devices.  May be eliminated from my EDC soon.
Rebel Alliance symbol morale patch – AKA the Starbird or the Phoenix.  One of my favorite patches.  Hearkens back to the original Star Wars trilogy as well as the recent Rogue One: A Star Wars Story.
USB to Apple Lightning Adapter – Stubby little flexible adapter that I bought at a CVS pharmacy.  I use this to charge my iPhone from my laptop while sitting in meetings.
TYLT SYNCABLE-DUO Charge and Sync Cable – This cable was half of a set that I reviewed a while back.  My kids confiscated the TYLT ENERGI 2K Travel Charger that came with this cable.  I like the cable a lot because it has both Apple Lightning as well as micro USB which I can use to charge the iClever headphones and other devices that require micro USB.
Moleskine Volante XS notebook – For emergency note jotting.  This, along with my Fisher Space Bullet Pen (see below) saved me once during an airport travel emergency when I needed to jot down a ton of info very quickly.  Super handy little notebooks.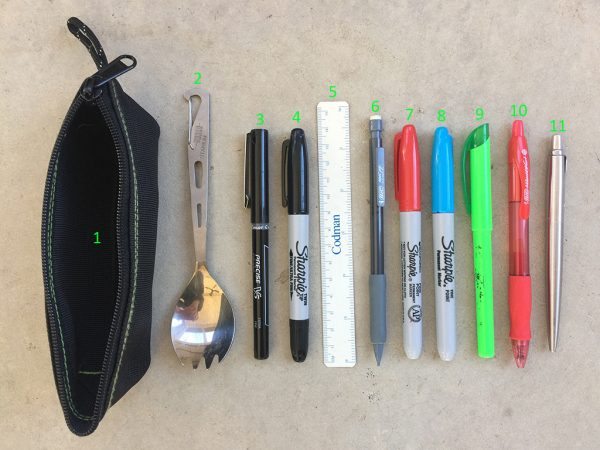 Inside the County Comm Handy Zipper Pouch by Maratac (small size):
Vargo Titanium Eagle Spork – Super lightweight with a carabiner-style locking mechanism.
Pilot Precise V5 Rolling Ball pen, Extra Fine Tip, Black — The narrower the lines, the better.
Sharpie Twin Tip Permanent Marker, Fine/Ultra Fine Tip, Black – Versatile with 2 tip widths.
Ruler – Thin and flexible.  I actually use this fairly often.
Bic Matic Grip Mechanical Pencil, 0.5mm – I've been a fan of mechanical pencils since 5th grade.  This is kind of a cheapie, but works great.
Sharpie, Fine Point, Red
Sharpie, Fine Point, Blue
Highlighter, Green – For highlighting journal articles and other documents.
Gel Pen, Red – For redlining documents both at work and at home.
Parker Jotter Ballpoint Pen, Medium Tip – The classic.  Stainless steel, smooth ink flow.  One of my favorite non-gel pens.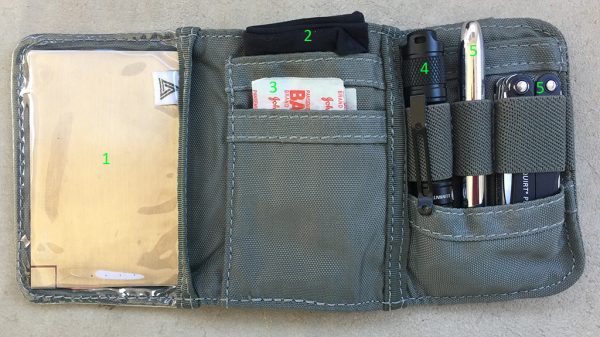 Inside the Triple Seven CORE Nano Wallet
PlusUs LifeCard Powerbank – This little battery doesn't provide a whole lot of juice, but in a pinch it will (and has) saved me.
Micro-fiber cloth – Yes, I know I have another one of these tucked in my GORUCK Mini Wire Dopp (see above).  I don't need them both, so I'll eventually get rid of one.
Band-Aids (3) – Because I have kids and sometimes they get boo-boos.  Or I do.  I'm considering adding some more substantial first-aid type items to my EDC.
Lumintop Tool AAA flashlight – Best small EDC flashlight I've ever used.  Tough, water-resistant, multiple brightness settings and a "clicky" button.  A great value.
Fisher Chrome Bullet Space Pen – Best EDC pen, period.  But I lost my pocket clip and it's much more useful with a clip.
Leatherman Squirt PS4 multitool – Best keychain-sized EDC multitool, far as I'm concerned.  One of the only ones I could find with both pliers and scissors.  Lots of tools packed into this guy.  Black.  Of course.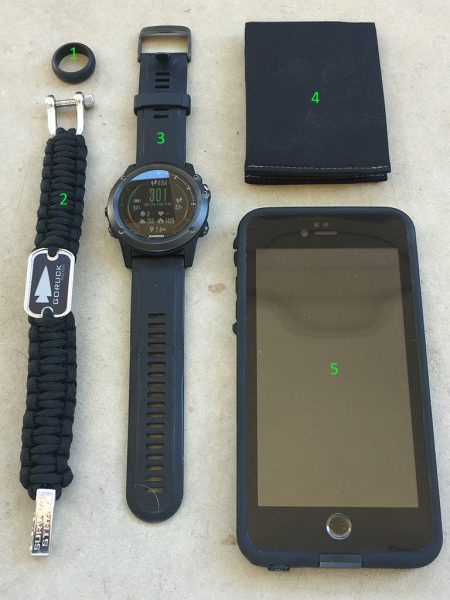 "On Me at All Times" Items
As promised above, this is the "On Me At All Times" Items list – Some additional detail on the items that I am either wearing or have in my pocket at all times.  Explanations for each item are above.  Also, you may notice a common color scheme theme. 🙂
Silicone wedding band
Survival Straps GORUCK Tough paracord bracelet
Garmin fenix 3 HR multisport GPS watch
SlimFold Soft Shell wallet
iPhone 6Plus in Lifeproof Fre case