We use affiliate links. If you buy something through the links on this page, we may earn a commission at no cost to you. Learn more.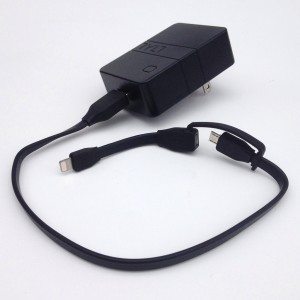 Portable gadget power is a constant need for many of us at The Gadgeteer and I suspect for you as well.  The TYLT ENERGI 2K Travel Charger and SYNCABLE-DUO Charge and Sync Cable seem to be a good solution.  The ENERGI 2K is a combination charger & portable battery, while the SYNCABLE-DUO is a charge/sync cable with both Apple Lightning and micro-USB connections.  I recently had the opportunity to try them out.  Gadget on!
Background
I travel a fair bit for my job, and I typically haul several personal gadgets with me, including an iPhone, iPad and keyboard and other devices.  It is not uncommon for me to be away from an electrical outlet for several hours at a time, so I like to have an emergency power supply with me as well as chargers and cables.  The TYLT (which I believe is pronounced "tilt") ENERGI 2K Travel Charger and SYNCABLE-DUO Charge and Sync Cable seem to be basically all I need, but I was curious to find out how well it would all work together.
Specs
ENERGI 2K Travel Charger
Price – $39.99
Battery Cell Type – Li-ion Polymer
Battery Capacity  – Rechargeable 2,200mAh internal battery (which is where the ENERGI 2K gets its name)
Output Voltage – 4.75-5.25 Volts
Output Current  – 1 Amp
Charge Time – 4 hours
Dimensions 3 x 3.35 x 1.06 inches
Weight – 5.35 ounces
Warranty – One year limited
SYNCABLE-DUO Charge and Sync Cable
Prices – $24.99 (1 foot length, which is reviewed here), $26.99 (2 foot), and $29.99 (1 meter)
Apple MFI certified
Warranty – One year limited
Options
Colors – Both the ENERGI 2K Travel Charger and the SYNCABLE-DUO Charge and Sync Cable are availble in four colors:
Black (reviewed here for both products)
Blue
Green
Red
Cable Length – Additionally, the SYNCABLE-DUO is available in three cable lengths
1 foot (30 cm) (reviewed here)
2 foot (60 cm)
1 meter (39 inch)
Packaging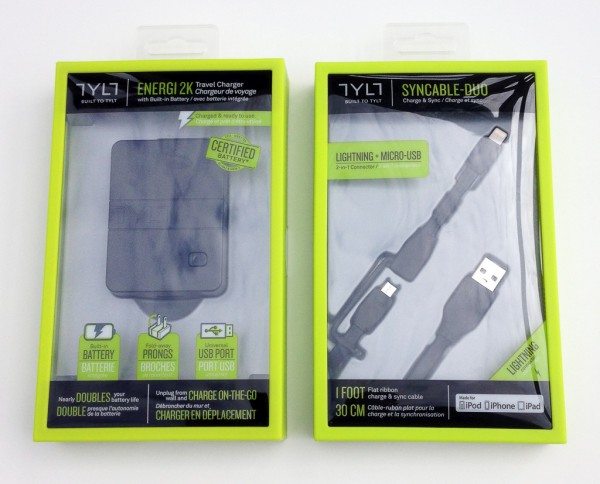 The packaging for both products provides decent visibility of the product inside, which is always a plus.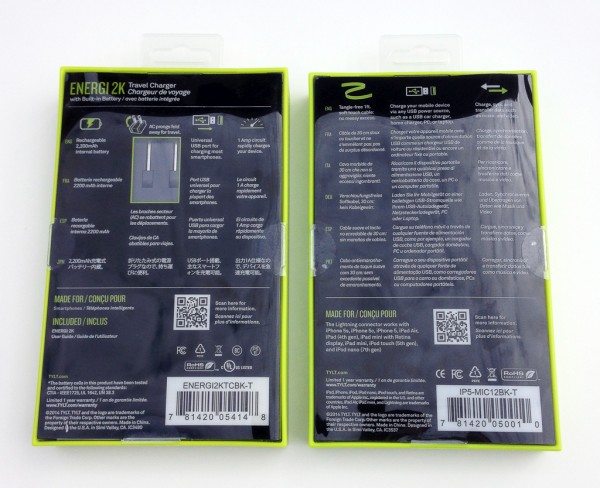 The back of each package lists the features of each product.
Features
ENERGI 2K Travel Charger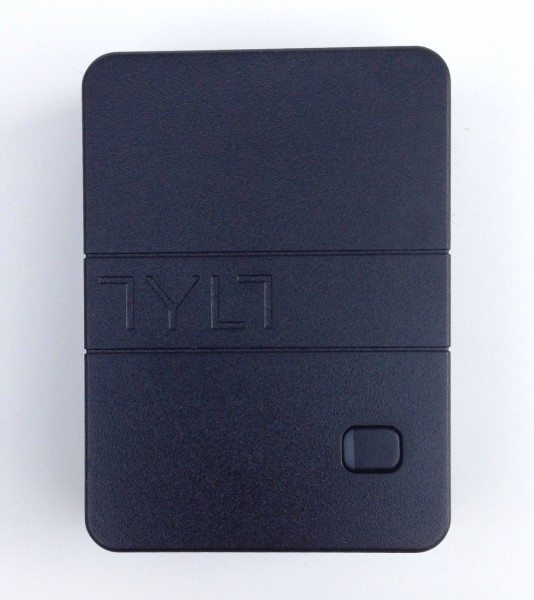 The ENERGI 2K is basically a black box that does not look dissimilar to many other AC adapters/chargers out there.  The styling is simple, with the TYLT logo molded into the front, as well as a single button with a multi-colored LED in the lower right corner.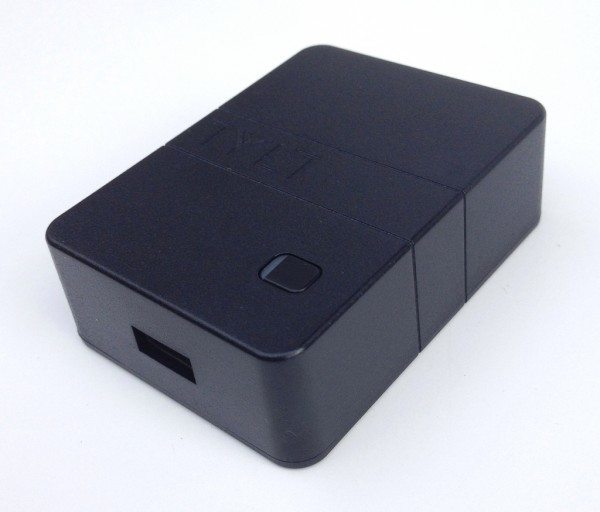 The bottom of the ENERGI 2K has a single, standard USB port.  This means that you can plug basically any standard USB cable for whichever device you choose into it.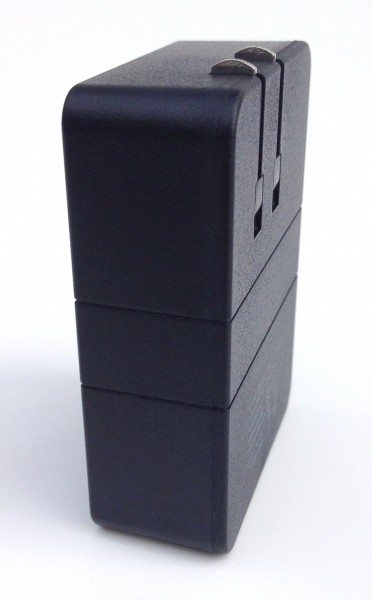 By this point, I think folding AC outlet prongs should be standard on all AC adapters/chargers.  To its credit, TYLT has included this feature in the ENERGI 2K.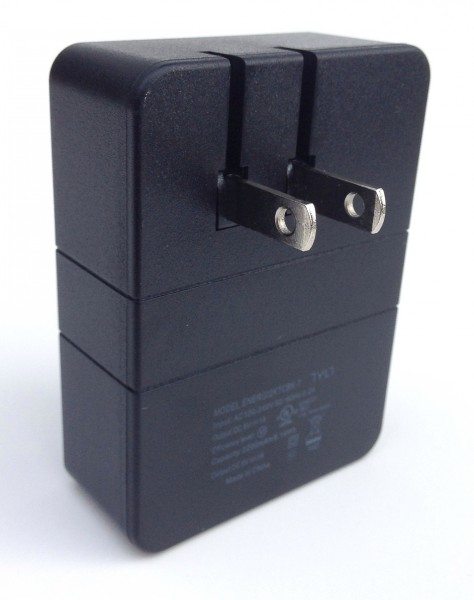 With the AC prongs deployed and the ENERGI 2K plugged into a outlet, the ENERGI 2K has pass-through charging and will simultaneously charge both itself and a device that is plugged into it.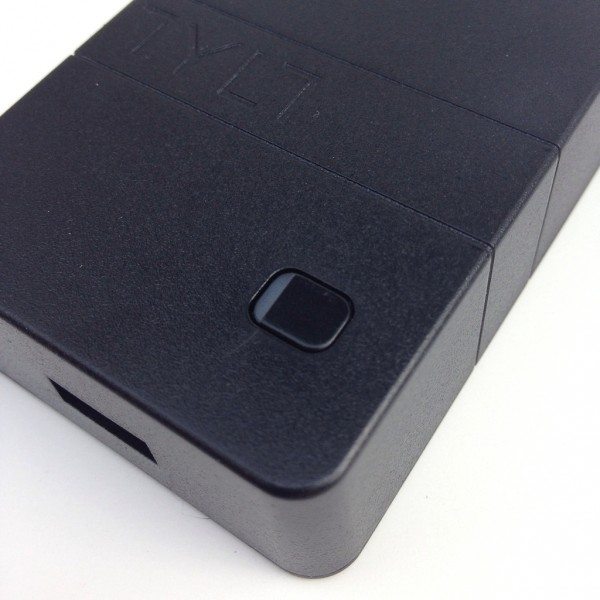 The only other feature of the ENGERI 2K is a small, rectangular button on its face.  The button has a slim LED on one side.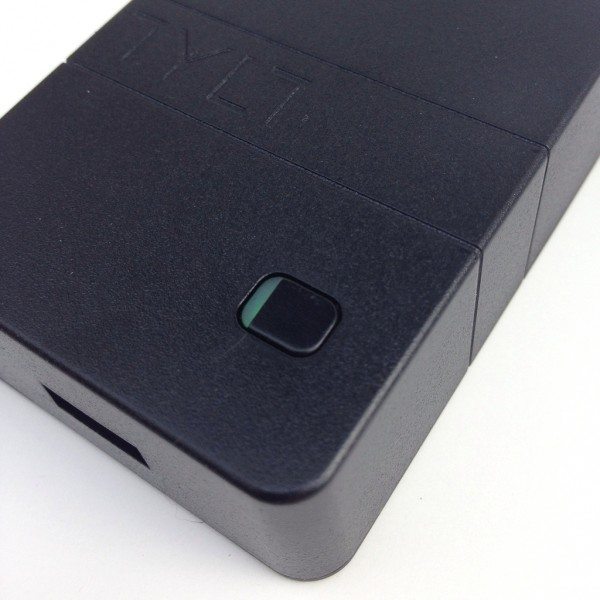 The button serves a dual purpose.  One is to activate the charging feature of the ENERGI 2K when it is unplugged from a wall outlet.  More on that below in the Performance section.  The small LED on the side of the button changes color to indicate the current charge capacity level of the battery, from green at full or nearly so charge (80-100%), amber at medium charge (30-80%), red at minimal charge (less than 30%) and blinking red to indicate charge is too low to be effective.  It is recommended that no devices are plugged into the ENERGI 2K when checking the charge level. I've only illustrated the green color mode above; use your imagination on the amber and red.
SYCABLE-DUO Charge and Sync Cable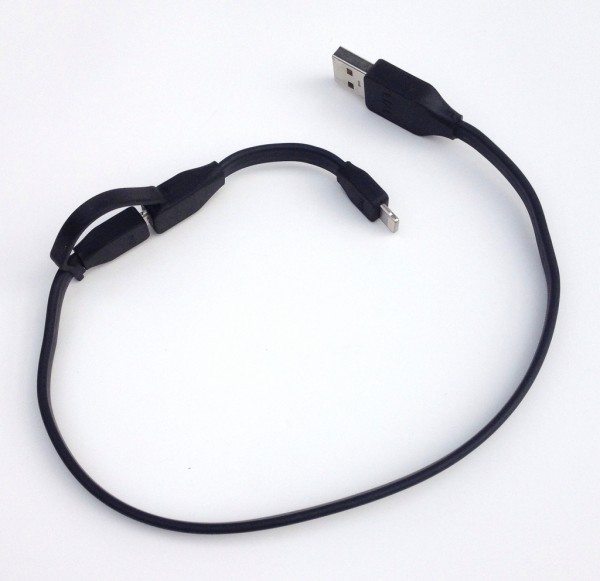 The SYNCABLE DUO Charge and Sync Cable can both charge and sync a smart device simultaneously, which is where it gets its name.  It has both an Apple Lightning connector as well as a micro-USB connector.  Reviewed here is the 1-foot version.  A 2-foot and a 1-meter version are also both available.  I found the 1-foot version to be acceptable for my use most of the time, but the 2-foot version might have been better for some situations.  Note that the SYNCABLE-DUO is a flat, ribbon-type cable which helps prevent it from becoming tangled.  I like this feature and I think all device cables should be designed like this.  Hulk hate tangles.  It also has a tactile, rubbery "soft touch" finish, almost like a bendy wire Gumby figure.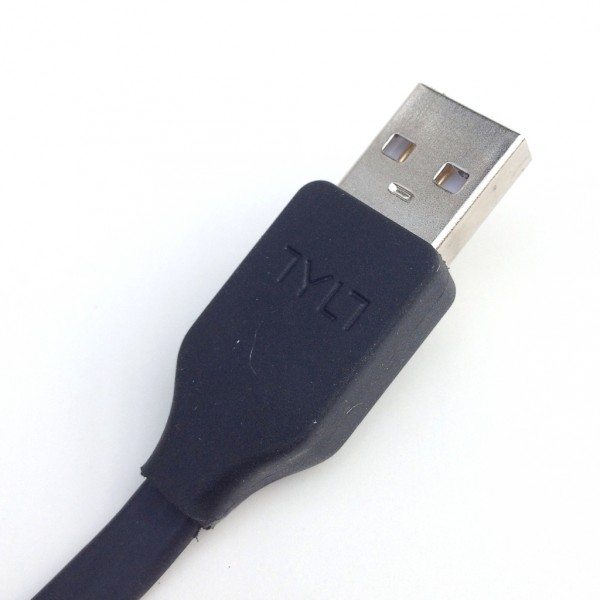 The SYNCABLE-DUO's main connection is a standard USB connector that can plug into the ENERGI 2K, a computer USB port, or basically any USB port.  USB ports are everywhere and on everything so you shouldn't have any trouble finding one.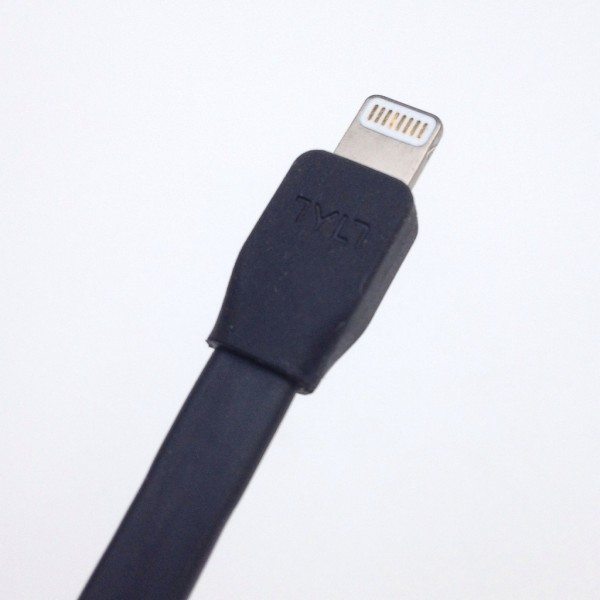 The SYNCABLE DUO features an Apple Lightning connector as what I would call its "main" output connector.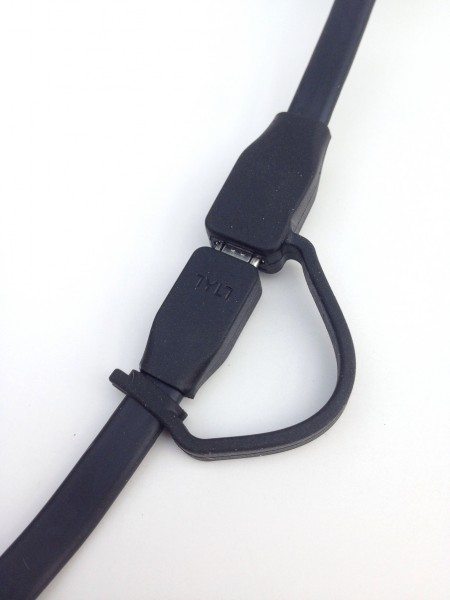 In-line with the SYNCABLE DUO's cable is a connection that hides a micro USB output connector.  OK, maybe it isn't all that "hidden"…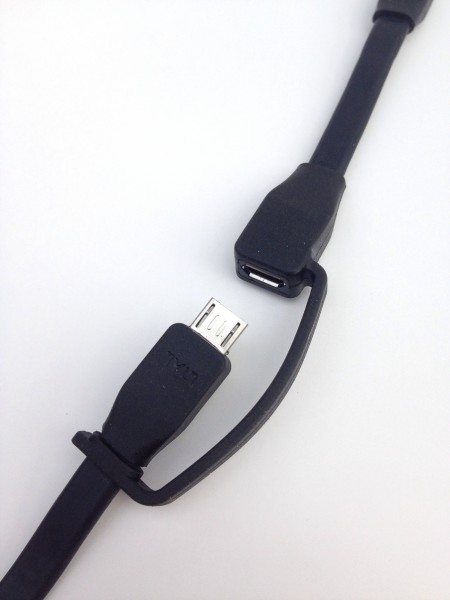 …but it is stored in-line with the Lightning connctor which is attached to the end of the cable with a tether.  I used this micro-USB connector to charge the portable Bluetooth keyboard for my iPad.  It was handy to not have to carry another cable specifically for this purpose.  I suppose the downside of this feature is if you need to charge both your iPhone or iPad and a micro-USB based device simultaneously, you are out of luck, but this is a risk when you travel light with minimal gear.
Performance
As mentioned above, the button on the front of the ENERGI 2K is used to activate the battery charging feature when it is unplugged from a wall outlet. Did you catch that?  This means that when not plugged into a wall outlet, you can have the ENERGI 2K plugged into your smartphone, table or other device, but it will not begin charging your device automatically.  Instead, you must press this button to start the charging.  I can't quite understand why TYLT designed the ENERGI 2K this way. In my evaluation of the ENERGI 2K, there were two occasions where I was not near an outlet but I needed to charge my iPhone 4S. I plugged the iPhone into the ENERGI 2K and stuffed it and the iPhone into the cargo pocket of my pants.  Ten minutes later I pulled the iPhone to check the charge, only to realize that the ENERGI 2K had not actually begun charging the iPhone.  I pressed the button and only then did the ENERGI 2K begin charging my iPhone.  This seems like an unnecessary step; I would have preferred that the charging begin automatically when the phone was plugged into it.

The ENGERGI 2K and SYNCABLE-DUO make a fairly slim package.  Of course, it helps that this is the 1-foot version of the SYNCABLE-DUO, rather than the 2-foot or even the 1-meter version.  Also, the ENERGI 2K is probably not the smallest and slimmest AC adapter/charger out there, but considering that it does include pass-through charging and and on-board rechargeable battery, I think it's quite a space-saving size for travel.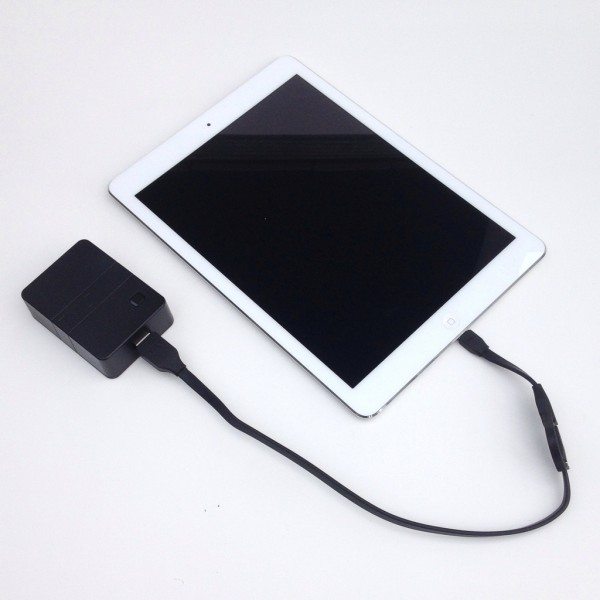 Above, the SYNCABLE-DUO plugged into the Lightning connector on my wife's iPad Air.

The SYNCABLE-DUO's Apple Lightning connector is Apple MFI certified, so it is officially official.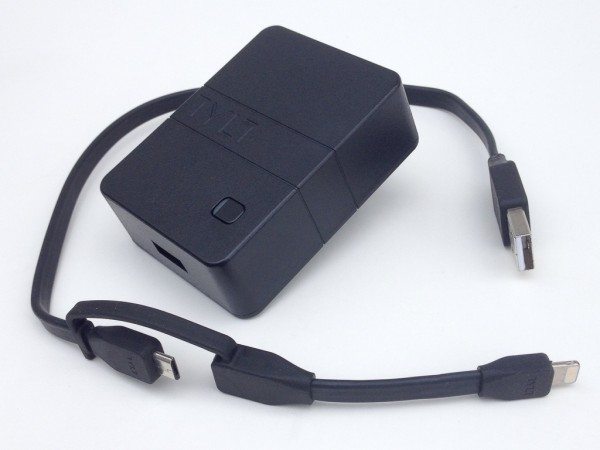 The combination of the ENERGI 2K and SYNABLE-DUO can help reduce cord clutter, which is always a good thing when traveling, whether it's a road trip, a trans-continental jet-lagger or your daily grind commute.
Conclusion
The ENERGI 2K provides both a charger and a battery and the SYNCABLE-DUO is a versatile cable that can be used to charge Apple Lightning or micro-USB devices.  The combination of them is small and compact for travel.  The ENERGI 2K's battery charged my iPhone 4S from completely dead to full charge in about an hour.  It had a bit more trouble with charging my iPad 3rd gen however, which did charge but did so quite a bit more slowly.  The main drawback that I found with the ENERGI 2K is that when not plugged into an electrical outlet, the user must press the button on the front of the device to initiate battery charging. This seems an unnecessary step and is a bit of a hassle.  The SYNCABLE-DUO's tangle-free flat "ribbon" style and combo Apple Lightning and micro-USB connectors help cut down on the number of cables I needed when traveling. The 1 foot cable length was a bit short for me and I would probably have preferred the 2 foot length.  Overall, I liked this combination of products and will continue to use them for the foreseeable future.
Update 04/18/15
I really like this charger and cable. Although the charger has difficulty charging my iPad, it does a decent job of charging my iPhone in an emergency. I really like the flat cable and am thinking of buying a longer one or two.
Source: The samples for this review were provided by TYLT. For more information, visit http://www.tylt.com.

Product Information
Price:
As reviewed: ENERGI 2K $39.99; SYNCABLE-DUO (1 foot) $24.99
Manufacturer:
TYLT
Requirements:

An Apple device with Lightning connector and/or an Android or other device with micro-USB connector

Pros:

Compact for travel
Battery charges a smartphone quickly
Combined Lightning/micro-USB cable reduces clutter

Cons:

Having to push the button to initiate battery charging seems an unnecessary step
Charges a tablet more slowly