We use affiliate links. If you buy something through the links on this page, we may earn a commission at no cost to you. Learn more.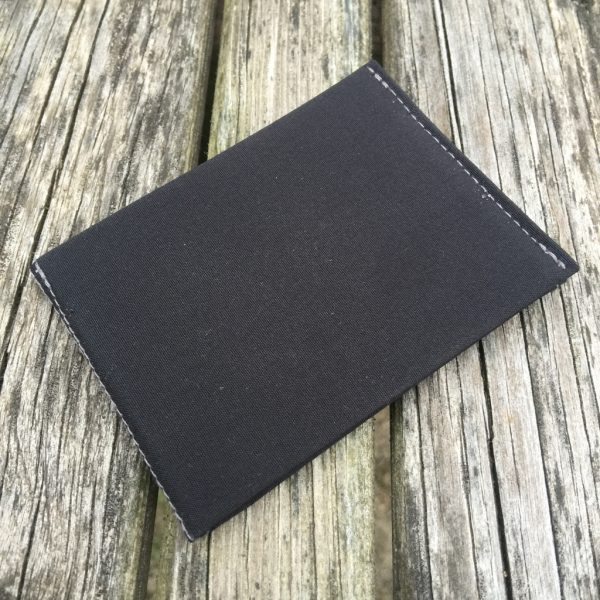 I'm still on my own quest for the "perfect" wallet. And although this quest may never really result in actually finding the "perfect" wallet (for me), it sure is fun along the way. Lately, I've been on a kick to find a very minimal, thin, everyday carry wallet. When Julie offered the opportunity to try out the new SlimFold Soft Shell wallet, I thought it might just be exactly what I wanted. How did it do?  Let's check it out!  Gadget on!
SlimFold has been producing wallets for several years now.  Their original wallet, which is still being produced, is made from Tyvek, that funky plastic/paper hybrid material that FedEx and other shipping companies use as a lightweight but extremely tough shipping material (Ever tried to rip or tear one of those Tyvek envelopes?  Good luck with that.).  I actually have one of SlimFold's original Tyvek wallets and I play to review it here at The Gadgeteer at some point (stay tuned!).  Suffice it to say that Slim Fold's Tyvek wallets are extremely tough, extremely thin and extremely lightweight (and water resistant to boot).
Recently, Slim Fold released a new wallet that is very similar in design to their Tyvek wallets, but with a new material—the Slim Fold wallet.  This new material is a bit thicker than Tyvek (but what isn't?), slightly stretchy, and has the feel of actual fabric.  And like all of SlimFold's wallet, it is made in the U.S.A.
Options
As of this writing and per the SlimFold site, the Soft Shell is available in the options listed below.  Various options have various pricing.  The product reviewed here is a Black MICRO size with grey stitching and non-RFID protection, which retails for $45.00.
Size: Original or MICRO
Exterior Colors: Black or Grey
Stitching Colors: Black, Grey, Red, Orange
RFID protection or non-RFID protection
Packaging

The SlimFold Soft Shell packaging is simple and allows visibility to the product inside—both of which are aspects of packaging that I like.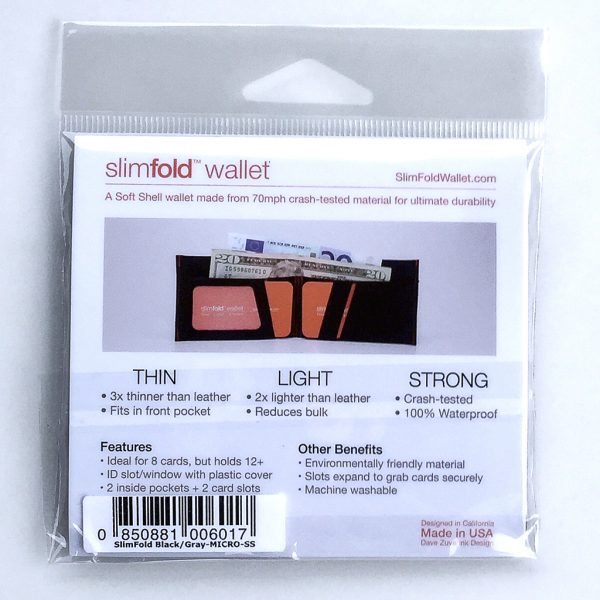 The back of the package gives some information about the features of the product.
Contents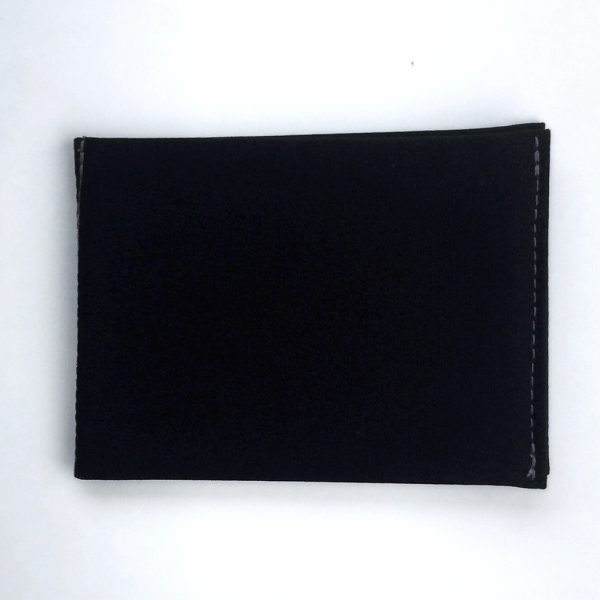 Above is a photo of the "front" of the Soft Shell wallet (or is it the back?).  It is very simple and minimalist in design, with just its grey stitching to give it a bit of an accent.  I really like this design style.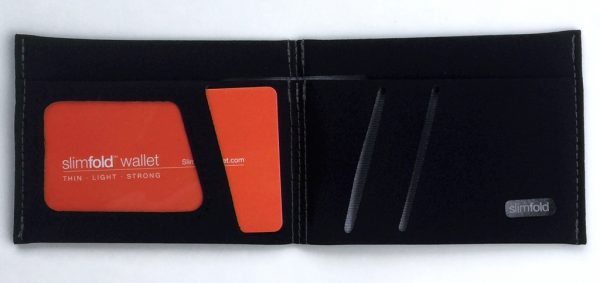 As seen above, inside the Soft Shell wallet, the SlimFold folks had placed a credit card-sized card into the wallet's ID slot.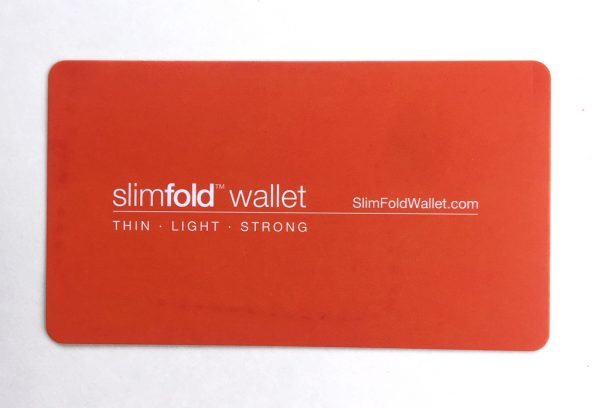 This card had the SlimFold logo and web address on one side…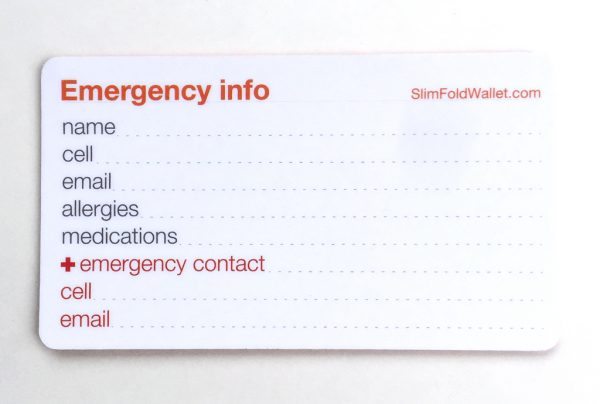 …and spaces to write emergency info on the other.  A nice touch; this card could come in handy in a crisis.
Features, Functions and Performance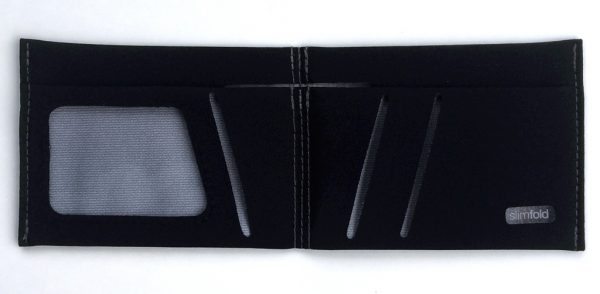 Removing the card, we can check out the Soft Shell's interior features, which we'll do in detail below.  But before we do that…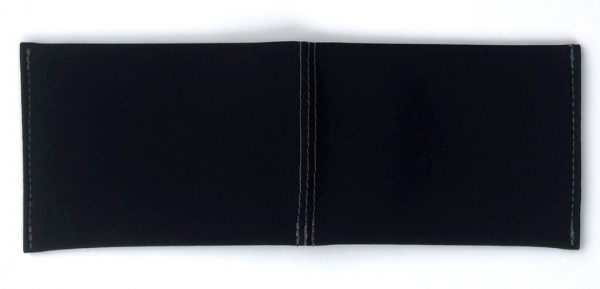 …above is a photo of the outside of the Soft Shell with it completely opened.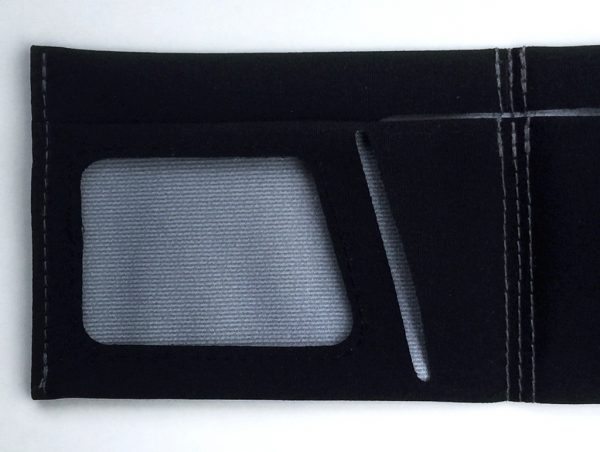 On the inside left is the Soft Shell's ID slot.  This slot has a window to display an ID card, such as a driver's license, military ID or similar card.  This slot can actually hold up to about three cards if you really push it, but I don't think I'd put more than two in it.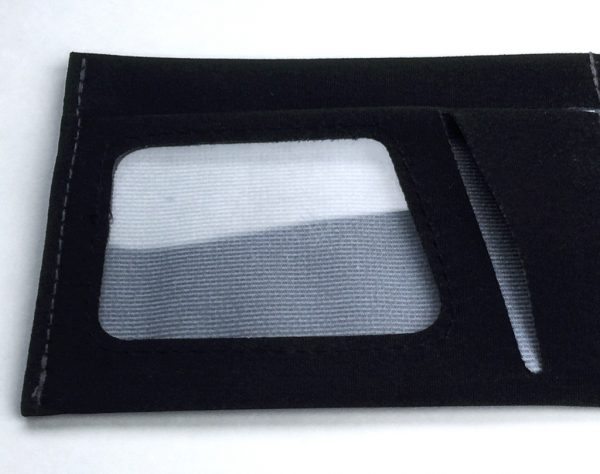 Above, I wanted to include a photo that shows the transparent plastic "window" in the ID slot.  It gives an extra layer of protection to whichever card the user decides to place in it.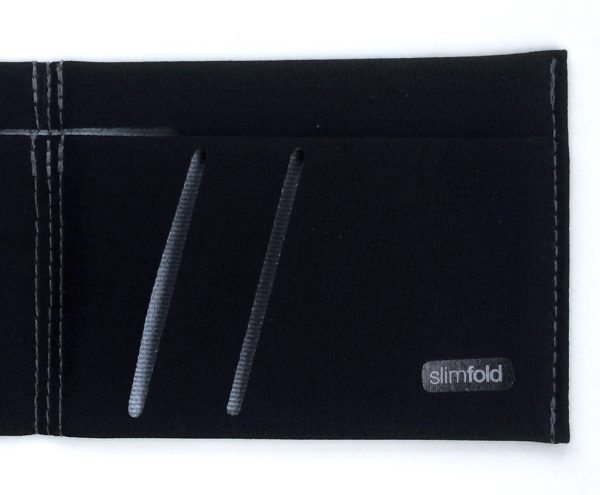 On the inside right of the Soft Shell there are two slots that can also be used to hold cards such as credit cards, insurance cards, business cards and so forth.  Like the ID slot on the left, each of these slots can hold up to about three cards each, but that might be pushing it.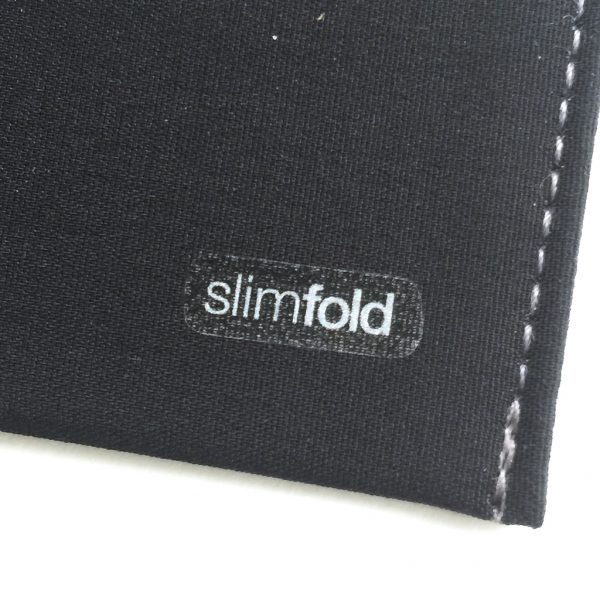 One other feature I'd mention is the SlimFold logo, depicted in the image above.  I appreciate that in an effort to keep the Soft Shell as slim as possible, the Slim Fold folks have placed a thin, printed logo rather than a thicker, rubber logo as with some of their previous wallets.  Also visible above is a close-up of the Soft Shell's stitching, which was top-notch throughout, with no loose or stray threads.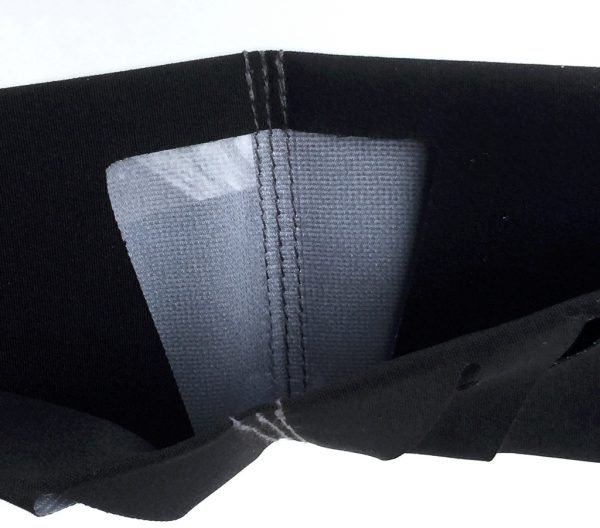 In addition to the ID slot on the left and the two additional slots on the right, the Soft Shell also has some additional storage slots on both the left and right inside the bill compartment.  There are two thin, transparent sheets inside these slots which act to give the Soft Shell some additional stiffness and protection for the contents.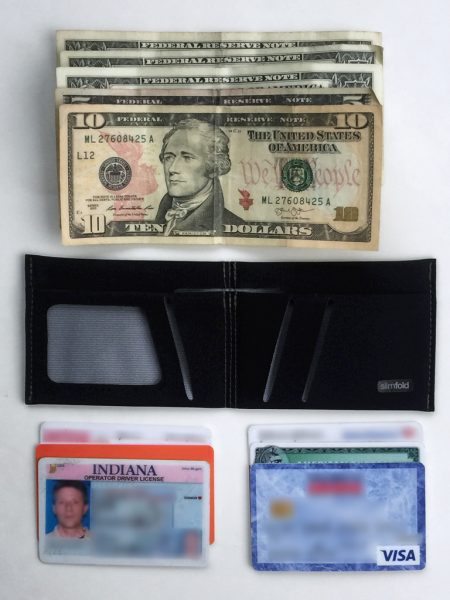 Now let's try out the SlimFold Soft Shell.  The above photo illustrates the Soft Shell with all of the items that were in my previous wallet.  It's a total of five US bills and 6 credit card-sized cards, about half of what the SlimFold folks report that the Soft Shell will maximally hold.  However, I've been practicing minimal carry.  😉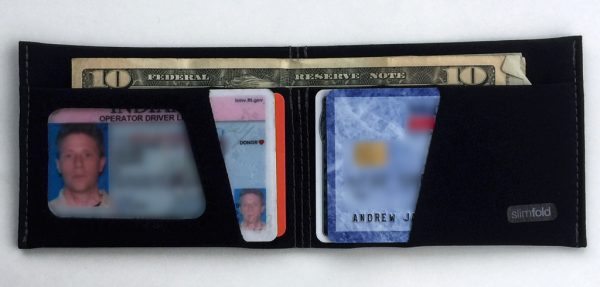 In the above photo I've placed all of the contents shown above into the Soft Shell.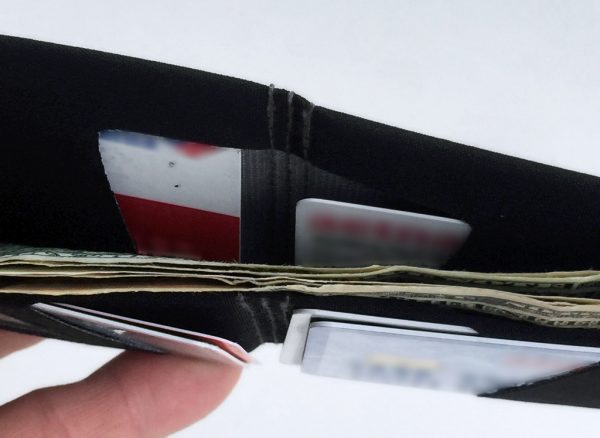 And in the above image, you can see that I've placed a few of the cards in the additional storage slots located inside the bill compartment.  Because these slots are out of the way, they are great for storing cards, receipts or other items that you may not need to access frequently, but could still get to fairly quickly if needed.  I put my insurance cards in these slots, one on each side.  Each of these slots will hold a few cards each.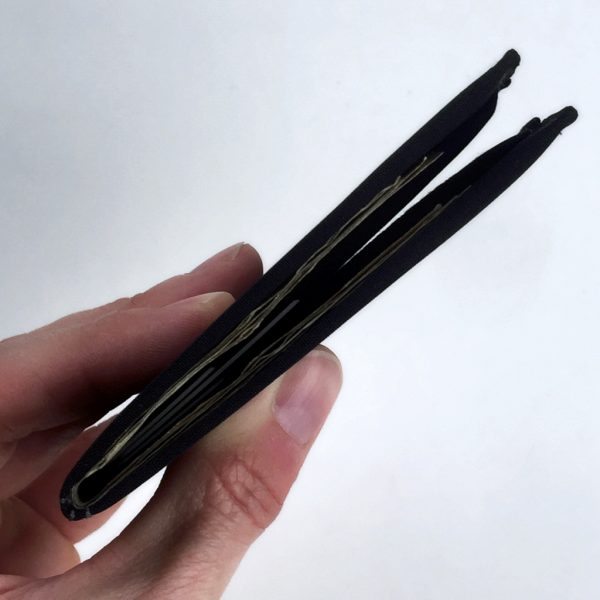 Above is the closed Soft Shell with the above-described contents in it.  As you can see, it really is quite thin.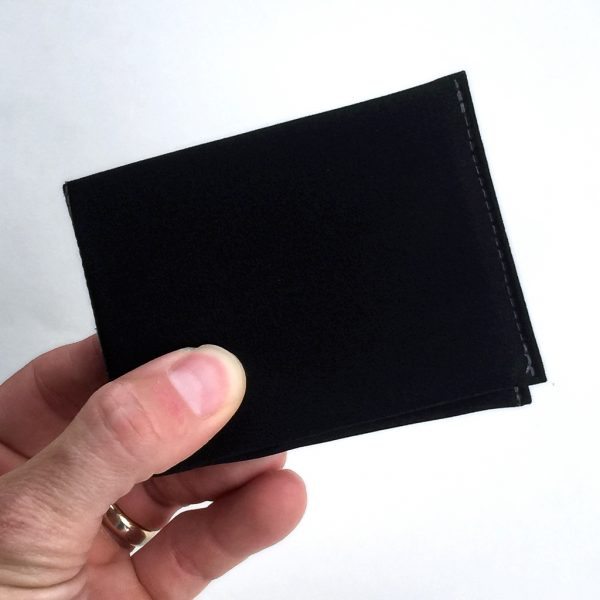 The SlimFold Soft Shell has a very small footprint.  This, combined with its thin-ness, make it a great option for front-pocket wallet carry, but it works great for traditional back-pocket carry as well.  In either location, you might forget it's there.  I actually had a few mini freak-out moments when I thought I'd lost my the Soft Shell because it is so thin and small and I barely felt it there, but it was safe and sound in my back pocket all along.  I actually had the same thing happen once when I was carrying it in my front pocket.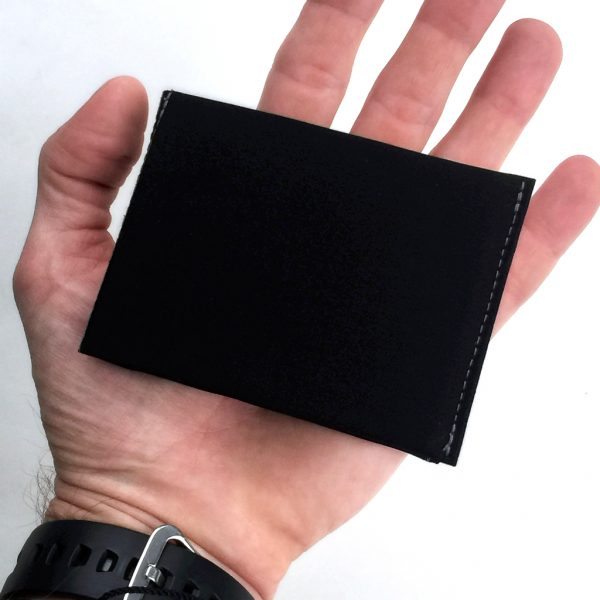 The material from which the Soft Shell is made is really quite remarkable.  It's thin, lightweight and with a bit of stretch to it.  According to SlimFold, it is waterproof, stain resistant, machine washable (but don't use fabric softener), and super strong ("was subjected to 70mph crash tests using real pavement during development").  Pretty cool stuff.  In fact, the Slim Fold folks ran a very successful Kickstarter campaign that raised over $150k to put towards the initial order of material, which was the genesis of the Soft Shell wallet.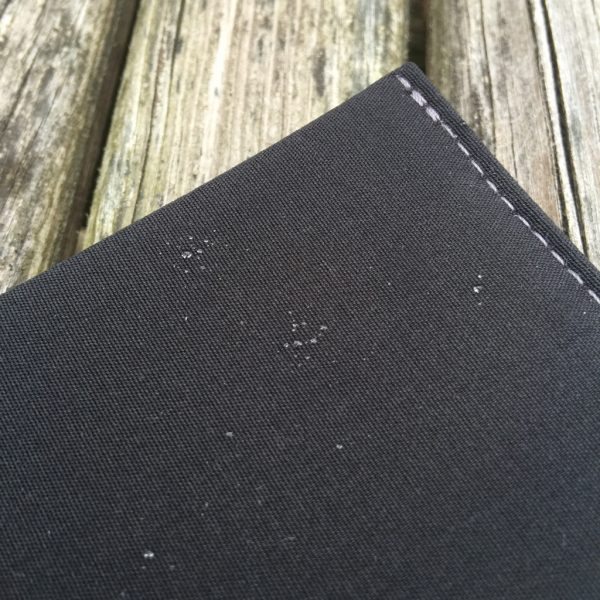 While I was shooting a few of the outdoor photos of the Soft Shell for this review, it began to rain a bit.  As can be seen in the image above, the rain droplets just beaded up on the surface of the wallet and I literally just picked up the Soft Shell, flicked my wrist and the water simply slid right off.
All in all, I really like the SlimFold Soft Shell wallet.  As of this writing, I've been using it as my everyday carry wallet for several weeks, and I'm really glad I have.  As mentioned above, it is very small, slim and lightweight, perfect for either back- or front-pocket carry.  It also can easily hold from just a few items, like I typically carry, to twice what I've illustrated above.  The material's stretch, strength and water-resistance are excellent bonuses as well.  Plus I really like its understated but classy style. I can foresee myself using the SlimFold Soft Shell as my everyday wallet (and more) for quite some time.
Update 11/21/17
Since first reviewing the SlimFold Soft Shell wallet, it has become my EDC wallet. Literally. It is very small, thin and lightweight, and it is also water resistant and has a bit of stretch. It allows me to carry a few cards and bills, or several, if I wish. Although I do switch back to the Bellroy Elements Pocket Wallet on certain occasions, the SlimFold Soft Shell Wallet is by far my most favorite wallet currently, and it might take something amazing to unseat it. But you never know. 😉
Source: The sample for this review was provided by SlimFold. Please visit their site for more info or to order. Also available on Amazon.