We use affiliate links. If you buy something through the links on this page, we may earn a commission at no cost to you. Learn more.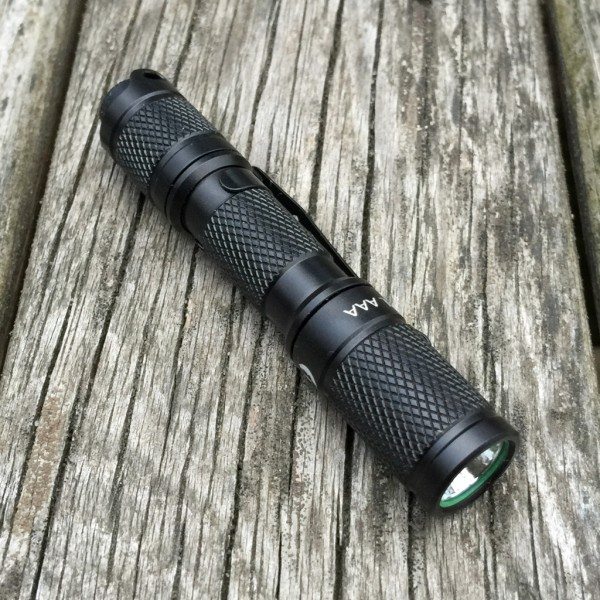 A light source is touted by many as an indispensable item, not only from an emergency survival standpoint, but also from an everyday utilitarian one. While many of us (incluing yours truly) would like to carry a powerful light source with us every day, it just may not be practical. With flashlight technology improving every year, smaller flashlights are now able to produce much brighter beams than in the past. The Lumintop Tool AAA is one such flashlight. Small, lightweight, with three brightness settings and a "clicky" button, it appeared to check many of the boxes on my list of desired features for a small pocket flashlight. Let's check it out! Gadget on!
All images in this review have been enabled with clickable enlargeability.
Options
The Lumintop Tool AAA comes in two versions:
Tool AAA (with "clicky" on/off-button tailcap, as reviewed here)
Tool AAA Magnet (with twist on/off, magnetic tailcap)
Technical Specs
Per the Lumintop site:
LED: Cree XP-G2 (R2)
Working voltage: 0.9v-1.5v
3 modes: Low (5 lumens, 36 hours runtime), Mid (32 lumens, 10 hours runtime) and High (110 lumens, 30 minutes runtime)
Max beam intensity: 553 CD
Max beam distance: 47 meters
Impact resistance (i.e. safe drop height): 1.5 meters
Water resistance: IPX-8 (2 meters)
Battery type: AAA
Length: 3.2 inch overall
Weight: 0.53 oz (15 g)
Stainless steel removable/reversible clip
Aluminum alloy with anti-scratch HAIII military-grade hard-anodized finish
Packaging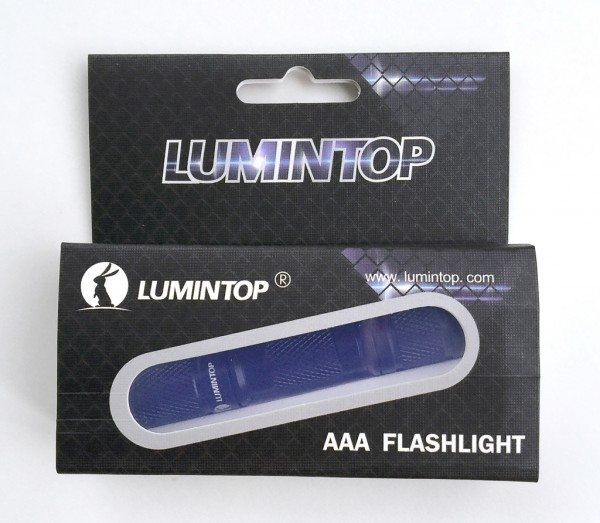 The Lumintop Tool AAA had some reasonably nice packaging.  A small window on the front displayed the product inside.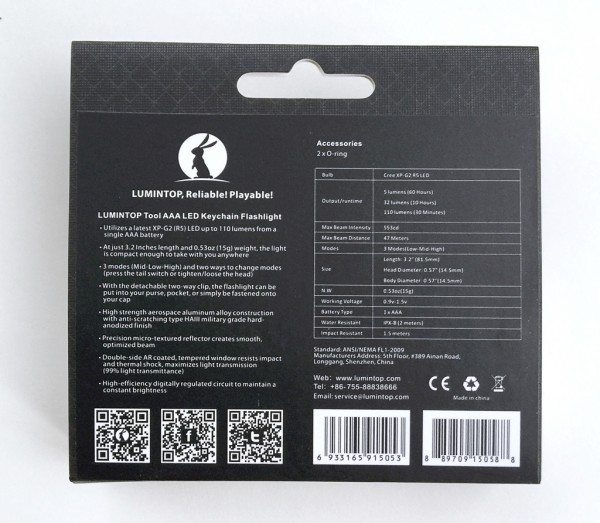 The rear of the package listed features and technical specs in eye-crossingly small font.  You whipper-snappers could probably read this no problemo, but not an old geezer like me. 😉
Contents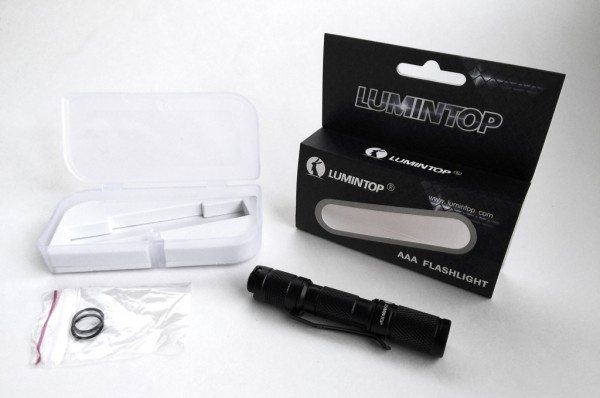 The Lumintop Tool AAA included the following items (see image above):
Lumintop Tool AAA flashlight
Reversible clip (show above attached to flashlight)
Plastic storage case with protective foam insert
Small Ziploc bag containing two replacement O-rings
Features & Functions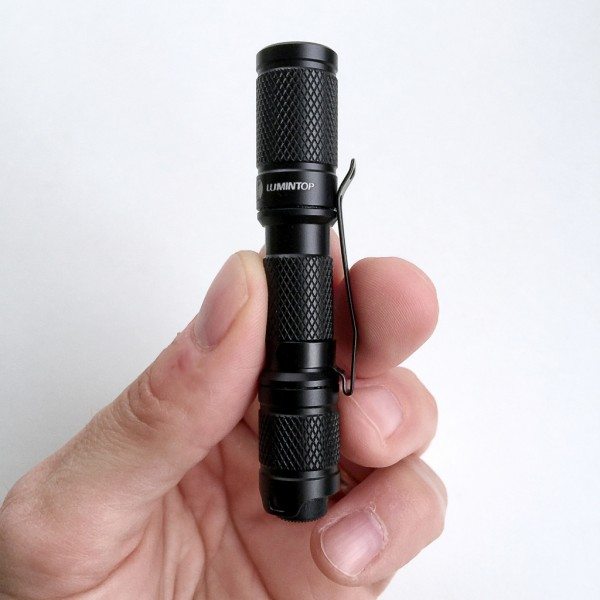 Right out of its clamshell protective case, I already liked the Lumintop Tool AAA flashlight.  It was very lightweight (only 0.53 oz/15 g) yet with a solid, durable-feeling construction in both materials and finish.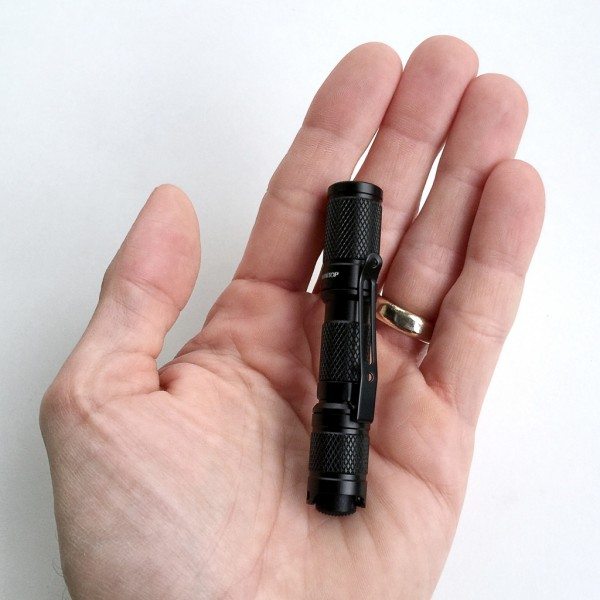 It was also small in size (only 3.2 inches long), so it could easily slip into a pocket.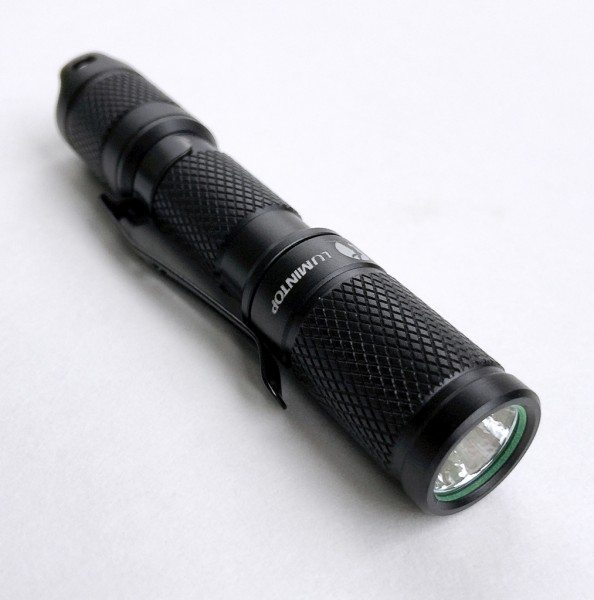 As mentioned above, the materials and construction of the Lumintop Tool AAA looked and felt very well done.  Like many small flashlights, it is made from aluminum, allowing it to be both lightweight and strong.  Its matte black surface is anti-scratch type HAIII military grade hard anodizing for a durable finish.  It also includes a stainless steel clip that can be detached or reversed in direction, so you can place it in a pocket either lens-down or lens-up as you choose.  Or, you can attach it to the bill of a hat and Boom!, you have a makeshift headlamp.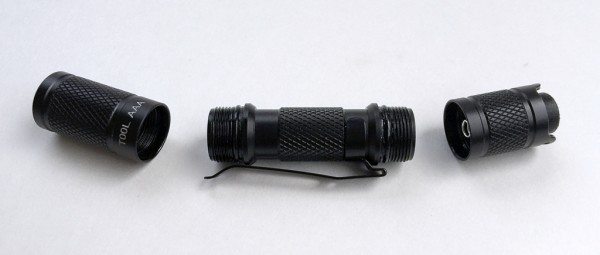 The Lumintop Tool AAA can be separated into three parts by twisting and unthreading the lens portion and endcap from the main body.  Each section has diamond-pattern knurling machined into it to provide the user with a better grip.  I really like this knurling; it provides a firm, slip-resistant grip while not being so aggressive that it feels like you could use it as a pumice stone on your calloused heels.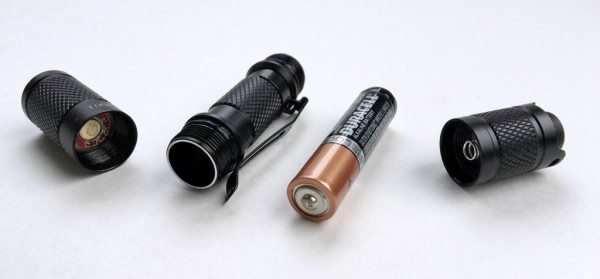 The Lumintop Tool AAA runs on—Are you ready for this?—one AAA battery!  Joking aside, I really like that it runs on a standard, easy-to-find alkaline battery.  That way, if you are in a pinch, it would be fairly easy to replace it, rather than looking all over for some type of special battery.  Small O-rings between each of the sections aid in the IPX-8 water resistance rating and Lumintop included an extra set of two O-rings.  However, I wasn't sure if Lumintop included them out of convenience, or because they expected them to fail and would need replacement.  Time will tell, I suppose, but thus far I have no reason to think they won't be fine for quite some time.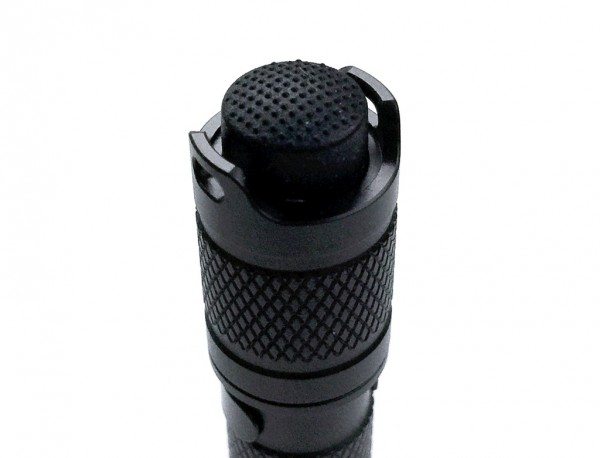 While the vast majority of flashlights of a similar style to the Lumintop Tool AAA utilize a rotating barrel as the on/off mechanism, one of the features that I was really looking forward to trying with the Lumintop Tool AAA was the "clicky" on/off button.  Covered by a layer of silicon with tiny gripping nubs, this little button is actually quite sophisticated in that it is not just a simple click-on/click-off operation.  Starting with the flashlight off, a full click initially cycles it into Medium power mode.  From there, a light half-press cycles it into Low power mode, and another light half-press cycles it into High power mode.  The button produces a satisfying "click" when pushed down completely to switch the light on and off.  Additionally, as seen in the image above, the Lumintop Tool AAA includes two small slots near the button end that can be used to attach things like a keychain or lanyard.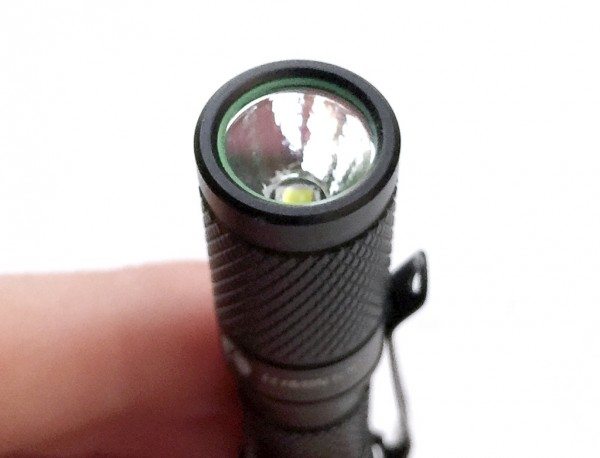 I really like that the Lumintop Tool AAA includes three brightness modes and I think this adds to its usability.  It allows the user to adjust the brightness to whatever level is most appropriate to the task and conserve battery power.  And the Cree XP-G2 (R2) LED light source really throws the white light.  The first mode, Medium, is 32 lumens and is good for more everyday applications.  It can run in this mode for 10 hours.  It can easily illuminate most of an average-sized room.  The next mode, Low, is 5 lumens which can run for a whopping 36 hours.  This is a great mode for things like reading a book in bed at night or when you need a lower-level, sustained burn.  The third mode, High, is 110 lumens and is super bright.  This mode throws light quite a ways.  Lumintop states 47 meters maximum, and I'd say that's about right—which is a long way for a little pocket light like this.  The downside of this mode is that it will only run for 30 minutes.  In all modes, the beam is a clean, white light.  Additionally, that green ring visible around the lens in the image above actually glows in the dark: after the light is switched off, the ring glows for several seconds before fading to black.  Pretty neat little feature.
EDIT 25 Feb 2018: The paragraph above was edited to reflect the correct runtime specs.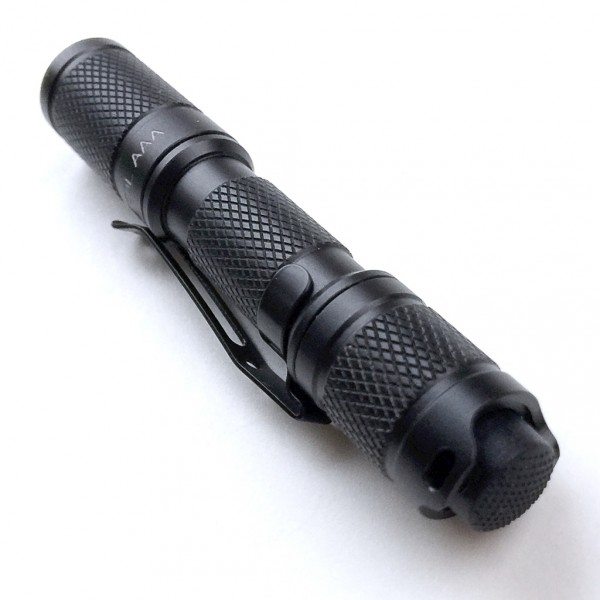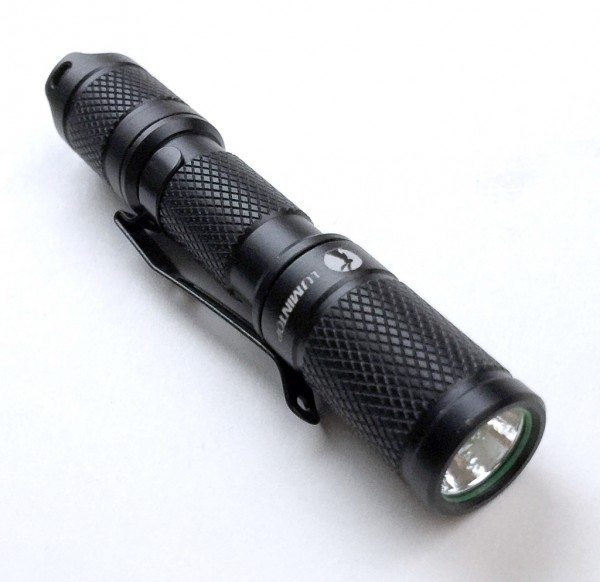 Conclusion
I really like the Lumintop Tool AAA.  This little flashlight is exactly what I had been looking for.  It is small, lightweight, water resistant and includes a reversible clip.  It features three brightness modes, and best of all it has a "clicky" on/off button that cycles through those modes quickly and easily.  I've already started carrying the Lumintop Tool AAA daily and I suspect it will be a staple of my EDC for some time to come.
06/28/16
The Lumintop Tool AAA is the best small flashlight I have ever used. Period. I carry it every day in my EDC ruck. It is very versatile with its three brightness level settings, it is small and it is durable and water-resistant. I'd have a tough time finding a better small EDC flashlight.
Source: The product sample for this review was provided by Lumintop. For more information, please visit their site or Amazon to order.