The Gadgeteer is supported by readers like you! If you buy something through links on our site, we may earn an affiliate commission. Thank you! Learn more.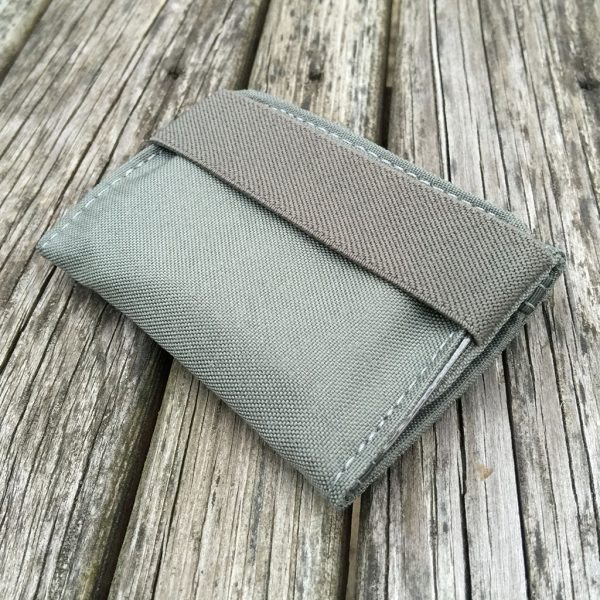 I'm an EDC (Everyday Carry) user. You know, those little tools, tech and other items that you use regularly to help with tasks throughout your day. However, EDC often consists of several items that you have no good way to organize while carrying. There are many pouch-type cases out there, but often these provide just an unorganized "black hole" of items that are thrown in together and end up banging around into each other. The military gear industry has given us "admin pouches" that include many pockets, slots and other ways to organize gear, but sometimes you want something a bit more streamlined or that could pass for a bit more of a civilian appearance. Enter: Triple Seven Gear. I bought one of Triple Seven Gear's CORE Nano Wallets to hold several of my small EDC items. Let's check it out! Gadget on!
Specs
Exterior material: 1000D Cordura Nylon
Interior material: 70D pack cloth
Location of Manufacture: USA
Dimensions (open): 8″ Wide x 4″ High x 0.25″ Thick
Dimensions (closed & loaded): 2.5″ Wide x 4″ High x 0.5-1.5 " Thick (depending on the contents)
Options
The Triple Seven Gear CORE Nano Wallet is available in the following interior / exterior color schemes:
Black / Black
Black / Orange
Coyote / Coyote
Coyote / Orange
Grey / Grey (reviewed here)
Multicam / Coyote
Multicam / Orange
Kryptek Typhon / Orange
Kryptek Typhon / Black
Woodland Camo
In addition, the Core Nano Wallet is available in the following configurations:
Standard version – $29.77 (reviewed here)
RFID blocking version – $42.77
Custom configurations (you can request to add a morale patch panel, fabric ID pocket, etc) – $34.77
Background
Back in June 2015, Eric Bauer, AKA the "20 Dollar Bandit," launched a crowd-funded Kickstarter campaign to produce an initial run of his Triple Seven Gear CORE Nano Wallet.  However, Eric was no stranger to either Kickstarter or to EDC carry/organizer cases, having already run a successful campaign in February 2014 to fund his initial product, the Mini Kit (MK-7) EDC Gear Pouch to organize and carry larger EDC items.  However, Eric saw the need for a smaller case, one that could be much more compact and pocket-sized for a handful of small EDC items.   Hence, the CORE Nano Wallet was born.
I didn't find out about the Mini Kit M-7 until after its campaign had ended, but the CORE Nano Wallet caught my eye because, compared to other folks, I had relatively few EDC items that I was carrying around, and those items were fairly small.  I thought the CORE Nano Wallet would be a perfect size for me, so I became a backer on the Kickstarter campaign and pledged for an "Urban Grey CORE Nano Adventure Wallet" in Grey interior / Grey exterior color scheme, which is reviewed here.
Packaging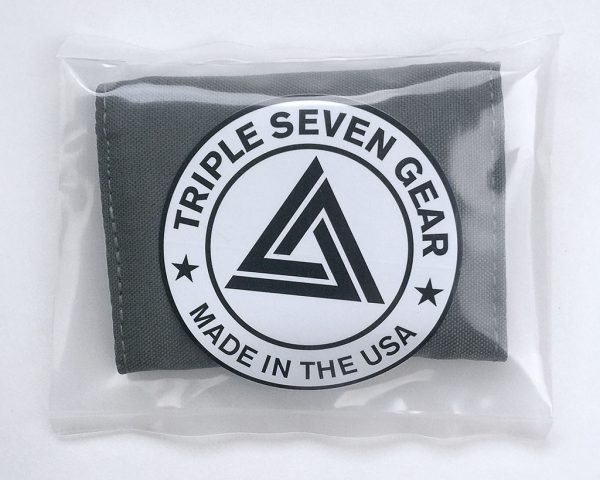 The CORE Nano Wallet's packaging was a simple plastic bag (inside a mailing envelope).
Features, Functions & Performance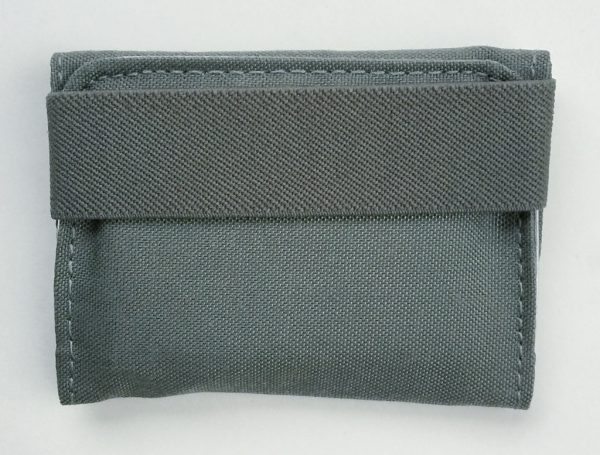 My initial impression of the Triple Seven Gear CORE Nano Wallet was that it appeared to be simple, compact and well-built.  Plus, I liked the color, although, as I think these images demonstrate, there was no way I would call it "Grey."  It is really a pale Army green/almost grey color.  When I selected this color, I thought it would be an actual grey, more like a wolf grey.  But in any case, I do like the color because it is pretty subdued and not garish.  Black would have been my second choice, but I was in a grey phase at that point. Maybe black for my next one.  😉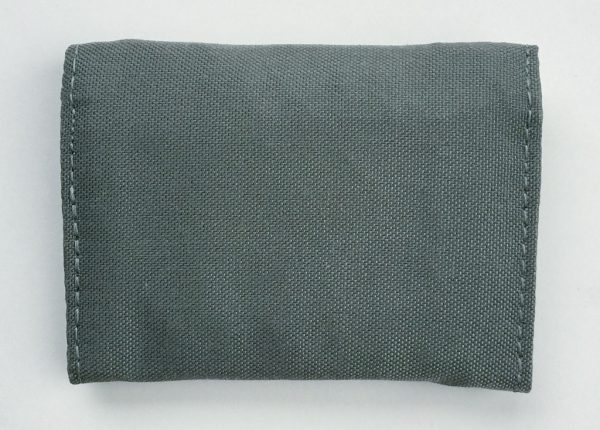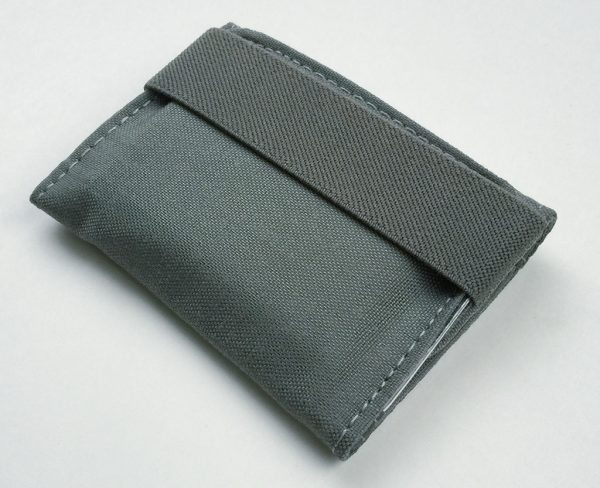 Really the only feature on the exterior of the CORE Nano Wallet was a wide band of elastic in the same color as the rest of the wallet.  The elastic is used to keep the flap of the wallet closed.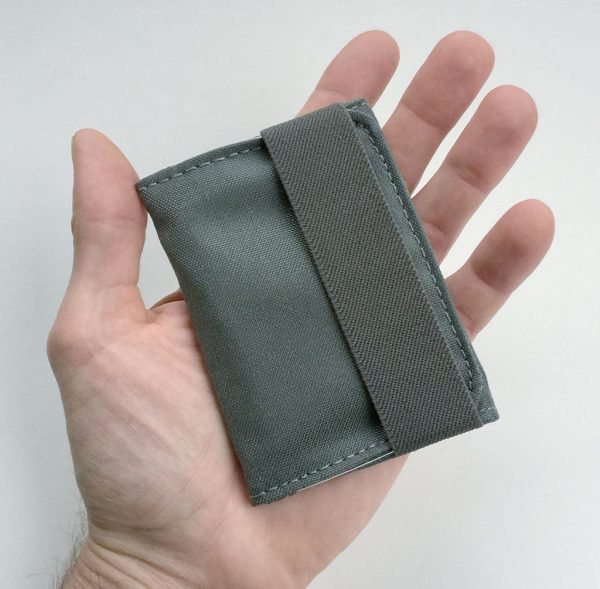 As seen in the image above, the CORE Nano Wallet is roughly the footprint of most bi-fold or tri-fold wallets on the market and is roughly the same thickness as well, that is, before loading it with EDC items—more on this below.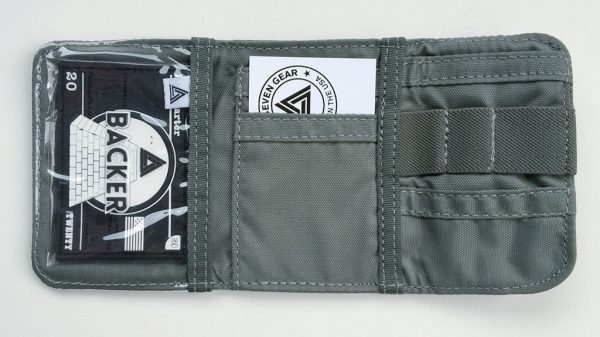 Since by design there isn't much to the outside design of the CORE Nano Wallet, let's take a look at the inside.  The image above is what I saw upon opening the CORE Nano Wallet for the first time.  A clean, useful-looking layout, with some freebie-type goodies stashed inside.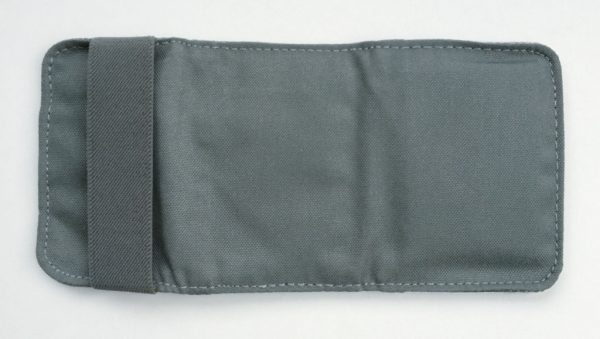 As described above, the exterior of the CORE Nano Wallet is very simple and minimalist, with the elastic band being the only real feature.  I like the minimalist appearance because it doesn't draw attention, and also doesn't look overdone or gaudy.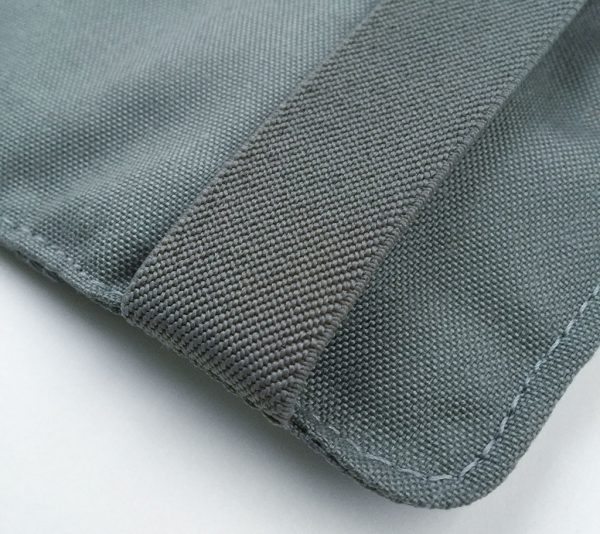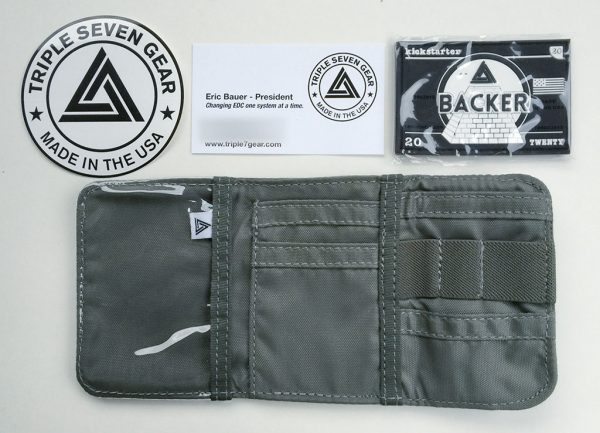 The above image shows the handful of goodies that were included with my CORE Nano Wallet.  On the top row from left to right: a Triple Seven Design decal, a business card from the 20 Dollar Bandit, Eric Bauer himself (a nice personal touch) and an exclusive Kickstarter backer Velcro-backed morale patch (that's right, I'm that special).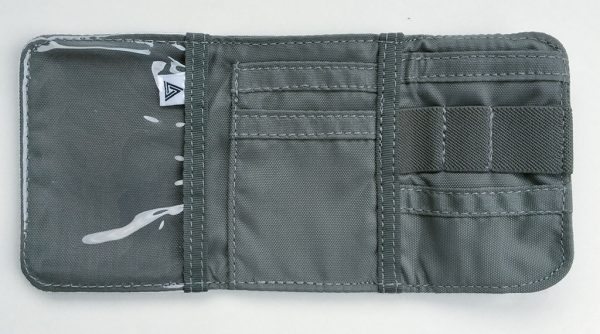 Let's look at the image above and talk features.  Moving left to right, we have a transparent ID pocket, two card pockets, and an EDC organizer, behind which is a "hidden" Velcro-closure pocket.  I'll describe each of these in further detail below.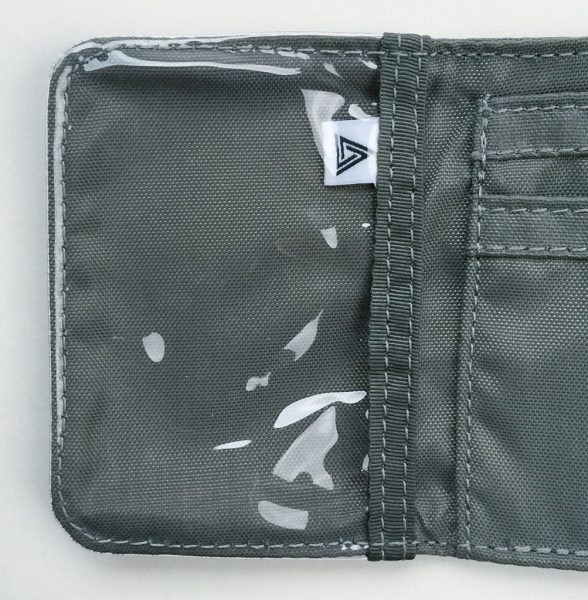 Let's focus on the ID pocket first.  Located on the left side of the CORE Nano Wallet's interior, the ID pocket is made from a tough, yet very flexible and transparent film and expertly stitched to the body of the wallet.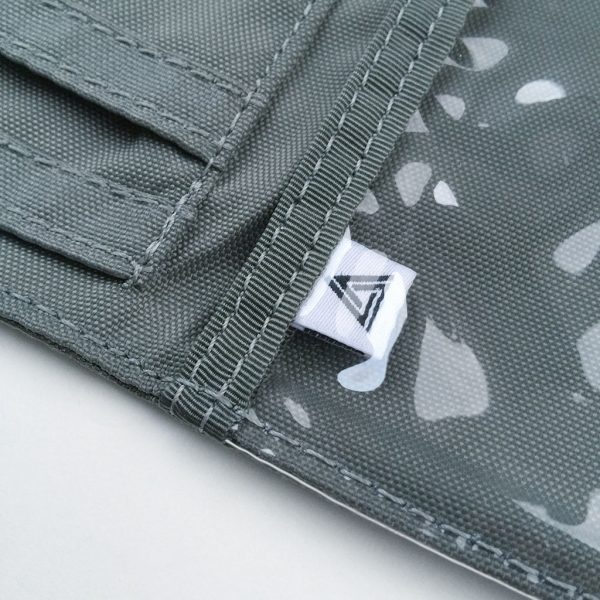 Note the small Triple Seven Gear logo tag sewn in.  A nice little touch.  I really appreciate when companies take the effort (and cost) to put their logo on their product without making it obnoxious.  Bellroy is another wallet maker that does a great job of this, too.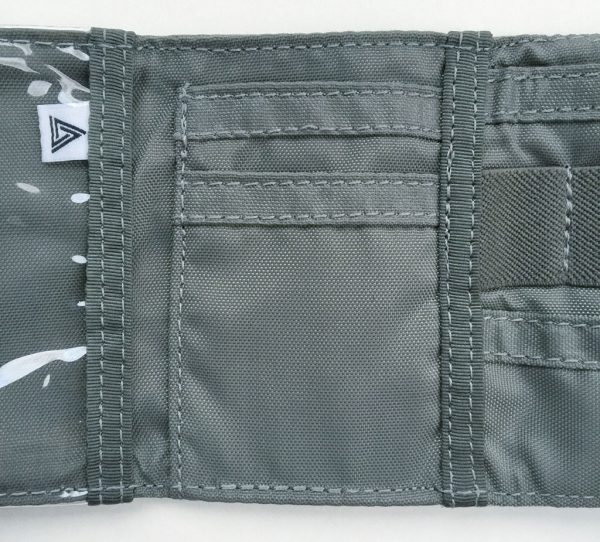 Above is an image of the center portion of the CORE Nano Wallet's interior.  It features two vertically-oriented pockets for credit card-sized items.  One of the pockets is slightly shorter than the other, enabling you to gain access to the rear one a bit easier.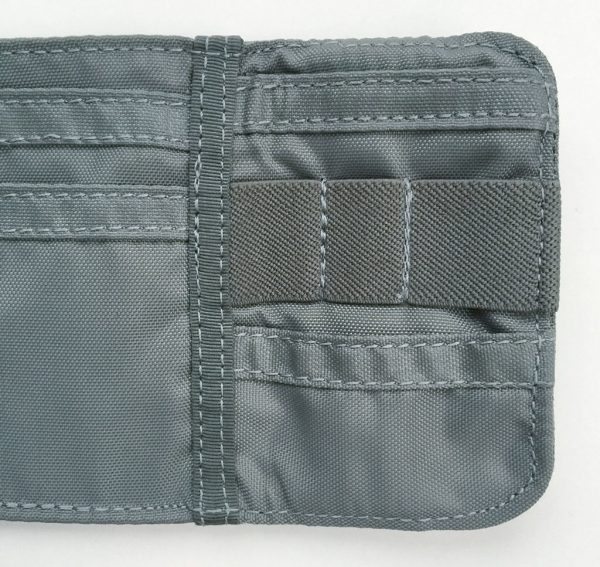 Above is an image of the right portion of the interior of the CORE Nano Wallet.  This is the side that makes this item more than a standard wallet and includes EDC item organization.  It has a band of elastic, similar to the one on the outside of the wallet.  However, this band has been sewn such that it is divided into three loops of varying sizes: half-inch, quarter-inch and one-inch widths to hold what Eric Bauer calls "nano kit," meaning small EDC items.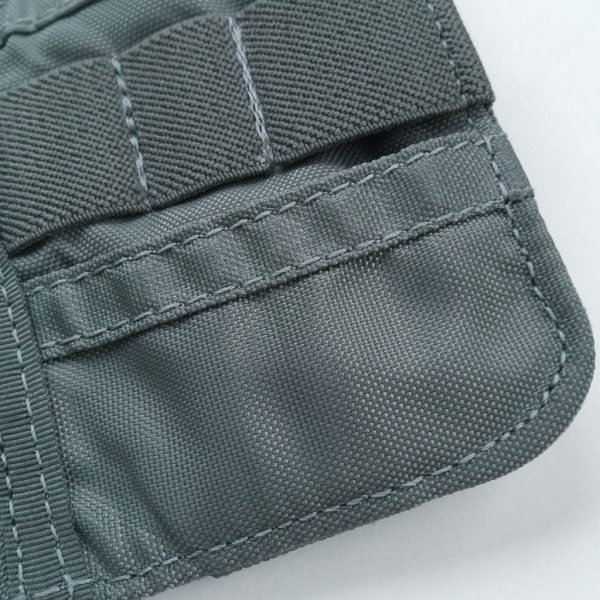 On the right side, there is a also a pocket at the bottom that acts as a retainer for items.  More on these features below.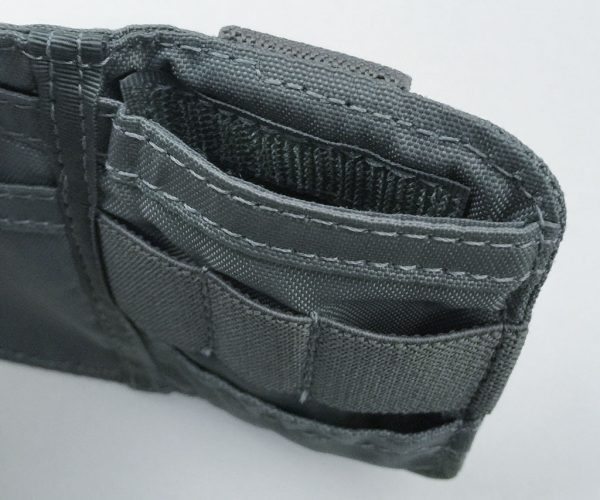 Above is an image of the "secret" Velcro pocket behind the EDC organizer.  Because of its Velcro closure, it could be used to store smallish items and/or items that you want to keep even more secure, such as coins, memory cards or other small items.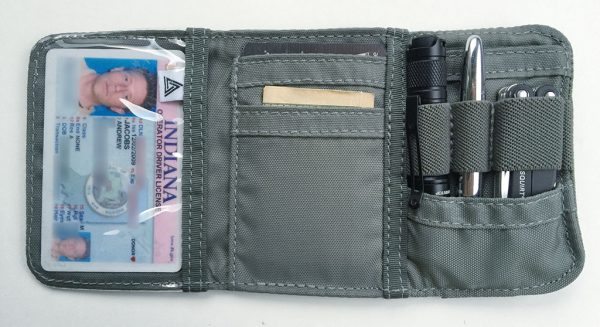 Now that we've reviewed the basics of the CORE Nano Wallet's features, let's take a look at examples of how these features can be used based on some of my own, personal EDC items.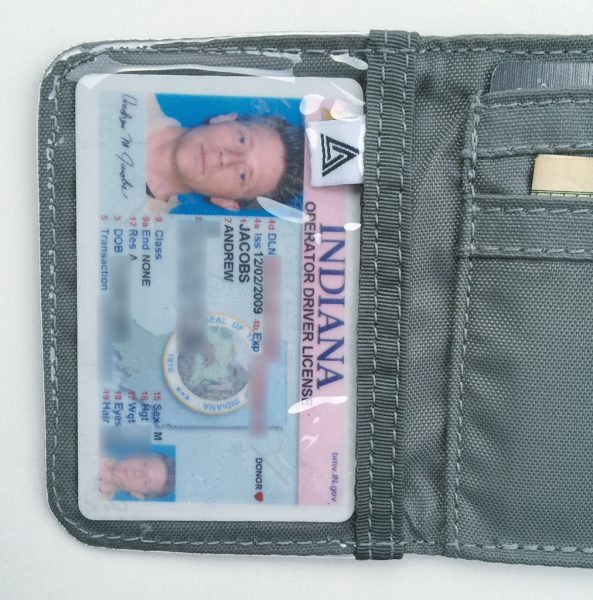 Above, an image of the ID pocket again, this time with my driver's license inside it (don't laugh at my ID photo–I was in a "spiky hair" phase).  This pocket works great for an ID because the entire card can be seen with no obstruction of the edges as with the ID pocket on some wallets.  In addition, this pocket can actually hold more than just your ID card.  I could easily put 3 or 4 other cards in there with my ID, or some cash, but this would depend on how bulky you can tolerate the CORE Nano Wallet being.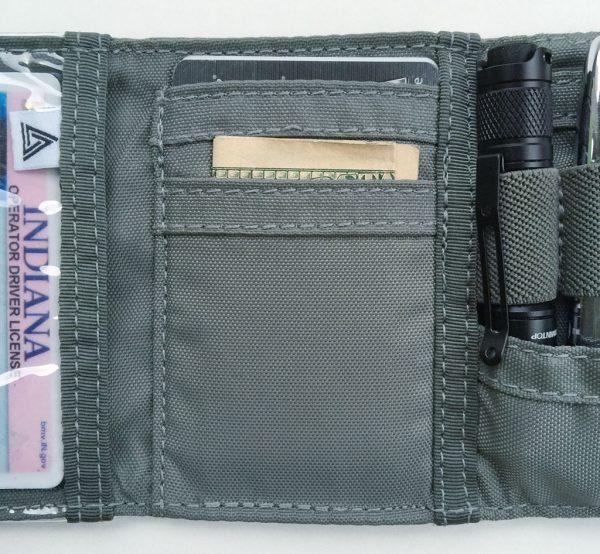 In the image above, I've loaded the center pockets with a few items.  The front one has a few folded bills in it, while the rear one has two credit cards.  Each pocket can really hold 2 to 3 cards, but as with the ID pocket described above, how many cards you put into these pockets depends on how thick/bulky you want the CORE Nano Wallet to be once you have fully loaded it.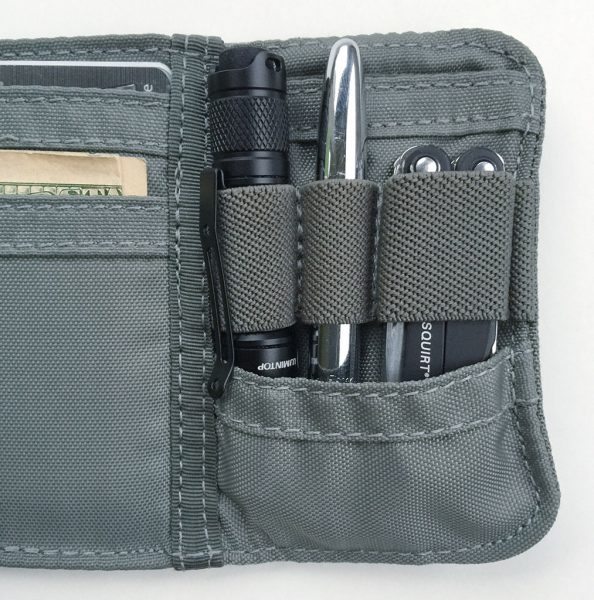 Finally, lets look at the image above, depicting the right-most portion of the wallet's interior.  I've loaded the elastic organize band with three items.  From left to right: the Lumintop AAA mini flashlight, a Fisher Space Bullet Pen, and a Leatherman Squirt PS4 mini multi-tool.  Side note on the Fisher Space Pen: I lost its clip and because this is the polished chrome version, it kept falling out of the elastic, so beware of this—I think with a clip it would have stayed put just fine.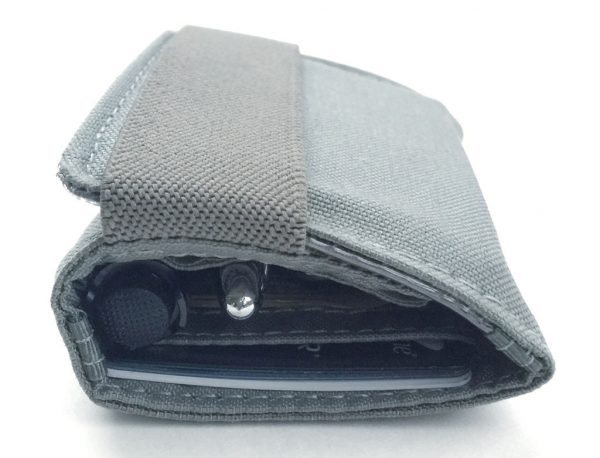 The image above and the next two are of the CORE Nano Wallet after it has been fully loaded with the items I've described above, which are all fairly standard EDC items for me.  Note that it does get a bit thick and bulky.  Probably more so than most regular wallets.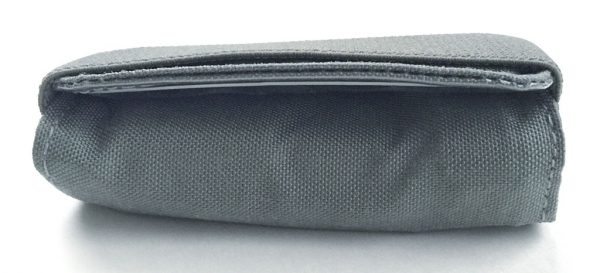 However, I will say that, due to the layout and organizational features of the CORE Nano Wallet, it encourages you to think about the number of credit card-sized items (i.e. typical wallet-type items) you want to regularly carry, because the trade-off is at the expense of making the loaded CORE Nano Wallet bulkier.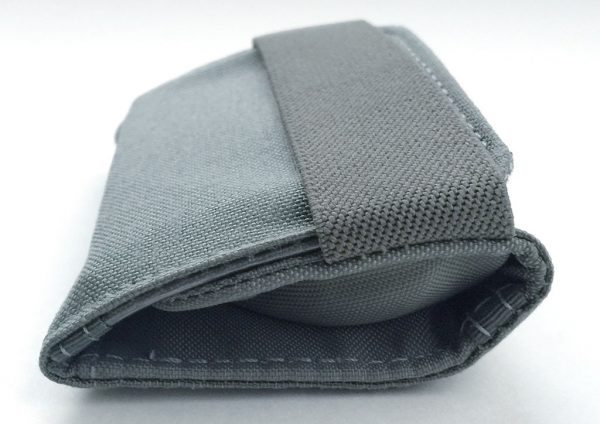 For me, the EDC item organization is a nice plus.  I can actually use the CORE Nano Wallet as my sole daily wallet because I can fit in just the half-dozen or so cards I need, plus a bit of cash, and in addition, carry my few main EDC items: the flashlight, pen, and multi-tool.  Loaded up, it's not so great for back-pocket carry, but for front-pocket carry, it does fairly well.  Plus, my wallet/EDC stash is always close at hand and I don't need an additional wallet in another pocket.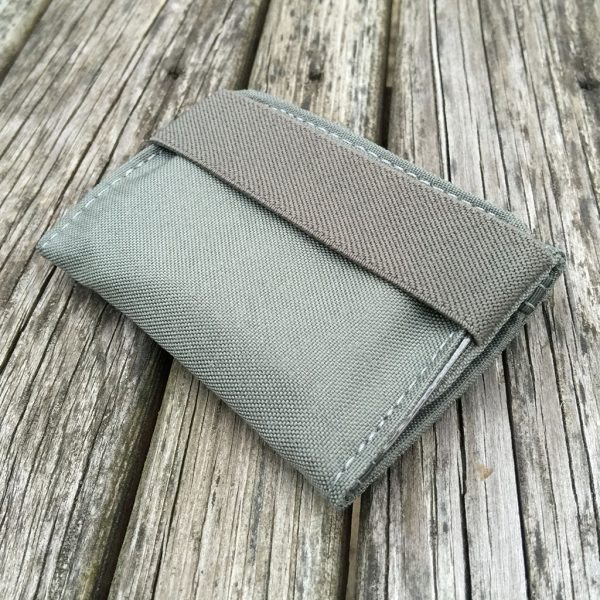 Conclusion
I think the 20 Dollar Bandit (AKA Eric Bauer) has a winner with the CORE Nano Wallet.  For starters, it is a great example of a well-designed, USA-built product, with just the efficient organization and high-quality materials and stitching.  It can be used as a combination minimalist wallet, and EDC organizer for small items, and even fully loaded it can fit fairly well into a front pocket.  For the price, it is definitely worth a look for your wallet/EDC needs. I think you'll be impressed.  In fact, I'm very tempted to try some of Eric's other products as well.
EDIT 21Feb2017: I've updated the review above and included the dimensions of the wallet under the "Specs" heading
Update 5/1/20
I really like this little EDC wallet. It keeps a few of my smaller EDC items organized and protected and it's small enough to actually fit in my pocket. I would still highly recommend this product.
Source: The sample for this review was purchased with the reviewer's own funds. Please visit Triple Seven Gear at Triple7Gear.com for more info or to order.
Support The Gadgeteer
:
The Gadgeteer is supported by readers like you! If you buy something through the links on our site, we may earn a small affiliate commission. Thank you! Learn more.
Product Information
Price:
$29.77
Manufacturer:
Triple Seven Gear
Requirements:
Pros:

Compact & lightweight
Useful organizational features
High-quality, durable materials and construction

Cons:

Loading it with more/thicker items can make it a bit bulky
Not great for back-pocket carry, but fine for front-pocket carry