We use affiliate links. If you buy something through the links on this page, we may earn a commission at no cost to you. Learn more.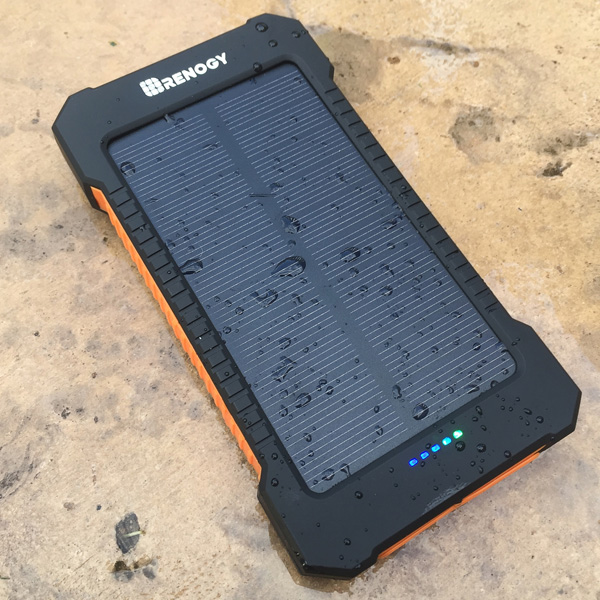 REVIEW – Voice in your Head: Here we go again, another portable charging solution.  Me: Ah, but this one has a bit of a twist.  The Renogy 10,000mAh Solar Panel Water Resistant Power Bank has not only a solar panel for backup charging, but is also water-resistant.  Other products may offer one or the other of those features, but how well did Renogy combine them?  Let's check it out!  Gadget on!
What is it?
The Renogy 10000mAh Solar Panel Water Resistant Power Bank is a water-resistant, shock-resistant and dustproof portable phone charger with a solar panel backup.
Hardware specs
Battery = 10,000mAh lithium battery
Dual USB output ports, 2.1A for tablets, 1.0A for phones
Micro USB input port
Water- and shock-resistant
Solar panel for backup charging
Dimensions = 5.4 x 2.9 x 0.6 inches
Weight = 8 ounces
What's in the package?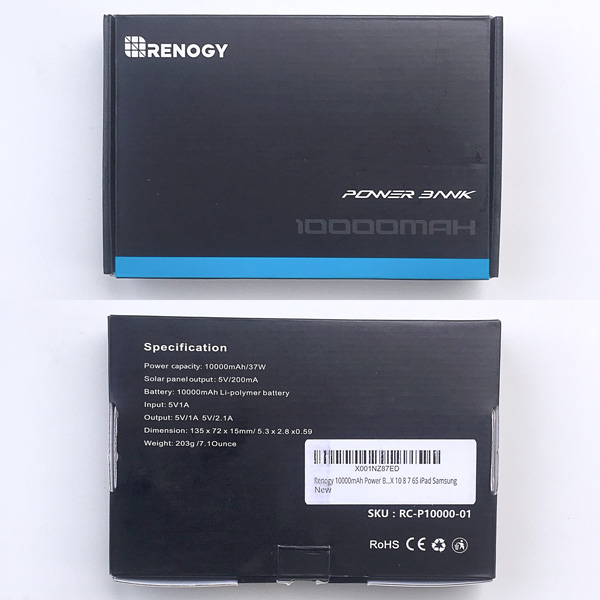 The product packaging is shown in the photo above.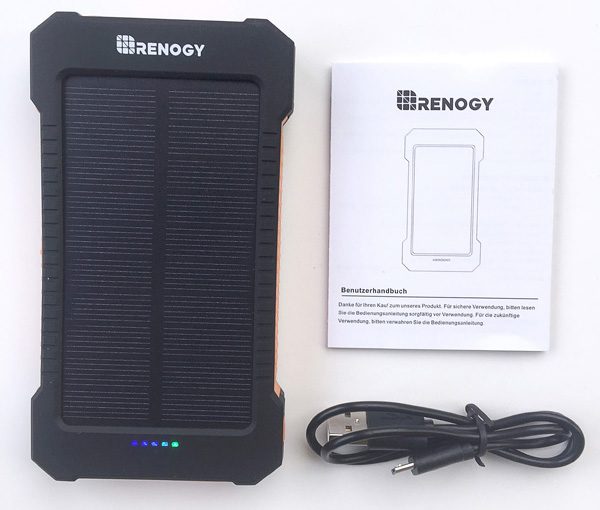 The photo above shows the contents of the package, which are as follows:
Renogy 10000mAh Solar Panel Water Resistant Power Bank
USB to Micro USB cable
Instruction booklet
Design and features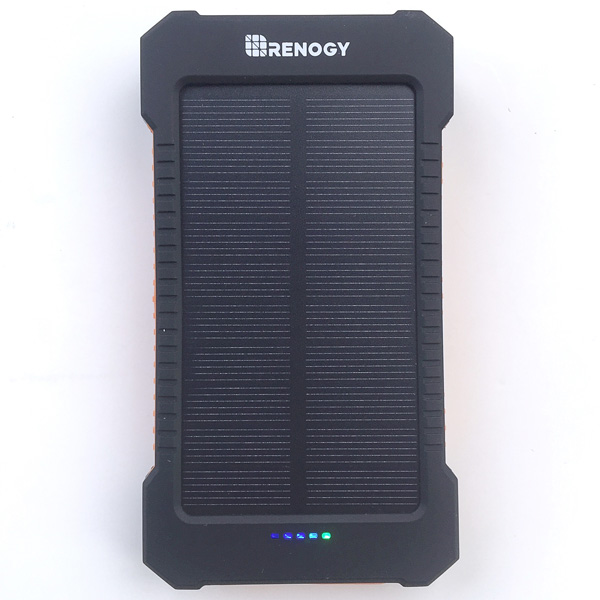 The very first thing I noticed above the device was its soft, matte finish, which felt very comfortable to the touch.   Additionally, a solar panel covers most of the top of the device, as seen in the photo above.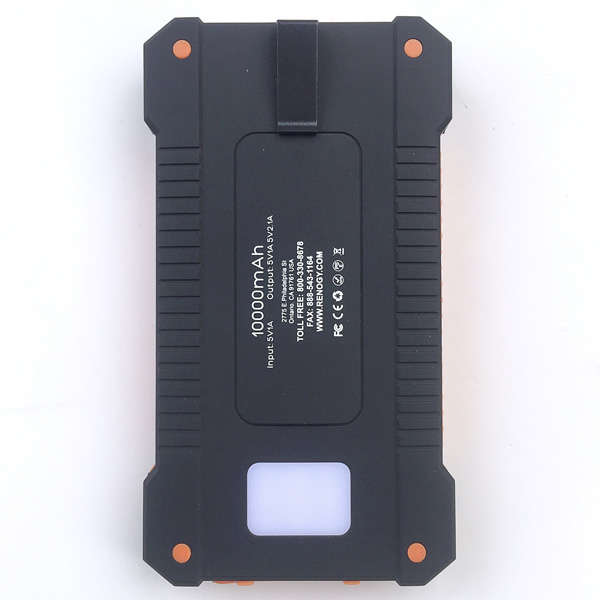 Also, despite it having a water-, shock- and dust-resistant case, the device had a nice size and relatively slim profile, and looked rugged.  In addition, each of the corners is built-up to provide additional shock- or drop-resistance.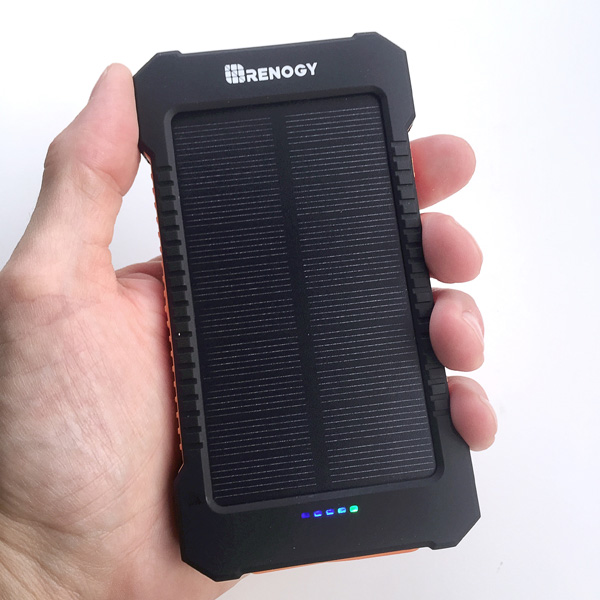 The device is a nice size and fits well in my hand.  I also like the side notches as well as the scallops on the front and back.  All of these contribute to providing a bit more grip on the device.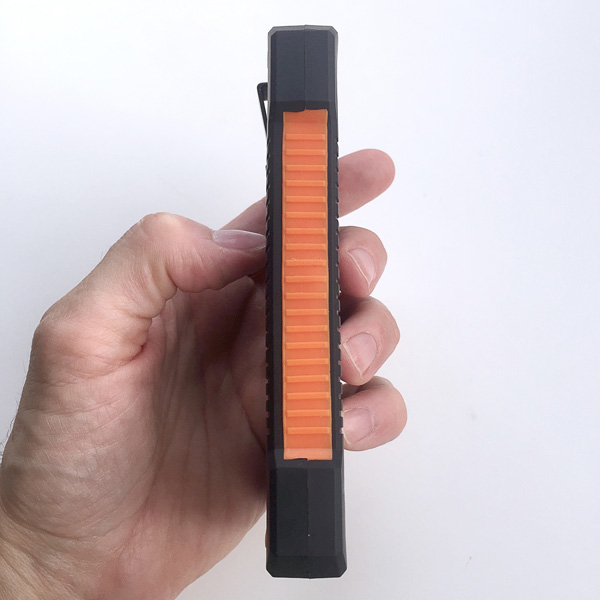 The sides of the device have orange silicon panels which not only aid in grip, but also give it a bit of visibility.  Why is this useful?  Because I found myself digging around in the bottom of my EDC bag for this device on a couple of occasions when the lighting was sub-par, and the various orange silicon panels held me locate it.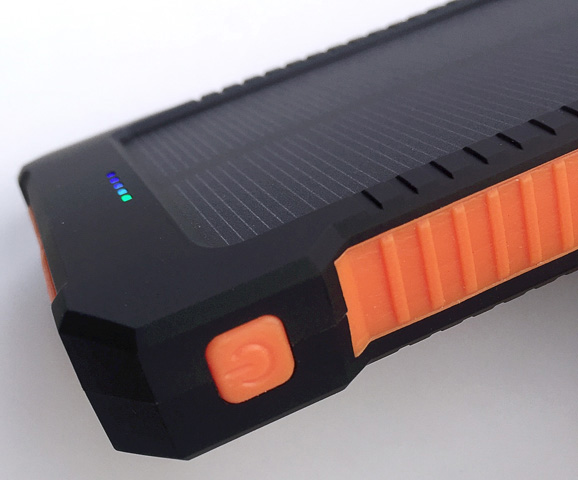 There is a single push button-style power button along the side corner of the device.  It has the same orange silicone coating as described above, which contributes to the device's water- and dust-resistance.  This button can be pressed to activate charging if it does not begin automatically when something is plugged into it, as I found occasionally happens.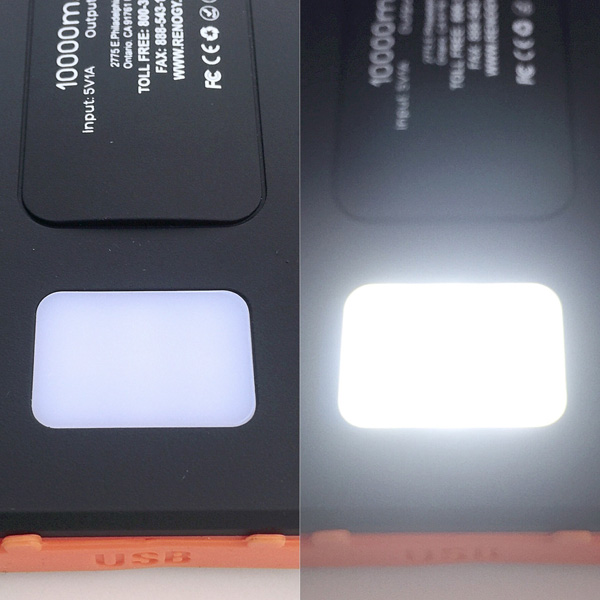 The device is equipped with a light on the back, which is activated by holding down the Power button for a few seconds (see photo above).  Once illuminated, the light can be made to flash in an emergency strobe mode by holding down the button for another xx seconds.  Another press deactivates the light.  The light is bright enough for nearby, but not bright to light your way through a dark woods on a moonless night (it doesn't throw light very far).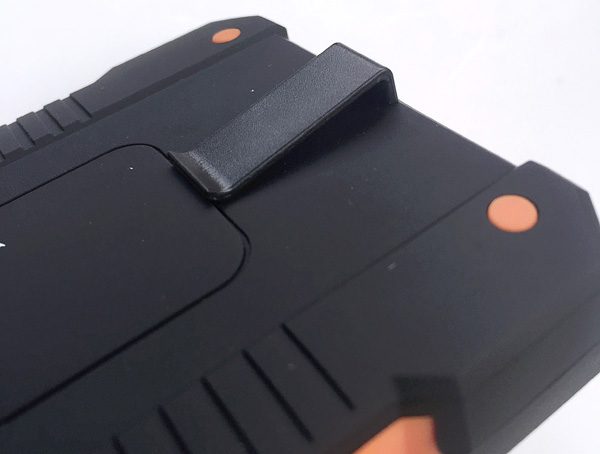 There is a small plastic clip on the back of the device.  Because it's plastic, it looks and feels a bit flimsy.  I haven't broken it (yet), but it feels as if it were flexed too far it would simply snap off.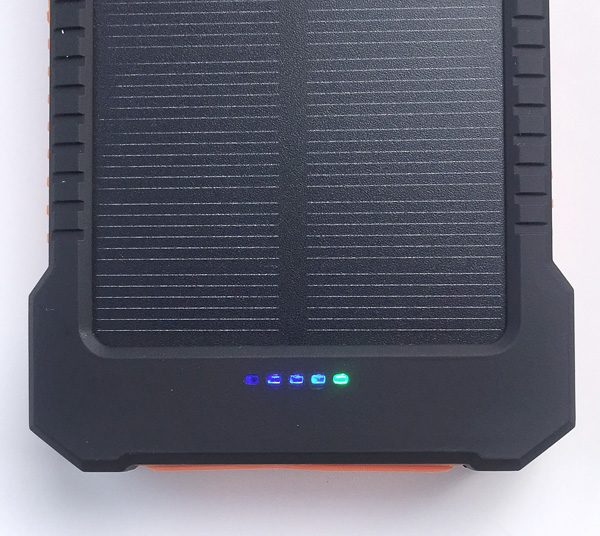 The device's power level indicator consists of a row of five tiny LEDs.  During charging, the LEDs illuminate to indicate charging status; when the LEDs turn off, the device is fully charged.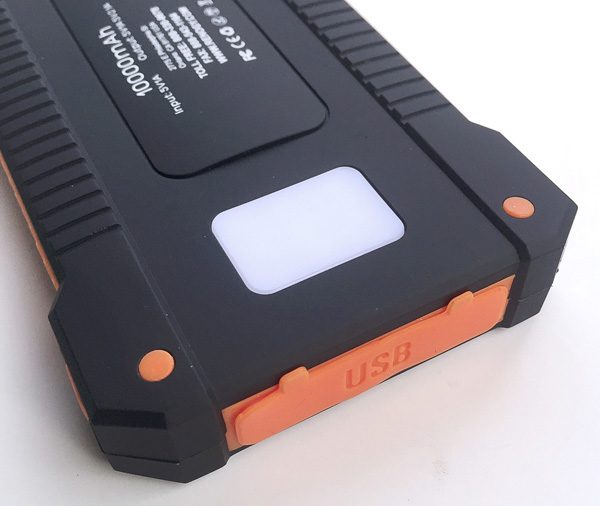 The device has a cover made from the same flexible orange silicone material as described above.  This cover protects all of the ports (see photo below) from dust, water splashes or perhaps even a light rain, but I have my doubts that it would protect the ports against a heavy rain and certainly not against full submersion, at least for very long.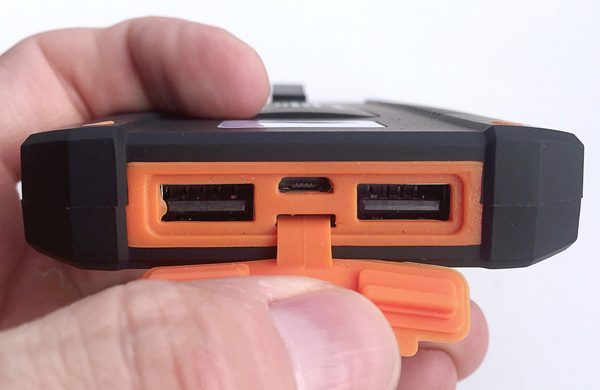 As seen in the photo above, the device has two (2) USB output ports positioned to the left and right a single Micro USB input port. One of the USB output ports provides 2.1A for charging tablets while the other provides 1.0A for charging phones.  I like that it has two output ports to allow charging of two devices simultaneously, but there is no indicator as to which is the 2.1A and which is the 1.0A.  Frustrating.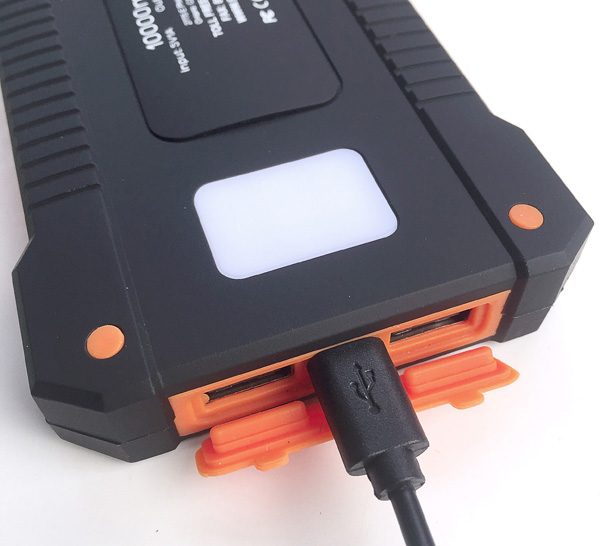 The instruction booklet recommends that the devices primary charging method is via the micro USB input port (see included cable plugged into the input port in the photo above), which does charge the device faster than the solar panel.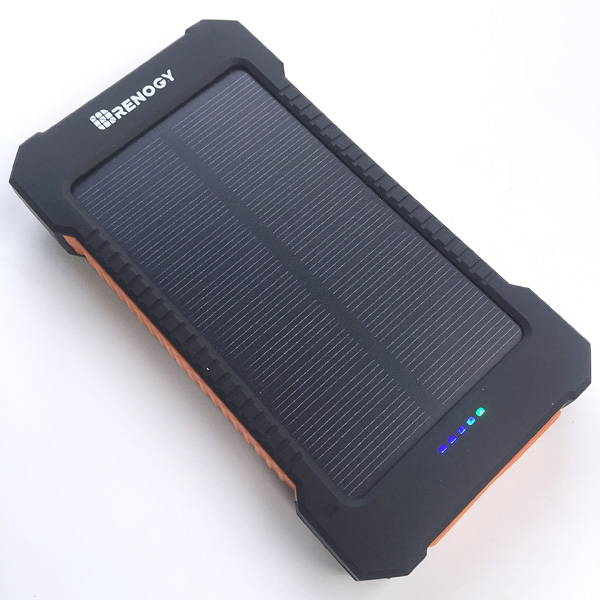 The device's instruction manual recommends solar charging as a backup/emergency charging method only, because it is slower than wall charging via the micro USB port.  However, I noted that the device basically charges any time the solar panel is exposed to a light source, whether it be direct sunlight or artificial light.  As with USB cable charging, when the device is turned toward a light source, the bank of LED lights illuminate to indicate charging status.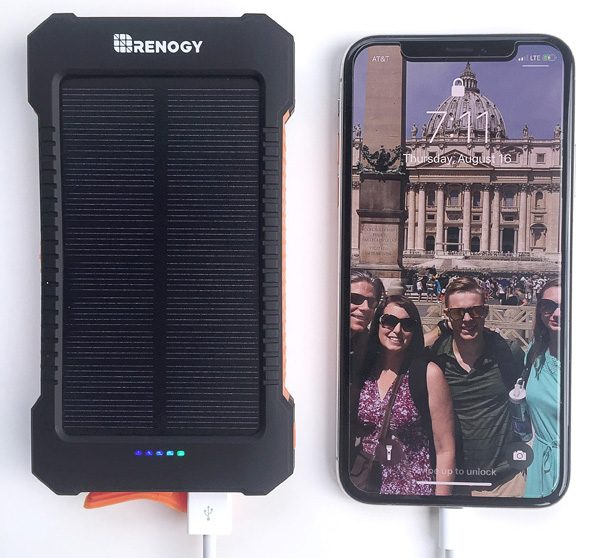 I used the device to charge both my wife's iPhone X (pictured above) and my iPhone 6 Plus, and it charged both phones at a reasonable rate.  It also charged my Garmin Fenix 3 HR GPS watch without an issue.  However, this device does not include pass-through charging, meaning it cannot be used to charge a device while being charged itself.  This is a big minus for me as when I travel I often take a single portable power bank that has multiple USB ports and use it to charge multiple devices while I charge the power bank itself, rather than take several individual chargers.
What I like
Backup solar charging
Water-resistant
Light with emergency flash mode
What needs to be improved
No pass-through charging
No way to identify the 2.1A vs. 1.0A USB output ports
Final thoughts
The Renogy 10,000mAh Solar Panel Water Resistant Power Bank is overall a well-built and useful piece of gear.  I like that I can toss it into my EDC ruck and have not only a backup power source for my devices, but the solar panel means I have an emergency source if necessary and also I don't have to be as concerned about getting it wet or dropping it as I would be with devices that are less rugged. Overall, for its fairly unique feature set, its price of $20.99 seems like a pretty good deal.
Updates 09/11/18
Shortly after this Review was posted, a reader commented that I had not done much testing on this device's solar charging capabilities, and this was a fair comment. I did some additional evaluation of the device, focusing on the solar charging feature. My initial assessment was that the solar charging feature appeared to be working, based solely on the fact that the small bank of LEDs on the device was illuminating while the device was placed in the sun or another light source; therefore, I naively assumed that solar charging was actually happening. However, further evaluation unfortunately proved this assumption to be incorrect. Although the LEDs were indeed illuminating when the device was placed in a light source, it was not actually charging. In fact, I placed it in direct sun for the better part of a full day and it did not charge up at all during this time. This is appears to be a lack of performance of one of the main and more unique functions of the device. It works fine when charged with a cable, but the solar charging basically does not appear to work properly. Apologies for missing this in my initial evaluation, and thanks to reader Greg for prompting me to do a more thorough evaluation and report back here.
Update 6/26/20
This power bank is smallish, lightweight, and rugged, but as stated in the 09/11/18 update, the solar charging capability of this item never did work properly, which was disappointing. However, its ruggedness and LED light do make it useful, so I sometimes grab it to toss in my bag for travel.
Price: $20.99
Where to buy: Amazon
Source: The product sample for this review was provided by Renogy.