We use affiliate links. If you buy something through the links on this page, we may earn a commission at no cost to you. Learn more.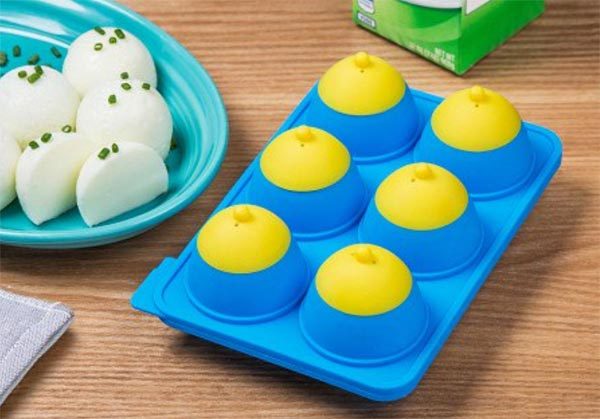 There are all these tips for making boiled eggs that peel easily, but nothing ever seems to work for me.  Every egg I boil is so hard to peel that I lose half of the egg white trying to get the shell off.  I've given up and just started buying pre-boiled, pre-peeled eggs from the grocery store.  But I just found a product that may change my mind.  The Egg Boiler from Eggibles promises to give you six boiled eggs that never need peeling because they aren't cooked in the shell.
You simply crack an egg into each section; for best results, use medium, large, or extra-large eggs, or you can use 2 ounces of eggs whites.  You could even add spices, bacon bits, or veggies to the eggs before cooking.  Submerge the silicone cooker in a pot of water and boil as you would normally.  Of course, the eggs aren't perfectly egg-shaped, but neither are the eggs I've cooked at home after half has been ripped away during peeling.
The Eggibles boiler is 100% food-grade, BPA-free silicone.  It's dishwasher-safe for easy cleanup.  The Eggibles Silicone Egg Boiler is $17.95 at The Grommet.