We use affiliate links. If you buy something through the links on this page, we may earn a commission at no cost to you. Learn more.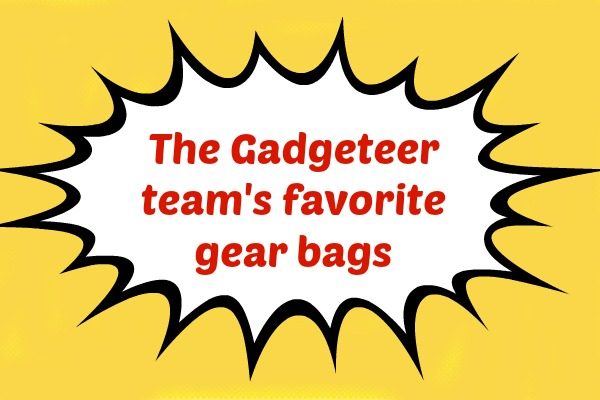 Welcome to part five of our on-going series where we tell you about the gear that we use on a daily basis. Today we have the favorite gear bags for one more Gadgeteer team member, Smythe. Let us know if you enjoy these types of posts.
Also read:
The Gadgeteer team's favorite gear bags (part 1)
The Gadgeteer team's favorite gear bags (part 2)
The Gadgeteer team's favorite gear bags (part 3)
The Gadgeteer team's favorite gear bags (part 4)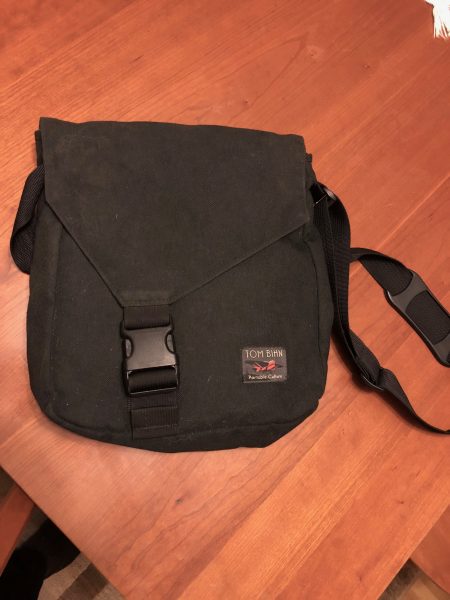 Julie has been after us for a month or so now to declare a favorite gear bag and do an article about it. For me, this is a Sophie's Choice type decision, because I like several bags equally for different reasons. Add that to the fact that I have almost as many bags as Julie does (about 20 that I can see from this chair with my office closet door open!), and it gets a bit tough. I'm prepared to live with this one, however; the Tom Bihn Medium Café Bag. I bought this bag a few years back with personal funds, and have used it as a fall-back ever since. Let me give you a tour.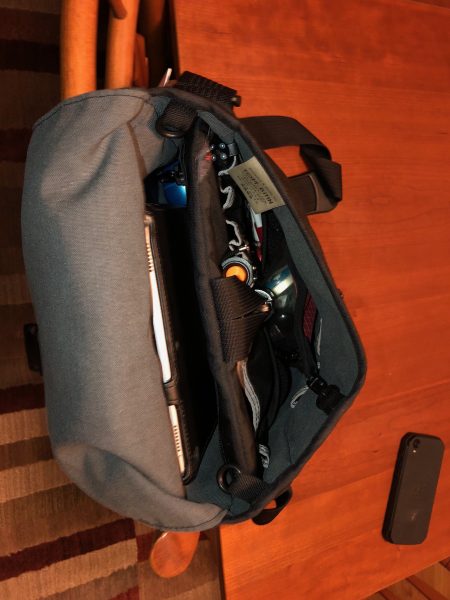 We have reviewed Tom Bihn bags on this site before, but I've never had an actual review unit from them. I did review a few products from their canine product spin-off, Snookum Dog, a few years back. But I've been a fan since my first purchase, which was this bag. I found it searching for a daily driver bag for my iPad and various small bits of tech I need to carry, and I have yet to find one that can haul this much in such a small package. It's a simple satchel in a vertical orientation (a sadly over-looked category by most bag makers) with a sewn-in strap and a large inner pocket. There are a few pen loops and loose stash pockets in the front wall of that large pocket, as well as a narrow zippered pocket on the outside front. An offset V flap covers both of these and seals with a plastic clip on an adjustable webbing strap.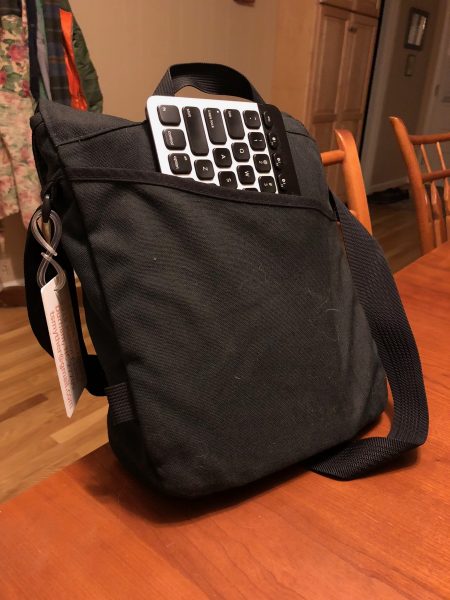 On the back, a simple slash pocket and a 1″ webbing haul loop complete the feature set. At 12.2″ x 10.6″ x 2.9″ / 310 x 270 x 75 mm, it's not really a behemoth, but it sure holds a lot. I've added the Freudian Slip, a vertical insert that adds pockets and sleeves to organize bag interiors. This is another Tom Bihn innovation that makes their kit unique. They have these for most of their bags, and the difference it makes is huge.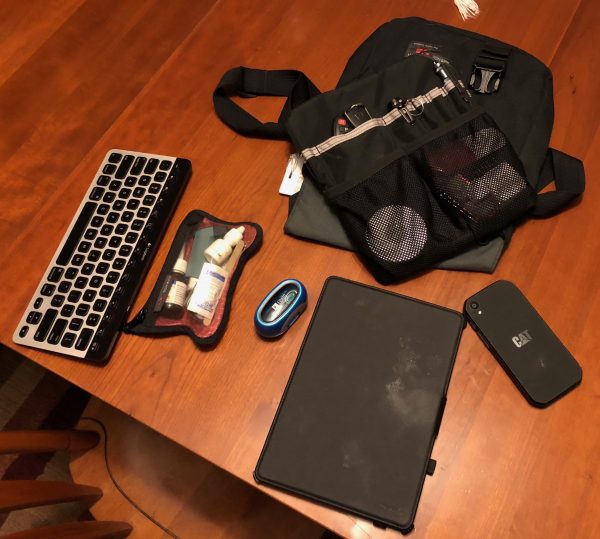 Perhaps my favorite feature of Tom Bihn bags is the "O" rings sewn into bag interiors in various places. I have a clear organizer bag that holds my inhaler, a tin of various NSAIDs, a nail file and clipper, and eye drops. There's a clip on one corner, and when I attach it to the "O" ring on the rim of my Tom Bihn Café bag, it never gets lost in the abyss.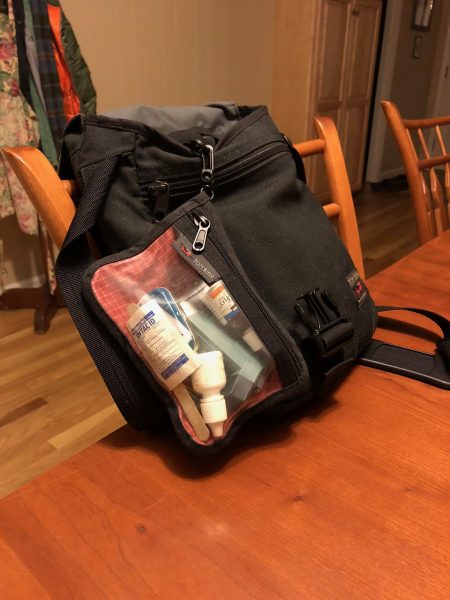 I usually carry my original-sized iPad in this, along with the day's supplies (power adapter, headphones, batteries, shopping bag, screen cleaner, iPad adapters for USB, HDMI, and SDcards – the usual stuff). I just purchased the 10.7″ iPad Pro, replacing my iPad Air 2. The new one fits just as nicely, in my MoKo case. In a pinch, I can slide my LogiTech K811 keyboard into the rear slash pocket, even though it sticks out a bit. If I don't need all that, just the organizer, iPad, and Slip will carry me anywhere easily.
If I have control over my day, the regular-sized iPad has been my go-to travel companion since the day I bought the original. The newest iPad Pro with the thinner bezel still fits in this bag easily, since it's less than an inch larger on each edge.
Also read:
The Gadgeteer team's favorite gear bags (part 1)
The Gadgeteer team's favorite gear bags (part 2)
The Gadgeteer team's favorite gear bags (part 3)
The Gadgeteer team's favorite gear bags (part 4)