We use affiliate links. If you buy something through the links on this page, we may earn a commission at no cost to you. Learn more.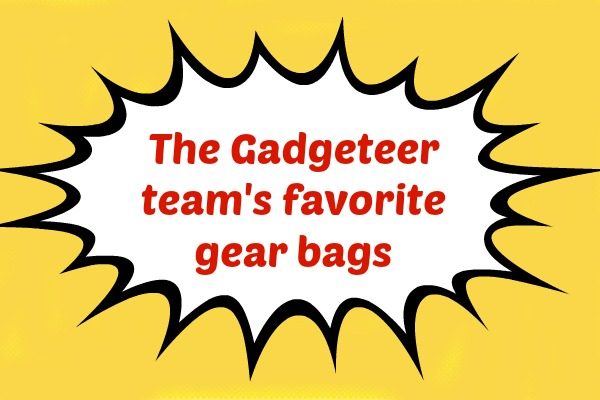 Welcome to part two of an on-going series where we tell you about the gear that we use on a daily basis. Today we have the favorite gear bags for five of our writers here on the Gadgeteer team. Enjoy!
Also read:
The Gadgeteer team's favorite gear bags (part 1)
The Gadgeteer team's favorite gear bags (part 3)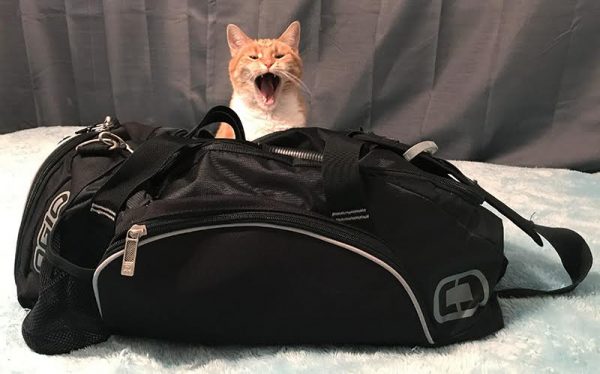 I am not someone who carries a bag around often; unless I am going to the dojo. Years ago my sister bought me an Ogio Gymbo duffel bag for Christmas. It is large enough to fit two karate uniforms, tonfas, sparring gear, purse, and a water bottle. For being about six years old and used multiple times a week, it is in immaculate shape.
The side pocket is used for odds and ends such as hair-ties and any important papers I may receive. It is thin, long, and not very wide. The back pocket is supposed to be used for shoes or dirty clothes, but I use it to store snacks and my purse to keep them away from my sparring gear and uniform.
You can read more about Ogio bags at ogio.com and although this particular bag doesn't appear to be available any longer, you can buy similar Ogio bags from Amazon.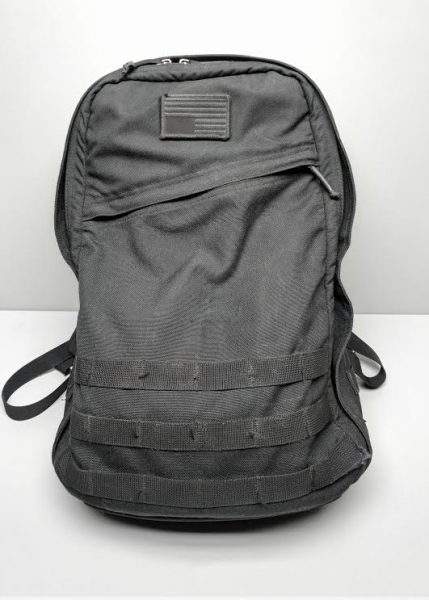 Here's a pic of my trusty GoRuck GR1, 26L. I've been using this bag every day for the last two years and there's barely any signs of wear. It's the toughest, most durable piece of gear I own, which is important because it carries ALL of my other gear on a daily basis. It was a large investment for a backpack, but knowing that it will most likely be the last EDC bag I ever have to buy makes it all worth it. Can't say enough good things about it.
You can read more about this bag at goruck.com.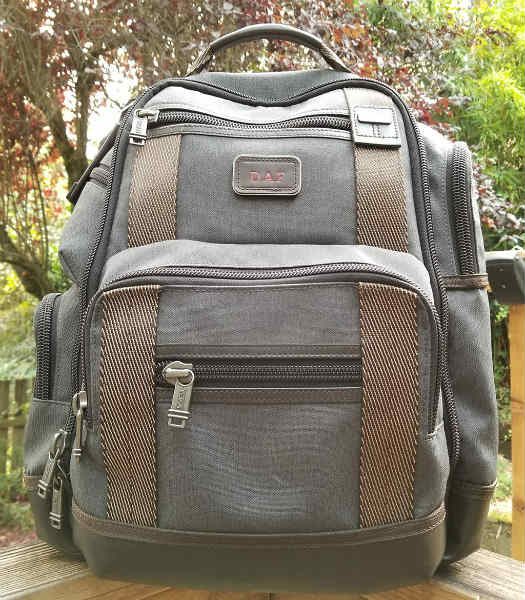 With all the hurricanes and prep and such, getting in and around Atlanta has been fun, in a totally not-fun kind of way. I was scheduled to return on Monday but weather delays, over-booking and general madness delayed me until Wednesday night. Finally made it back to Seattle, and will be here until after Irma visits Atlanta next week, so time to catch up. I managed to use the OVC earbuds under the most strenuous circumstances, so the review on those are coming early next week.
In the meantime, the zip has 4 pictures of my bag – use any of them you like. The next paragraph starts the bag post. More soon.
I travel a lot these days. I mean A LOT (sorry to shout). I leave on Sunday morning and get back home early Friday morning. It can be grueling so my bag has to be able to withstand anything the airlines, hotels, Uber and I can throw at it.
My gear bag is the Tumi Alpha Bravo Shaw Deluxe Brief Pack. I'm guessing they just couldn't fit any more nouns in the name. Regardless, this bag is big – since when I am not at home my office is my bag, so it would have to be. I can carry pretty much anything I need – laptop(s), tablets, notebook, power and charging gear, cables, pens, ibuprofen, and Altoids.
One of the nice things (especially when I am in Seattle) is the waterproof side pocket that holds my umbrella when I am home or a bottle of Smart Water when I am not. And the luggage handle sleeve on the bag makes sure that no matter how much I overload it, I can just hook it on my luggage handle and not overload myself.
Plus it is an upscale-looking bag, which is never a bad thing when meeting with clients. This bag solves all my carry problems, and a few I didn't know I had until I got the bag.
You can read more about this bag at tumi.com and you can order one from Amazon for $365.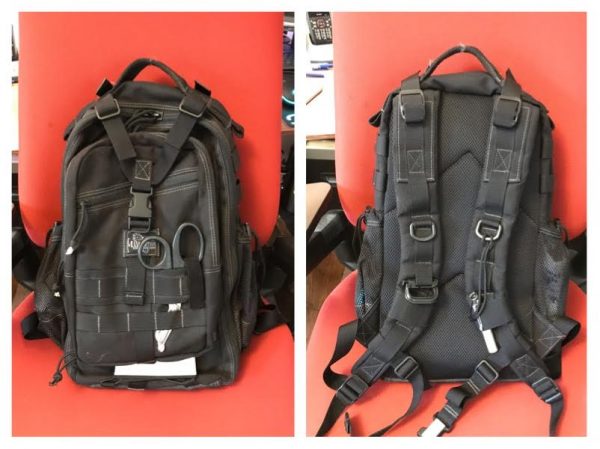 My gear bag is the Maxpedition Pygmy Falcon II Backpack.
Overall size: 9.5″(L) x 8″(W) x 17.5″(H)
Main compartment: 9″(L) x 4.5″(W) x 17″(H)
Volume: 1100 cu. in. / 18L
This is what I carry to my desk job. I don't carry much, but I want it to be comfortable. It's one of the smallest dual-strap backpacks in the Maxpedition lineup, which is what I wanted. I like that it has many loop attachment points on the outside for hanging things (trauma shears, flashlight), plus two "bottle" mesh pouches on the outside just in case I want to convert my work bag into a day pack.
You can read more about this bag at maxpedition.com and you can order one from Amazon for $100.
Available in Black, Khaki, Wolf Gray and Foliage Green.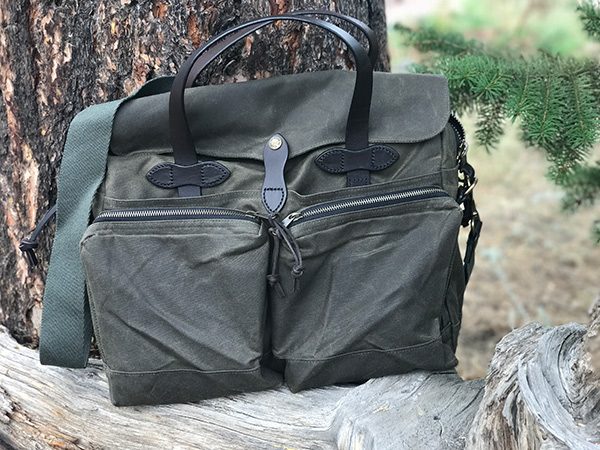 I recently bought my first piece of Filson outside of their clothing line.  I decided to go with the 24 Hour Tin Briefcase.  This has quickly become one of my favorite gear bags for many reasons.  It is what I am currently carrying to the office to hold my computer, charging cables, notebook, etc. and has the style of a rugged waxed canvas bag with bridle leather accents that fit in a corporate setting but also says "I have my own style and march to my own beat".
What I love about this bag is that although it is technically a computer bag, it is also a great gear bag for weekend excursions, a day hike or a day trip up to Estes Park, Colorado to see the sights and do some walking, shopping and maybe a picnic with the family.  One main pocket with a padded area for a computer holds a lot more stuff than you would think.  the two front pockets have some interior organization for pens and a zippered compartment for hiding cash, thumb drives, passports, etc.  there is an open back pocket for quick access to papers, an iPad, plane tickets (I am assuming they still have paper tickets, I just use my phone now), and also has a strap across the back to put it over the top of the handle of your roller bag.
Filson has been a master of canvas bags for decades and they just seem to be getting better.  I would highly recommend checking out this great bag whether you are looking for a new EDC to the office or something for the weekend getaways and especially if you are looking for both.  If you need more storage or want to carry camera equipment or bulkier items, I would recommend looking into their Padded Computer Bag.  It has many of the things I love about my 24 Hour bag but offers more padding and internal volume.  You honestly can't go wrong with Filson.
You can read more about Filson bags at filson.com and you can buy this back on Amazon for $389.
Also read:
The Gadgeteer team's favorite gear bags (part 1)
The Gadgeteer team's favorite gear bags (part 3)