We use affiliate links. If you buy something through the links on this page, we may earn a commission at no cost to you. Learn more.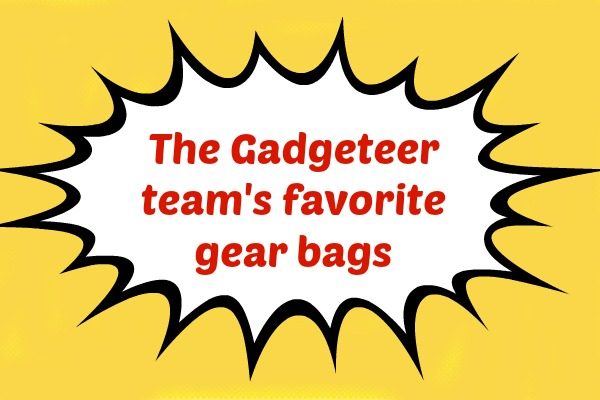 Welcome to part three of an on-going series where we tell you about the gear that we use on a daily basis. Today we have the favorite gear bags for five of our writers here on the Gadgeteer team. Enjoy!
Also read:
The Gadgeteer team's favorite gear bags (part 1)
The Gadgeteer team's favorite gear bags (part 2)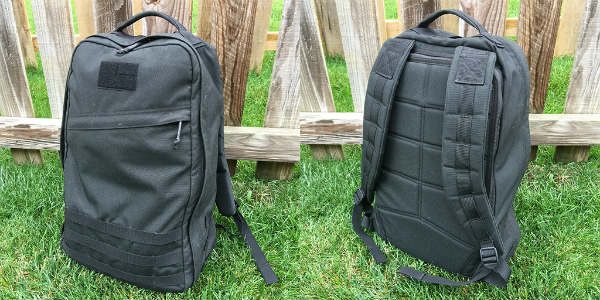 The GORUCK GR1 rucksack.  GORUCK's original piece of gear, with its roots in US Special Forces these rucks are built proudly in the USA and proven by special operators in war zones across the world and by GORUCK Challenge participants across these great United States. Made from water-resistant and uber-durable 1000D Cordura nylon, there's a reason why GORUCK refers to their rucks as "bomb-proof."  The GR1 is available in two sizes, both of which I own: the 21 Liter which I use for both ruck training and GORUCK Challenges, and the 26 Liter (shown here) which I use for EDC and short travel.  Because GORUCK believes design should be simple and versatile so you can use your ruck in the way that works best for you, their rucks include high-strength nylon MOLLE webbing inside and out to attach items (such as GORUCK's Field Pouches) and several organizational pockets inside, plus a padded laptop/hydration compartment.  Admittedly, GORUCK's products are not cheap—in quality or price (GR1 is $295)—but they are easily the best-built, most durable products I've ever used, and if you do manage to damage one of their rucks, their SCARS lifetime warranty will fix you up.  I know, because they've done it for me (more than once).  For me, GR1 is the ultimate rucksack (AKA backpack).  Full review in the works.
You can read more about this bag at goruck.com.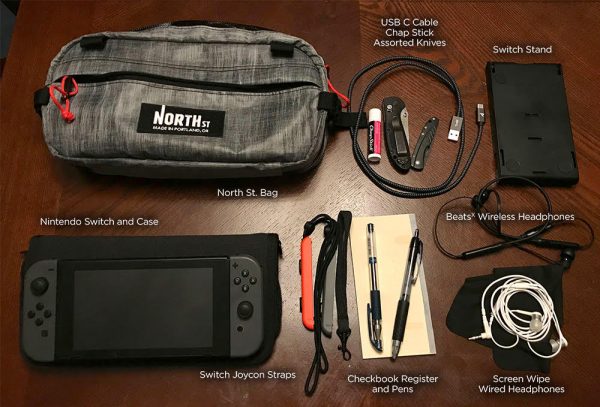 My go-to bag at the moment is the Pioneer 12 Hip Pack from North St. Bags. When I reviewed this back a couple months ago. I liked it for its many interior pockets and expandable width, allowing me to fit a lot more inside than I originally thought I could. I've been using it almost daily to carry things that I can't or wouldn't want to shove into my pockets, like headphones, cables, and my Nintendo Switch that I like to play over lunch breaks. The bag itself still looks brand new after several weeks of steady use. I added a shoulder strap that I cannibalized from a small messenger bag and turned it into more of a tech-purse, which suits me just fine.
You can read more about this bag at northstbags.com.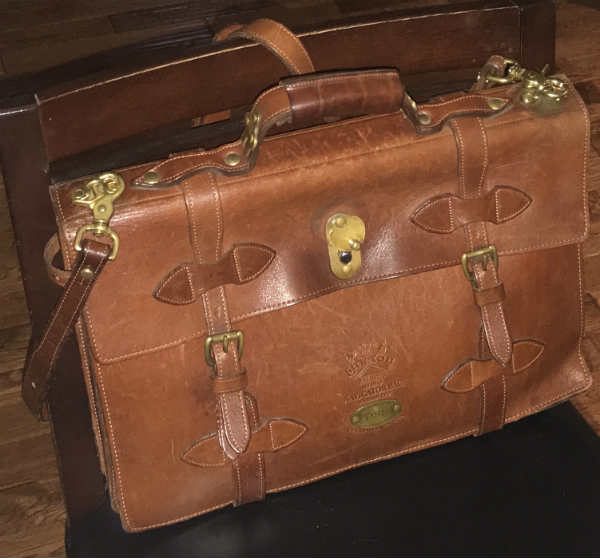 My favorite bag is near a half dozen years old, weighs more than five pounds, and is as non-tech & old school as you can get. Add in the fact that I have reviewed many high-quality bags over the past five years, is a testament to how much I love and enjoy carrying my Colonel Littleton 1943 Navigator bag. It's a perfect size, able to securely transport my laptop, iPad Pro, and all my EDC gear with me. Its meticulous craftsmanship and classic WWII aviator styling are so me… As you can see, it is aging gracefully and continues to get praise from strangers to this day. I carry it to work every day, on work travel and vacation as well. Even though I have a closet full of very nice bags, I would buy another if it ever became damaged, lost, or stolen.
You can read more about this bag at northstbags.com.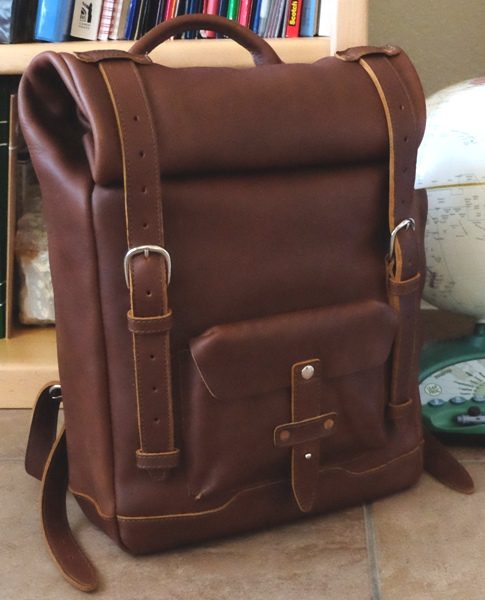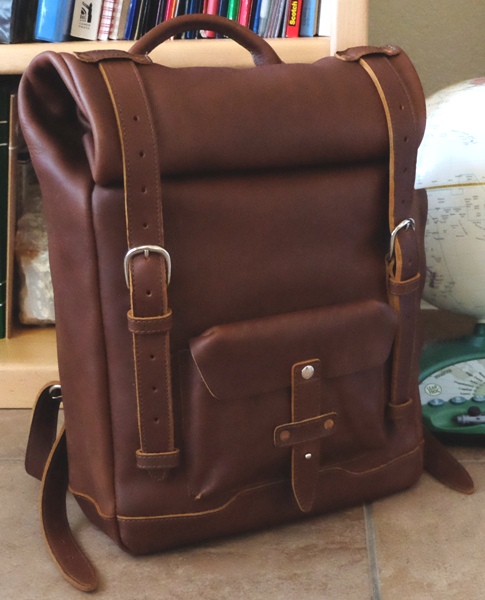 My preferred type of gear bag is a backpack. For many years I've used a Jansport backpack to carry my teaching materials, but I've had a desire to upgrade to something attractive as well as rugged and since then I've discovered my inner leather enthusiast. Thus, my favorite gear bag is a backpack that I recently reviewed – the Pad & Quill Roll Top Leather Backpack (review has not yet been published to provide the link). I love the fact that it is a beautiful, well-made, high-quality leather backpack that is large enough to carry all of my necessary items and yet is still compact enough for me. It even has an internal pocket (unpadded) for a tablet/laptop which I use to store my portable keyboard. It does take time to access my materials since it is a roll-top backpack that has a two buckle closure, however, it has a quick side access zipper slot (8.75″ long) that allows you to extract small items quickly.
You can read more about and/or purchase the Pad & Quill Roll Top Leather Backpack on the Pad & Quill website.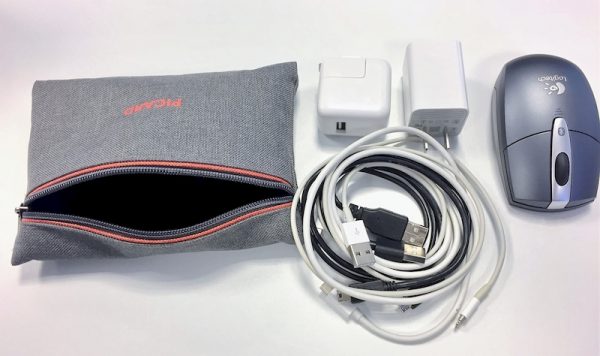 My take on "favorite gear bag" may be a little different than other Gadgeteers. My current favorite bag is a freebie Lufthansa Premium Economy Class amenity kit by Picard I obtained on a recent European flight. This isn't available in stores; It is only available with a seat from Lufthansa. It originally contained foam earplugs, sleep-mask, toothbrush, toothpaste, and over-socks (if you want to take your shoes off but still walk around the cabin). So why is this so great? It is impeccably made; it uses good quality materials, double stitching on the zipper and all the seems are lined.
The best part is that the bag is the perfect size to hold all of my cables, chargers, and a Bluetooth mouse. It has changed my backpack from a mess of cables to a neatly packed and organized kit. At meetings if I need any of these things I don't have to go fumbling through my bag – I can just pull this bag out and not be distracted, or cause a distraction, during the meeting.
The other benefit of using this bag is that at airports, these items are all collected so that if the carry-on inspector has any questions about the contents everything is organized and in one place. This item is frequently on eBay for relatively little cost. I suggest you get something like this to make your electronics more organized.
You can read more about the Lufthansa Premium Economy Class amenity kit at www.picard-lederwaren.de.
Also read:
The Gadgeteer team's favorite gear bags (part 1)
The Gadgeteer team's favorite gear bags (part 2)