We use affiliate links. If you buy something through the links on this page, we may earn a commission at no cost to you. Learn more.
Whoo hoo, it's time for another gear bag review! Yay! Yes, there really is cause for excitement this time. Why? Because I think that I've finally found my around-town / out-for-lunch gear bag! I've been searching for the perfect small bag that I can stow inside my everyday bag (right now that is a custom Bagaboo messenger bag) and then take with me when I go to lunch. My criteria has been a bag to carry my wallet, phone, a pen, sunglasses and a few other things as necessary. My quest has brought me to the Tom Bihn Cafe Bag.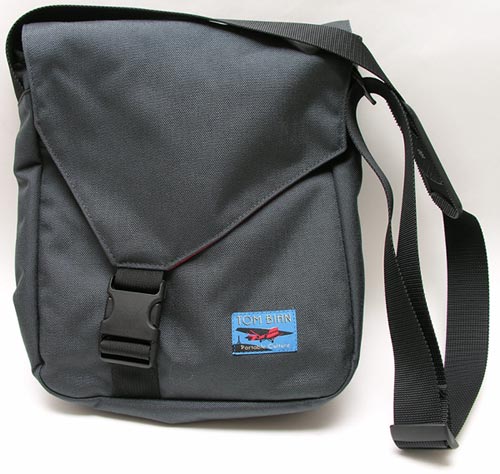 Tom Bihn bags are made in Seattle, Washington. This particular bag is available in Small, Medium and Large, as well as 10 different colors, I was sent the Medium version in Steel / Crimson. Medium measures 10″ x 11.5″ x 3″, while Large measures 12″ x 13″ x 3″ and Small measures 7.5″ x 11″ x 3″. The exterior of the bag is constructed of 1000 Denier Cordura, which has a very slight rough canvas texture . The interior is lined with 500 denier Dupont Cordura, which has a smoother feeling texture.
As you can see, the Cafe Bag has a vertical orientation, with an interestingly shaped front flap that is secured via a Black plastic squeeze buckle.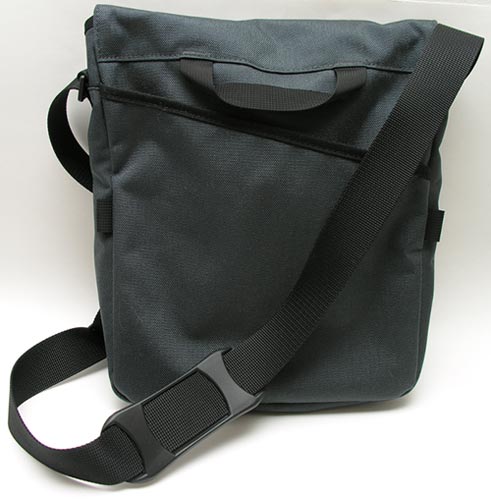 On the back side of the bag, there is a large open topped pocket that is perfect for holding regular sized magazines. You'll also notice a carry handle. Yay! This is a must have feature for a bag to become my favorite. The only thing that would make the handle perfect would be if it was rolled instead of just a flat piece of webbing… but now I'm being too picky aren't I?
See the little loops sewn into the seams on the either side of the bag? This is for an optional waist strap so that you can wear the bag messenger style.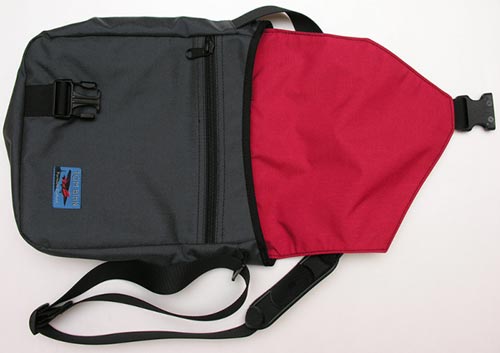 Lift the flap and you notice that the interior of the bag has a cool contrasting color which makes it easier to see objects at the bottom of the bag.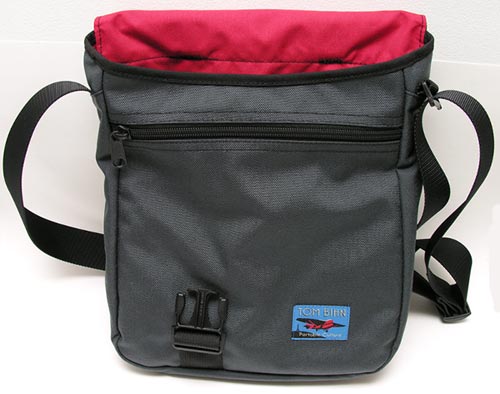 An 8.5 x 8.5 inch flat zippered pocket is located under the flap. I use this pocket for my checkbook and other small flat items that I don't often need.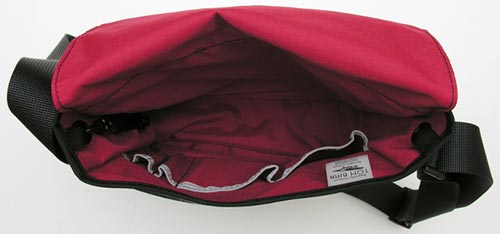 If we check the interior, we'll find that it is nice and roomy. Two open topped pockets and 2 pen/pencil slots are sewn into the front wall of the bag. There is also a hanging key-holder (barely seen on the left edge of the picture above) sewn into the left side. The key-holder has plastic clips on each end, so it can be removed.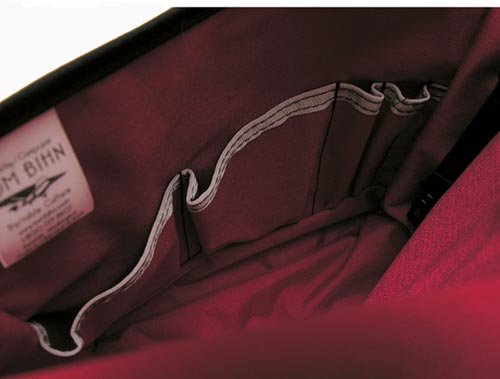 Here is a close-up of the interior pockets which are both approximately 3.25 x 5 inches.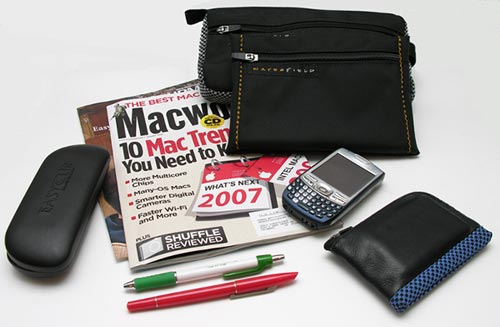 Let's check out the gear that the Medium sized Cafe Bag can accommodate. Hard sunglasses case, 2 standard sized magazines, 2 pens, Treo 750v, Waterfield wallet, small Waterfield cable guy pouch, and a large Waterfield gear pouch.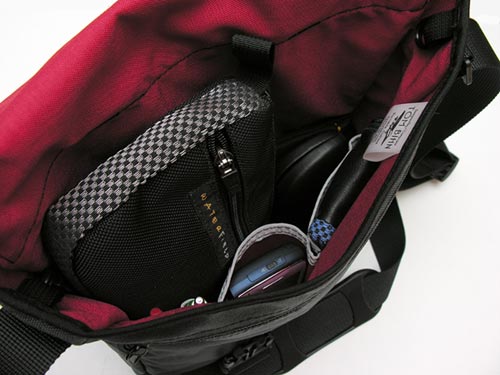 And here is a picture with all the items neatly stowed in the bag. As you can see, it is not even really crammed full.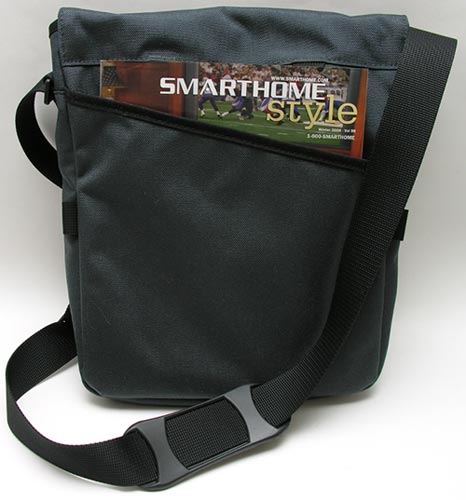 There's room for even more magazines too.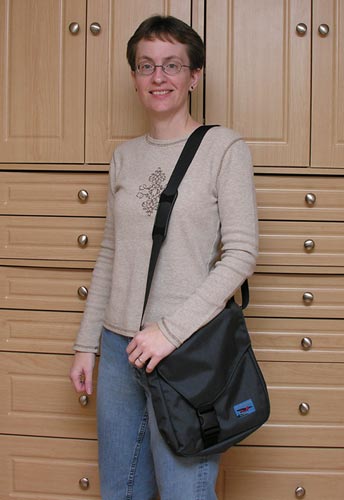 Here I am wearing the bag on my shoulder (and evidently unaware that the rubber shoulder pad had slid down the strap…doh!). For reference, I'm 5′ 5.75″.
I can't find anything to complain about with this bag. The materials and craftsmanship are top notch. I really like the unisex style as I'm not one to go for froo-froo girly bags. I also like the vertical orientation and the pocket layout. The Tom Bihn Cafe Bag is a great little bag that is handy for carrying your most necessary items when you don't need or want a large bag.
Small Cafe Bag – $45.00
Medium Cafe Bag – $50.00
Large Cafe Bag – $55.00
Waist strap – $5.00