We use affiliate links. If you buy something through the links on this page, we may earn a commission at no cost to you. Learn more.
I don't normally talk a lot about PC or Mac computer software, but I wanted to mention a fun title that just crossed my path. It is an instructional program from iPlayMusic.com that can help you learn to play guitar and sing songs for your kids. The Play Music Together title is available for the Mac and PC. It includes a software CD with video lessons, and a DVD with all the same video lessons that you can watch on your TV.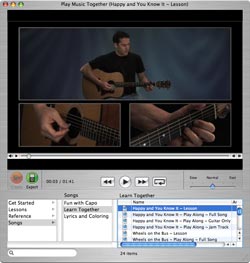 The Mac version lets you export the videos to your iPod. You can also import the music tracks into GarageBand to create your own versions.
The songs include with this title are very easy to learn to play, even for someone that has never played guitar before. The songs are easy because they are kid songs like Twinkle Twinkle Little Star and Working on the Railroad. Yeah, you're not going to end up playing in a rock band by trying this program, but your young kids should get a kick out of singing them with you.