We use affiliate links. If you buy something through the links on this page, we may earn a commission at no cost to you. Learn more.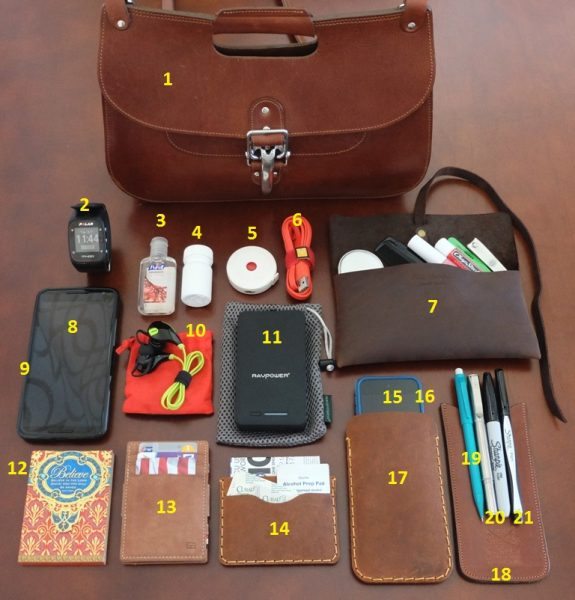 I have recently updated some of the items in my everyday carry bag (purse/gadget bag). In the past, I've carried a small purse because I like to carry as little as possible, but with all the gadgets I have accumulated over time, I needed to upgrade a few years ago to a larger bag. So, here are my EDC items:
This is the larger version of the Colonel Littleton No. 17 Leather Hunt Bag. As much as I have tried to pare down my EDC, the larger bag was exactly what I needed to carry all the things that I deemed necessary to have with me when I go out. I just completed a review of this bag which has since replaced its worn out cheaply made predecessor purchased from Kohl's. The Hunt Bag is absolutely incredible. It is well made using the highest quality materials and I won't ever have to purchase another bag should I choose not to (I always had to purchase new purses before because the others wore out way too early for my liking).
I've had this smart sports watch for a few years now and I still enjoy using it several times per week to keep track of my workout data. I'm not a runner so I don't need all the detailed data that other Polar watches track, so the Polar M400 is perfect for me and my DVD workouts. I also use this watch for email and text notifications which comes in handy when I am away from my phone.
3.
Hand sanitizer
Being a self-proclaimed germaphobe, I use sanitizer frequently and it has come in quite handy especially when a public restroom has run out of soap. Grrr.
4.
Pill bottle
I suffer from several intolerances and thus always keep digestive pills with me when dining out.
5.
60 inch/150 centimeter retractable tape measure
This tape measure has come in handy more times than I can count. I use it to measure lengths of a variety of home items that I shop for. I received this as a free gift by touring the visitors' center of a nuclear power plant many years ago but you can easily find one online (like this one on Amazon) or perhaps in Walmart or a fabric store.
I keep this micro-USB/Lightning charge and sync cable (contains micro-USB to Lightning adapter) with me because we have several iOS and Android devices with us when we go out and more than one can suddenly need a charge from my external portable battery which already has a micro-USB cable built-in but also supports charging another device via its USB type A port.
I use this very nice 7.75″ L x 4″ W leather case to hold my makeup which includes a pocket mirror, comb, Chapstick, Tweezerman Slant Tweezers (awesome precision tweezers), nail clippers, etc.
This phone goes with me everywhere. I'm lost without it. The Nexus 6 is rather large, but I truly enjoy having a larger screen to view videos, search the web using desktop web pages, and work on my Gadgeteer posts with the aid of my Logitech K480 Bluetooth keyboard which has a very nice long built-in slot that holds my phone or other mobile device while I type (not part of my EDC, thus not shown). The phone is also two years old now but still works well for me so I intend on using it a while longer.
Since Speck did not make a Candyshell case for my Nexus 6 phone, I needed to find another that would protect it from drops (I tend to be clumsy). Thanks to a Gadgeteer reader who suggested Supcase, I purchased one and since using it, I have dropped my phone several times and this case has worked perfectly to protect it.
I have my favorite earbuds with me at all times just in case I want to listen to a podcast or video when I am away from home. They sound great, fit wonderfully, and best of all, are inexpensive. I also use them as ear plugs when I am in a noisy environment.
This portable external battery is small enough for me to carry around all the time and yet provides enough power to charge my devices (two devices at a time) during a day. It also has a built-in micro-USB cable that eliminates having to carry yet another charging cable. This battery appears to be unavailable through Amazon and difficult to find elsewhere. I did find one online retailer that sells the RAVPower Savior battery with built-in micro-USB, but I am unfamiliar with the seller and cannot say if they are reputable. There is another version of this battery available with a built-in Lightning cable.
12.
Small notepad
If I don't carry this small notebook around with me, I really miss it, especially when I want to jot down someone's information or give someone my info.
I'd like very much to use a minimalist wallet, but it is just not possible for me to do so and still be organized with all the cards I must carry; so, I use the next best thing – the Garzini Essenziale Finestra wallet. It's an attractive leather wallet that is small and slim enough for me and organizes my cards so that I may easily find and access them.
This minimalist wallet carries my bandaids, alcohol sterilization pads, and coupons. It is made of three pieces of thick leather sewn together. Except for the rather long stitch length (I like a tighter, shorter stitch), it is a really nice wallet, but it is rather thick due to the thickness of the leather.
I enjoy using this iPod to test Gadgeteer items that sometimes do not have an Android app. Additionally, I use it to compare iOS and Android apps of review items. I also use it as a temporary replacement for my phone when my phone needs to be charged.
I love the Candyshell Speck cases because they are slim and provide military grade drop protection. I've dropped my iPod a few times and this case has protected it faithfully.
17.
Donaway Genuine Leather Sleeve
I purchased this leather sleeve to help prevent scratching my iPod screen when stored in my bag. It is made of two thick pieces of leather sewn together. It too has a rather long stitch length but works really well as a protective sleeve for my iPod. Unfortunately, there are none left on Amazon (this appears to be an older style that has since been updated and replaced with a new one and will probably not be restocked).
I use this case to store my writing utensils and to keep them upright inside my bag making them easily accessible. It is extremely well made, like all Colonel Littleton products, and works like a charm organizing my writing instruments.
I've used this pencil for over twenty years. One of my favorite features of the pencil is the long twist eraser because I always seem to need to erase something when I write. Furthermore, I love the simplicity of its design – no fancy grip or shape – and it also holds plenty of pencil leads. They've since updated this pencil, but I've liked mine so much that I've never had a desire to purchase any other.
In the Ti Arto pen review by Julie, she wrote, "You can have the coolest looking pen on the planet, but if it doesn't write well, it will never become your favorite pen." This is exactly the reason why I've never purchased an expensive pen. Moreover, I'm not really a pen fanatic, but when Julie reviewed it and described its collet (drill chuck-like mechanism) which allows it to hold over 200 different pen refills, I knew that I had to have one. Wow, a pen with a drill chuck – how cool is that? I love it. At this time I have a Pilot Dr. Grip retractable ballpoint ink refill (medium point, black ink) in it (purchased at Office Depot) because I like the smooth feel and flow of ballpoint ink and this refill writes immediately, writes smoothly, doesn't skip, and is waterproof. I've never had a favorite pen until now.
21.
Fine point Sharpie pen and fine point Sharpie permanent marker
These Sharpies come in very handy when I am away from home. They are easily readable and waterproof which is a must when labeling packages for shipping. I also use them to label items.