We use affiliate links. If you buy something through the links on this page, we may earn a commission at no cost to you. Learn more.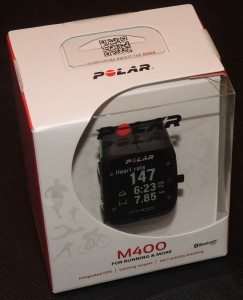 Seems like everyone is getting into the fitness band market these days and as a runner, I find them nice enough but limited as a 'get in shape/get off your butt' tool in many respects. To bridge this gap between fitness and training, the engineers at Polar have created a hybrid device designed to, not only track your activities 24/7 but your runs or rides as well. The Polar M400 GPS-enabled running/biking watch tracks your pace and distance when pounding pavement plus monitors your daily activity (i.e. steps and sleep) theoretically making it a great all-around workout companion. 
Note: Click on images to see larger view.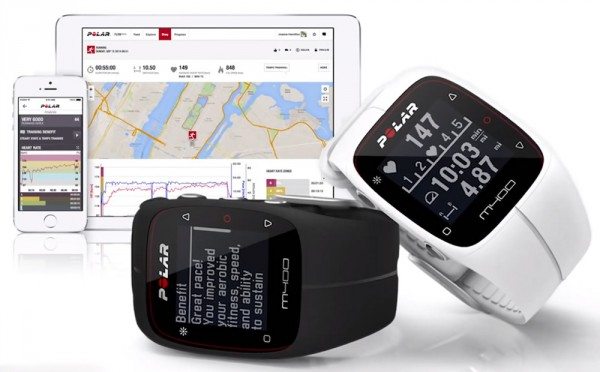 The M400 comes in two colors (white and black) and two package variants (with and without a Bluetooth heart rate strap).  For the purposes of this review, I received the black version with the heart rate strap.
Technical Specifications:
Weight 56,6g
Water resistant (30m)
Thickness 11,5mm
High resolution display (128 x 128)
Display texts in 15 languages
Updatable software
Memory capacity up to 30 h training with GPS and HR
Rechargeable battery
Easy sync via Polar Flow app with Bluetooth Smart
Mobile app compatibility
Data transfer to PC and Mac with microUSB cable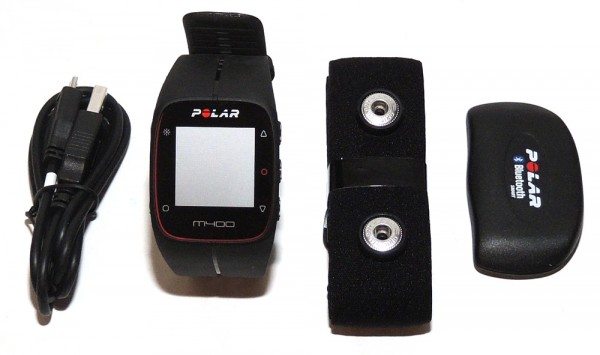 In the box:
M400 training computer
Polar H7 heart rate sensor and strap
microUSB cable
Polar M400 Getting Started Guide

The 'negative' screen is black with white numbers and text. The 128 x 128 pixel screen is definitely not high definition but is high contrast and sharp, easily viewed in daylight, with the digits large enough to see while working out. The strap has a nice soft rubber feel to it, more comfortable than other more rigid plastic watchbands.

Never miss one of our posts again. Sent MON, WED, and FRI with the latest gadget reviews and news!
The overall build quality of the M400 is good but does not compare to the higher end running watches like the Suunto Elementum Terra, Garmin fenix 2, or Polar's own RCX-5. The M400 build quality is on par with other fitness bands. It measures 11.5mm thick and weighs a bit over 56g, making it comparable in weight to the RCX-5 and much lighter than the Terra and fenix 2.
The bar you see below the time on the M400's pictured here is meant to let you know visually how close to your movement/fitness goals for any particular day. The more filled in the bar is, the closer you are to your goal.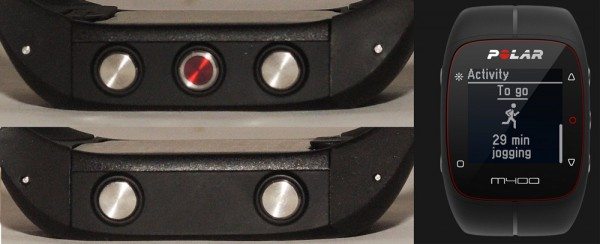 The buttons are well done and large enough for easy use while running or exercising. On the right side, there are the up, enter, and down buttons. On the left, there are the light and back buttons. Managing the M400's OS via buttons is relatively simple, intuitive and does not take long at all to become accustom to.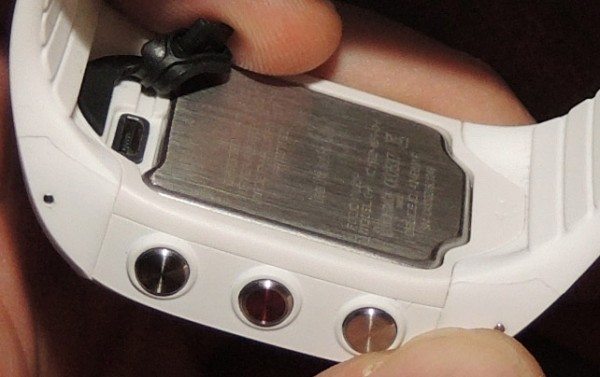 The M400 is waterproof to approximately 30 meters, despite having a standard microUSB connector for charging and data transfer. The microUSB port has a small plastic cover over it plus the port itself is internally 'waterproofed' (though I do not suggest testing that spec). I have used the M400 for several months, with MUCH sweating involved and best I can tell…there has been zero impact due to moisture.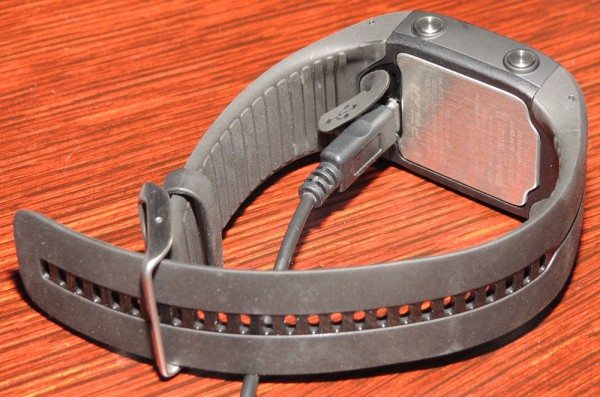 The internal battery charges quickly enough. The M400's battery life is approximately 8-hours with GPS enabled and gets about three weeks of day to day watch time/activity tracker mode. I workout 5-6 times a week and while testing the M400, I used the HR strap each day and GPS twice a week and I charged the watch weekly. With this type of workout/charging schedule, I never ran out of power while exercising.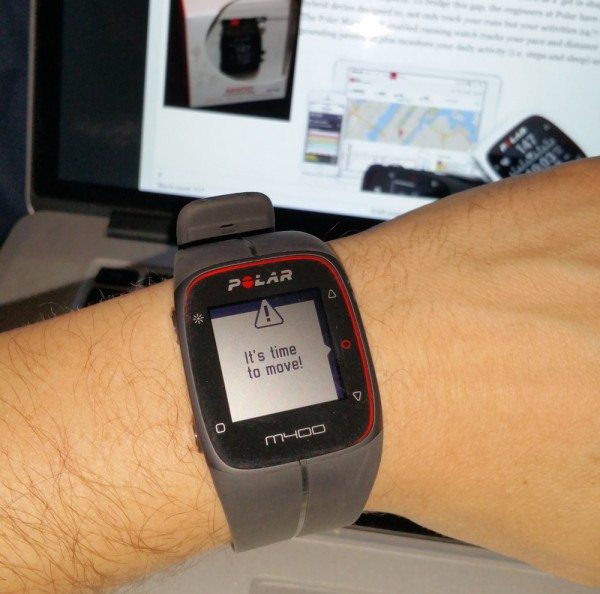 The internal accelerometer tracks vigorous activity, walking, inactivity, and sleep, throughout your day, 24/7.  The M400 will also remind (while writing this review, I had the opportunity to take this pic, perfectly illustrating the M400 nagging me to get off my butt) you to get up and move when you have been inactive too long. As I mentioned, the M400 monitors your daily activity goal. According to Polar, the M400 does not use the internal accelerometer to give you cadence while running nor pace/distance on a treadmill – a footpod is needed for both of those. Though the M400 still collects effort level (HR monitor) and duration with all activity/exercise.
Before running with the M400, Polar suggests confirming that your M400 has the most up to date firmware and that your user profile is uploaded to the watch as well.  This task is easy to accomplish and will ultimately give you a better, more accurate experience. The M400 includes predictive GPS, a feature which allows the watch to reduce the time it takes to find the necessary GPS satellites. In general, I have found it as fast/on par with a majority of more recent GPS-enabled running watches on the market. Not quite as fast as the Garmin fenix 2, but much quicker than early generation running watches. This is an excellent feature allowing you to get on with your run or cycling more quickly. From a runner's perspective, the only negative I have found with the M400 is there are no vibration alerts for mile markers or heart rate thresholds.
Based on my (non-scientific) testing, the M400's telemetry accuracy is pretty spot on for both the heart rate monitor and GPS distance/pace. I compared the heart rate data of the M400 to the handgrip HR sensors on the two elliptical machines I regularly use and they were always within a beat or two of each other. For testing the accuracy of distance and pace, I wore both the M400 and fenix 2 out on several runs and they were within a tenth or two of a mile over 4-5 miles, of each other.

I would definitely suggest wearing the HR sensor, it enables the M400 to give you a much more accurate account of your effort level and thus calories burned. In my case on the elliptical, my calorie count went from mid 300 kcals to over 600 kcals when I had the HR sensor/strap on for the same duration of time.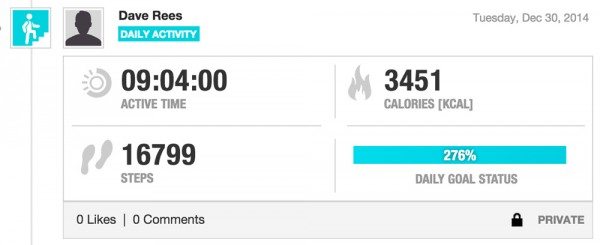 The Polar FlowSync software and website make setting up the M400, viewing your data, and managing your training a breeze.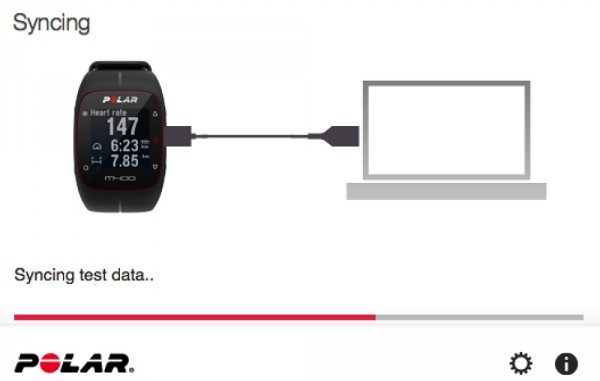 Simply connect your M400 to your computer via microUSB cable and the syncing/updating process is automatic and seamless.

The website and sync software enables you to upload not only your personal data (aka weight, height, age, sex, etc) but the type of activities and exercising you do, including trail running, cycling, swimming, indoor activities, and even martial arts to name a few. This helps the M400 know what to do on the fly. As an example, if I select 'Road Running' as I start my run, it knows to activate the GPS and Bluetooth antennas and start looking for satellites and my heart rate monitor. But if I choose 'Cross-Trainer' it only looks for my HR signal.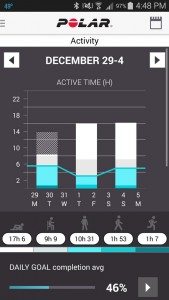 Polar released its mobile app for Android while I was reviewing the M400. Sadly, the wireless sync via Bluetooth did not work well at all. After using the app over the course of a couple of weeks, I would call it a beta effort at best; if you skipped a day of wireless syncing, the data did not transfer after the fact and occasionally the data that the mobile app received/displayed was 100% inaccurate. The web interface and mobile app never rectified the conflicting data even after connecting/syncing the M400 via hardwired microUSB cable. The screen capture you see here is of the app's data for the same timeframe I showed you above with the website showing 132% as my weekly goal accomplished and the app showing 46% with half the days I wore the watch never appearing in the app.
Bottom line: Polar does a good job of combining a fitness and running/cycling/training watch into a single device. The M400 has a very good GPS and intuitive interface making it a more than solid hybrid device, that combines a fitness tracker and running/cycling watch into a single lightweight smart-wearable. The Polar M400 offers a good feature set for novice and advanced runners/cyclists alike; with accuracy as good as my Garmin while only costing a fraction of the cost.
Source: The sample for this review was provided by Polar. Please visit their site for more info.
Product Information
Price:
$199.95 for M400 / $249.95 (with heart rate strap)
Manufacturer:
Polar
Pros:

Well built
Water-/sweat proof to 30 meters
Good feature set
Easy to use interface
Predictive GPS
Accurate heart rate and distance/pace data
Large easy to view screen

Cons:

Mobile app does not work well @all
Does not vibrate @mile points