We use affiliate links. If you buy something through the links on this page, we may earn a commission at no cost to you. Learn more.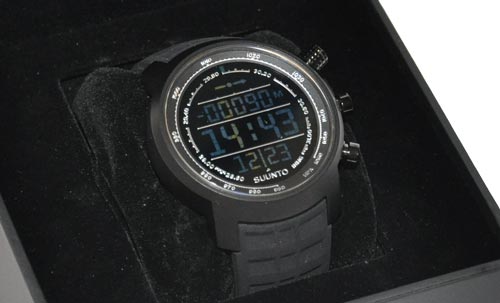 The All Black is 'just…' a new color scheme in the existing Sunnto Elementum Terra line. The all-black casing and negative display make for a stealthy (Stargate ;)) look, while retaining all the functionality of the Terra clan. I have always been tempted by Suunto's luxury line of Elementum Terra watches but to be honest the original three styles, while very nice, never talked to me enough to do the deed. But the Terra All Black pushed me over the edge….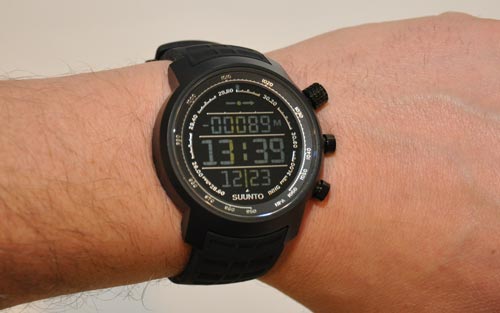 The Terra All Black is well sized and weighted and even better looking in person, featuring: time, date, alarm, 3D compass, altimeter, barometer, and chronograph.

Here it is next to my old Suunto t6 running/workout (right) and Movado (left) watches I wear regularly.  As you can see, the Terra All Black is very nice looking. I have used my t6 for YEARS, having definitely gotten what I paid for. It continues to keep ticking…a new battery every couple of years and has yet to fail me. My hope and expectation is that the Terra will do the same; withstand the same rugged lifestyle that my t6 has. The Terra's professional appearance not only enables it to be worn anywhere (aka business setting), but also be used while running/outdoor adventuring.

While nicely weighted and sized, the Elementum series of watches is relatively thick, but not painfully so. The overall dimensions of the watch are 1.8 (44mm) x 1.8 (44mm) x 0.5 (13.5mm) inches and weighs 95 g (200 g for Steel).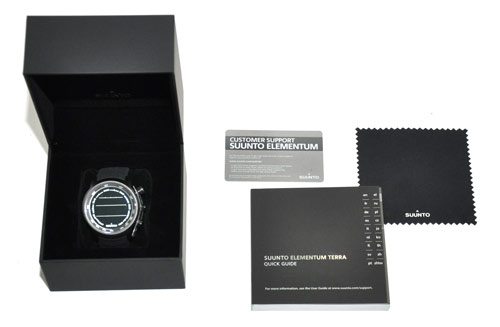 Contents:
Suunto Elementum Terra All Black Wrist Computer
Cleaning Cloth
Customer Support Card
Quick Reference Guide
Features:
Time, Date, Alarm
Backlight
Altimeter
Barometric pressure & trend
3D compass
Chronograph
Cumulative ascent / descent
Log: last 8 ascent / descent, max. altitude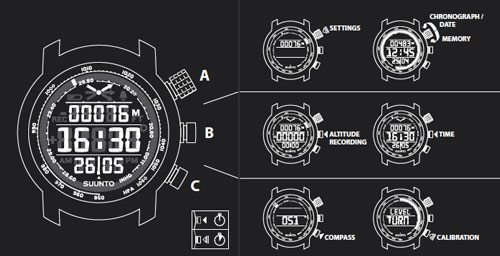 Suunto's Elementum Terra has a simple design, manufactured with high quality materials and intelligent/well-thought out navigation. As you would expect from Suunto, its luxury line of watches is extremely well made: corrosion-resistant AISI 316L stainless steel case and buttons; sapphire crystal glass with anti-reflective coating; intelligent knob positioning for easy scrolling; high-quality LCD display with metallic display graphics; water resistance to 100 m (and according to the manual, the buttons can be pushed underwater).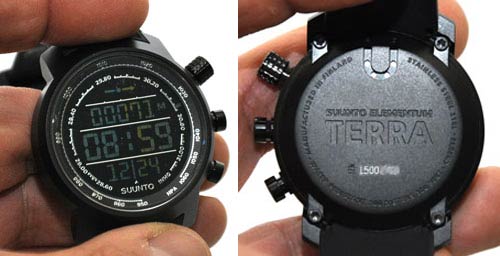 The Suunto Elementum has two sensors: pressure and electronic compass. The pressure sensor has a dual purpose of monitoring the barometric pressure and altitude data. The main screen of the watch shows the time, date, altitude, and barometric pressure trend and reading continuously.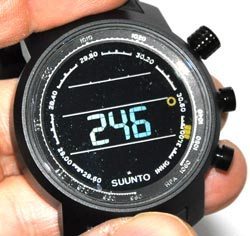 The compass function can be accessed by pushing the bottom button. The 3-Axis (3-D) compass does not need to be level to operate accurately. The barometric pressure scale (outside ring display) turns into a pointer for North, and the watch dial reads out the degrees you are facing. The compass and barometric sensors need to be initially calibrated and aligned.

Having majored in atmospheric science back in college, I find the barometric pressure gauge and trend indicator interesting and a lot of fun. So far, it has done an excellent job of letting me know what the weather is going to be like. The pressure was high and it was clear and cold but once it took a nosedive, the rains were here a few hours later. While this feature has limited benefits surviving in the urban canyons, it could definitely come in handy while out camping, fishing, hunting and the like.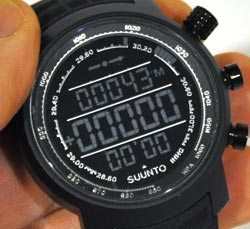 The watch also features an alarm and simple chronograph. The chronograph measures 1/100 of a second for a minute after which it measures up to 99 minutes. While the Terra can time your runs/hikes/rides, track your altitude gains/losses, and help you navigate your routes, it does not work with Suunto's foot pod, bike pod, GPS pod or heart rate monitor; making it not an ideal choice for hardcore training.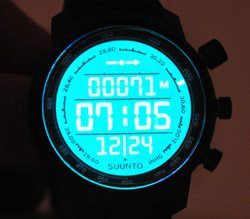 The watch has a very bright backlight. It can be activated by pushing the middle button for a couple of seconds. The entire screen is illuminated with a blue/green glow. The backlight is impressively bright and stays on for approximately 3-4 seconds.

In addition to the new Terra All Black, there are also three other styles in the line; Black Rubber, Black Leather, and Steel.

Along with the Terra, the high end Elementum line also includes a Aqua (left) and Ventus (right). The Elementum Aqua is for 'urban and underwater use' and the Elementum Ventus is for the 'on-board and on-shore lifestyle'.

The Elementum line of watches is made in Finland, where the brand started/is from.
The Suunto Elementum Terra line ranges in price from $899 to $1199. While not as costly as Rolex or Breitling, a thousand dollars is nothing to scoff at either. Its lack of training and/or expedition features makes other less costly Suunto watches, like the t6d or Core, a more logical choice for the hardcore athlete or outdoor explorer. The Terra All Black is more for the professional who exercises during lunch or hunts/hikes on the weekend. Having said that, even though I workout pretty hard a majority of the time and do many outdoor activities, I have zero buyers regret on my 2011 Holiday gift/splurge (to myself :))….without a doubt, I love the Terra All Black's look, feel, form and function.
Product Information
Price:
$950
Manufacturer:
Suunto
Pros:

- Very well made
- Solid feel
- Professional look
- Simple, effective menu/navigation
- 3-Axis (3-D) compass. Does not need to be level
- Very bright backlight

Cons:

- Expensive
- Seconds not displayed (except when adjusting time)
- Does not work with Suunto training pods
- Lack of countdown timer
- No 2nd timezone
- No sunrise/set
- No atmospheric display