We use affiliate links. If you buy something through the links on this page, we may earn a commission at no cost to you. Learn more.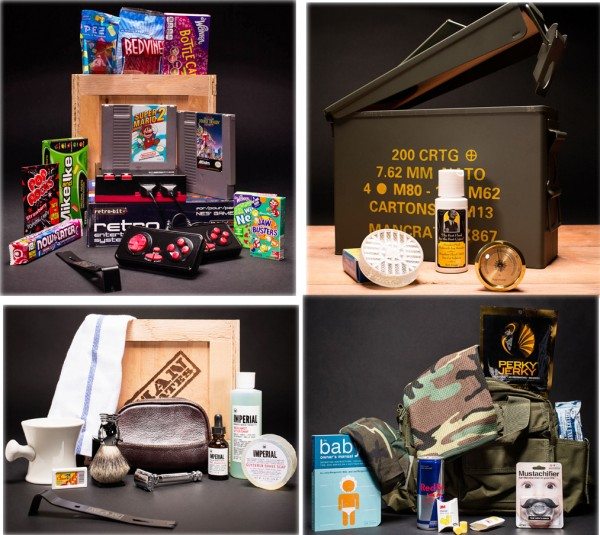 If you have trouble coming up with the perfect gift for the men in your life, head on over to Mancrates for some great, fun ideas.  Many of these gifts are packed in actual wooden crates that require a crowbar to open.  (Don't worry if you don't have a crowbar laying around; one is provided with the package.)  Once he rips his way inside, he'll find a selection of gifts that will be right up his alley.  Mancrates offers gifts that will please the old-school gamer (top left), the whiskey or beer aficionado, the poker player, the man who wet shaves with an old-fashioned double-edge razor (bottom left), the man who enjoys some snacks and some beef jerky, and even the new dad (bottom right), and everyone in between.
As mentioned, many of the gifts are packaged in the wooden crates, but some of them, like the poker set or the cigar humidor set (top right) come in old ammo carriers.  The new-dad kit comes packed in a canvas bag that will work great as a diaper bag.  Many of the kits come with snacks to set the mood for playing video games or watching sports or even a Red Bull to keep the sleep-deprived dad going.
The one thing I noticed in all the customer testimonials was the description of the enjoyment all the recipients experienced in cracking open their gifts, whether it was figuring out how to open up the ammo carrier or ripping into the sturdy wooden crate.  The things packed inside were certainly better received that yet another tie would be, too.  The kits range in price from $25 for the Jerkygram packs to $180 for the Zombie Annihilation Crate.  Check Mancrates out today, so you'll have plenty of time to get just the perfect gift for Father's Day or upcoming birthdays.
And hey!  Remember that there are a lot of women who will also enjoy many of these same gifts, too!