We use affiliate links. If you buy something through the links on this page, we may earn a commission at no cost to you. Learn more.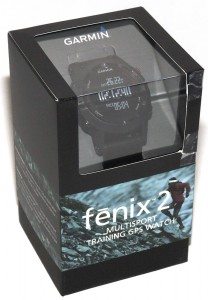 Best.running.watch…ever. I have used many fitness and running watches over the years, none of them perfect. Some came closer than others to running-Zen, but many never even left the gate. I have been using the Garmin fēnix 2 on and off for months now and continue to be amazed how much it impresses me. I know my first sentence jumped right to the finale, but after decades of frustration with most running tech, it is nice to have a product to rave about.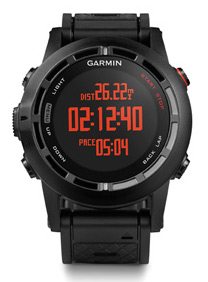 My running needs are relatively simple but I am very persnickety about the things I do care about. My list includes: good shoes, non-chaffing clothes, perky music, earbuds that do not fall out, and a GPS running watch that actually works when and where I want it to. The latter is what the fēnix 2 excels at; no more waiting to lock onto GPS satellites before you begin running, accurate real-time data, all within a smart looking device with easy to use interface/OS.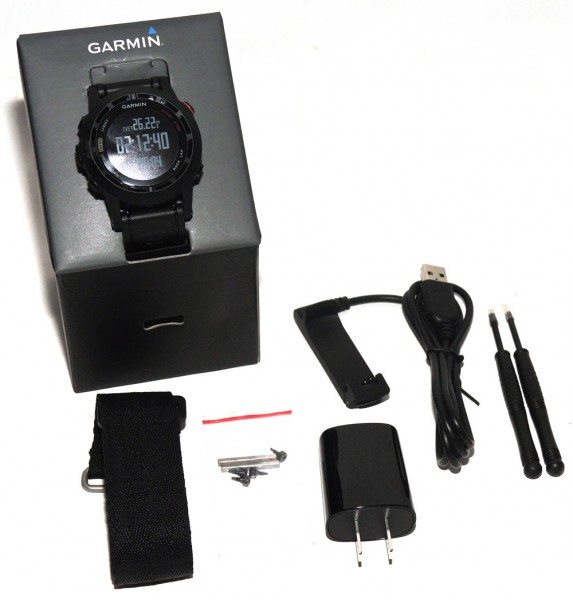 Package Contents
fēnix 2 GPS watch
Fabric wrist strap kit
USB charging/data cable
AC adapter
Quick start manual
Physical & Performance
Unit dimensions (WxHxD): 1.9" x 1.9" x 0.7" (4.9 x 4.9 x 1.7 cm)
Display size: 1.2" (3.1 cm) diameter
Display resolution (WxH): 70 x 70 pixels
Display type: transflective, monochrome LCD (negativemode-black)
Weight: 3.19 oz (90.6 g)
Battery life: up to 50 hours in GPS mode (depends on settings); 5 weeks in watch mode
Battery type: Rechargeable 500 mAh lithium-ion
Water rating: 5 ATM (up to 50 meters)
GPS-enabled: Yes
High-sensitivity receiver: Yes
Interface: USB
Built-in memory: 20 MB
Training Features
Time, distance, pace: Yes
Custom POIs: Yes
Auto Lap®, Auto Pause®: Yes
Alerts: Yes
Calories: Yes
Virtual Partner®: Yes
Auto time zone: Yes
Alarm: Yes
Cadence: Yes
Vibration: Yes
Indoor pace and distance: Yes
Advanced workouts: Yes
Heart rate zones: Yes
Training Effect: Yes
VO2 max estimate: Yes
Race Predictor: Yes
Recovery Advisor: Yes
Advanced Running Dynamics: Yes
Cadence: Yes
Ground Contact Time: Yes
Vertical Oscillation: Yes
Smart Notifications: Yes
Additional Features
Waypoints: 1,000
Routes: 50
Track log (TracBack®): 10,000 points; 100 saved tracks
Electronic 3-D compass: Yes
Barometer altimeter: Yes
Hunt/fish calendar: Yes
Sun/moon information: Yes
Area calculation: Yes
Unit-to-unit transfer: Yes
ANT+™ power meter compatible: Yes
Garmin Connect™ compatible: Yes (mobile/computer)
Wireless sensors: Optional HRM-Run™, heart rate monitor, tempe™, foot pod, speed/cadence
Wireless connectivity: ANT+™/Bluetooth® for sharing info with compatible Garmin devices or smartphones

Garmin touts the fēnix 2 as "the ultimate multisport adventure watch" and considering all of its capabilities and features it would be difficult to disagree. I swear it would be easier and much less time consuming to list what the fēnix 2 cannot do than go into each of its functions and what it excels at. The second generation of the fēnix line is an excellent follow-on to the original, only adding to and polishing what it can do, how well it does it, and improving the hardware Garmin jams its fitness-tech into.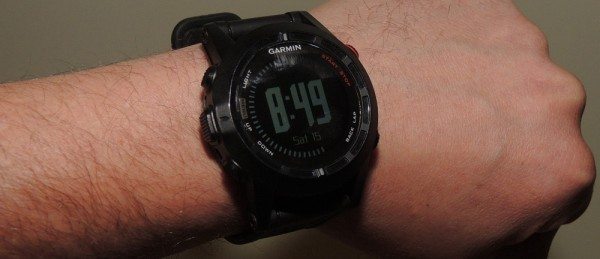 The fēnix 2 combines a very dense, strong housing (I believe it is primarily metal) with a curved mineral glass lens and a rugged polyurethane wristband, all engineered to survive the hard knocks of the real outdoors. In addition to its physical toughness, I really like its all matte black, military look as well…very SG-1 ;).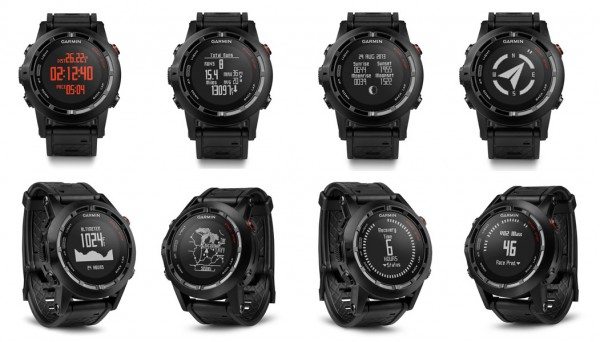 The face of the fēnix 2 has a large (1.2" diameter) transflective, monochrome LCD display with a red LED backlight. The screen resolution is only 70 x 70 pixels and definitely not high definition by any means but it is easy to read and much more power efficient than the color HD screens other manufacturers use in their fitness tech.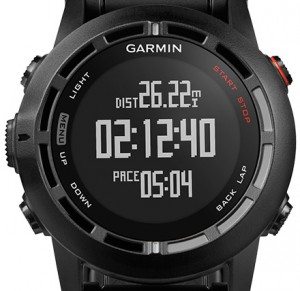 Basic watch functions include: alarms, tones, vibration alerts, timer, stopwatch and world clock with the ability to display several times zones at once. The operating system Garmin employs on the fēnix 2 is easy to become accustom to and operate. Once configured, the fēnix 2 is simple to use. The button configuration is relatively standard for running watches: start/stop, (screen) back/lap, up/menu, down and light. Pairing the sensors to the watch is no more difficult than any other gadget (aka smartphone to your car or earpiece).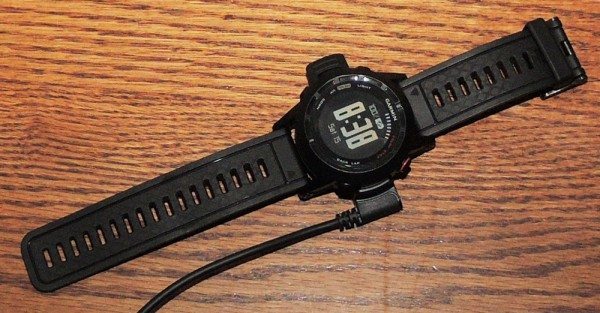 The fēnix 2 has a rechargeable 500 mAh lithium-ion battery that (according to Garmin) lasts approximately 50 hours in GPS mode and up to five weeks in watch mode. I was able to use the fēnix 2 for nearly 3 weeks of normal watch wear with many GPS enabled workouts mixed in during that time before needing to recharge.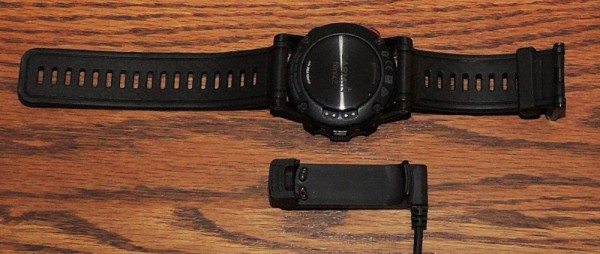 Instead of a microUSB port where moisture (rain or sweat) can get inside, the fēnix 2 has four metal points on the back of the watch for recharging and data transfer. The watch sits inside the USB cradle, locked in place by the hinged side shown above on the left side of the cradle. The fēnix 2 is waterproof (and sweat-proof) to 50 meters (5 ATM)…which is great for those multisport, triathletes or runners who brave the dumping rain.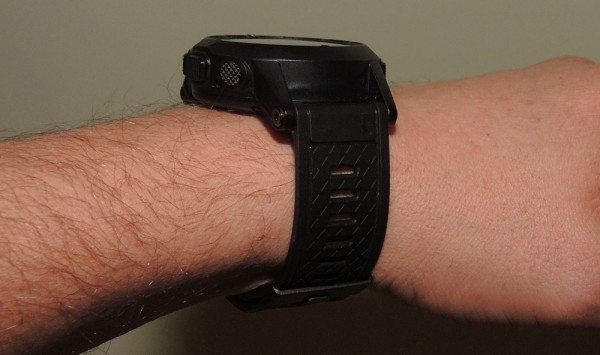 This wrist-based fitness computer is not a petite watch by any stretch of the imagination, but considering all of its features and functions it is amazing how compact it is. Its dimensions are 1.9" x 1.9" x 0.7", definitely larger than most dress watches but smaller than many other GPS enabled training watches.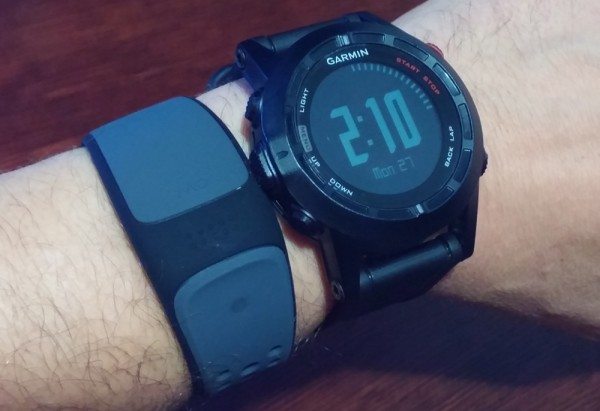 The fēnix 2 has both an ANT+ radio enabling it to pair with a vast array of telemetry sensors such as HRM-Run, heart rate monitor, tempe, foot pod, speed/cadence, or power meter as well as other devices with Bluetooth 4.0 for pairing with newer sensors and syncing directly to your smartphone and fitness apps. It quickly and easily connected to my Polar chest strap and Mio LINK wrist-based HR monitors.

You are able to upload your data to the Garmin Connect website via USB cradle/Garmin Express application or wirelessly syncing the fēnix 2 with the iOS and Android apps.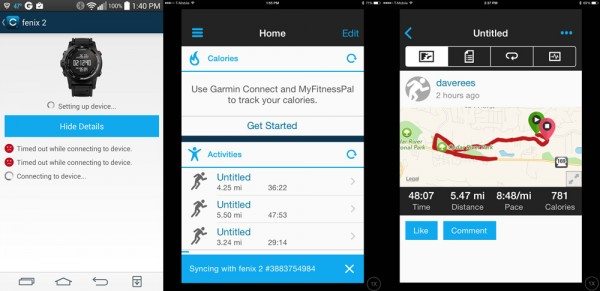 That said, the iOS app is designed for the iPhone only but works (albeit wireless syncing is painfully slow) on the iPad and I was unable to get the watch to properly communicate with the Android version of the Garmin Connect app on my LG G3. Sadly, both apps feel very beta to me especially so since the watch itself is so very well done.
The fēnix 2's advanced training functions include: indoor pace and distance, heart rate zones, VO2 max estimate, race predictor, recovery advisor, advanced running dynamics, cadence, ground contact time, vertical oscillation, and smart notifications. I do not use these advanced training/fitness functions very often, if at all, but if you are a numbers junkie and the basics are not enough, the fēnix 2 can feed that beast as well.
The fēnix 2's outdoor/adventure capabilities include: altimeter, barometer, and 3-axis compass, mapping and navigation, GPS breadcrumbs, up to 10,000 track points, up to 1,000 waypoints, TracBack (to keep from getting lost), sun/moon info, hunting/fishing calendars, the capability to load routes onto the device, and geocaching.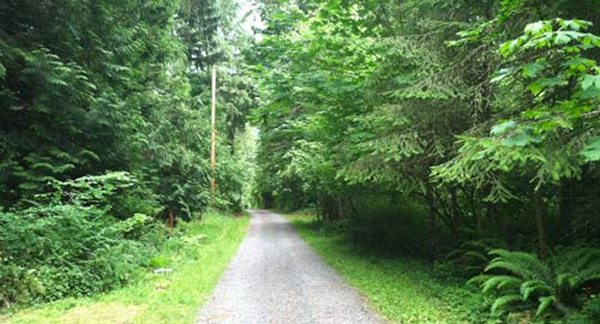 The internal GPS that Garmin engineered into the fēnix 2 is very accurate and extremely sensitive. It is able to lock onto the GPS satellites much quicker than any other fitness watch I have ever tried. Another great nuance to the fēnix 2, is that you can start your run/ride/workout before the watch has locked into your GPS location or external sensors. The biggest issue/frustration I have had with other GPS running watches is having to wait for them to lock onto my position before beginning my run…huge hassle (especially in the dumping rain or freezing cold). The fēnix 2 allows you to 'skip' these steps but soon locks in and calculates your distance based on your time and pace or sensor once it starts transmitting data. The GPS worked well under tree canopy and the urban canyons of Seattle where many others have failed miserably. Based on known running distances and my typical pace, I found the fēnix 2 very accurate to say the least.
If you are the type of all-around athlete who runs, bikes, swims, hikes, backpacks, skis and/or snowboards, and do not want to have different tech for potentially all of those activities, this may be just the workout/training companion you have been hoping for. It is impressive just how far fitness tech has come in the past few years. Admittedly, I am primarily a runner but have little doubt the fēnix 2 could help you in any outdoor exercise or fitness (extreme or not) endeavor. Garmin has done an excellent job with the fēnix 2: lightweight, easy to use, extremely accurate. It is designed to help the high-tech outdoor athlete train more efficiently and effectively. As I said, best.running.watch…ever.
Source: The sample for this review was provided by Garmin. Please visit http://www.garmin.com/ for more info.
Product Information
Price:
$399.99
Manufacturer:
Garmin
Pros:

Best.running.watch...ever.
Extremely accurate GPS
Easy to use interface/OS
Packs a great deal of tech into a smart-looking, not too big watch
Does basic and advanced functions very well.
Can begin running before the watch locks into all the satellites or sensors

Cons:

Smart device apps feel very beta
Could not get it to sync with Android app