We use affiliate links. If you buy something through the links on this page, we may earn a commission at no cost to you. Learn more.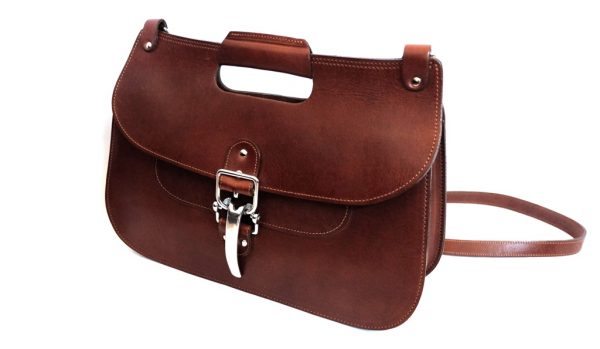 I was introduced to Colonel Littleton products by Dave Rees who has reviewed a few of the men's line of exquisite handcrafted leather bags here on the Gadgeteer. I had the opportunity last year to review the Colonel Littleton Bentley Tote which was absolutely fabulous. Now I've been given the privilege to review another of their women's line of products: the No. 18 Leather Hunt Bag. What do I think? It is by far and away the finest bag I've ever owned and I'll never have to buy another purse again (if I so choose). Ever.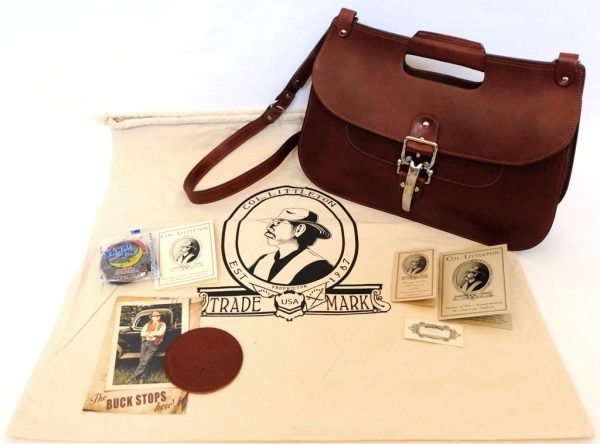 Package Contents:
No. 18 Leather Hunt Bag – packed in a large drawstring canvas bag.
Three information cards: (just below the bag in the photo above)

Information card about how long the product will last – basically forever (it is made to be passed down from one generation to the next).
Information card about "No 'Condominium Cows'" – each piece of leather has unique qualities which Colonel Littleton tries to preserve ensuring that each customer receives a unique product.
Inspection card – hand signed by the person who inspected the product.

Mini Moon Pie and an information card about it (the left center of the above photo) – the Colonel shares with us his fond childhood memories of eating moon pies. This really adds a personal touch to his products.
"The Buck Stops Here" card and a circular leather coaster.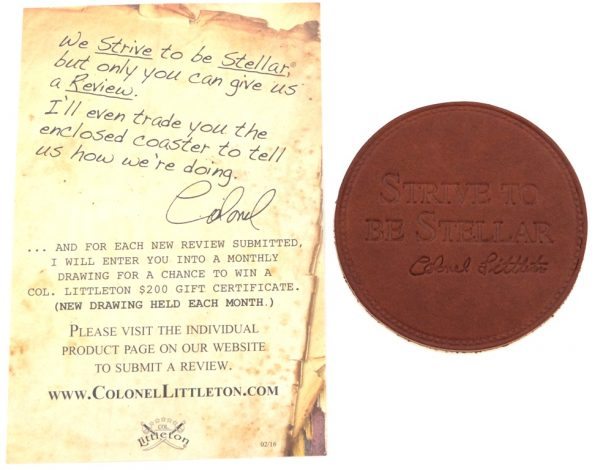 When you purchase a Colonel Littleton product, you may receive "The Buck Stops Here" card and a leather coaster to encourage you to leave a review about your product on their website. Doing this will enter you into a monthly drawing for a $200 gift certificate. Pretty cool.
Design & Quality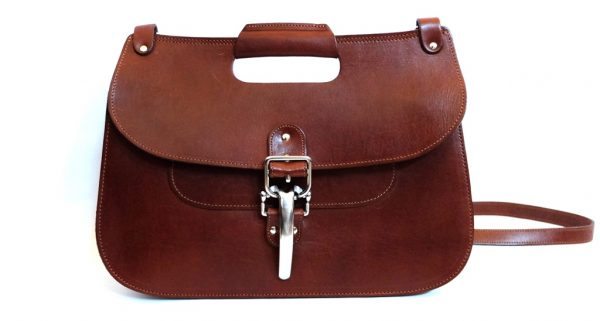 Customer Service: The bag that I first received (not shown) seemed a bit "off kilter" to me. It appeared that the cinch buckle was somewhat crooked. When I contacted Colonel Littleton, they were very gracious about it and immediately sent another bag with a return shipping label for the first one. So, for those of you worried about spending a lot of money on a Colonel Littleton product, you can rest assured that the Colonel will make sure that you are happy with it.
First Impressions: Now on to the No. 18 Leather Hunt Bag review. This is a structured, polished, full grain leather bag and has a stainless steel cinch buckle which gives the bag a "horse country" look according to the Colonel Littleton website. I would also add that it has a classic, straight-forward, no-frills appearance. Many of the men's line of products have an Old World style, while the Leather Hunt Bag seems timeless.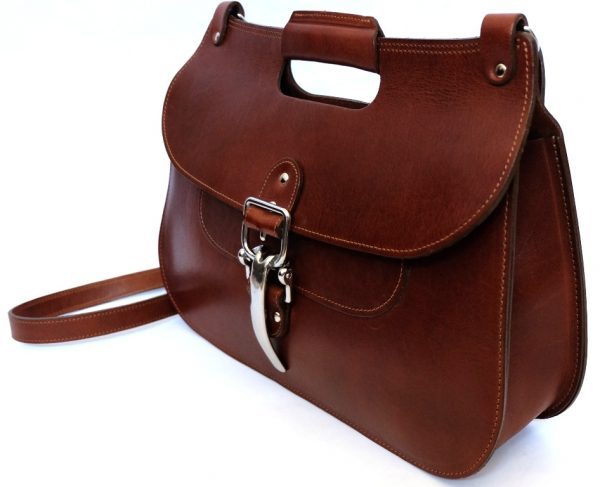 Description: I like the structure of the bag. It holds its shape and thus the contents are less likely to tumble around each time you pick it up.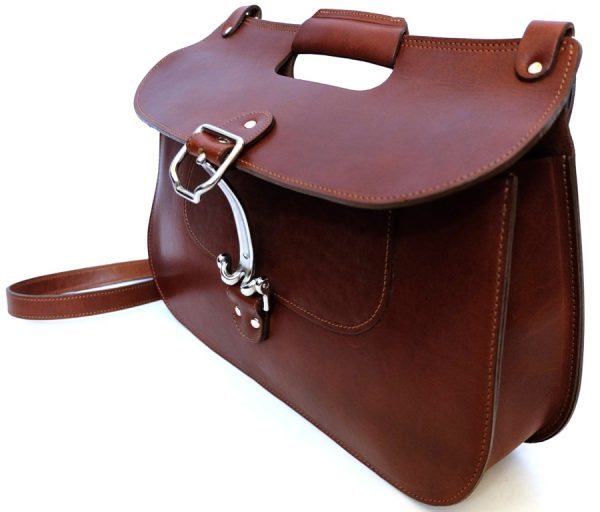 The cinch buckle is a different type of closure mechanism for me, but one that I was able to get used to. You do need some space on this side of the bag when opening the buckle because of the length of the clasp.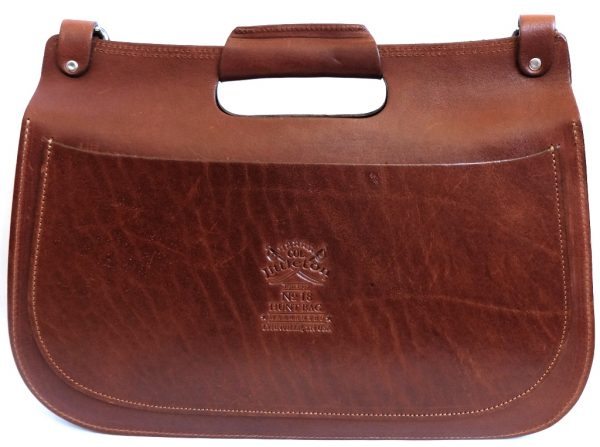 The design of the back of the bag is clean and beautiful and has the Colonel Littleton embossing on the large pocket (embossing: Col. Littleton, EST. 1987, No. 18 Hunt Bag, Warranted, Lynnville, TN USA).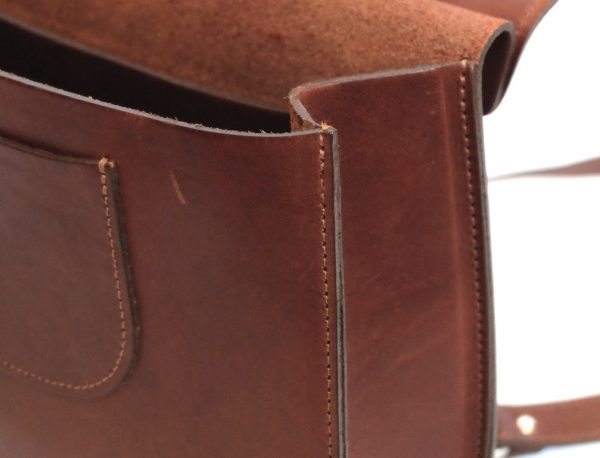 The entire bag is made up of beautiful, polished, thick, durable full grain leather pieces sewn together using high-quality thread and stitching, all of which infers that this bag will last a lifetime.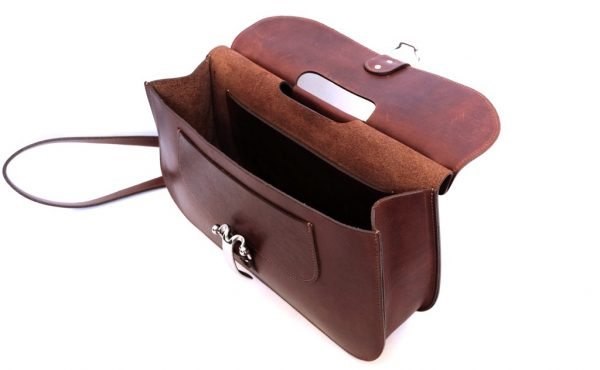 The internal measurements of the bag are about 11.5″ W x 7″ H x 2.75″ D. Its outer measurements are 13″ W x 9.5″ H (to the top of the handle) x 3″ D. There are no dividers inside the bag, but it does have a large inner pocket sewn into the back.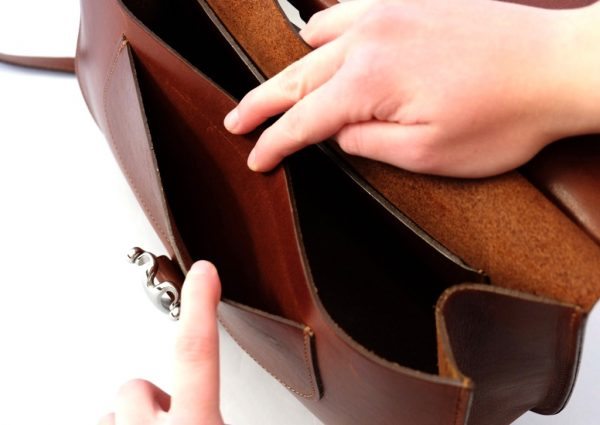 The small pocket in front of the bag just under the front flap has internal dimensions that are about 6.75″ W (at the opening) x 2.75″ D.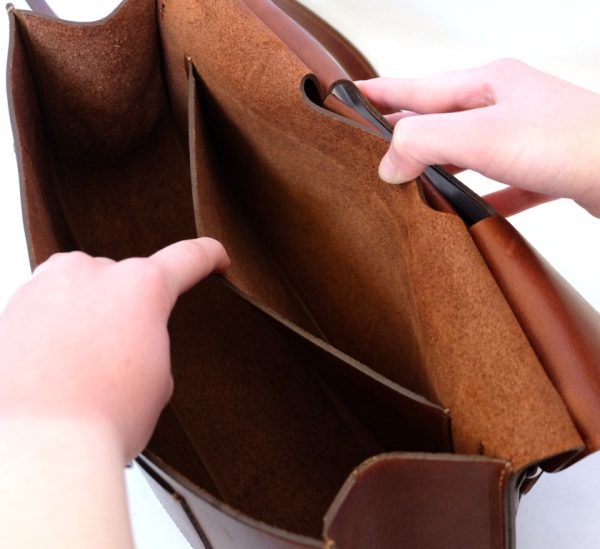 The large internal pocket has internal dimensions that are about 8.5″ W x 4.75″ D.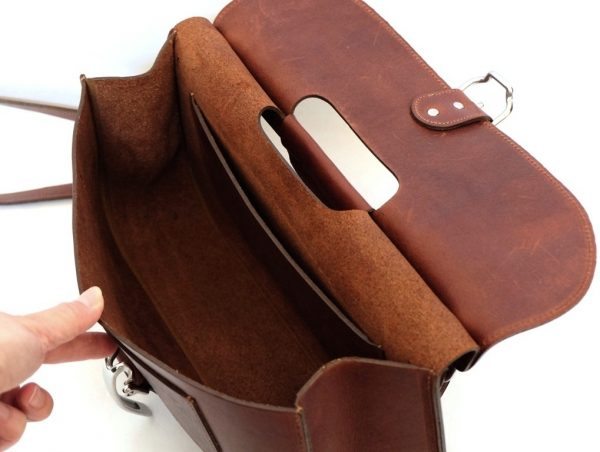 As you can see, none of the pockets is lined with any material – raw leather is all you see. I wouldn't have it any other way. It is important to note that the rivets holding the cinch buckle in place are exposed inside the bag and could rub against and scratch a device, but this was not an issue for me since all of the items that I had stored near this area were already protected.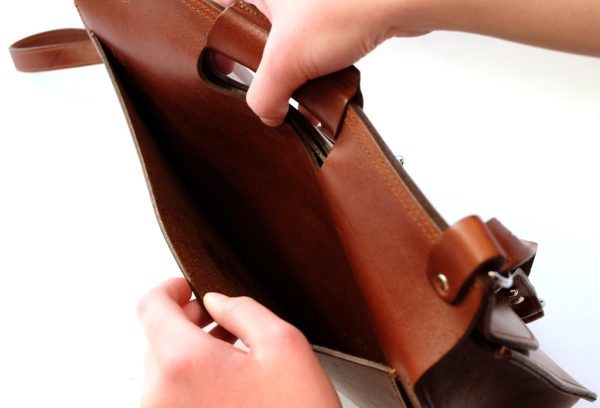 The large pocket sewn into the back of the bag has internal dimensions that are about 10.25″ W x 5.5″ D.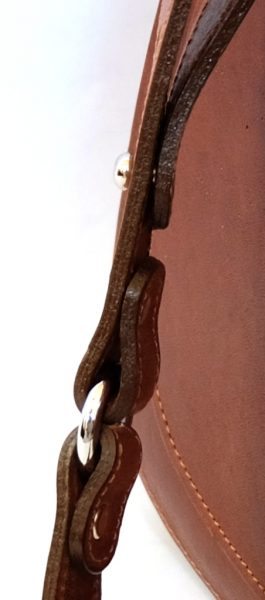 There are three segments that make up the entire crossbody adjustable strap which are connected by metal rings and rivets as shown above. Each of the segments of the strap is made of two strips of leather sewn together.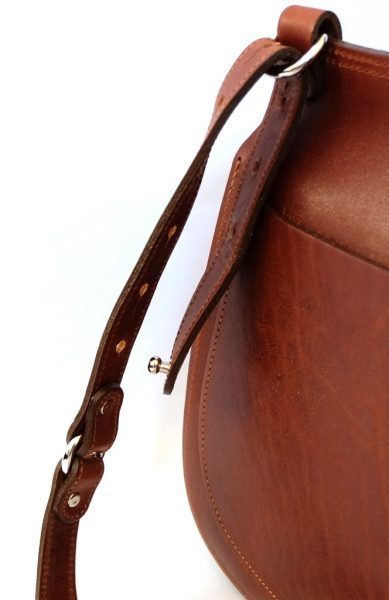 Two of the three segments of the strap are adjustable (one on each side of the bag). Each has holes punched into them and contains a ball stud that is used to adjust the strap as shown above. The third segment of the strap is the part which goes over your shoulder and has no holes for adjustment. The strap adjusts from 44 inches to 52 inches in 1-inch increments.
Use
;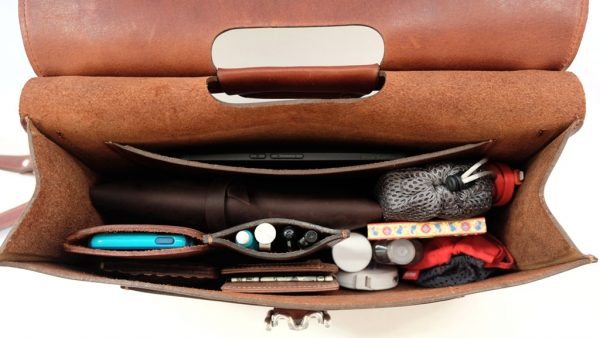 The No. 18 Leather Hunt Bag holds all my items perfectly and neatly. Oh how this brings me such joy! It satisfies my OCD tendencies for organization.  😀
I was able to fit inside the bag my Nexus 6 phone, a pouch containing my makeup (about 20 x 10 cm / 7.8 x 4 inch), my iPod Touch 6G, my Colonel Littleton pencil case, a small pad of paper, my RAVPower external backup battery, a micro-USB/Lightning cable, a tape measure, a pill bottle, my mini bottle of hand sanitizer, two small wallets (one only carries my bandaids and coupons), and my MPOW Swift Bluetooth earbuds. You can even fit an iPad Mini in the large back pocket, although it will stick out of the top a little less than an inch or so. If you don't have quite as many items to place in the bag, chances are the contents will shift around and not stay organized.
Because this bag is so attractive and yet easily scratched, I have tried (in vain) to prevent scratching it with my fingernails and rings in order to preserve the polished leather appearance. But according to the Colonel,
When you buy a leather product, if you can't easily scratch it and leave a mark, you can be sure the leather has been coated or has an applied finish. You can also be sure that it will not grow old gracefully or develop character and beauty over the years.

When I select a product from our line to use personally, I always search for the one with the most character marks . . . then I twist it and beat it up a little before I use it. I always know I will like it even better after a few years of wear.
I noticed that the bag hangs a little low on me (I am only about five feet tall), even when the crossbody strap is adjusted to its shortest length. So I guess my first critique is to make the strap adjustable to even shorter lengths to accommodate those who are short like me.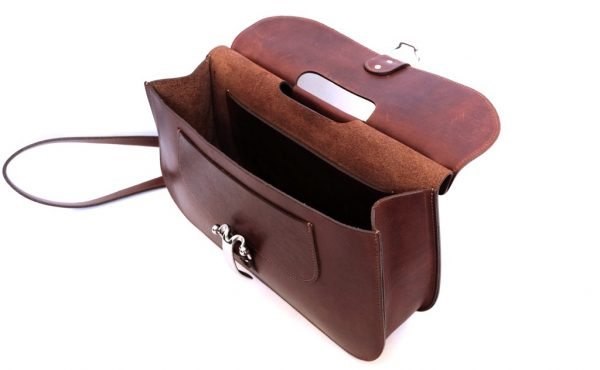 There is only one other concern that I have and that is that the bag is open at the top where the hand grip is and thus if it rains, the contents of the bag are likely to get wet. I'm not sure how that could be addressed, though. I enjoy having the grip because it makes grabbing the bag very easy. I've managed to address the issue somewhat by rearranging my more expensive items out from under that area. Thankfully, most days are sunny where I live.
Penultimate Thoughts
There's just no question about it, Colonel Littleton products are of the highest quality and the No. 18 Leather Hunt Bag reflects this. As the Colonel says, "I'm just not in the second rate business." The bag is made of beautifully polished thick durable leather and high-quality thread and hardware; it is made to be passed down from generation to generation.
The No. 18 Leather Hunt Bag is a larger version of the No. 17 Leather Hunt Bag. I'm very happy with the larger version because I have a decent amount of things to carry with me in a day and the bag neatly accommodates it all. The strap is a bit long for me and the contents are likely to get wet when it rains because the bag is open at the top where the hand grip is, but there is no question that this is the finest, most durable, and best made bag I've ever owned. A friend was admiring it one day and as soon as I told her it was a Colonel Littleton product she said, "Say no more. I love Colonel Littleton products." The Leather Hunt Bag is also expensive, being $395, but as the Colonel says on "The Colonel Littleton Story" video,
…we don't have anything you need… You can live your whole life with not a single piece of Colonel Littleton product… You don't have to have it. We're in the wantin' business. We've got wants. So when people have wants, it makes it a pleasure for them to buy it…
It is indeed a true pleasure owning this bag.
Ultimate Thoughts:
If the No. 18 Leather Hunt Bag could speak, it would share with you how each of the Colonel Littleton employees put a small piece of themselves – heart and soul – into it. There's pride, care, and nostalgia imbued into every detail of this bag and that's how the story of my bag began. The story will continue with all that we (the bag and I) live through together before it is passed down to another family member. That kind of history and longevity seems to be disappearing with much of today's mass produced goods. It makes me wonder what future historians will say about the way we live and the products that we use. If they should stumble upon a Colonel Littleton product, they will have a wonderful remnant of the lives of the people that made the bag and those that used it.
Updates 10/10/17
I love this bag – it is well-made using high-quality materials, but I noticed that where two pieces of leather meet at the seams of the body of the bag, one of the pieces of leather has been thinned (only along the seam) which may weaken over time. I'll update this review over time to report about the condition and longevity of the bag.
Source: The sample used in this review was provided by Colonel Littleton. Please visit the website for more information or to purchase one for yourself.
Product Information
Price:
$395.00
Manufacturer:
Colonel Littleton
Pros:

Extremely well made using the high quality leather, thread, and hardware - heirloom quality
Attractive and durable

Cons:

Long shoulder strap (for short people)
Open area under the hand grip may lead to the contents getting wet
Expensive