We use affiliate links. If you buy something through the links on this page, we may earn a commission at no cost to you. Learn more.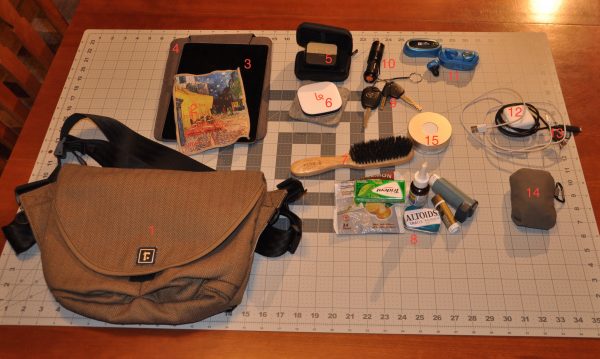 The items we Gadgeteers schlep around rivals the best standing armies on earth for pure variety and sophistication. I love seeing what others are carrying and thinking about how it may affect my regular bag contents. I don't routinely travel or even commute for work anymore, so my EDC kit tends to match whatever trip I am leaving the house for.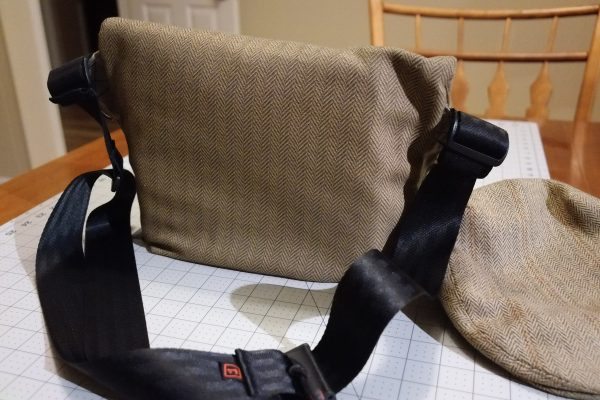 Currently, I am carrying things around in a 1) Rickshaw Medium Zero Messenger bag, which I personalized on their website.  It has a heavy herringbone tweed on the outside, and two small pockets in addition to the large main pocket inside.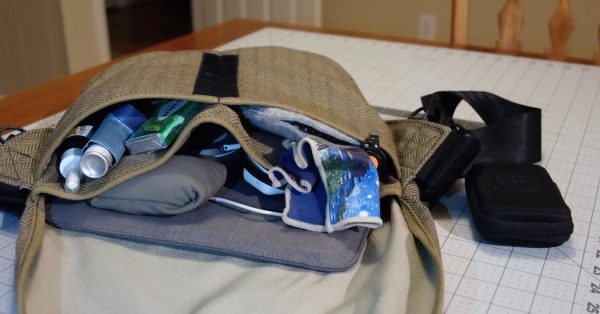 I'm a tweed & plaid kinda guy, and inadvertently, the fabric I chose for this bag almost exactly matches the hat I've worn for the past 7 years. In the main pocket, I carry my 3) iPad Air 2 in a 4) JAVOedge case. I think I have had three of these cases (in the Austin style) since first getting one for my second iPad (the "New" 3rd gen) in 2012. I know I've sold a half-dozen, just by using them in public over the years. Once you remove the iPad from it, the cover folds up origami-style to form a stand for your iPad and is held in place by magnets.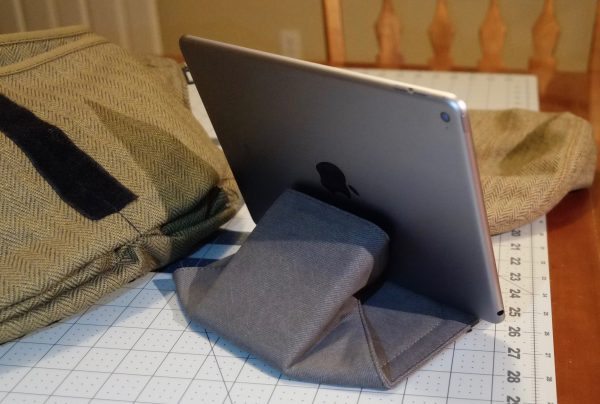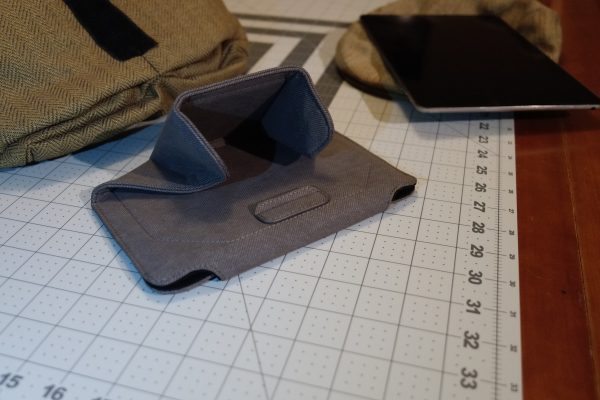 They wear out eventually, and I bought several to save on shipping last time I ordered one. They are for iPad 2/Third gen but are still on sale for $10. I keep screens clean with an 2) ArtCloth two-sided cleaning cloth. It's microfiber and treated with Microban to kill germs. Plus, it has Café Terrace at Night by van Gogh on it. (I also have other patterns – we gave them out as door prizes a few years ago in our user group.) Also in the main pocket I carry a 14) reusable shopping bag that folds into itself, 12) an Apple iPad charger and lightning cable, as well as 13) a dodoCool Lightning and microUSB cable. My 15) Archeer Apple Watch Dock and my 11) new Erato Muse 5 wireless earbuds in their charging case also have landed in there usually.
In the left-hand inner pocket of the bag, I have 7) a Bass hair brush (When you're as ugly as me, every little bit of grooming helps!), 5) a DXO one camera in a case I found in my gadget closet. The DXO One is an external camera that, when connected to an iOS device through its Lightning plug, can offer a 20 megapixel, 1″ sensor with f/1.8 max aperture. It captures in RAW, as well as JPEG, and has a microSD card slot. You can use the touchscreen control panel as a simple viewfinder, and capture without a proper preview, then later plug it into your phone, download the pictures taken, and share/edit/enjoy as though they were taken from the iPhone itself. While the camera is connected, it will auto-launch the DXO app and give far more control over your photography than most iOS programs do. It's a bit pricey, but I opted to grab it 3-4 years back when it came out and have loved the flexibility it gives me.
7) my Karma hotspot in its felt carry sleeve, 9) keys to cars I rarely drive (wife's and daughter's), an extra key to my bike lock and a SIMcard key. Also, 10) a one-AA LCD flashlight.
In the right-hand pocket, I have mostly 8) medical supplies: cough drops, gum, allergy spray, asthma inhaler, lip balm, and a mint tin that now carries various pills. This handful follows me from bag-to-bag, no matter what size or other items I may carry along.