We use affiliate links. If you buy something through the links on this page, we may earn a commission at no cost to you. Learn more.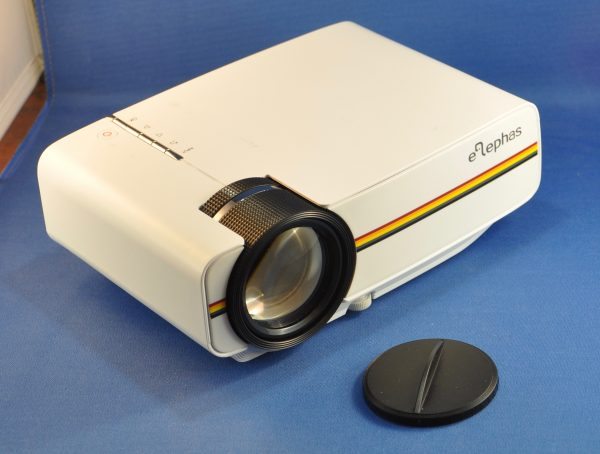 Watching video in a large format usually requires a huge TV or a projector. LED projectors have brought the price of a projector far down from what it was just a few years ago. We were offered the ELEPHAS 1200 Lumens LED Mini Video Projector to test, and I won the office pool to get it. I was super excited, because I've wanted to use a projector for video games, movies, and such for a while now.
Note: Photos may be tapped or clicked for a larger image.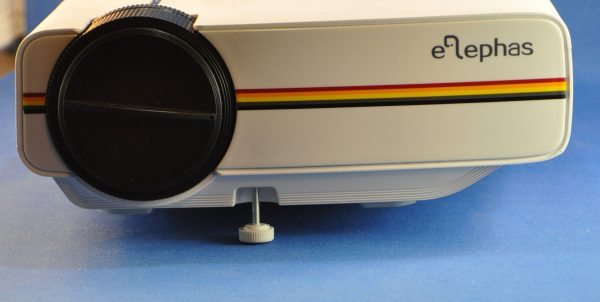 The ELEPHAS 1200 Lumens LED Mini Video Projector comes with everything you would reasonably expect to need: HDMI-HDMI cable, miniAUX-dual RCA sound cable, and a remote.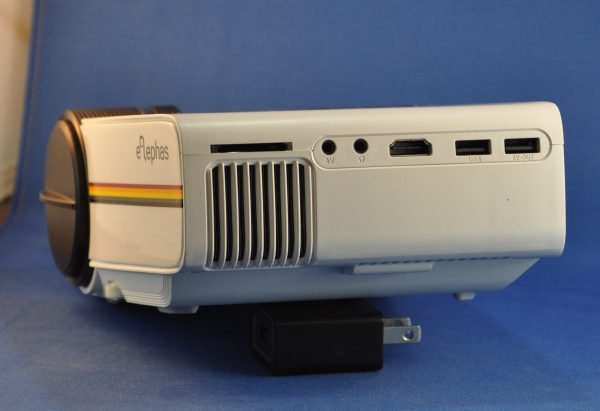 Most of the inputs are across the right side, looking at the lens. There is an SD card slot, AV and headphone outputs (both AUX ports), HDMI, USB, and a 5V USB output port for charging your device while playing it. Around the corner on the back, you'll find the IR port for the remote and a VGA input. On the top there is a silver ridge, that is actually a set of buttons for accessing the display menu options. The lens front ring controls focus, and the thin rear lens ring controls key-stoning. (This is the correction of the display when you are not projecting onto a surface that is parallel to the projector lens. Being off-parallel causes the image to be wider or narrower at the top (depending on which way your screen is tilted). A simple rotation of that second ring fixes this.) There is no auto-focus or automatic key-stoning feature – these are both controlled by the lens rings only.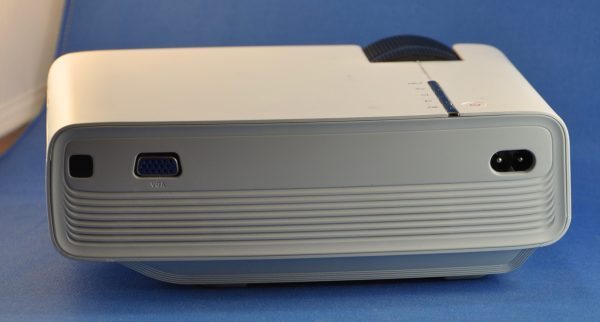 The remote gives you access to the source menu and on/off control, but unless you're using an SD card or other internal source, you may as well leave it in the box. Also, you have to be line-of-sight to the sensor on the back of the unit for it to be recognized. I was happy with the responsiveness to the wired connection to my iPhone, MacBook Pro, and any other source I plugged in. Controlling the projector's display from there was as simple as expected.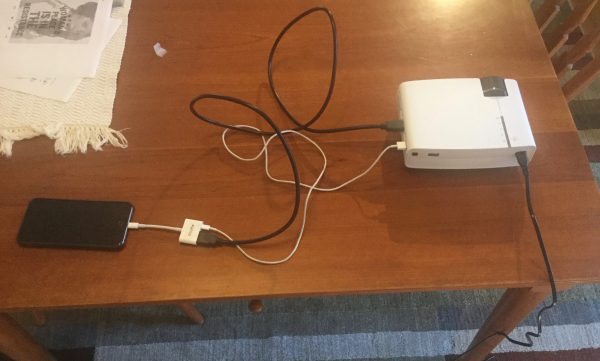 Having the USB out means you can have this and an iPad/iPhone and a single power outlet and be ready to cover your presentation needs without any hassle. Check out this picture – only the two white cords (and the iPhone 6s Plus, obviously!) were provided by me, and I can present without worrying if my battery will make it through the presentation. Actually, more than likely it will be better charged than before I started.
One thing about projectors of this level (not top-of-the-line, not as bright, definitely not full daylight projectors) – the better the projection surface, and the better you can control your ambient light, the better your picture. Not to say you have to be in a windowless basement, but every little bit helps.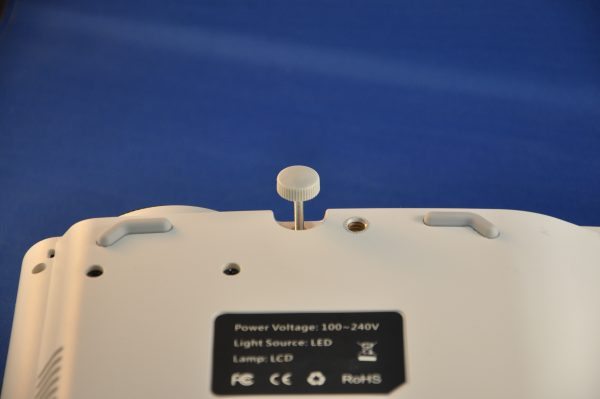 There is a threaded riser post (above pic) in the front, to help adjust the position of the final image.
I played a bit of World of Tanks Blitz and found the response suitable for gaming action. This was from my MacBook Pro. I'm sure it would be similar from my iPad Pro. The graphics for this live-action battle simulation are very well-suited to whichever device you're using, and even over WiFi, I rarely have noticeable lag. Not even Time Warner can get me off this game!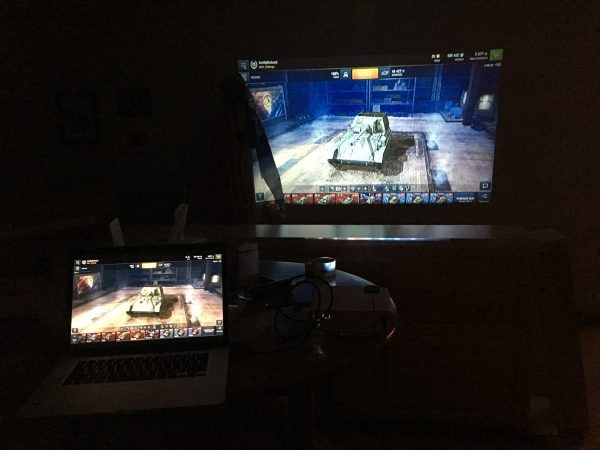 With the ability to project TV, presentations, movies, and general computing onto large surfaces, there's no reason to wait if you have any use for presenting to a good sized group. I was really taken aback since it's been a few years since I really took a hard look at presentation units. Now that everything can go through HDMI, worrying about sound and such has gone out the window. And this unit even has a tripod attachment point, which means you don't even have to have a table to set it on! Pretty nice for a 2-pound box.
Source: The sample for this review was provided by Elephas. Please visit their website for more info and Amazon to order.

Product Information
Price:
$159.99 MSRP
Manufacturer:
Elephas
Retailer:
Amazon
Requirements:
Pros:

Light, simple, and cheap
Good assortment of ports
Tripod mounting point

Cons:

No auto- or assisted keystone or focus control
remote very limited in scope and access to device
a tad bulky - smaller units of similar power are around for a tad more money