We use affiliate links. If you buy something through the links on this page, we may earn a commission at no cost to you. Learn more.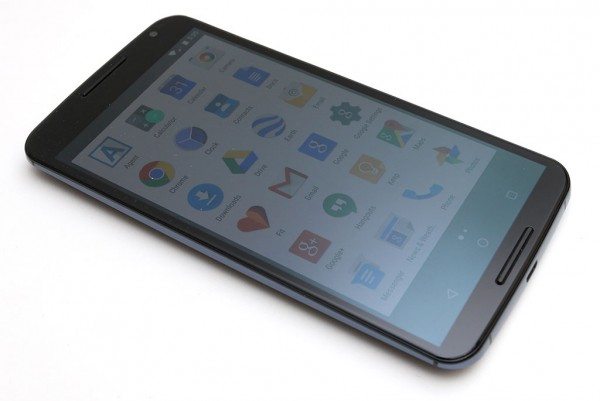 I've been looking forward to trying the Google Nexus 6 since it was first announced late last year. Sadly for me, I had to wait several months before this device became available through Verizon. I'm not sure why there was such a long delay, but now that I've had one for two weeks, it's time to let you know what I think about Google's flagship Android smartphone.
Note: Images can be clicked to view a larger size.
Hardware specs
Processor: Quad core Krait 450 CPU 2.7GHz (Qualcomm Snapdragon 805 SOC)
Operating System: Android 5.1 (Lollipop)
Memory: 32GB on board memory
Network: LTE Band 13/4 (700/1700 MHz), CDMA/1xEVDO Rev. A (800/1900 MHz); Global Network: EDGE/GSM (850/900/1800/1900), HSPA/UMTS(850/900/1900/2100)
Display: 5.96" 2560×1440 QHD AMOLED display (493 ppi)
Camera (rear): 13MP
Camera (front): 2MP
Wi-Fi, Bluetooth 4.1, NFC
Headset: 3.5mm Audio Jack
Battery: 3220mAh (Fast charging removable battery)
Dimensions: 3.15 in x 6.27 in x 0.396 in (82.98mm x 159.26mm x 10.06mm)
Weight: 6.49 oz (184 grams)
What's in the box?
Nexus 6 phone
USB sync/charge cable
Turbo charger
Safety and Warranty information
Quick start guide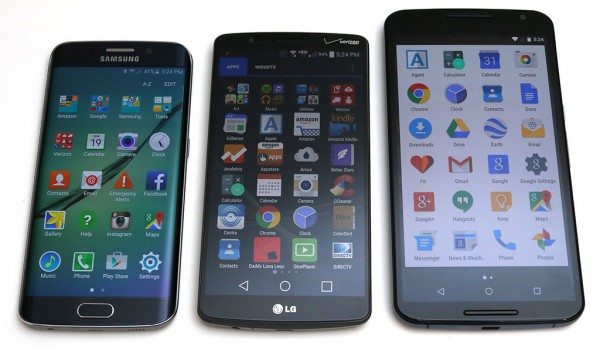 Physical design features
My first impression of the Nexus 6 can be summed up in three words: Wow, it's big! The largest phone I've tested recently was the Samsung Galaxy Note 4 and the Nexus 6 is even larger and heavier than it is. In the image above you can see the Nexus 6 on the right with a Samsung Galaxy S6 Edge and a LG G3 to the left.
The Nexus 6 is available in blue or white. I was sent the blue version.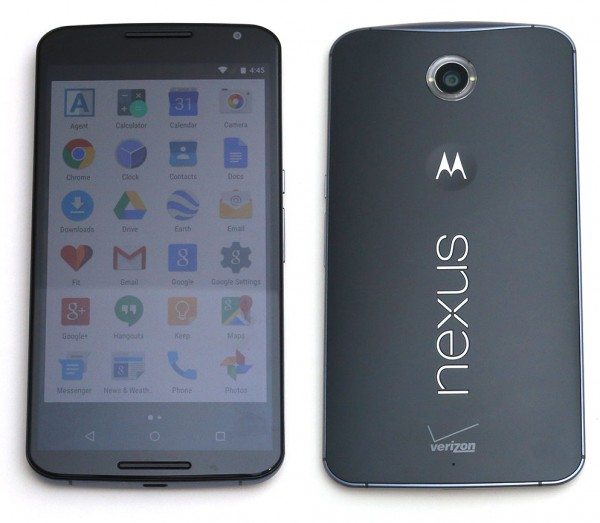 The phone has a noticeable heft to it that will not allow it to go unnoticed in your pocket (if you're even able to actually fit it in a pocket). The Nexus 6 is made by Motorola and resembles a super-sized Moto X with a similarly styled curved back, centered camera and Motorola logo divot. The back of the phone is plastic with a smooth matte finish that has a tendency to show grease marks from your fingers.
The front of the phone has very narrow bezels on all four sides. The raised "button" on the bottom center is not a button at all, but a front firing speaker. More than one person tried to press it like a home button when I handed them the phone. There are no physical buttons on the face of the Nexus 6, but there are three on screen buttons which are mapped to back, home and apps.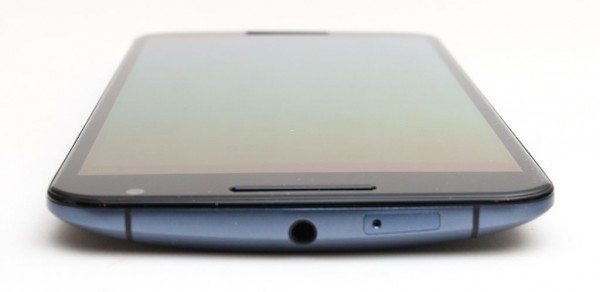 On the top edge of the Nexus 6 you'll find the headphone jack and SIM card slot. The rounded back of the phone is noticeable at this angle.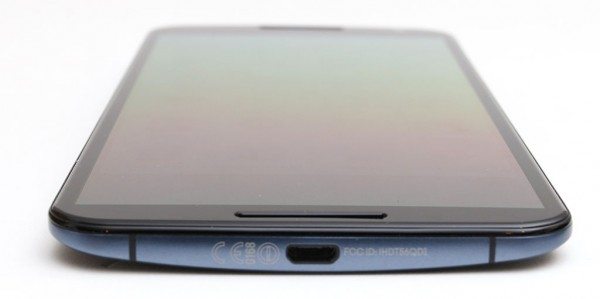 The bottom edge of the phone has a micro USB connector for charging and syncing. Qi wireless charging fans like myself  will be very happy to learn that Qi charging is built in (but that's really nothing new as far as Google devices are concerned). The Nexus 6 charged perfectly using both my Nokia DT-910 and TYLT Vu wireless chargers.
The Nexus 6 sports a 3220mAh battery that can be turbo charged using the included Motorola branded AC adapter. When connecting this adapter to the phone for 15 minutes, the battery will get up to 6 additional hours of battery life.

On the right side of the phone is the power/wake button and a one piece volume button. I prefer the volume buttons to be be on the left side, but that's mainly because I'm left handed. I do like the power button though because it has ridges that let your thumb easily differentiate the power button from the volume button.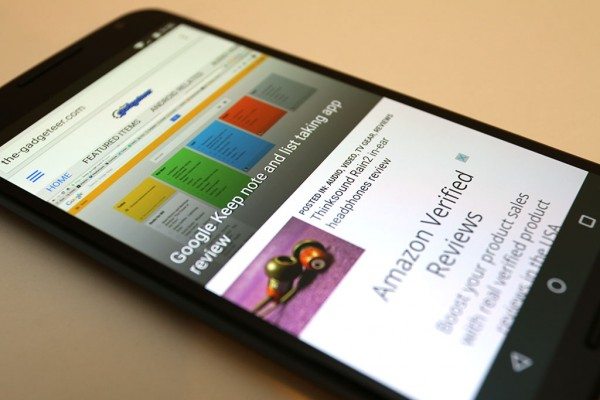 The Nexus 6's display is large, crisp and bright. It's a pleasure to surf, read ebooks, and watch videos using this device because the screen is so roomy. That said, when I compared the display with my LG G3 and the Samsung Galaxy S6 Edge, I noticed that the Nexus 6's display is not quite as gorgeous. This is more noticeable when comparing the Nexus 6 to the Samsung Galaxy S6 Edge. But then I've always been partial to Samsung displays so it could be more of a personal preference than anything else. I also noticed that the Nexus 6's display was pretty difficult to see outdoors in full sunlight. Much harder than the Samsung Galaxy S6 Edge.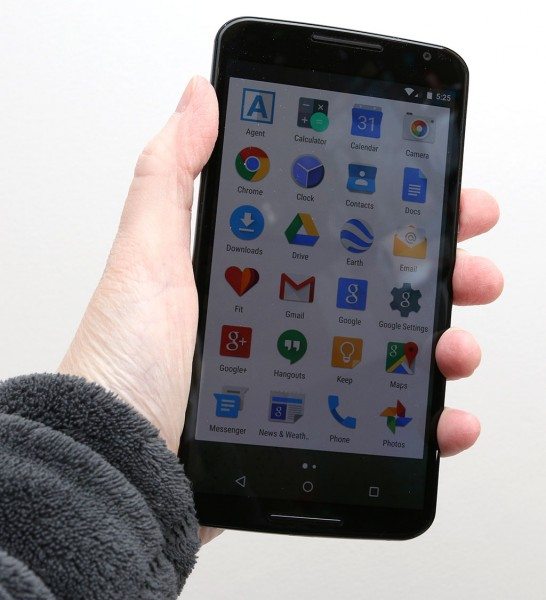 As you can see from the image above, the Nexus 6 is a handful. I never dropped the phone, but it stuck out of my pockets and was the bulkiest phone I've carried around in a long time. Using this phone with one hand felt all but impossible, and I don't have tiny hands. This is a two handed phone for most tasks that involve interacting with the display.
Although the phone is very large, it has a solid build that didn't have any problems passing my patented (in my own mind) Gadgeteer squeeze test. That said, the Nexus 6 doesn't have the same premium look and feel as the newest phones from Samsung, Apple and HTC. I'm not saying it looks or feels cheap, but it definitely doesn't measure up to other flagship phones with their snazzier brushed metal shells.
Camera
The 12MP camera does a decent job as you can see from these sample images:
The camera won't win any awards for best image quality, but I found the color and crispness to be just fine for the types of snap shots that most people do.
The selfie is a sample of the front facing camera.
Software
One of the main selling points for Google's Nexus devices is that they have stock Android OS. By that I mean that they lack the themes, skins and pre-installed bloatware that most other manufacturers and carriers put on their phones. The Nexus 6 ships with the latest version of Android (v5.0)  which is code named Lollipop. The Verizon Wireless version of the Nexus 6 has absolutely no Verizon apps pre-installed which surprised me – in a good way. I never use those apps, so I like that they aren't taking up space on the phone for no good reason.
Lollipop features a new material design styled interface that looks flatter and less cartoony. I haven't decided if I like this style yet.
This review of the Nexus 6 isn't intended to be a review of the OS, but Lollipop does have a nice new notification system that shows incoming notifications right on the lock screen. On the Nexus 6, double clicking a notification will open the associated application.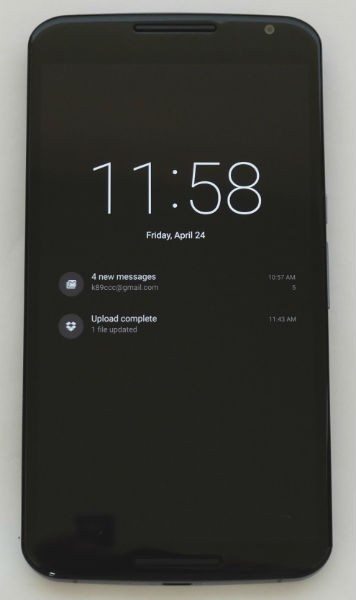 The Nexus 6 also has an ambient display feature which is used in place of a status LED. There's a status LED on the device but it has been disabled. Enabling it requires some hacking. How the ambient display feature works is that when a notification comes in, the display will come on for a few seconds showing the notification in black and white. If more than one notification comes in before you clear them, they will also show up. The ambient display feature is similar to but not the same as Motorola's active display feature that they've used on some of their latest phones. With active display, the screen lights up with the time and notification icons when you wave your hand over the display or pick up the phone. The Nexus 6's ambient display feature only works when you pick up the phone. I prefer the active display feature and was surprised that Motorola changed it for the Nexus 6.
Using the Nexus 6 for phone calls
I didn't have any issues making or receiving calls with the Nexus 6. I didn't experience any dropped calls or audio problems during the time I was testing this phone. Volume on both sides of conversations was more than adequate. Testing the speaker phone feature had the same results. As did calls through a Bluetooth handsfree speaker.
Using the Nexus 6 for day to day tasks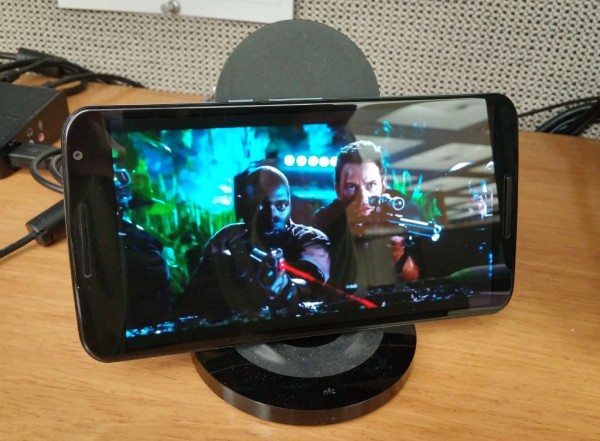 I really enjoyed watching videos using this phone. The screen size and front firing speakers really improves the experience compared with some of my other devices. I found it especially nice for watching video while walking on my treadmill because I could hear the audio without using headphones or cranking up the volume to the max.
Reading ebooks with this phone is also something I did quite a bit of during my testing, along with playing a few games and surfing. With the Nexus 6 I didn't find myself reaching for my Nexus 7 tablet nearly as often. People throw the word "phablet" around quite a bit these days, but I think the Nexus 6 actually deserves this title.
Overall speed and battery life
I didn't have any issues with the phone's performance. It loaded applications quickly and didn't stutter while scrolling through long webpages, pulling down the notification panel or switching between running applications.
Battery life was a pleasant surprise. The Nexus 6 had no problems lasting an entire day with plenty of juice to spare. I never worried about running out of power and having the turbo charger feature is a nice fall back.
Final thoughts
Should you buy the Nexus 6 Android smartphone? The answer might be no if you like your phone to have a replaceable battery, microSD card slot, a fingerprint scanner and sized small enough to comfortably fit in your pocket. But the answer is resounding yes if you want a phone with a very large display, stock Android without all the junk that just takes up storage space and quicker system updates.* I enjoyed my time with the Nexus 6 and miss it since I sent it back to Verizon. I found little to nothing to complain about this phone and think it's the best Nexus smartphone to date.
*Note that OS updates will still be released on Verizon's schedule if you get the Verizon Wireless version of this phone.
Source: The sample for this review was a short term eval provided by Verizon Wireless. Please visit their site for more info.
Product Information
Price:
$199.99 w/2yr contract, $599.99 without contract
Manufacturer:
Motorola
Retailer:
Verizon Wireless
Pros:

Large display
Qi wireless charging
Long battery life
Front facing speakers

Cons: