We use affiliate links. If you buy something through the links on this page, we may earn a commission at no cost to you. Learn more.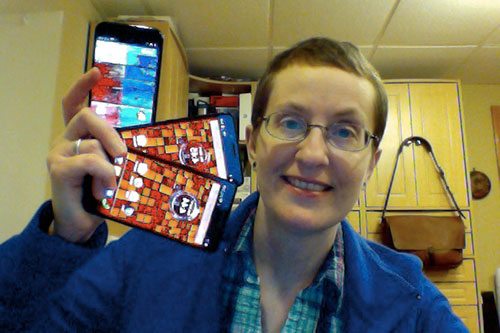 I'm up to my eyeballs in phones right now because Verizon has sent me not one, not two, but three of Motorola's latest Android smartphones to try out for a few days. Yeah, I know it's a rough life, but someone has to live it 😉 I have the Moto X, DROID Ultra and the DROID Maxx. If you've been trying to make up your mind between these three phones and are not having any luck, maybe I can help.
Note: Images can be clicked to view a larger size.
Look and feel
Droid Maxx
Droid Ultra
Moto X
Size
5.41"(H) x 2.80"(W) x 0.34"(D) inches
137.5 (H) x 71.2 (W) x 8.5 (D) mm
5.41"(H) x 2.80"(W) x 0.28"(D) inches
137.5 (H) x 71.2 (W) x 7.1 (D) mm
5.09" (H) x 2.57" (W) x 0.41" (D) inches
129.4 (H) x 65.3 (W) x 10.4 (D) mm
Weight
5.86oz
167g
4.94 oz
137g
4.59 oz
130g
Display
5.0″ 1280 x 720
5.0″ 1280 x 720
4.7″, 1280 x 720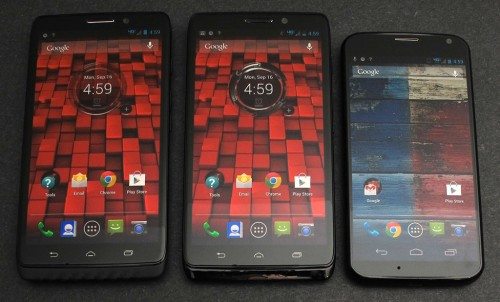 Left to right: Motorola Droid Maxx, Droid Ultra and Moto X.
Side by side, the Droid Maxx and Droid Ultra look very similar at first glance, with the Moto X being the smallest of the trio. The Maxx and Ultra have the same screen size of 5.0″, while the Moto X has a smaller 4.7″ display. However, the screen resolution of all three phones is 1280 x 720.
All three phones have a row of soft buttons below the display which are mapped to back, home and recent apps.
The Droid Maxx is only available in black, the Ultra comes in black or red and the Moto X comes in black or white. You may be wondering about the Moto X customization feature that allows you to choose the phone's front, back and accent colors. Unfortunately, Verizon doesn't offer that level of customization. That's only available through AT&T right now, which is a bummer.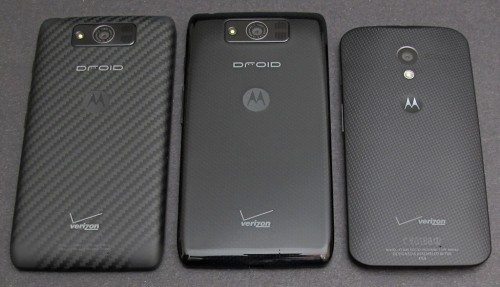 Flip the phones over and you'll notice the Maxx's soft touch Kevlar back. It's comfortable to hold and provides a nice grip. The Ultra also has Kevlar, but it's a slicker, shinier version, which is a horrible fingerprint and smudge magnet. I've also noticed that it is a little creaky and cracky when you pick it up. The Moto X has a non-Kevlar back cover, but it's soft and isn't slippery like the Ultra. Note: all three back covers are sealed and can't be removed to access the battery.

Top to bottom: Moto X, Droid Ultra and Droid Maxx.
The Droid Ultra is the thinnest of the trio and the Moto X is the thickest. All three are thinner than my Samsung Galaxy S3 with the wireless charging back, so they all feel thin to me.
The left side of the Droid Ultra and Droid Maxx is smooth with no buttons. The Moto X has a SIM slot on left side. Where's the SIM slot for the Ultra and Maxx? It actually took me awhile to figure that out…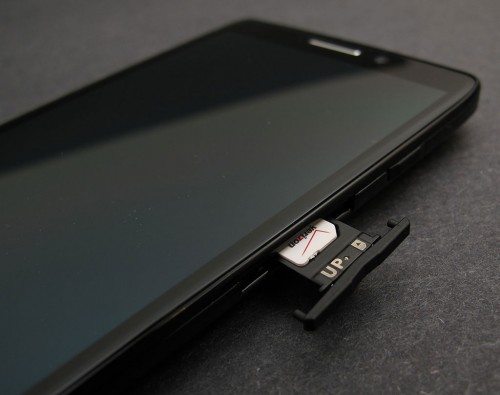 It's built into the volume switch on the right side. To access it, you have to pry it out with your fingernail. Not the easiest thing to do, but most people don't swap SIMs all that often. However, if you are a SIM swapper, you should be aware that all three phones use a nano sized SIM.

The right side of these phones all have a power / wake button along with a volume rocker below it. The buttons stick out far enough that they are easy to find with your finger and they all have nice tactile feedback.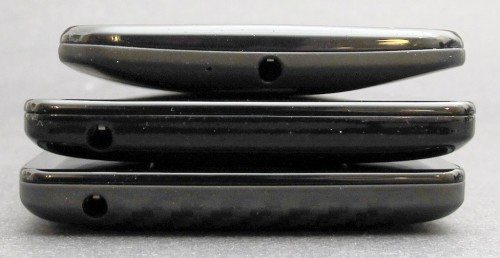 A 3.5mm headphone jack is found on the top edge of all three phones. Yikes, look at that dust!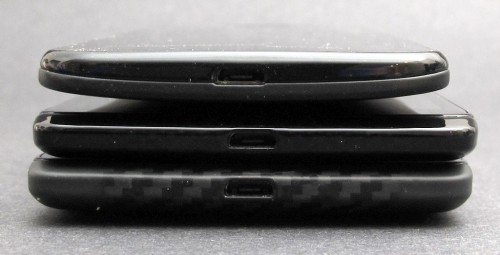 A micro USB connector for charging and file transfers is located on the bottom edge of the phone. Of the three phones, only the Droid Maxx offers Qi wireless charging capability out of the box. When I tried the Maxx with my Nokia charging stand, I figured out that it would only work if I placed the Maxx upside down on the stand. I'm sure this wouldn't be a problem with a flat charging pad though.
For look and feel, it's a tie between the Droid Maxx and Moto X. In my opinion the Droid Ultra loses out due to its smudgy back cover and slightly creaky case. It's too bad that Verizon doesn't offer the Moto Maker color customization option for the Moto X. If they did, I'd give it the nod as the winner of this category. Note: The Moto X is assembled in the US.
Look and feel winner: Droid Maxx and Moto X
Under the hood (processor, memory, camera and battery)
| | | | |
| --- | --- | --- | --- |
| | Droid Maxx | Droid Ultra | Moto X |
| Processor | 1.7GHz Dual-Core, 400 MHz quad–core GPU | 1.7 GHz dual–core, 400 MHz quad–core GPU | 1.7 GHz dual–core, 320 MHz quad–core GPU |
| Memory | 32GB | 16GB + 2GB RAM | 16GB + 2GB RAM |
| Battery | 3500 mAh | 2130 mAh | 2200 mAh |
| Camera | 10MP | 10MP | 10MP |
| Display | 5.0″ 1280 x 720 | 5.0″ 1280 x 720 | 4.7″, 1280 x 720 |
| Android OS version | 4.2.2 | 4.2.2 | 4.2.2 |
All three phones are snappy performers that provide a smooth experience going from screen to screen and app to app. I noticed the Droid Ultra's battery drained quicker than the other two phones even though its battery isn't that much smaller than the one in the Moto X. The Droid Maxx's battery seems to last forever, which isn't surprising since it's a whopping 3500 mAh.
The built in camera on each of these phones offers 10MP. I didn't find any of the cameras to be anything overly spectacular. They all are decent shooters as long as you're in good light. Low light performance is pretty bad though. Here are a few samples:
Droid Maxx:
Droid Ultra:
Moto X:
If you're into the whole gesture thing, if you twist your wrist twice while holding any of the phones, the camera app will launch – even when the phone is idle.
The Droid Maxx is the easy winner of this category because it has double the memory of the Droid Ultra and Moto X, more GPU horse power than the Moto X and a significantly larger battery than the other two phones.
Under the hood winner: Droid Maxx
Software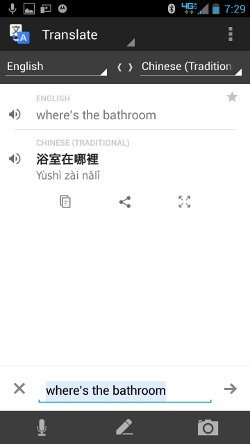 In addition to the usual suite of Android apps, these phones also have a few extra goodies like a Translate app that you can type or talk into and it will convert your text and voice into the language of your choice. There's also Quickoffice for opening Microsoft Word, Excel, Powerpoint and PDF documents and the NFL Mobile app.
The Droid Maxx and Droid Ultra have a few additional apps that are not included with the Moto X. They include a simple video editor called Movie Studio, a movie look up app called IMDb and Ingress, which is a near-real time augmented reality multiplayer online game.
Apps aside, some of the best features of these phones are baked in like the Touchless Control and Active Display.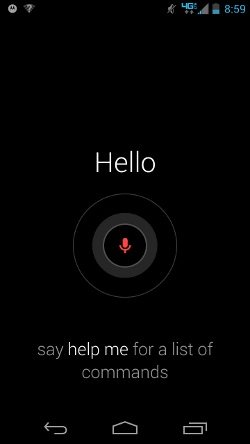 Touchless Control aka OK Google Now allows you to use your voice to wake up the phone, get info and perform commands. This is Siri on steroids because you don't have to touch anything to use it… hence the name Touchless Control.  It only takes a minute to train the phone to only recognize your voice. Then you can just say "ok Google now" followed by a command like "what will the weather be like tomorrow?" or "call Jeanne at work" or "send a text message to Janet saying "Hi, what's up?"
I found that it worked really well except that it also accepted commands when Jeanne tried it. That doesn't really surprise me though as everyone always gets us mixed up when they hear us on the phone. I tried changing my voice to be higher and lower and the phones would not react.
Although I wouldn't use this feature all the time, it would be most convenient in the car.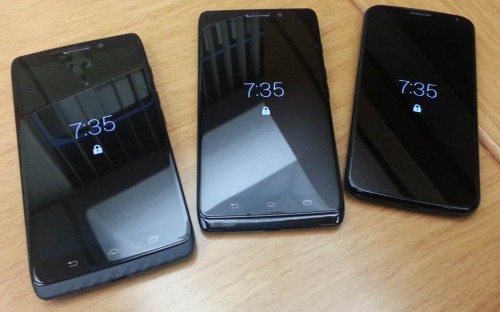 Active Display – displays the clock and notifications on screen when you move the phone or when certain notifications come in like a new email. This keeps you from turning on the phone eleventy trillion times a day just to check the time. It saves battery life because it only lights up the pixels required to show the information. So you can just pick up the phone and you'll see the clock appear. A few seconds later it will fade away. It won't activate if you have the phone in your pocket or turned face down.  Active Display also makes it easy to unlock your phone. Just pick it up and then swipe the lock (or the notification icon) and you're in.  I absolutely LOVE this feature and hope other phone makers will steal it asap.
The Moto X comes with a nice extra, you get 50gb storage on Google Drive for 2 years for free.
There are very few differences between the software packages included on these phones so I don't really think any one phone is better than the other in that regard.
Software winner: Three way tie
Bang for your buck
| | | | |
| --- | --- | --- | --- |
| | Droid Maxx | Droid Ultra | Moto X |
| Price with Verizon 2yr contract |  $299.99 |  $199.99 |  $199.99 |
| Price off contract from Verizon |  $649.99 |  $599.99 |  $599.99 |
If you are budget minded and have to choose between the Droid Ultra and Moto X, I'd pick the Moto X even though the screen is a little smaller. I just don't care for the slippery, smudgy back on the Ultra. Yes, you can cover it with a case, but then it approaches the same bulk and weight of the Maxx. The Moto X is the perfect pocket size and feels good in hand.
If price is not an issue, definitely go for the Droid Maxx. The huge battery, 32GB of memory and large display make it a great smartphone that lasts days instead of hours on one charge.
Bang for your buck winner: Motorola Droid Maxx for long battery life, Moto X for those on a budget
Now I have to box up these phones and send them all back to Verizon. 🙁 I'll miss the Droid Maxx more than the others.