The Gadgeteer is supported by readers like you! If you buy something through links on our site, we may earn an affiliate commission at no cost to you. Thank you! Learn more.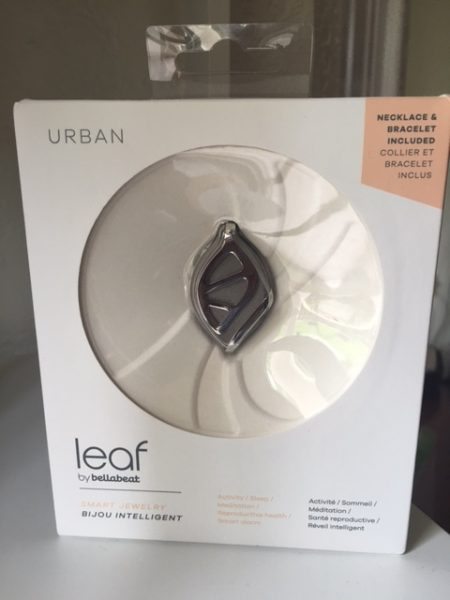 This beautiful piece of jewelry – "smart jewelry" as it says on the box, tracks your activity, your sleep, how much you meditate, your reproductive health, and your stress!  When I read all these things about the Bellabeat Leaf Urban, I felt like wearing it might cause me to ascend to another realm and reach fitness tracker heaven.  Being the realist I am, I decided it best to see if it was all it was cracked up to be. 
In the Box
The Urban Leaf comes with:
leather bracelet
necklace
4 extra tiny screws for the back battery compartment
tool for opening the back battery compartment
users manual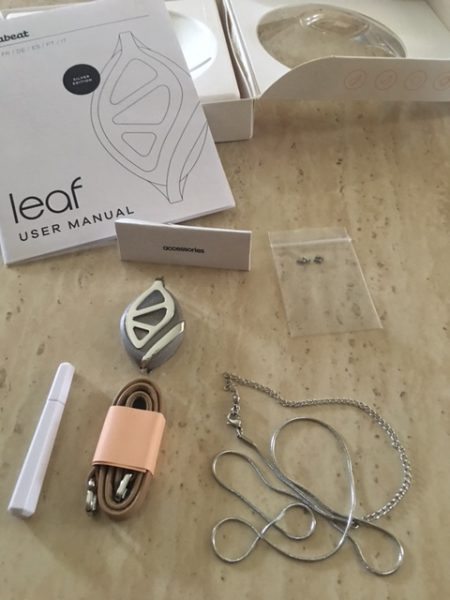 Getting Started
First, I had to resist the urge to put it on the very moment I got it out of the box.  First things first, you need to turn the Leaf over to pull out the plastic tab.  This allows the CR2032 battery that came with it to connect and power on the device. Yay! No charging! As soon as I pulled it out, there was a vibration that let me know it was working.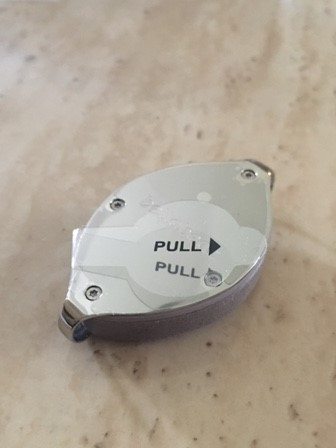 Okay, it's go time. Before I downloaded the required app from the App Store (or Google Play if you've got an Android) I put this baby on every which way.  I had it on my wrist first because I loved the way the adjustable leather bracelet wrapped around twice and connected on both sides of the Leaf. Then I tried on the necklace, which has a chain that you can adjust the length on using the different links near the clasp. Then the clip.  You can clip it on your bra, the waist of your pants, your pajamas…anyplace that works for you!  Just be careful that you don't send it through the washer on accident.  It may have a chance for survival though because I have worn mine in the shower every day, and I forgot to take it off and went swimming a couple of times too and it was okay.  The directions say that it is not waterproof, but can withstand exposure to spraying water, but should not be submerged.  It's okay though… swimming is an activity that you can add in the activity section so you can still count those calories burned.
Note: after wearing this as a bracelet for about a month, it began to fall off.  The leather stretched a little, so it wasn't a tight fit and the u-shaped clip would detach.  I solved the problem by just adjusting the strap to be one notch tighter.  After wearing yet another month, it is fine and there is no further stretching or falling off.
Here is how it looks worn all three ways, bracelet, necklace and clip :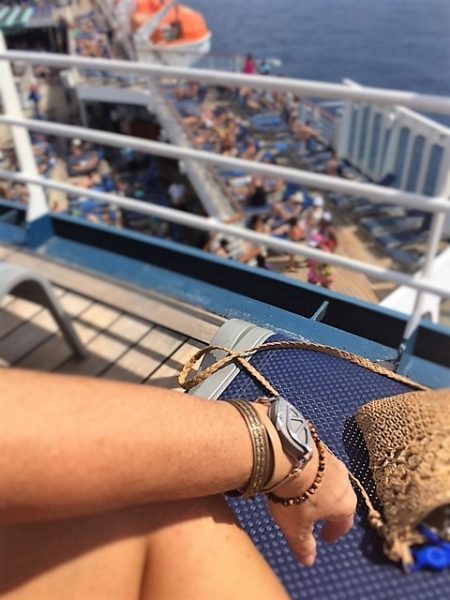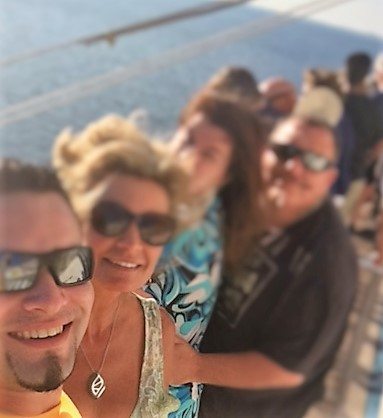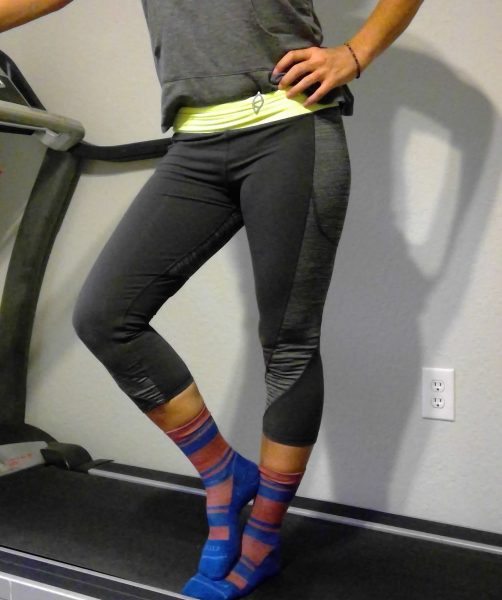 I have no trouble getting the Leaf to fit in with every outfit and every activity that I do! Check out those Fits workout socks, I feel like superman in those.  I digress, that is a whole 'nother review.
The App
Connecting your Leaf to the app is quite simple. You open the app, tap the Leaf twice to activate it and once recognized it will ask you if you feel a vibration.  If you do, answer yes and you are off and running! Below is the main page that you see when you open up the app. There are often little informational, or motivational messages on the bottom of the data section.  This month, being that it's October and Breast Cancer Awareness month, the app will remind you to do a self exam. Much appreciated Bellabeat!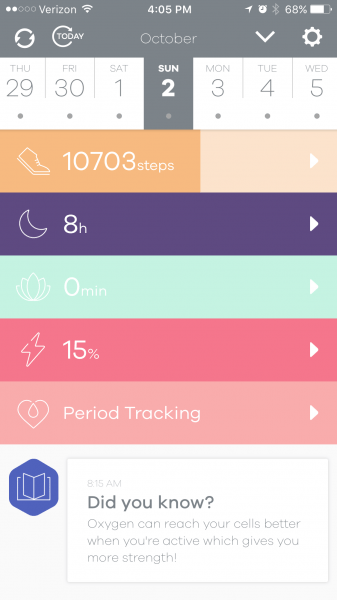 Looking at the page above, it looks like I walked 10,703 steps, slept for 8 hours, and my stress sensitivity is only 15%.  Not too bad! When you tap each of these categories, you get more detailed information on your status.
If you tap the icon that looks like a round flower or cog wheel in far right corner, that is the menu.  Once in there, you will see settings where you can add profile information like height and weight and age, and you can set goals for how many steps you want to walk, how much sleep you'd like to shoot for and how much meditating you need per day among other things. There is also a place in the settings that you can turn on the app to sync with the iHealth app for iPhone.
The pic below is what you see when you press the arrow next to the menu. You can get a quick look of how your week looks and how close you've come to all of your goals without having to press the arrow on each goal to go into the category and look.  You can see that I only meditated on two days of the seven days that can be seen (green bar).  Being that this was the day before my period, even though I walked over 20k steps and meditated, there wasn't much I could do about getting that stress level down. The circle at the top of the screen to the left of the word today is what you tap in order to sync your Leaf.  It will ask you to tap the leaf twice to begin the sync.  Simple as that!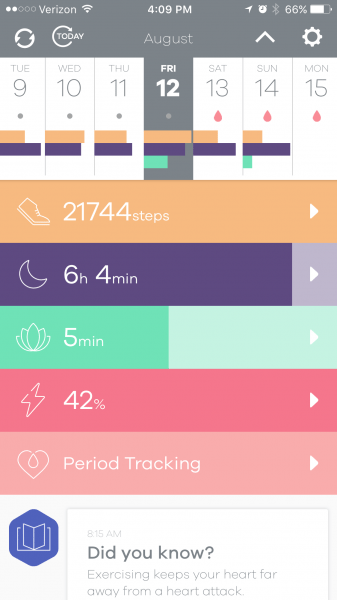 Activity Tracking
If you click on the top section, the activity tracker, there are options to view your goal progress and even to add a different activity.  The leaf doesn't limit you to only walking or running.  You can manually add anything from the list which is pretty extensive actually.  It lists cooking, breastfeeding, sex, playing with the kids, yoga, even gardening.  I added a half hour of cleaning to my day and it calculated that I burned and extra 60 calories! You can scroll through this section to see the amount of time in the current day you were active, and then the 7 day average to see how you stack up.  The same is true for calories burned, distance you've gone, and steps you've taken. If you happen to do something you are just so dang proud of, there is also an opportunity to share as well right within the app.  You can add a picture of yourself or your surroundings and then text, email, add it to your Google Drive, Facebook, and even Pinterest.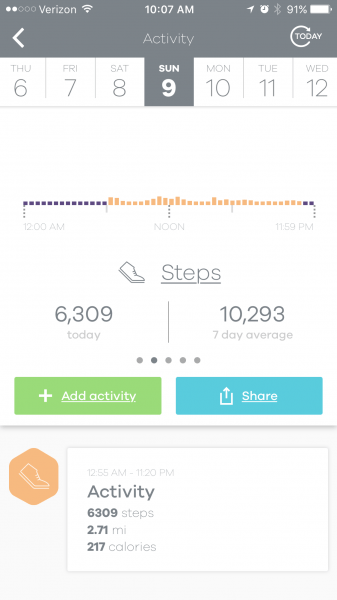 Sleep Tracking
This section allows you to see how close you are to the goal you set for yourself, your sleep duration, whether your sleep was restful or interrupted, your 7-day average, and what percent of your sleep is deep. It can be inaccurate sometimes, depending on how much you move in your sleep, so every morning when you sync, it will ask you if it looks okay.  If it's not quite right, it gives you the option to change it.  You can also add naps too which will help you reach your sleep goal if you are falling behind there. If you're one of those people who likes to share and you're proud of your sleep, share away!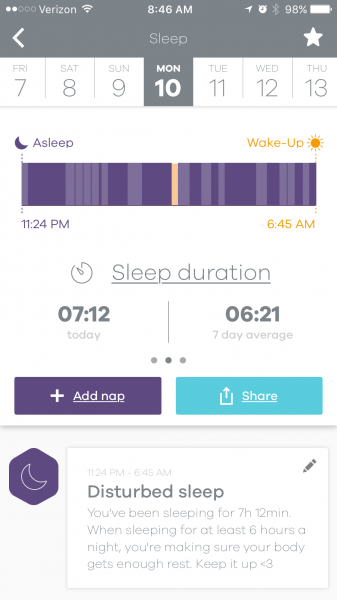 Meditation
Again, you scroll through this section's screens and you get to see how close you are to your goal, how many minutes per day and average per week you've meditated and the total sessions you've completed. The guided meditation is fabulous for people new to meditation and I'm sure veterans will love it too.  There are many different categories to choose from including focus, deep sleep (this one has helped me meet my sleep goals), inner peace, calming anxiety and many more.  There are also some great breathing exercises in this section too.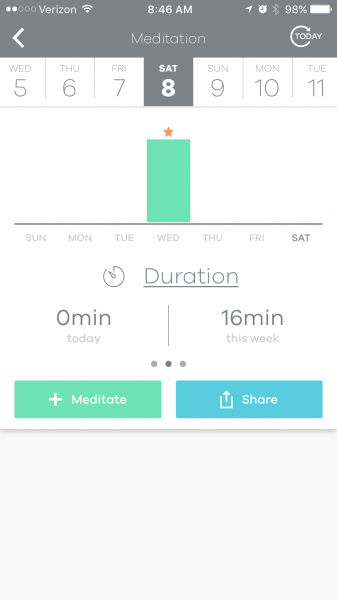 Stress Tracking
This section is what I'd been waiting for them to release. This part of the app takes all the variables that are measured, sleep, activity, meditation, period tracking and calculates your stress sensitivity.  Doing more or less, or depending on where you are in your cycle will change this calculation.  For example, I was at a stress level of 18% and I meditated for 10 minutes, and that calculation went down to 16%.  Once in this section, just like the others, you can scroll through to see averages, and see how each category is affecting your stress level.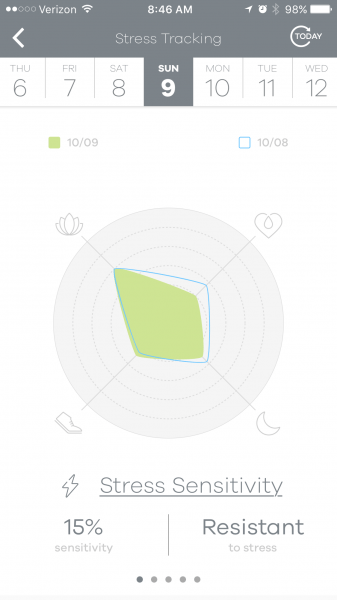 Period Tracking 
Over the last couple of months I've come to depend on this section.  You can track your period (and fertile days if you are trying to get pregnant), or if you don't have a period, or you don't want to track it, you can disable this.  You can also track a pregnancy!  I thought that was pretty cool.  What a great way to keep track of your due date and all other milestones in pregnancy and stay fit and healthy too. This could be a great shower gift for that active pregnant friend or family member who probably doesn't need any more onesies for the baby.  My only complaint about this section, and my adult daughter agrees, is the "drop" of blood over the days when you have your period.  Not sure why…but we hate it and think it could be a red circle, a flower, even a skull (just kidding), anything but a drop of blood! Maybe we are just being too picky…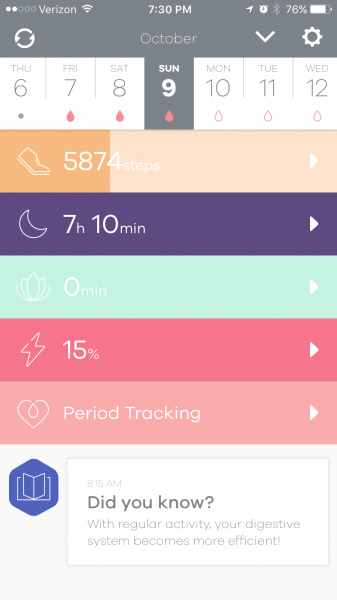 Alarms
Like many fitness trackers, you can set alarms.  I typically to get used to them and don't pay a whole lot of attention to them after awhile, however, the Leaf has an option to set an inactivity alert.  Between 9AM and 8PM, if I rest for longer than an hour, I get 8 short vibrations so I know I need to move around. It's amazing how quickly an hour can go by while I'm working at my desk.  When the eight vibrations begin I say along with it:  "Can't. Get. Up. Now. You. Don't. Know. Me." I'll even make the "you're not my mom" attitude face as I say the words like an 8-year-old.  Horrible I know, but then I make a secret promise to it that I will listen and get up next time. I really do love this function of the app. You can set other alarms too.  You can name them whatever you like and set them for any duration or time of the day or night.  There is a wake-up alarm that wakes you gently and an oral contraception alarm already ready to go…you just need to activate them and schedule when you want them to go off.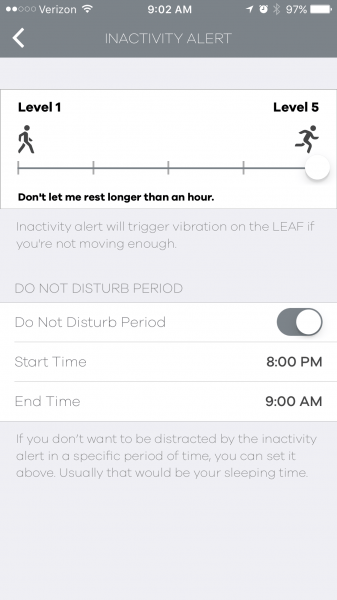 Final Words
I have really enjoyed wearing this piece of jewelry/activity tracker and have nothing but good things to say about it. Like anything else, the amount of effort you put into this will determine the level of satisfaction you get out of it.  You need to sync it often, put in some data here and there, read the data and actually use it to either stay on track, or make any changes in your life that you need. The only thing I would change is the blood drop icon that indicates your period days and that's pretty minimal.  I would highly recommend this product to any woman who wants to be fashionable and keep track of their health at the same time. Below is a pic of the leaf on the last day of this review to show how it's held up over two months of everyday use.  There are some minimal scratches and a tiny bit of wear on the inside of the leather…but all in all, it is very durable and should last a very long time.  Oh, and you can get other bracelets to change the look if you want.  I look forward to many more of these coming on the market!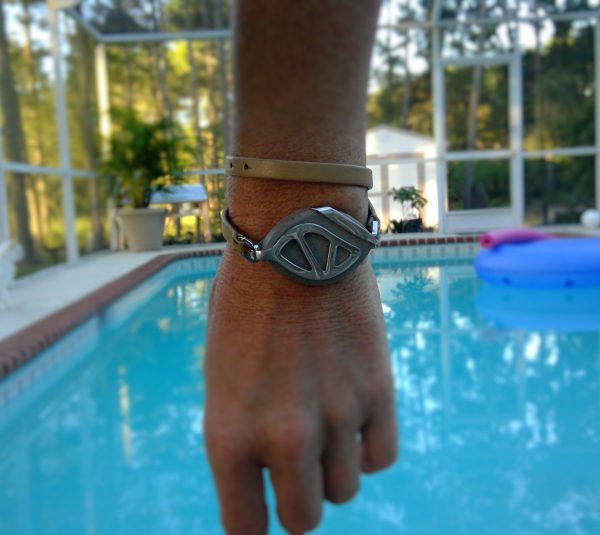 Source: The sample provided by Bellabeat. Please visit their site for more information and order from the Bellabeat webshop or Amazon.
Product Information
Price:
$139.00
Manufacturer:
Bellabeat
Retailer:
Bellabeat
Requirements:

Must have a device that can get the app from the iTunes store, or Google Play
Replace battery every 6 months

Pros:

Looks like beautiful jewelry
Doesn't need to be charged
Tracks menstrual cycles, and pregnancies along with stress unlike other trackers
Can wear it three different ways
Can purchase additional bracelets for extended fashion
Waterproof

Cons:

The icon used to indicate "period" days is a bit off putting