We use affiliate links. If you buy something through the links on this page, we may earn a commission at no cost to you. Learn more.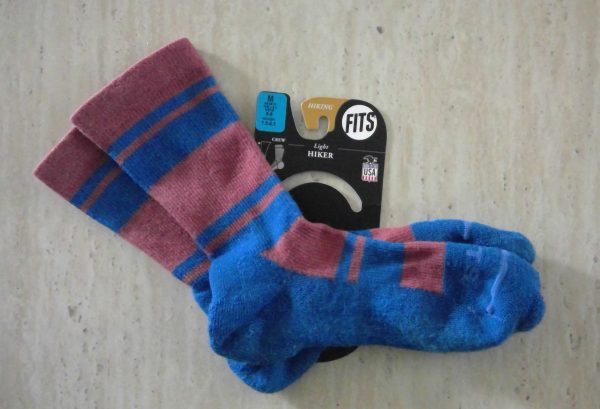 So.  I've never reviewed a pair of socks before and I have to tell you this is the first time doing a review that I've actually been scared. When you do a review, you have to be able to use the item a lot, and then be able to tell the world how it functioned and if you liked it.  I knew that washing and drying them would be part of the review and all I could think of was I knew one of these would come up missing.  Like everyone else's I'm sure, my dryer is on a steady diet of socks and sometimes they are just never recovered.  I am happy to say, that after a total of 6 washes, I STILL HAVE THEM! BOTH! Let's take a look at Fits Socks.
The pic you see above is called the Women's Light Hiker.  You get to pick a size, so what you get is a sock that is form fitting.  Honestly, they are like nothing I've ever worn before.  They are 65% Merino wool, 27% nylon, 6% Polyester and 2% Lycra. For those not familiar (like me), Merino wool is naturally anti-microbial, moisture wicking, and fire resistant, who knew?  There is extra padding on the bottom in the area of the heel, toe and arch and they sort of hug your foot closely and don't slide around at all.  They are a tad stretchy, so they stretch to fit your foot perfectly, hence the name of the brand!
Since these are specified for hiking, I thought I'd wear them around the neighborhood while I walk my dog and I even wore them to the gym to work out.  It's 90 degrees here most days in Florida in the summer and after a long walk my feet are typically pretty wet and pretty tired.  After walking in these Fits Socks, I was amazed that my feet stayed dry.  I think because they fit your foot so extremely well, and they wick away moisture, there is no sliding or rubbing, so there is no chance to get blisters.  I also noticed after the gym that my feet still felt "good" when I took off my shoes. Normally, I can't wait to get off my shoes and socks and relax and I had no desire to take them off because my feet weren't hot or uncomfortable.  I wore them in my rollerblades too which usually give me a blister  if I go too far and the socks I normally wear slide down into the skate.  Not this time!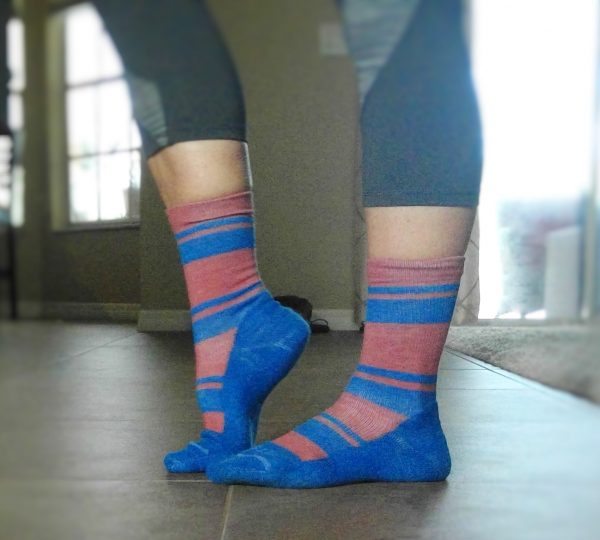 They don't look any different after being washed and dried 6 times either.  The quality of materials used I'm sure has everything to do with that.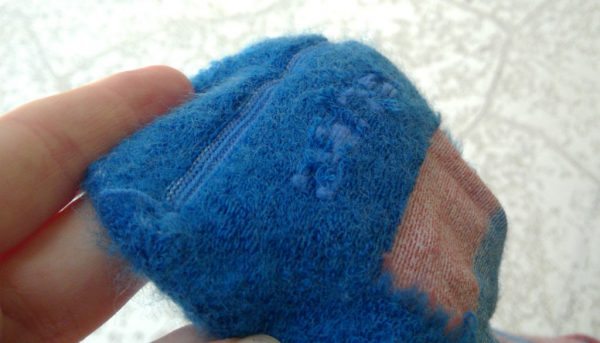 This was a fun review for me because I love socks, and I love being active.  I did not have much to color coordinate with these so my family and friends laughed at me in my "Superman socks" but hey, I think they were just jealous that their feet weren't as comfy and happy as mine. I plan on wearing these all winter long to keep my feet warm and cushion them because my entire home is tile except for a couple of rugs.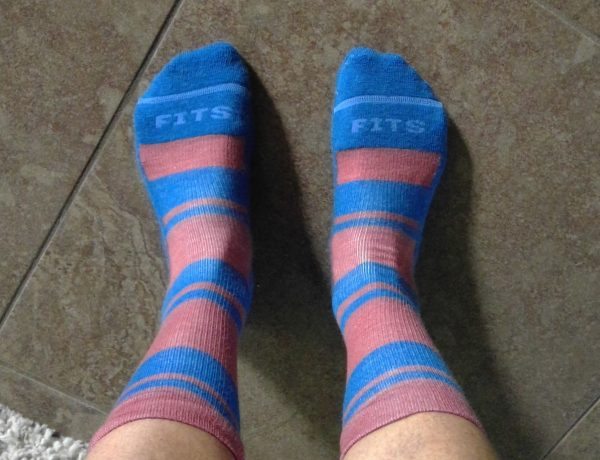 I would buy Fits Socks for sure if I was actually going hiking, rollerblading, or if I was going downhill skiing or doing any other day long activity that having great fitting shoes/boots and socks is important.  Nobody likes getting a blister or sore spot on your foot halfway through the day.  In fact, based on how great these were, I bet their running socks are fabulous!  I just may have to try them out.
Source: The sample for this review was provided by Fits. Please visit their site for more info.
Product Information
Price:
$20.99
Manufacturer:
Fits
Requirements:

The desire to wear a sock the truly fits.

Pros:

Breathable/Moisture wicking
Form fitting

Cons: