We use affiliate links. If you buy something through the links on this page, we may earn a commission at no cost to you. Learn more.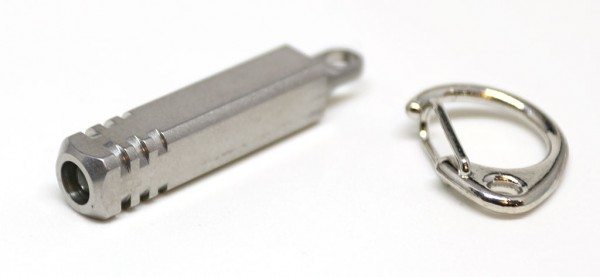 The TEC Accessories Pixel is a very small flashlight for your keychain which has a 25 lumen LED and runs on four watch batteries. Should it be part of your EDC (everyday carry)? Let's find out.
Note: Images can be clicked to view a larger size.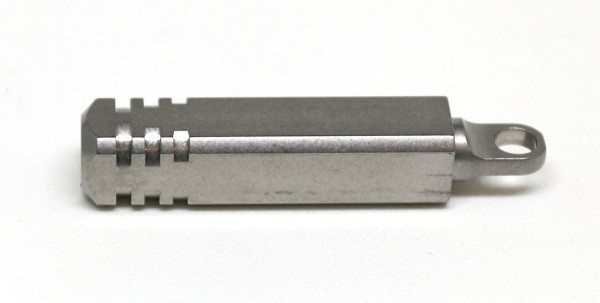 Talk about a tiny flashlight, the Pixel is only 1.69 inches long. It is .315 inches tall (43 x 8 mm) and weights just 0.45 ounces (12.6 grams) and is made of stainless steel with a tumbled finish with flat sides which keep it from rolling off a flat surface.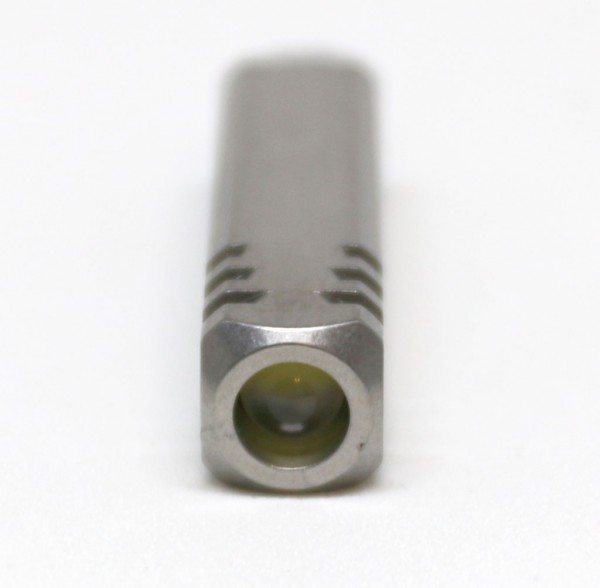 The Pixel uses a Nichia premium 5mm LED which puts out 25 lumens of cool white light in a 35 degree angle.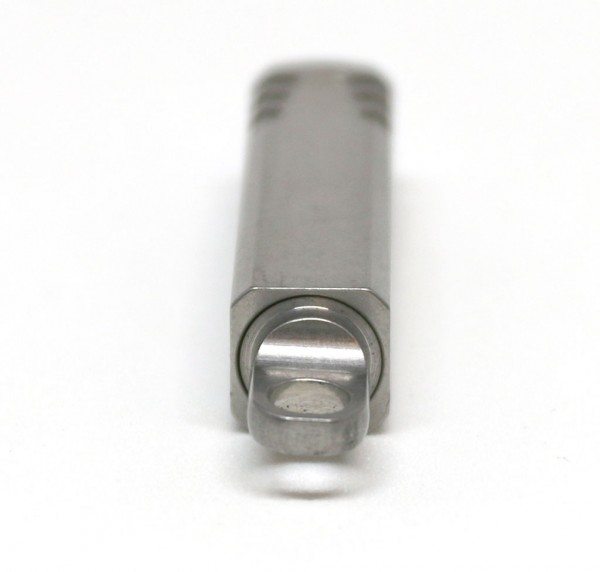 On the back end of the Pixel is a twist power switch / cap which has a loop for the included split ring.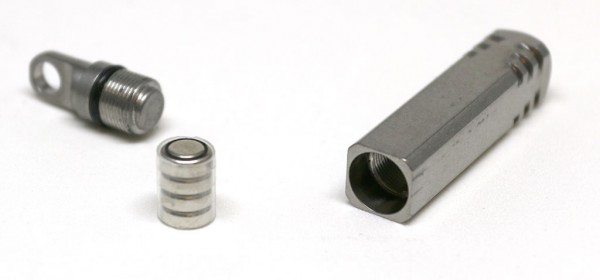 The cap unscrews to reveal the battery compartment. Note that it has an O-ring that protects the flashlight from water. The Pixel is powered by four LR521/379A alkaline watch batteries which are included with the flashlight. The batteries need to be inserted into the plastic sleeve to prevent the sides of the batteries from touching the stainless steel sides of the flashlight. The Pixel comes with one set of batteries and you can purchase a tube of four sets from TEC for $5.50. Each set comes pre-packaged in the plastic sleeve.
To turn the flashlight on, you just tighten the cap on the back. To turn it off you loosen the cap.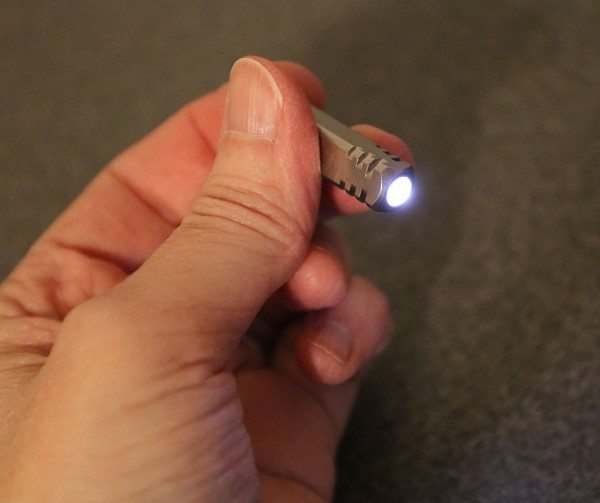 Is the TEC Pixel flashlight bright? Yes and no. It's bright, but only for a short time. The light dims after about a minute of use. It will bounce back though after some recovery time. Here's some info from the Pixel product page:
Battery life and runtimes will vary over a broad range due to the nature of the small batteries. Extended "ON" durations (1 minute or longer) will have a tendency to shorten battery life rapidly, whereas short bursts of "ON" durations (15 seconds) will result in very long battery life expectancy. The duration of rest, or "OFF" time between "ON" cycles will also have a great impact on battery life. The longer the rest time, the longer the battery life. Even if you run the flashlight for an extended period, and see the flashlight intensity drop considerably, this is not a permanent state. If you let the batteries rest for a period of time, they will recover and offer brighter intensity that what had been previously observed. In short, battery life is very subjective.
It should be obvious that the Pixel is not going to be a flashlight that you'll use for extended sessions. It's really designed to be an emergency flashlight that you can attach to your keychain and forget until you need it. It's perfect for quick sessions like viewing a menu in a dimly lit restaurant or for seeing where to insert your key in your front door at night.
At $36, the Pixel is a little pricey for what it is. I think it would be a better value if at least one extra set of batteries were included. That said, the Pixel is a well made little flashlight that barely adds any bulk to your keychain and comes in handy for those times when you need a quick light. You can find flashlights that cost less and run longer, but but they probably won't be as small as the Pixel.
Source: The sample for this review was provided by TEC Accessories. Please visit their site for more info.

Product Information
Price:
$36.00
Manufacturer:
TEC Accessories
Pros:

Tiny
Keychain friendly
Easy to use
Water resistant

Cons:

Quickly loses brightness
Have to load tiny watch batteries in small plastic sleeve