We use affiliate links. If you buy something through the links on this page, we may earn a commission at no cost to you. Learn more.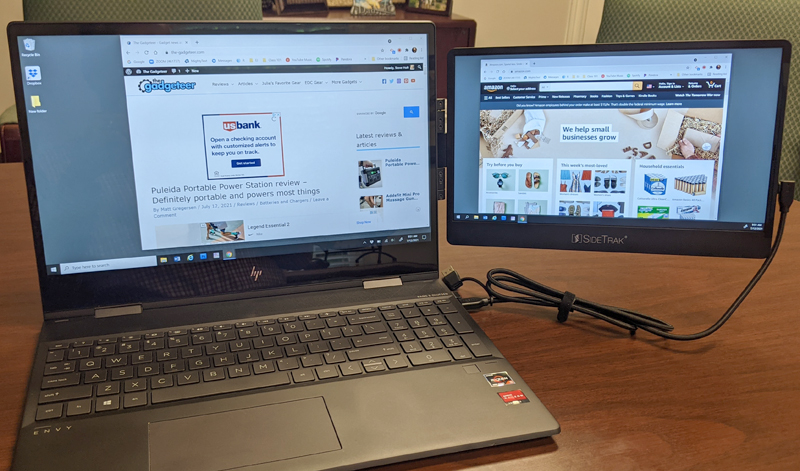 REVIEW – I haven't used a desktop as my personal computer in probably a decade or more. That is because I am willing to give up a huge monitor that usually comes with a desktop in exchange for the smaller screen and the portability that the laptop provides me.  And monitors are so cheap anyway that it isn't much money to have a big monitor at your workstation that you can connect your laptop to. But it's when I am on the go that I miss having that big second monitor and the ability to spread out my apps across 2 screens.  So when the SideTrak Swivel came out I was excited to try this portable solution for having a second monitor on the go.
What is it?
The SideTrak Swivel is a portable 1080p monitor that attaches to your laptop and allows you to have a second screen to extend your desktop and flip it around so that you can mirror your desktop and show it to someone else across the desk from you. It can also serve as a stand-alone portable monitor that sits on your desk utilizing the built-in kickstand.
What's in the box?
SideTrak Swivel monitor
USB-C to USB-C cable with a USB-A adapter
HDMI to Mini-HDMI cable
2 device-safe metal plates
Paper template for placing the metal plate onto the back of your laptop screen
Plastic card to aid in the removal of the metal plate if needed
And here are the specifications:
Screen Size: 12.5″
Panel Type: TFT
Display Type: LCD
Resolution: 1920×1080
Brightness: 300 cd/m2
Response Time: 30 ms
Refresh Rate: 60 Hz
Aspect Ratio: 16:9
Contrast Ratio: 600:1
Power Consumption: 3.65 W
Thickness:  .66"
Weight: 1.2 lbs
Operating System: Compatible with 

Mac, PC, Chrome, PS4, Xbox, & Switch
Features and performance
The first thing I like about the SideTrak Swivel is that it doesn't require a power cord. It derives its power from the cables you use to connect it to your laptop.  It also doesn't require any drivers to download and it is compatible with Mac, Windows, Chrome, and some gaming systems. So it truly is plug-and-play.
The included template in the box helps you line up the metal plate on the back of your laptop monitor and you can use the template to decide if you want the Swivel to be placed on the left or right side of your monitor.
Here is a picture of the template: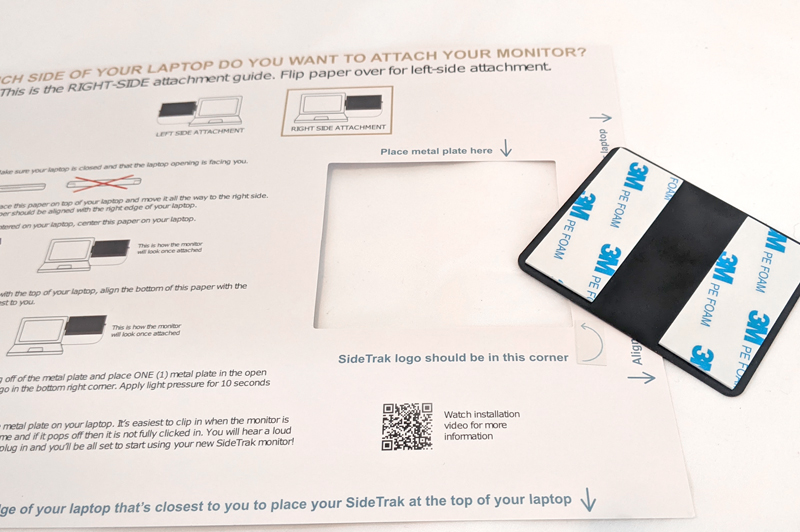 The only trick for connecting the SideTrak Swivel to your laptop is making sure that you have the ports on your laptop that can support power and the video signal.  If you use the USB-C to USB-C cable, that's all you need.  If your laptop doesn't have the right kind of USB-C connection then you'll have to use the USB-A adapter on your USB-C cable and also use the HDMI to Mini-HDMI cable. Obviously, if your laptop has a USB-C port and can handle it, that's the way to go because you'll only need 1 cable.  That is the setup that I have.
Here is a picture of both of the cables.  Notice the USB-C cable on the left that has a USB-A adapter attached to it:
Never miss one of our posts again. Sent MON, WED, and FRI with the latest gadget reviews and news!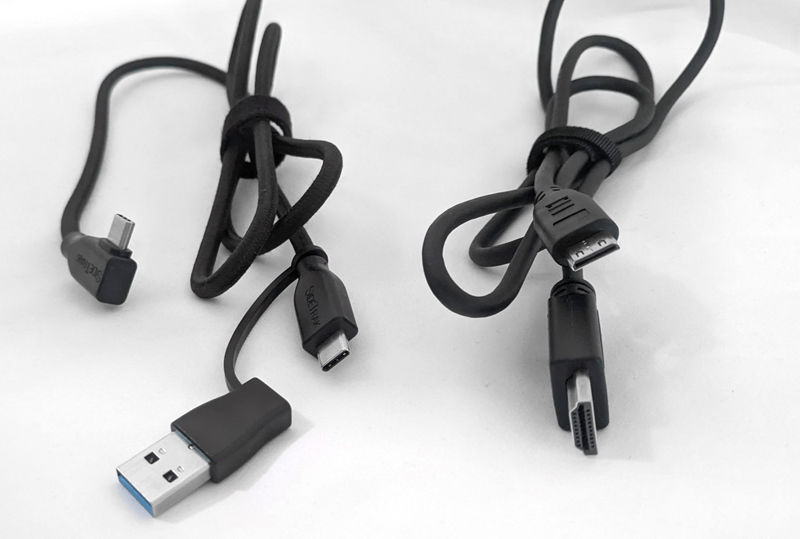 Fortunately, there is also a nice user manual included in the box and in that manual, they provide very clear guidance on which USB-C ports will be compatible.  Here is a picture of that: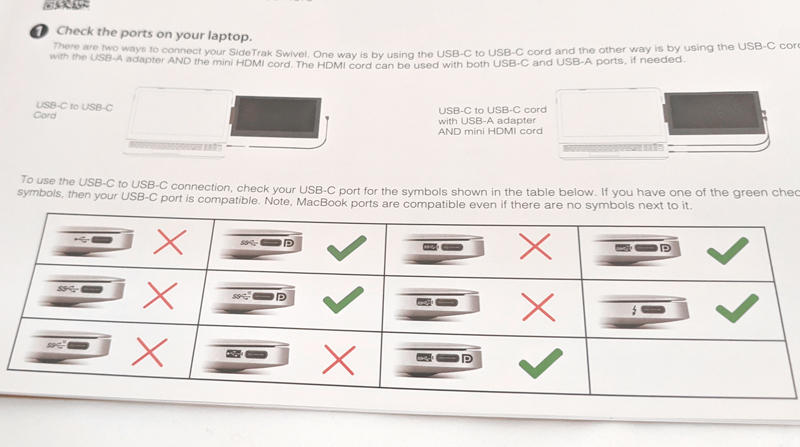 On the end of the SideTrak Swivel, you'll see the Mini-HDMI port, the USB-C port, the up and down buttons for the brightness, and a built-in loop in the plastic frame that you can use to attach your cable when you are storing/carrying your Swivel in your laptop bag.  Here is a pic of the end of the Swivel so you can see the ports and cable attach:

The Swivel is very light, only 1.2 lbs, and it needs to be because this screen will be attached to your laptop screen.  My laptop is pretty thin and there have been times when I had the Swivel folded back against my laptop screen because I wasn't using it, and my laptop tipped backward. It has only happened once or twice but I have just learned with daily use how far back I can let my screen go back.
I have used every configuration of the Swivel. Most often I use it to extend my display so I can have my email on the Swivel and my browser on my main screen. But I also use it during meetings to mirror my screen and 'swivel' the Swivel around so that the person across the desk from me, or the person to my side can see what is on my screen without having them sitting right beside me. It's just too convenient.  Here are various pics of the multiple configurations: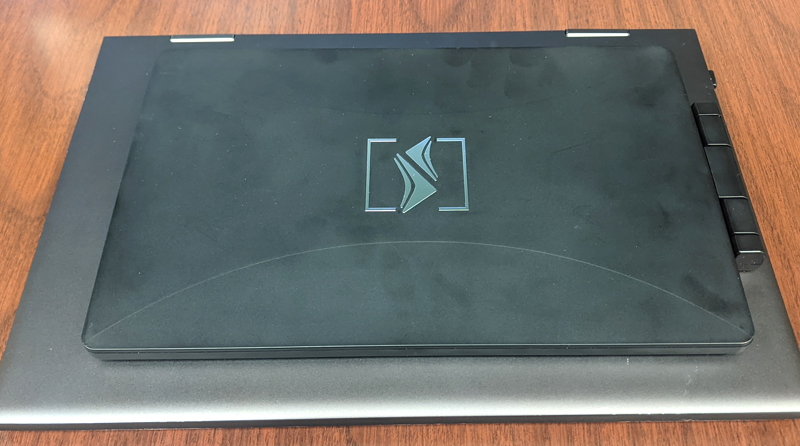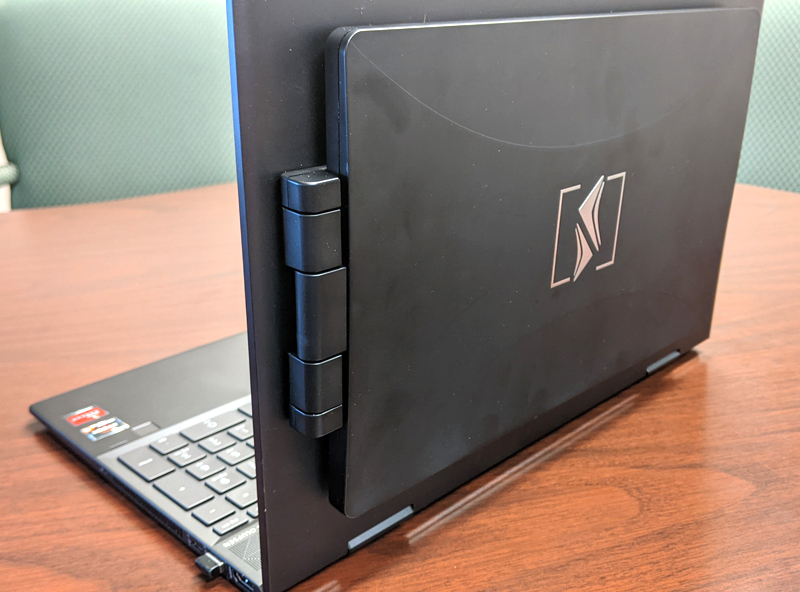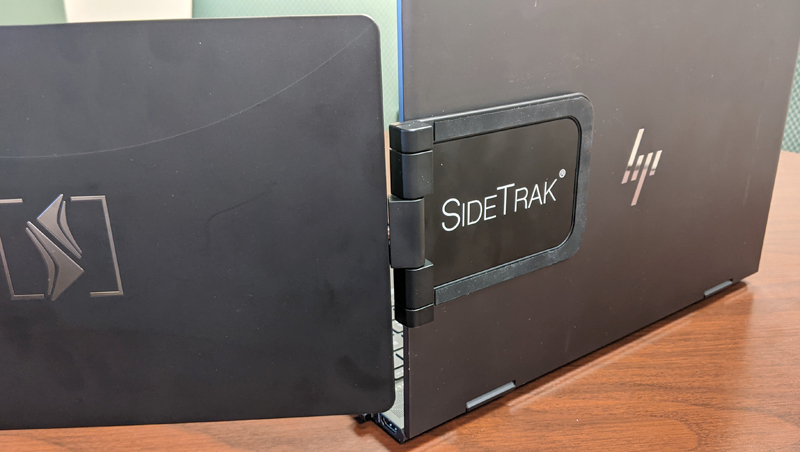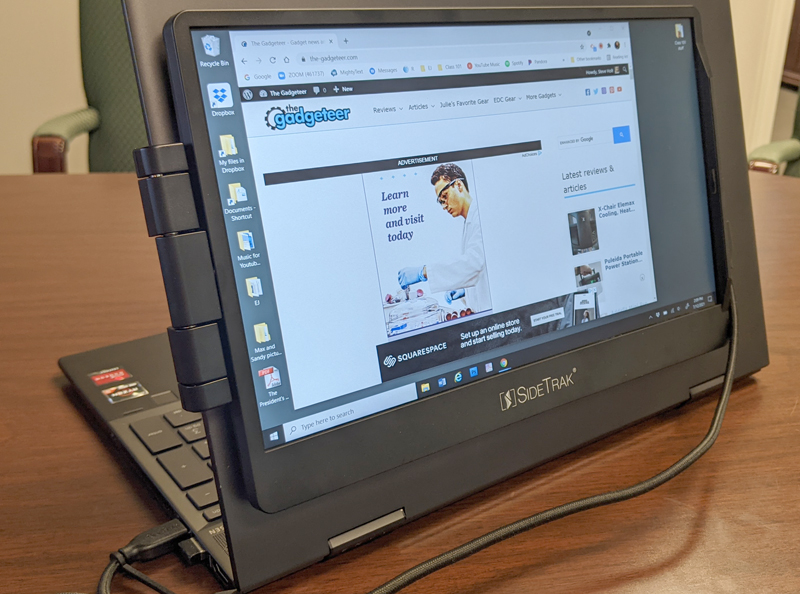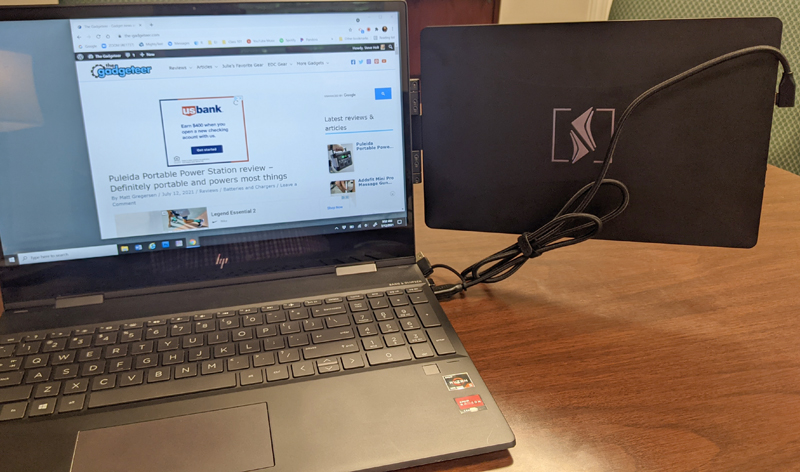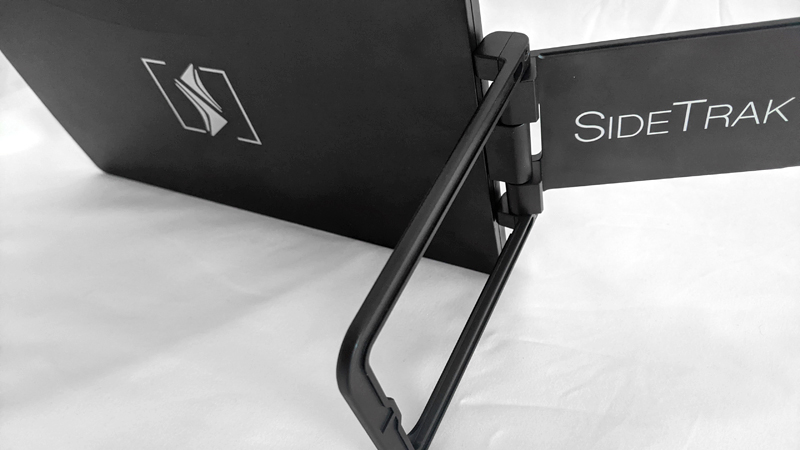 What I like
No driver required, just plug and play!
Multiple configurations for extending or mirroring your screen
What I would change
It would be nice if it were cheaper than $329.99
Final thoughts
I have discovered that I don't want to live without the SideTrak Swivel monitor.  I have seen these types of attachable monitors for a couple years now, but I always thought the hassle wouldn't be worth it.  I have no idea what I was thinking. I love this thing.  I am sitting here as I type this review with another browser window open on the Swivel watching a game. The convenience of having this extra monitor with me all the time is just too convenient.  If you can afford to shell out the money for the SideTrak, do it. You'll be able to use it for all your future laptops as well!
Price: $329.99
Where to buy: Buy on Amazon or on their website here.
Source: The sample of this product was provided by SideTrak.