We use affiliate links. If you buy something through the links on this page, we may earn a commission at no cost to you. Learn more.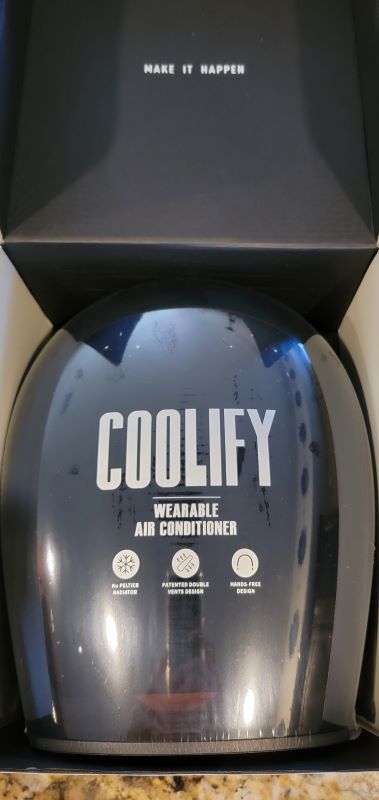 REVIEW – There comes a time in a woman's life when she thinks she might spontaneously combust for a period of 3-5 minutes, several times a day.  I can attest that it isn't pleasant, and I really wish it involved burning a lot of calories, although I don't think it does.  There is no apparent upside to this condition, except for the fact that it makes me a perfect candidate to try out the Torras Coolify Wearable Air Conditioner.

What is it?
The Torras Coolify is a fan with a cooling element that sits on your shoulders and around your neck to cool you down when you need it.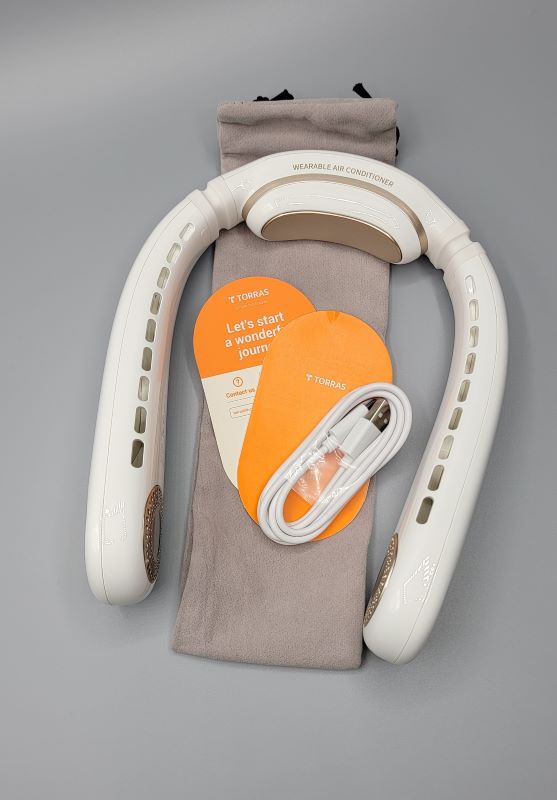 What's in the box?
Torras Coolify wearable air conditionar
A hard plastic case
A USB-C cable
The fan
Some instructions and warranty information
A soft bag to carry everything
Specs:
Hours to charge:  2.5/4000 mAh battery
Cooling time:  8 hours on level 1, 2 hours on level 3
Weight:  12 oz.
Colors available:  black and white

Features
The Coolify wearable air conditioner is basically a fan that you wear around your neck.  There is a metal plate on the part that sits against the back of your neck which gets really cold and 36 air vents on the top and bottom blow air up around your face and down your body.
The feature that sets this device apart from most of the wearable fans available is the metal plate.  The fan uses a Ku Peltier radiator to rapidly chill that metal plate, and the result is nirvana if you're hot.  On the website, they make some pretty big claims about the effects, including that your body temperature will drop twelve degrees in one second, and in three seconds, eight degrees.  I think that might be true of the surface of your skin, because I'm pretty sure you'd lose consciousness from hypothermia if your core temperature dropped that much.   I mean, I'm no doctor — but it is immediately noticeable and it feels amazing if you think you might be about to burst into flames like a drummer for Spinal Tap.
So what does it look like?  I think it looks like a pair of headphones that you're wearing around your neck, and as a result I don't think you'd feel like a dork wearing it just about anywhere in your day-to-day life.  I didn't, and I wore it when I was walking my dogs, walking to (and around) the grocery store, playing poker with my homies and in my car while I was driving (since my air conditioning takes forever to really get going).  It pretty much has become an extension of my body at this point.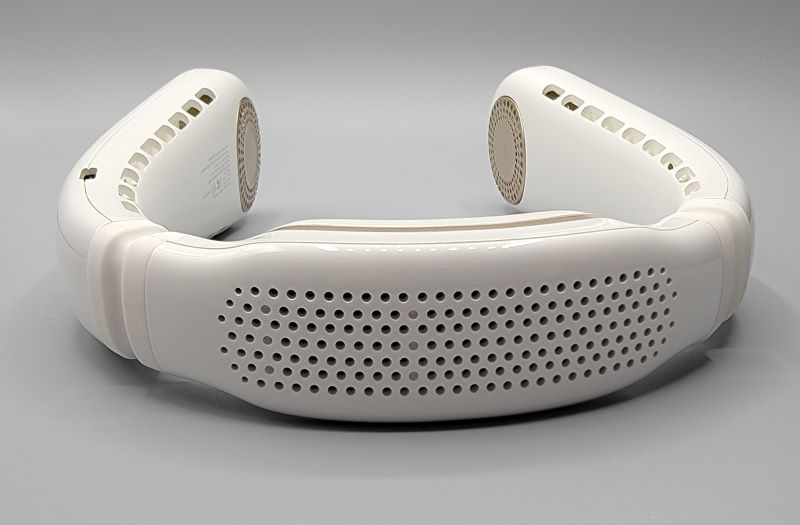 I let others test it too.  Every person who put it on was pretty surprised by how effective it is.  Several friends want to borrow it for ball games and camping trips. One friend said this might be the greatest device I've ever tested for the Gadgeteer and said it would have been a "game changer" on his last trip to Disneyland with his kids.
I only had one friend who hated it, and that was because of the fan.  He said it just wasn't for him.  The fan has three speeds, but even on the lowest speed, it is enough to blow your hair around, if it's long enough.  The blow takes getting used to and I wish there was a way to switch it off or use it at a lower speed.  It also makes a slight whirring noise.  It's not loud enough to interfere with conversation, for instance, but it is noticeable.
Safety-wise, you don't have to worry about your hair getting caught because the fan is a bladeless design.   In fact, I don't really sense it sucking in air from any one area.  If the fan does bother you, the width of the device is adjustable, so you could make it wider if the fan blowing on your face bothers you.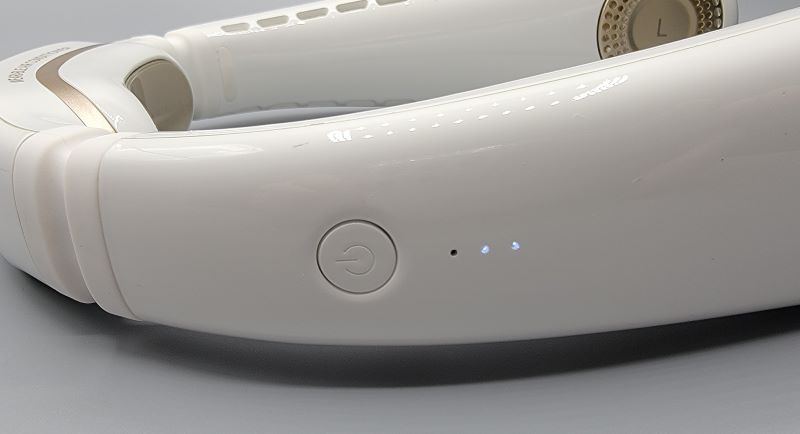 The fan blows air that might be slightly cooler than the ambient air, but it isn't cold like air conditioning in your car is cold.  I don't think you'd want that anyway, because air conditioning when it exits through vents is really cold, and in this case, the vent is centimeters from your body. If that was blowing up my neck and around my ears, I think it would become uncomfortable very quickly.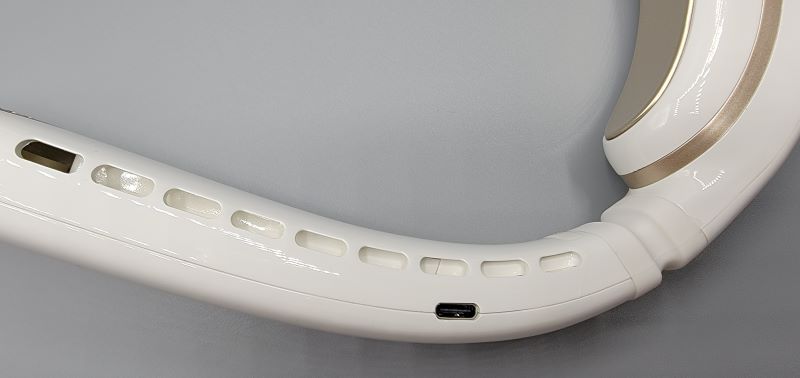 The device charges with a USB-C cable, which means you can charge it on-the-go a variety of ways.  They estimate that it takes about 2.5 hours to charge from empty and you'll get about 8 hours of use on the low speed.  I wore it about that much time one day and it certainly worked that long, but I think results will vary because the neckplate turns off after thirty minutes.   I'm sure it depends on how many times you turn that on.  In the future, I think they might want to make the neckplate a separate control because on this device you use the same button to turn on and adjust the fan, then long press the button to turn on the neckplate.  It would be nice if you could turn off the fan and just use the cold part on the back of your neck by itself.
One last note about the packaging: it's fancy!  It comes in a sturdy box and inside is a glossy black plastic shell that opens to reveal the device.  It would make a great gift for the person in your life who is hot all the time!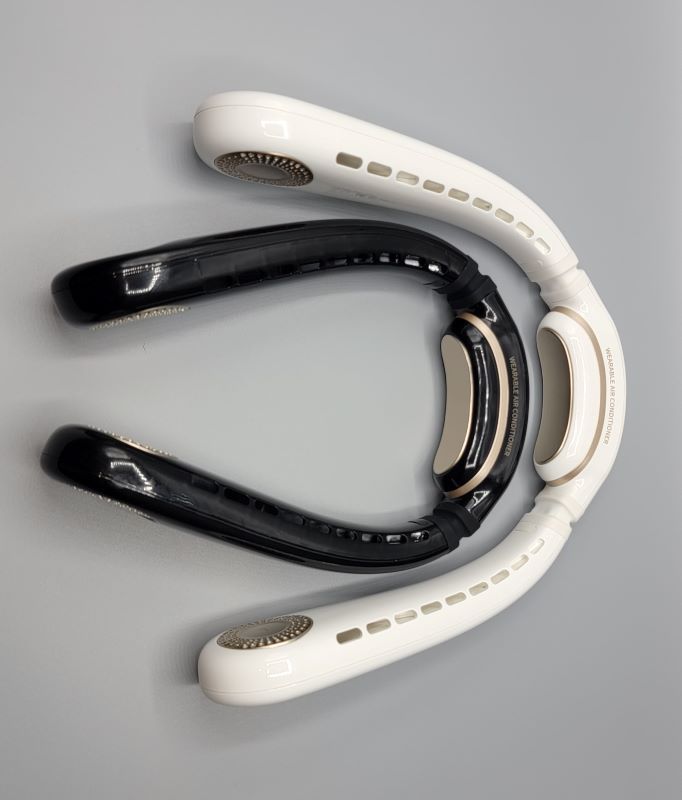 What I like
Coldness on demand!
Doesn't look weird
What I'd change
I'd like to see the cold plate be a separate function from the fan, with its own control.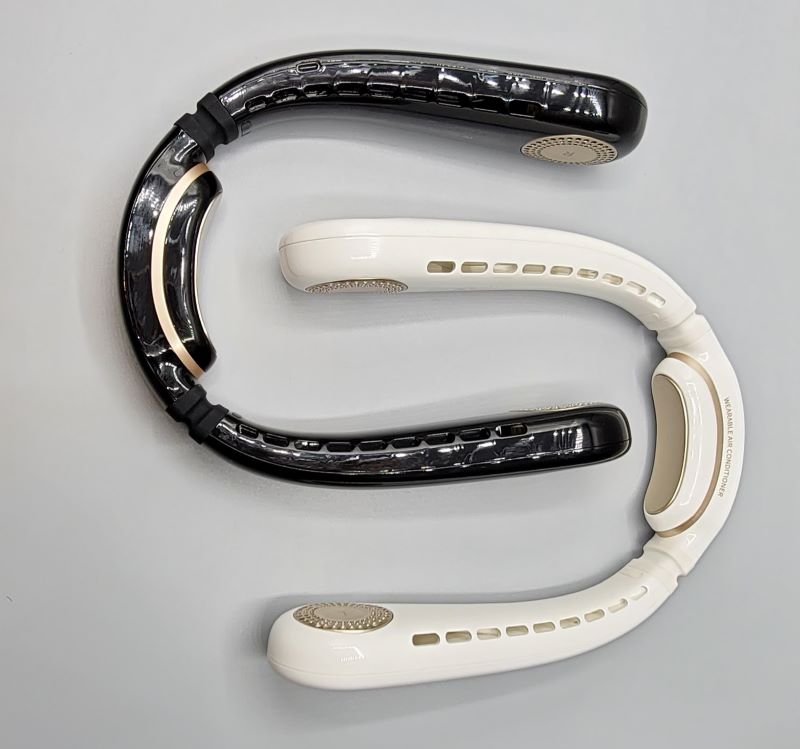 Final thoughts
You will have to pry the Torras Coolify wearable air conditioner off my incredibly cold, dead body.
Price: $149
Where to buy:  Torras, Amazon
Source:  The sample for this review was provided by Torras.