We use affiliate links. If you buy something through the links on this page, we may earn a commission at no cost to you. Learn more.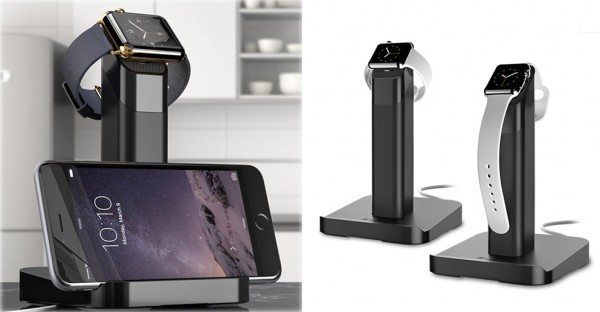 Opening my own Apple Watch Sport on Friday and watching other people's unboxing videos made me realize something:  not all charging stands introduced for the Apple Watch will work with all watchbands.  For example, the Milanese Loop and the Link Bracelet won't open completely to allow the watch to lay flat.  That means those watches, and possibly the Leather Loop band, won't be chargeable on flat charging stations, like the DODOcase Dual Charging Dock and the BLOC Power Band.  Those watches will need a stand with a free arm that the watch can be slipped over.
Griffin's WatchStand for Apple Watch is designed to work with Watches with flexible or semi-flexible bands.  The cradle is angled, so you can lay a Watch with an opened band or perhaps some of the looped bands over the cradle at the top of the WatchStand.  You'll use your own magnetic charging cable; the center column holds the excess cable length neatly inside.  The base of the WatchStand is a cradle that holds your iPhone at an angle for easy viewing.  Although there's no built-in method to hold the iPhone's charging cable, you can certainly lay the phone in the WatchStand's base while it charges.
The WatchStand measures 7.87″ x 5.5″ x 3.15″, so it won't take up a huge amount of space on your nightstand.  It weighs 18 ounces, so it won't be tipping over with all your expensive Apple devices on it.  The WatchStand for Apple Watch is $29.99 at Griffin.