We use affiliate links. If you buy something through the links on this page, we may earn a commission at no cost to you. Learn more.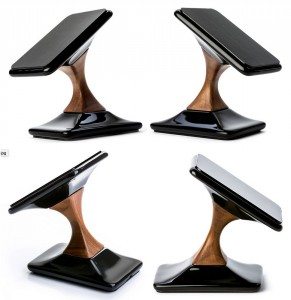 I love the ease and convenience of wireless charging. I have Qi charging pads and stands strategically placed throughout my world. They all get the job done but none are really all that noteworthy or eye catching. All are made of some sort of plastic varying in size, shape, and quality. Until recently that is. The artisans at Lutman have created a inductive charging stand that is not only more functional than the others, but hands down, more drop dead gorgeous as well. Let's see if the Swich lives up to its good looks. 
Note: Images can be clicked to view a larger size.
The Swich premium wireless inductive charging stand began as a Kickstarter effort back in 2014. Lutman Design Studio set out to create a wireless charging stand that was not only more usable than the standard flat plastic plate but one that would look stylish and polished in any office.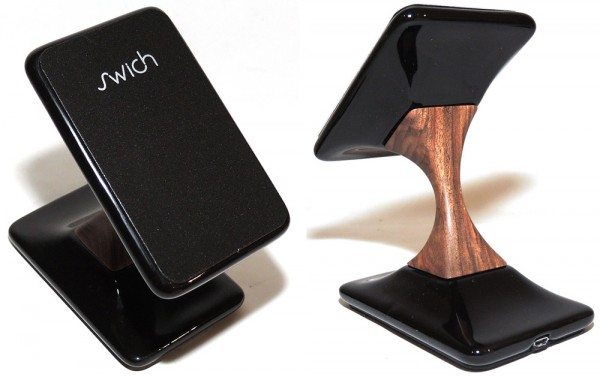 The Swich is made from fine Italian ceramics and Slovenian walnut, oiled and brushed. The Lutman designers wanted to keep the stand as natural as possible, creating the Swich out of sustainable materials with a 'timeless and organic look'. The Swich has a quality weight, polished finish, and excellent look/design.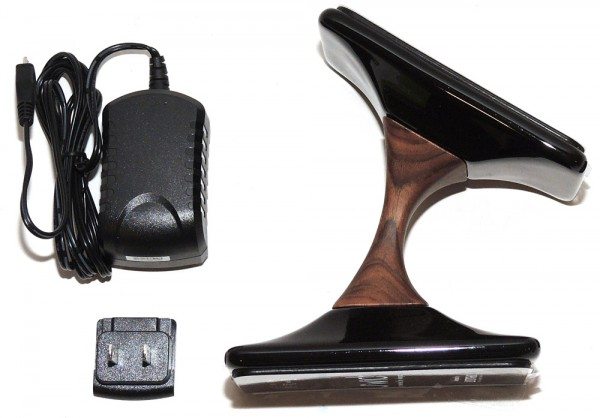 Box Contents:
Swich wireless charging stand
microUSB power cable
US power adapter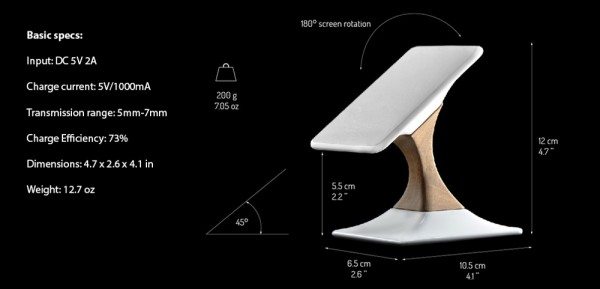 As I said, the Swich integrates the Qi standard/technology to wirelessly recharge your smart-device. According to Lutman, the Swich incorporates the latest inductive charging technology and I have to agree. Earlier Qi chargers would occasionally flake and not work, forcing me to reset my smartphone. But after several weeks of use, the Swich has recharged my Note flawlessly each and every time.

The Swich's micro-suction surfaces firmly hold not only your Qi enabled device but the stand itself to wherever you place it. That means it works great with only one hand. So even my heavy Galaxy Note 4 is held securely in place without tipping over during use or removal (it would stink to chip the stand due to tippage). The stand holds your device at a 45° angle enabling you to work or view the screen all the while charging. The weight of ceramic adds stability, while the angle allows for a very functional screen viewing angle.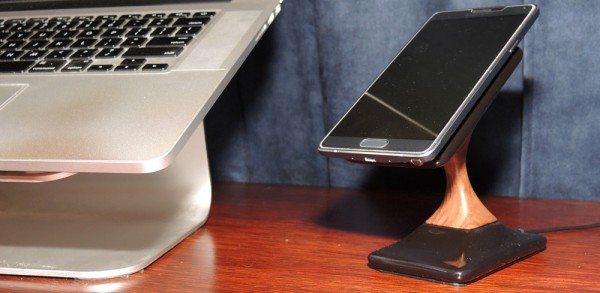 To say the black and walnut Swich looks great on my desk is an understatement. Not only does the stand look gorgeous but supports my Note 4 at a very useable height and angle. The face of the Swich can rotate 90 degrees in either direction to watch movies, videos and the like.

The Swich is available in black, white, gold, and platinum. My only thought was: too bad they do not make these in a brushed aluminum to better match my Macbook Pro. The metal plated ones are $100 more than the black and white versions.
Lutman Design Studio has done an excellent job raising the inductive charging bar in design, functionality, and quality. The Swich combines premium renewable materials into a 'natural, organic' eye-pleasing shape. At nearly $200, the Swich is the most expensive wireless charging stand I have ever seen or even heard of. That said, it is also the most gorgeous and nicely designed one as well. The Swich is a premium tech-accessory that would fit into any nice work or personal space and in this case, you get what you pay for…
Source: The sample for this review was provided by Lutman Design Studio. Please visit their site for more info.
Product Information
Price:
$189.99
Manufacturer:
Lutman Design Studio
Requirements:
Pros:

Gorgeous
Very well made with premium materials
Natural, organic design
Micro-suction surfaces holds everything securely in place
Suspends device at a more functional/useable angle

Cons: