The Gadgeteer is supported by readers like you! If you buy something through links on our site, we may earn an affiliate commission at no cost to you. Thank you! Learn more.

Tablet users who enjoy using a real honest to goodness physical keyboard with their devices have a large selection of different Bluetooth keyboards to choose from, but one of the best in my opinion, is Apple's wireless keyboard. The only problem with this keyboard is that it wasn't designed for use with a tablet and is lacking a way to attach the tablet to the wireless keyboard for pseudo laptop use. 
The latest gadget to remedy this problem is the Dragon Device Holder. Priced at $25 and available in a variety of colors, the Dragon Device Holder is made in the USA from lightweight recyclable aluminum. It provides two viewing angles and is compatible with the iPad Air, iPad Mini, iPhone (5 and 5S) and other devices that are less than 8mm thick. There are two parts to the holder. Each one slides over the rounded battery holder on the Apple wireless keyboard. You can position the holders to accommodate the size of the tablet.
If $25 is a bit too spendy for you, consider a gadget similar to the Dragon Device Holder called the WINGStand, which has been on the market for a couple years now.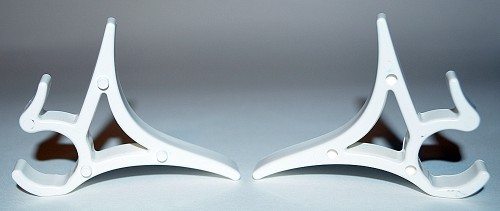 The WINGStand features a design that closely resembles the Dragon Holder, although the WINGStand is made of plastic, is only available in black and white and has only one viewing angle compared to the Dragon Device Holder's two viewing angles.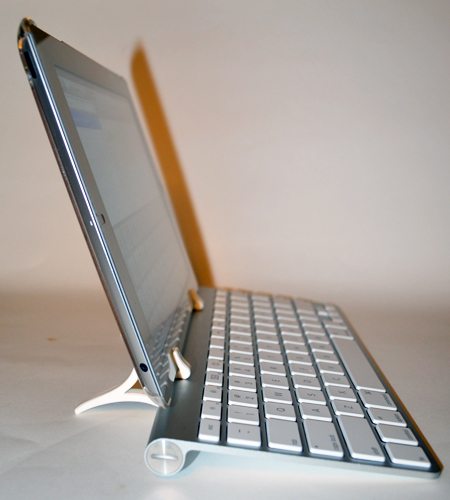 Another nice feature of this holder is that the two pieces snap together for easy storage. The WINGStand will save you $10 over the price of the Dragon Holder. It's priced at $14.95 and is available from Amazon (it's even cheaper if you have Prime).
The InCase Origami Workstation case is unique because it's an Apple wireless keyboard case that unfolds to provide a tablet stand.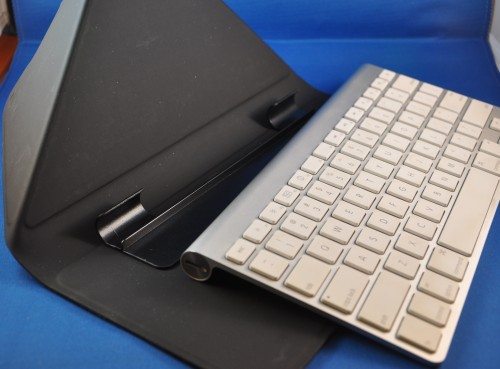 The Origami Workstation case is available in black or red versions and is priced at $29.95.
If you're looking for something that will really turn a tablet / Apple wireless keyboard combo into a mini "laptop" that you can use on your lap, check out these other two holders.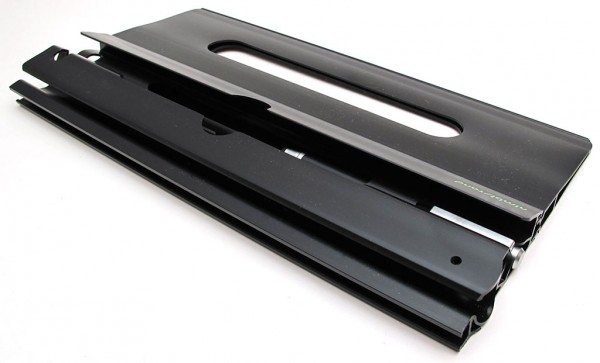 The nimblstand holds the Apple wireless keyboard, a tablet and a Wacom Bamboo styles. It's made of black plastic, is light weight and features a large footprint that provides stability on any flat surface, including your lap.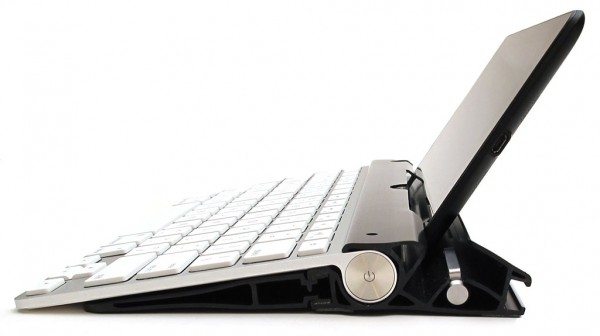 The nimblstand has an interesting design that allows you to break it down into a more portable version. It's priced at $39.99 without the stylus. The price goes up to $56.99 with Wacom Bamboo stylus.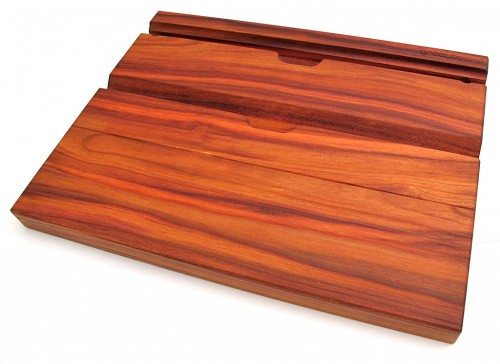 Another keyboard / tablet combo holder is the GroovBoard. This is the most expensive holder of the five, but it's also the most beautiful since it's made of wood.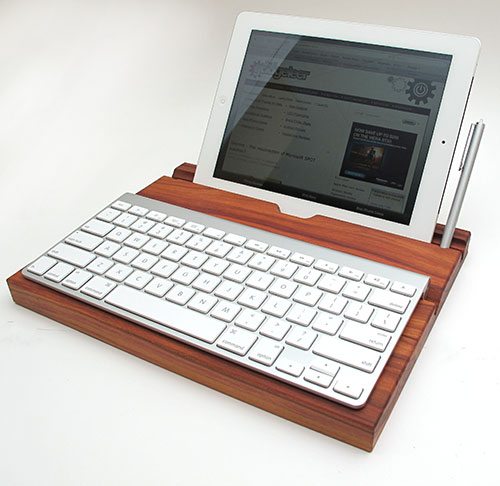 It features pen / stylus slots and can be disassembled to create a smaller version. The GroovBoard is available in several wood types and is priced at $89 – $129 depending on the wood.
If you know of other cases or holders that have been designed to hold an Apple wireless keyboard and a tablet, please let us know in the comments below.