We use affiliate links. If you buy something through the links on this page, we may earn a commission at no cost to you. Learn more.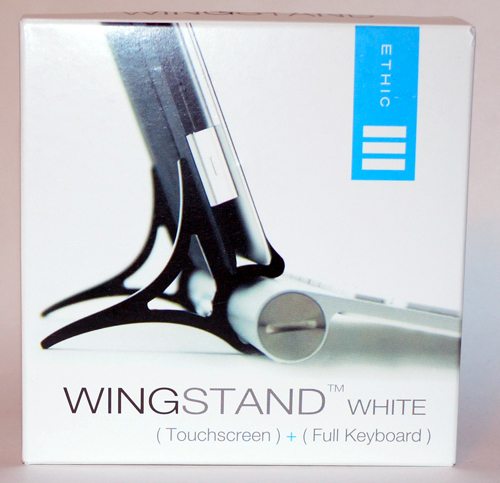 As I've mentioned before, the thing I haven't liked about the iPads I've owned is the on-screen keyboard.  The virtual keys don't lend themselves to touch typing.  None of the keyboard cases I've tried were what I've been looking for, because they have cramped, undersized keyboards, often with a non-standard layout.  The best keyboard I've found to use with my iPad is Apple's Bluetooth keyboard.  It's full-sized, feels like I'm typing on my MacBook Pro's keyboard, and the Bluetooth connects to my iPad without any hassles.  I already have an Apple Bluetooth keyboard, but using it while away from home usually means I'll need a stand for my iPad and a case for the keyboard.  I'll also be juggling two pieces of equipment, which isn't so easy when your lap is your only desk.
I had seen a portable stand, funded on Kickstarter in the fall of 2011, called the WINGStand, that connects your iPad and Apple keyboard together.  I recently purchased one and tried it to see if it's the perfect piece to complete the perfect iPad / Bluetooth keyboard setup.  (The folks at WINGStand had actually sent one to Julie to review.  I didn't know this when I purchased mine, and Julie agreed to let me do the review as part of my search for the perfect keyboard setup.)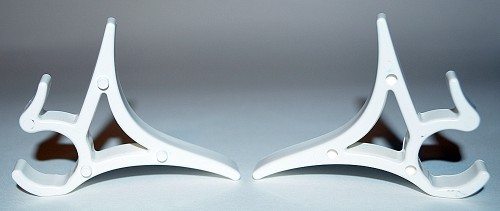 The WINGStand consists of two plastic pieces with a vague wing-like shape.  They are available in black or white.  I chose white to match my white new iPad.  As luck would have it, the Apple Bluetooth keyboard has white keys, so my setup is completely color-coordinated.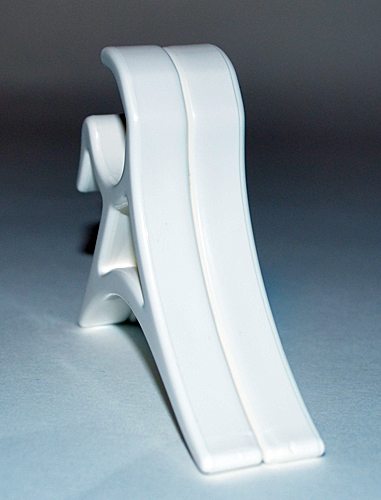 The two pieces snap together for travel.  It measures 2" × 2.75" × 0.75" (joined together) and weighs 0.53 ounce on my digital kitchen scale.  It's so small you can easily slip it in your pocket or bag.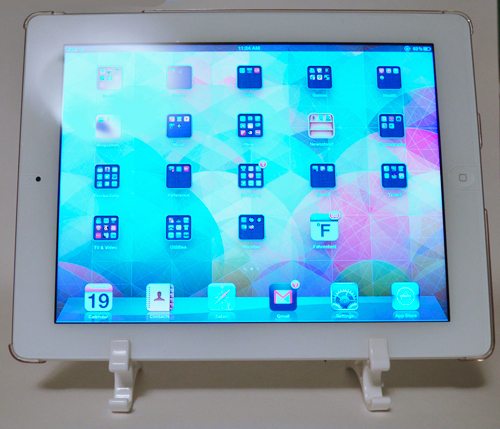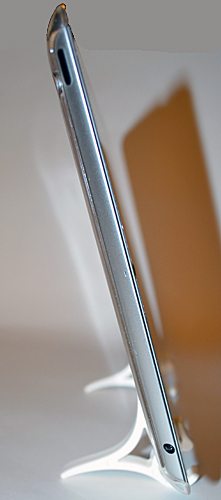 The WINGStand can be used as just a stand.  You set the feet as close together or as far apart as needed to stabilize your device.  You can use it to hold your tablet or smartphone in the horizontal or vertical orientation.  It functioned as a very sturdy, stable stand when used on a tabletop.  I wouldn't use this on my lap, though.
Although the description says it's for iPhone and iPad, it should work as a stand for most any tablets or smartphones.  The WINGStand can be used as a stand for typing, charging, watching video, or as a "clock stand" on your bedside table.
Since it can be used as a stand, you can use any Bluetooth keyboard with your tablet.  However, the WINGStand was designed for use with the Apple Bluetooth keyboard.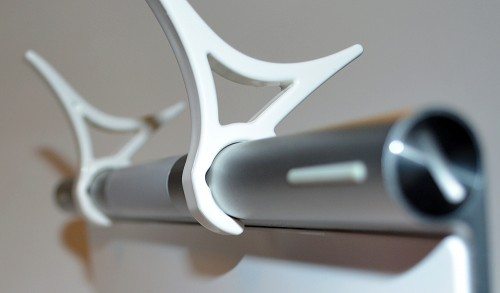 The circular openings snap onto the round battery silo on the Apple keyboard.  You'll be able to slide the pieces along the battery silo to adjust the size to accommodate a tablet in the horizontal or vertical orientation.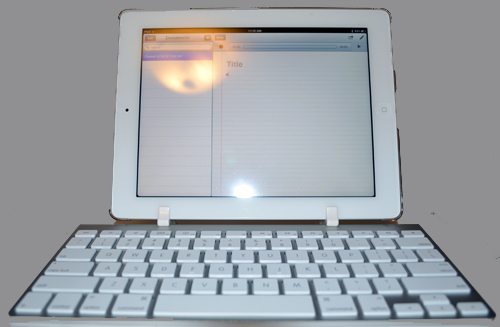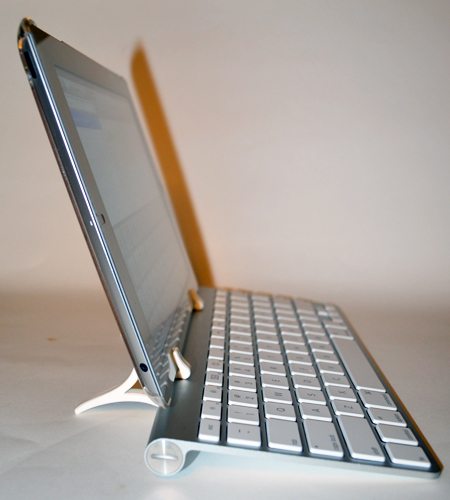 The screen angle isn't adjustable, but the WINGStand holds it at a pretty comfortable viewing angle.  The iPad and keyboard was comfortable to use snapped together like this, and the wide base of the keyboard seemed to increase the stability, to me, at least.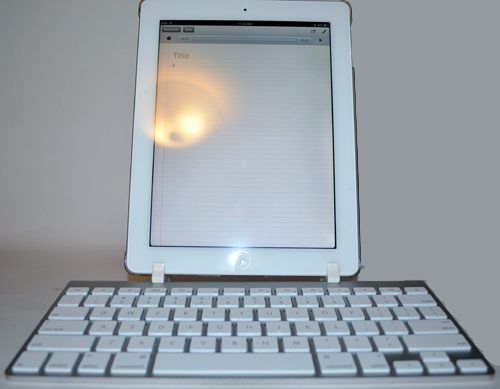 I slid the WINGStand pieces closer together for a stable vertical stand for my iPad.
I normally keep both a polycarbonate snap-on back cover and the Smart Cover on my iPad.  The stand wouldn't fit the iPad wearing both those covers.  I popped the Smart Cover off, and the iPad and back cover fit easily into the WINGStand.  It would also fit the iPad wearing only the Smart Cover.  The interior width of the tablet slot is about 3/8″.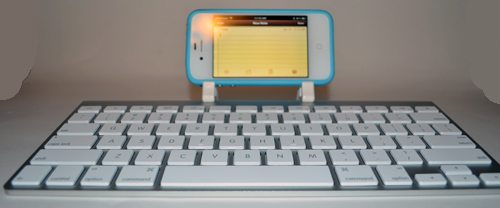 I slid the pieces even closer together to use it as an iPhone stand.  My iPhone 4 lives in an Apple Bumper, and it was too thick to fit into the WINGStand's slots.  However, the iPhone balanced securely on the top of the slots.
The WINGStand worked great as a tabletop stand.  It's a bit iffy as a lap stand, especially for shorter people.  Short people's legs have a harder time reaching the floor, so their legs don't always form a level surface.  In that case, I'm afraid the whole assembly could tip to the floor.  When you do have a level lap, you can get it to balance on your legs.  Because your lap consists of curved legs, I worry that it won't be as stable as a level, continuous tabletop.  If you have a laptop/gear bag that's flat and sturdy, you could probably lay it on your lap as a table for the WINGStand setup.  If you had room, you could also consider carrying a small, hard, flat lapdesk in your bag to use as a secure base for the WINGStand setup.
I really like the WINGStand.  It's a great gadget to turn your Apple Bluetooth keyboard and iPad into a netbook-like setup.  It's so small and lightweight, you never know it's in your bag.  It's ideal to use anywhere you have a desk or even a lap desk.  You can even use it directly on your lap, if you're careful.  I trust it to hold my iPad more than I trust the Smart Cover, because I've had that pop off and let my new iPad fall over.  At about $15, it's one of the cheaper iPad stands I've seen, too.

Product Information
Price:
$14.95
Manufacturer:
WINGStand
Retailer:
Amazon
Pros:

Connects the Apple keyboard and tablet together for a compact setup
Very small and lightweight, so it even fits in a pocket
iPad fits in the stand while wearing some cases
Can be used as a stand or as a keyboard stand
Can be used with most tablets or smartphones

Cons:

Unstable if used directly on your lap, though I'm not sure it was designed to be used on the lap.