We use affiliate links. If you buy something through the links on this page, we may earn a commission at no cost to you. Learn more.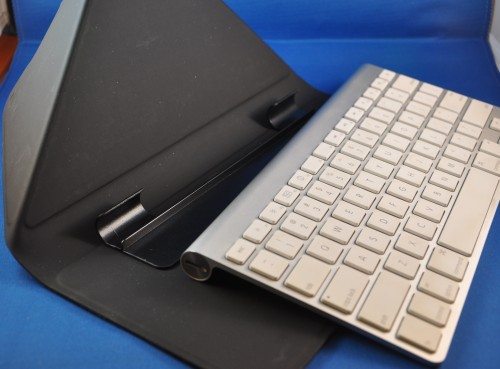 Carrying a keyboard for long typing sessions on a portable device can be a hassle. There are many keyboards that can connect, cases that contain keyboards, and stands that make the combination more useful. I recently purchased a case from InCase that is custom made for the Apple BlueTooth keyboard, and designed to also serve as a stand for an iOS device in either landscape or portrait mode. It's called the Origami Workstation, and retails for $30.
Recently, the iPad has come under scrutiny as more than just a "media consumption device", but as a content creation tool. Those who argue for this use mention that with the simple addition of a physical keyboard, most of the  problems of the virtual keyboard vanish, and there is software available that is sufficient for some serious writing or editing.
As I said, I recently purchased the InCase Origami Workstation to use with my Apple Wireless Keyboard along with my original iPad. I've taken this combination on trips locally and for several days out, and have found it extremely functional for writing, note-taking, and general computer use on the go.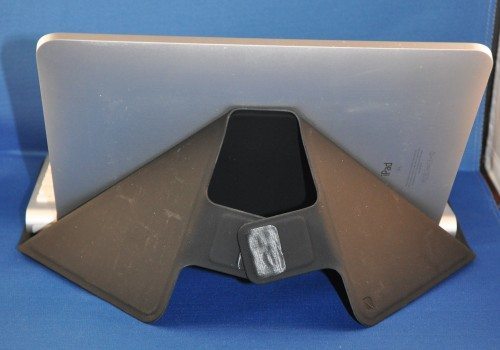 The Origami Workstation in use seen from the rear. Note the tabs joining to create a sturdy stand.
Taking notes and other writing is one of the more common uses many people give for needing a portable device like an iPhone, iPod or iPad. Web browsing doesn't require much typing, and email, FaceBook, and the like is pretty low volume as well, but typing long-form documents is not the sort of thing most folks want to tackle on a virtual keyboard.
I've been using various keyboards connected to portable devices for many years now. The Newton had a nice tethered one, which, like the rest of the Newton, took a long time to get over no longer having. I beta-tested a four-section, direct-connect keyboard for the Palm from a group called ThinkOutside, which became a huge seller. Later versions were not directly connected, but instead used IR or BlueTooth. There have been many others, most of which I didn't use because I was using my MacBook Pro for long-form documents through most of the last decade. (I trained and supported a program that required me to have a laptop, so "going light" with a portable device wasn't possible.)
With the rise of the iPhone, there was a huge cry from the user community to allow some sort of connection to Apple's (or anyone else's) BlueTooth keyboard. The jailbreak community soon answered that call, but it was not until the advent of the iPad that Apple officially instituted support for external keyboards with iOS devices. The original iPad arrived with two options for typing: the Apple BlueTooth Keyboard, or the Apple iPad Docking Keyboard. They are both roughly the same size, but the docking model had several differences from the BlueTooth one. First was the physical connection. This meant that the iPad could not be used in a case during typing, but on the positive side, it also brought a few specialized keys for control of iOS, and no need for batteries. Another downside of physical connection, and quite possibly the death blow, is that you can't use it in landscape mode. This means no typing into Keynote (which only works in landscape), or any of the nice word processors in their wide screen layout. Plus, it's just an odd shape, with that docking connector sticking up. Suffice it to say, the main keyboard folks are getting to use with iPads today is Apple's BlueTooth model.
Let's get back to the workstation case at hand and find out how it fits into this new niche. The InCase Origami Workstation case has a plastic clip that easily grasps the battery silo on the back of the keyboard. Two hook-and-loop patches hold the cover closed.
Top of the case, showing the "fold" lines. These are very strong and show no sign of weakness or creasing.
When opened, the top two flaps angle back and attach to form a triangular stand that can hold an iPad in either orientation, with or without a case. (Of course, some really thick cases or those with covers that don't fold over sometimes make this awkward, but most of the common covers work pretty well.)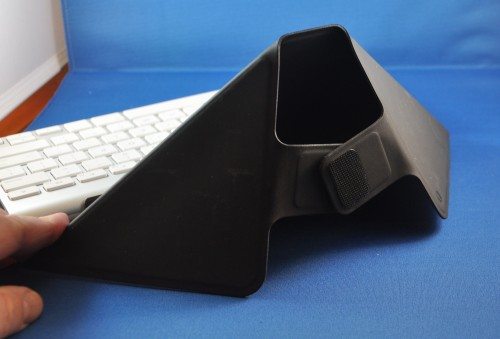 The case is constructed about 3/8″ larger than the keyboard on every edge, and is less than a quarter inch thick. While made from very stiff vinyl laminate, it is still somewhat flexible. The surface is similar to the original Apple iPad case, but not quite as soft, with a subtle embossed InCase logo in the lower left corner of the cover.
I was hoping that the stiff cover would prevent any keys from being pressed and inadvertently starting my iPad, but they can still be pressed. This means that the keyboard can (and will) wake up when a key is pressed, unless you take care to always hold down the power button on your keyboard for 4 seconds to turn it completely off.
While this case is custom-made for the Apple Wireless Keyboard, there is no reason it must be used with an iPad. Any tablet or phone/slate device that can pair with a BlueTooth keyboard should work just as well in the cradle. I did test it out with my iPhone, and it's not too bad. I rarely compose on the iPhone, but some writing lately could have been easier with a physical keyboard.
Overall, the Workstation is quite a nice addition to my iPad kit, and those that I've shown it too seem interested in it as well. Paired with the keyboard, it comes to $100, so it's not really in the "impulse purchase" category. If you've already got a keyboard, however, it's such a handy way to transport it for more frequent use that I can't imagine going back to just the keyboard. Four stars.
Update 12/24/14
At the store I used to work in, they tripled their in-store stock of this, mostly due to me showing it to everyone who would listen. I'd pull out the demo from the back, and show it next to some chicklet-sized case/keyboard combo that a customer was looking at. "$100 for the case with the keyboard layout from hell, or $70 for an Apple full-sized keyboard and $30 for this nice case/stand. Your choice." Most folks chose the Origami. Last week, I even got one for my Mom for her new iPad Air 2. She had used mine on a visit the week before, and couldn't imagine not having an iPad without this sitting on the breakfast bar in the kitchen. (She's 88, by the way!)
Source: The sample for this review was provided by
InCase
. Please visit their site for more info.
Product Information
Price:
$30 retail
Manufacturer:
InCase
Requirements:

Aluminum Apple Wireless (BlueTooth) Keyboard

Pros:

Very compact, well-made case
Tight folding connection into stand mode
Protects keyboard fully

Cons:

Doesn't work well with thicker cases
Portrait mode slightly unstable
Doesn't prevent key presses when closed