We use affiliate links. If you buy something through the links on this page, we may earn a commission at no cost to you. Learn more.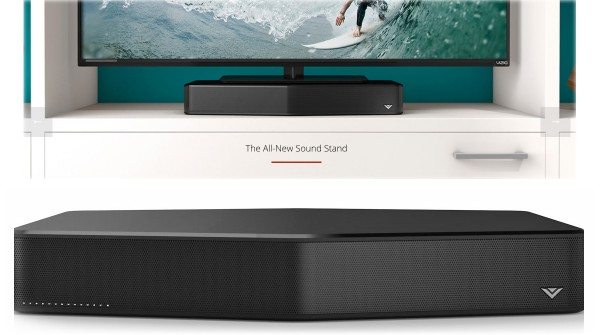 Today's big screen TVs have great images, but they often have wimpy sound because their cabinets don't leave much room for speakers.  You can add on a sound bar, but those usually require quite a bit of table space to stretch out on.  We have a VIZIO TV in our bedroom, and it could use a little help in the sound department because our bedroom is 18.5 feet long, and the TV and the bed are on opposite walls.  There's no room on the dresser to add a sound bar – but there's room for the new VIZIO 2.1 Sound Stand.  The 2.1 Sound Stand is only 3″ tall, but it's designed to hold a TV up to 60 pounds (55″ screen).  VIZIO says: "Equipped with a powerful 5.25″ subwoofer, VIZIO's 2.1 Sound Stand pumps out smooth, thunderous bass with low frequency responses that reach as low as 55 Hz.  In addition, the VIZIO 2.1 Sound Stand produces bass levels of +5 dB (at 63 Hz) and +15 dB (at 40 Hz) above competitive products, providing consumers with superior audio performance when stacked up against the competition.  Combine that with up to 101 dB volume with less than 1% total harmonic distortion, and consumers now have access to rich, cinematic sound regardless of room size."
The Sound Stand is equipped with the latest in sound technology: Dolby Digital, DTS TruSurround, DTS TruVolume, and DTS Studio Sound.  It comes with the cables you need to connect to your TV, and it's equipped with Bluetooth so you can stream music to the speakers from your mobile device or computer.  The 2.1 Sound Stand is available at online retailers and brick-and-mortar stores, or you can order it for $249.99 directly from VIZIO.