We use affiliate links. If you buy something through the links on this page, we may earn a commission at no cost to you. Learn more.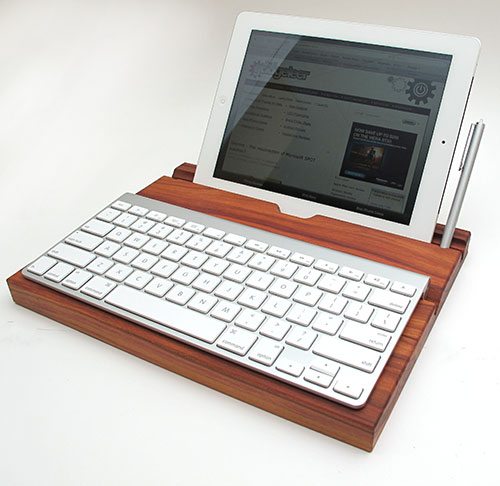 If you use the Apple wireless keyboard with your iPad, you've probably run into the problem of not being able to easily use the combo on your lap. I have a solution for you… it's the GroovBoard Lap Desk and Stand. It's made of solid wood and can be used several ways. Let me show you.
Note: Images can be clicked to view a larger size.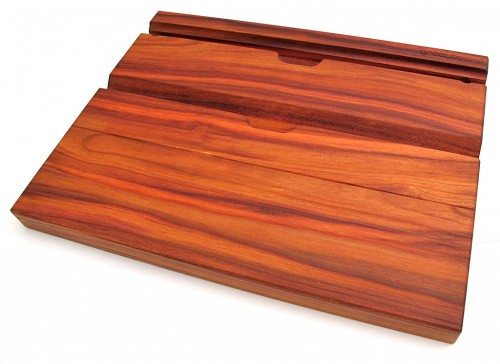 The Groovboard is a German made product which is available in a choice of 9 different types of wood from Apple to Maple and more. The Groovboard that was sent to me to review is made of Plum wood which has a gorgeous reddish brown color with a darker streaked grain. The finish has been hand-rubbed with linseed oil. Although it's a relatively simple product, it's made very well, with smoothly sanded edges and no defects that I could find.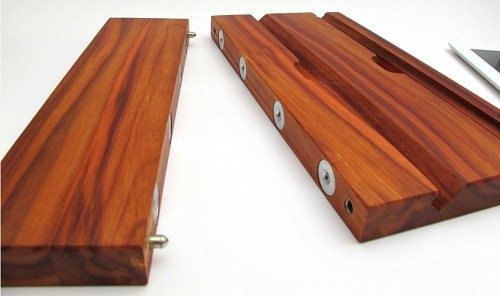 Although it looks like a solid 2 lb 7 oz plank of wood, it's actually made of two pieces which are held together with really strong magnets. The idea is that you can remove the extra section if you don't care to use the Groovboard with a keyboard.

The Groovboard provides 3 slots for your iPad (other tablets may also work with this stand) and wireless keyboard.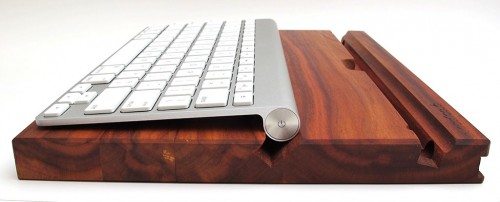 The 2 slots on the main surface of the Groovboard can accommodate the tablet or the keyboard. The Wireless keyboard doesn't "snap" in to  the grooves, it just rests there.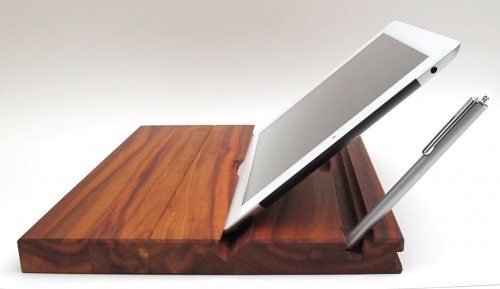 The same goes for the iPad. Nothing holds the tablet in place, so you need to be careful when you pick up the Grooveboard.
The two grooves provide different viewing angles for the iPad. The center groove puts the iPad at a 45 degree tilt.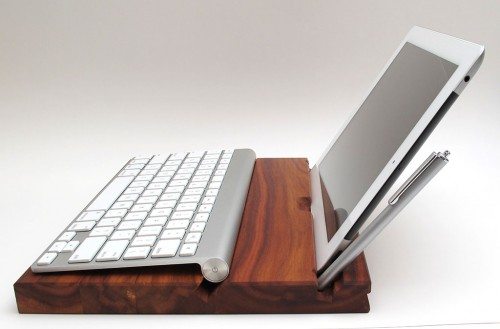 In the configuration that you see above, the Groovboard makes a perfect lapdesk with the iPad in the top groove. There are even stylus / pen holders on either edge of the top 2 slots.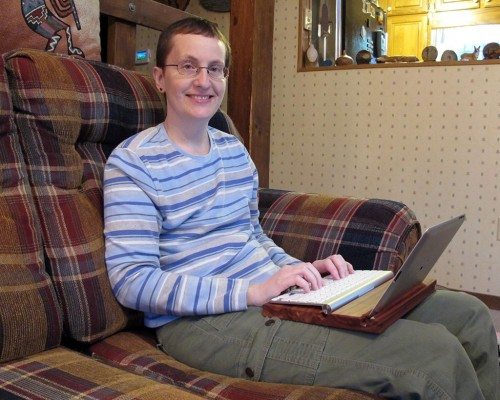 Even though it's made of solid wood, it's still pretty comfortable on your lap and provides a convenient surface to work with the iPad / keyboard combo.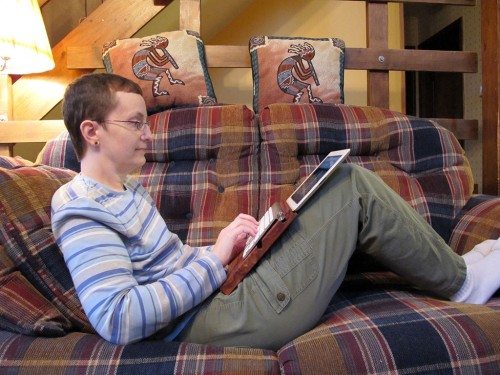 There's a 3rd slot along the top edge of the Groovboard that allows you to use your iPad and wireless keyboard even when you're reclining on the couch or in bed. In this configuration, the iPad just rests in the slot and against your knees, while the keyboard hangs from the top slot.
The only downside to the Groovboard is that it's a bit bulky to carry around with you in your gear bag. It's better suited (at least for me) to be left at home near your couch 🙂

Product Information
Price:
$89 - $129
Manufacturer:
Grooveboard
Pros:

Beautifully made
Can use on lap or table top

Cons: