We use affiliate links. If you buy something through the links on this page, we may earn a commission at no cost to you. Learn more.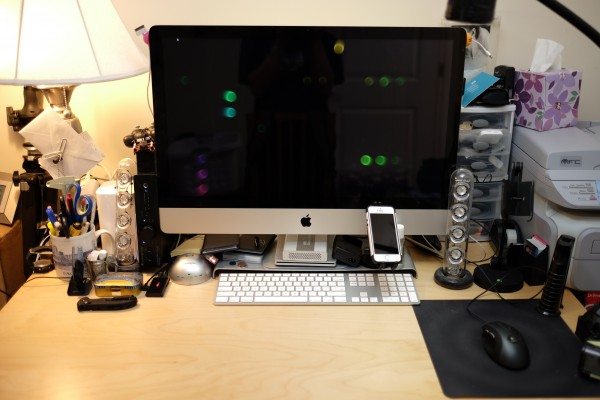 What does my desk look like?  I was afraid someone was going to ask!  There it is, in all it's unvarnished glory.  Let me take you on a tour.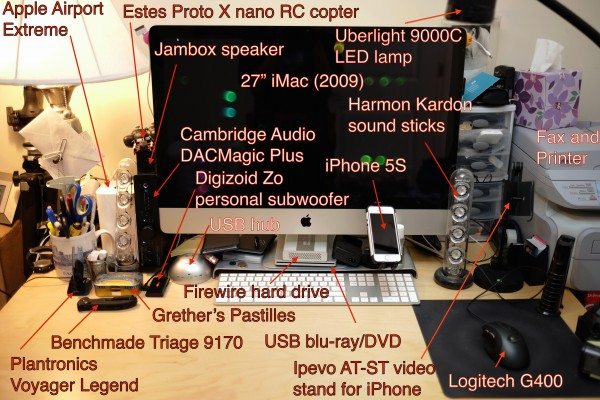 (Click on any image for a full size photo.)
The centerpiece is, of course, a 27″ Apple iMac (late 2009).
From left to right (in no particular order):
Apple Airport Extreme.  I have two… one downstairs and one upstairs at my desk.  They create a distributed 2.4 GHz and 5GHz wifi network.  Yes it's a pricey way to do it, but I seem to be maintaining an Apple theme here.
Estes Proto X nano RC Copter.  This was a gift.  Sounds like a mosquito and is about as temperamental as one.
Jawbone Jambox Bluetooth Speaker.  This was a hand-me-down from a friend.  I dislike bluetooth speakers, so I've got this one just in case I ever change my mind.
Cambridge Audio DAC Magic Plus.  I use this with my iMac's USB audio for private headphone listening (Sennheiser HD600, not pictured).
Digizoid ZO Personal Subwoofer.  I reviewed both the ZO and the ZO2.  I kind of prefer the original ZO for it's ease of use.  It seems like blasphemy, but I use this in conjunction with the Cambridge Audio DAC Magic Plus.
Kensington 7-port USB hub.  I bought this dome-shaped hub way back in 2007.  I think it's because Julie had one.
Plantronics Voyager Legend Bluetooth Headset.  Shown with optional desktop charger.  This is my favorite headset.
Benchmade Triage 9170.  My EDC knife of choice… for today.
Grether's Pastilles.  They're blackcurrant flavored!  An old favorite.  Famous for their throat-soothing properties for voiceover actors.
OWC Mercury Elite AL Pro External Hard Drive (Firewire).  This is my Time Machine backup.
External Slot-Loading USB Blu-Ray/DVD drive.  I reviewed this Pawtec UltraSlim External USB 3.0 drive not too long ago.  It has a home here now.
iPhone 5S (Verizon, 32GB).  Speaks for itself!
Ipevo AT-ST articulating video stand for iPhone.  Looks ungainly, feels wonderful.  If I ever need a helping hand with selfies or snapping stills, this is the way to go.
Harmon Kardon Sound Sticks (speakers).  There's a subwoofer hidden under the table.
Reliable Uberlight 9000C LED Task Light.  Another item I reviewed that's made a permanent home at my desk.
Logitech G400 USB mouse.  I'm very, very picky about my mice.  I don't like tilt-scroll wheels.  So far, this oldie but goodie has gone through many iterations (MX400, MX510, MX518, etc).  It's since been discontinued and replaced by the G400S. I still like it.
Brother MFC 7340 laser/fax/scanner.  I wanted a laser printer that faxed and scanned.  Plus it had to be 100% silent in standby.  This did not disappoint.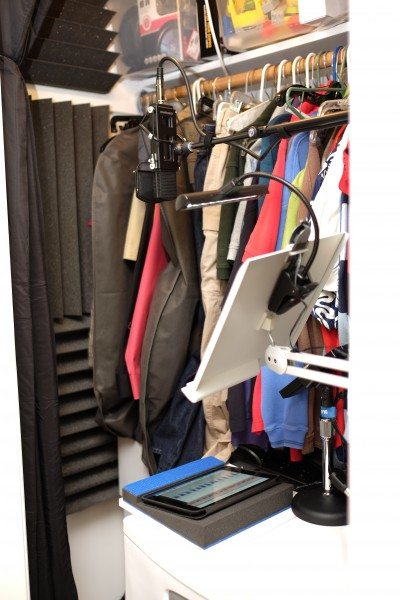 Behind my desk is my closet- er, I mean, recording booth for voiceover work.  I stand in a 12″ by 12″ area surrounded by 4″ wedge foam tiles and a heavy sound blanket curtain I made, suspended by a curtain rod.  I record onto my iPad Air via Apogee One interface that connects directly to the iPad (or iPhone) Lightning connector.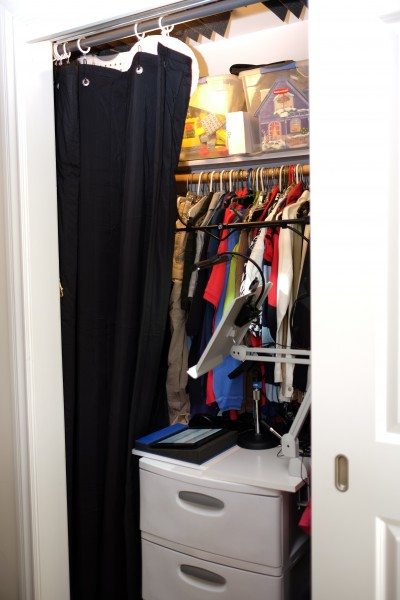 Here is the curtain, partially pulled open.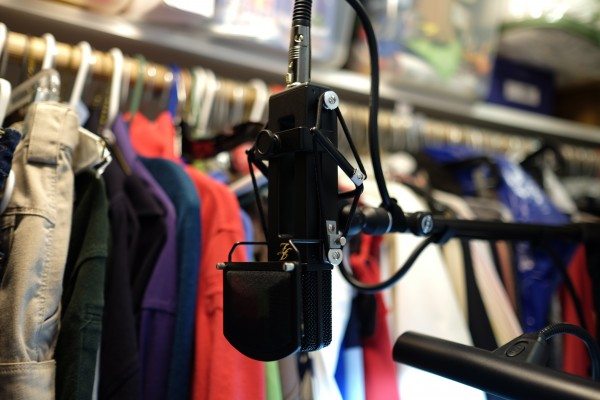 My microphone is a Black Hole BH-2 by JZ Microphones.  It's a condenser microphone with a fixed cardioid pattern (I didn't need the pricier BH-1 which features adjustable patterns).  I used to have the Audio-Technica AT4060 but I found the sound to be a bit "dark" for my voice.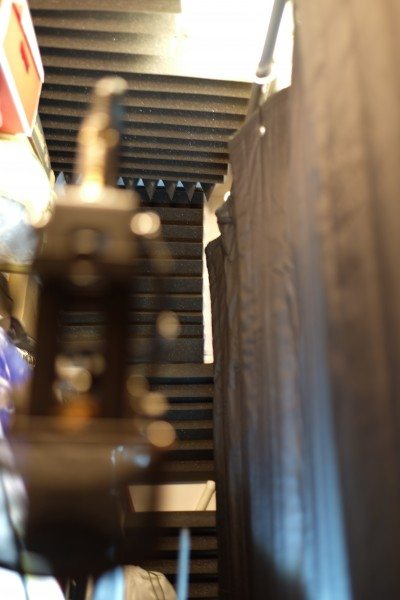 This is my view behind the microphone looking down the closet.  4″ wedge foam tiles on the walls and ceiling, and the sound curtain fully deployed on the right.  It's not Abbey Road Studios, but it gets the job done!